Audiobooks have quickly become one of the most convenient forms of content consumption, enabling book lovers to dive deeper into captivating tales, insightful discussions and thought-provoking literature. Spotify, best known for music streaming services, is venturing into audiobook streaming as well.
In this article, we will explore eleven free audiobooks offered on Spotify that cover a diverse array of genres and subjects. As well as, we will walk you through the process of downloading audiobooks from Spotify so that you can listen to them offline at your leisure. Let's set off on an epic literary adventure together by exploring Spotify's free audiobook library!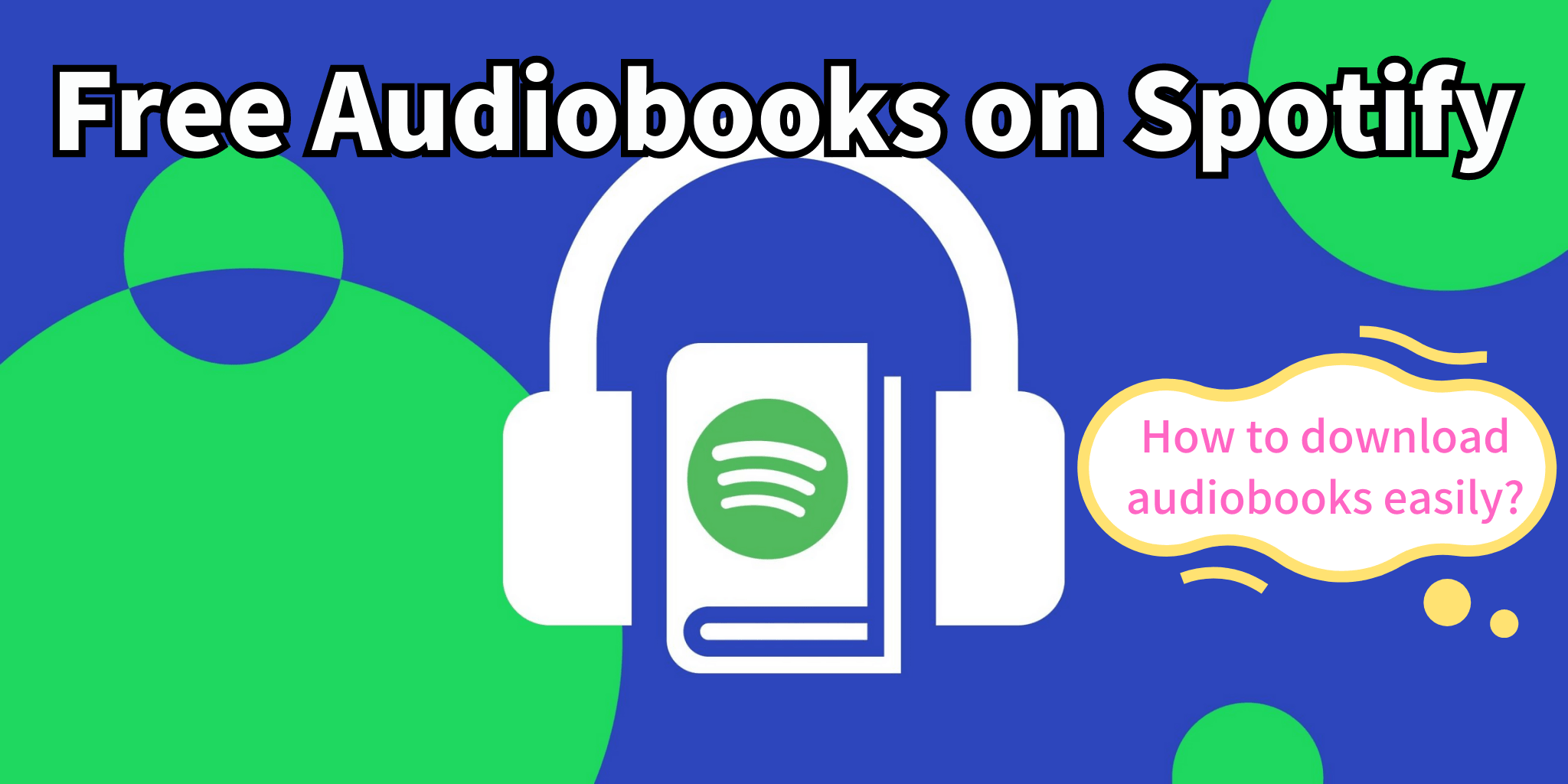 11 Free Audiobooks on Spotify
Listening to your favorite free audiobooks on spotify is easier than ever. Just open your web browser and visit spotify. In the search bar, type "audiobooks" or "free audiobooks" and hit enter. Scroll through the search results to find audiobooks that are available for free on Spotify. We've compiled a list of the best audiobooks on spotify for your ease:
1. "Harry Potter" by J.K. Rowling:
The "Harry Potter" series is a worldwide phenomenon that has captured the imagination of readers of all ages. It follows the journey of a young wizard, Harry Potter, as he discovers his magical heritage and attends Hogwarts School of Witchcraft and Wizardry. Alongside his friends Ron and Hermione, Harry faces various challenges and battles the dark wizard, Lord Voldemort. The series is filled with themes of friendship, bravery, and the power of love, making it a beloved and timeless classic.
2. "The Hunger Games" by Suzanne Collins:
Set in a dystopian future, "The Hunger Games" introduces readers to the oppressive society of Panem, where the Capitol forces its districts to participate in a televised death match known as the Hunger Games. The story revolves around Katniss Everdeen, a strong and resourceful young woman who volunteers to take her sister's place in the brutal games. As she navigates the challenges and dangers of the arena, she becomes a symbol of resistance against the Capitol's tyranny.
3. "Dracula" by Bram Stoker:
This iconic Gothic horror novel introduced the world to Count Dracula, a vampire from Transylvania who seeks to spread the curse of the undead to England. Written in the form of letters, diary entries, and newspaper articles, "Dracula" immerses readers in a chilling and atmospheric tale of fear, suspense, and the battle between good and evil.
4. "Me" by Elton John:
In this candid and introspective autobiography, legendary musician Elton John shares the highs and lows of his extraordinary life and career. From his early struggles as a young musician to his rise to international fame, the book provides an intimate glimpse into the mind of one of the world's most celebrated artists.
5. "Rich Dad Poor Dad" by Robert Kiyosaki:
"Rich Dad Poor Dad" is a groundbreaking personal finance book that challenges conventional beliefs about money and wealth. Through the contrasting financial advice of his "rich dad" and "poor dad," Kiyosaki imparts valuable lessons on financial education, investing, and the mindset needed to achieve financial independence.
6. "Room" by Emma Donoghue:
Narrated from the perspective of a young boy named Jack, "Room" tells the haunting story of a mother and son held captive in a small, soundproofed room. As they escape and face the outside world, the novel explores themes of resilience, trauma, and the enduring power of love.
7. "The Great Gatsby" by F. Scott Fitzgerald:
Set during the Roaring Twenties, "The Great Gatsby" follows the enigmatic millionaire Jay Gatsby as he attempts to win back the love of his life, Daisy Buchanan. The novel offers a scathing critique of the extravagant lifestyle of the rich and explores the elusive nature of the American Dream.
8. "Persuasion" by Jane Austen:
In "Persuasion," Jane Austen tells the story of Anne Elliot, a young woman who is persuaded to break off her engagement with Captain Frederick Wentworth due to social pressures. Eight years later, their paths cross again, and Anne must navigate her feelings and societal expectations in this tale of love, regret, and second chances.
9. "Frankenstein" by Mary Shelley:
Published in 1818, "Frankenstein" is often regarded as the first science fiction novel. It follows Victor Frankenstein, a young scientist who creates a grotesque creature in an unorthodox experiment. The novel explores themes of ambition, responsibility, and the consequences of playing god-like powers.
10. "To Kill a Mockingbird" by Harper Lee:
Set in the racially divided American South during the 1930s, "To Kill a Mockingbird" revolves around the Finch family, particularly the young Scout Finch, as she navigates the complexities of morality and prejudice. Her father, Atticus Finch, is a principled lawyer who defends a black man accused of raping a white woman, leading to a powerful examination of racial injustice and moral growth.
11. "1984" by George Orwell:
In this dystopian masterpiece, George Orwell paints a grim vision of a totalitarian society ruled by Big Brother, where individuality and freedom are suppressed. The novel follows Winston Smith, an ordinary man who dares to rebel against the oppressive regime. "1984" has become a warning against totalitarianism and a testament to the importance of safeguarding individual rights and freedoms.
These 11 free audiobooks on Spotify offer a diverse selection of genres, themes, and literary styles, making it easy for users to find something that suits their preferences. Whether you're a fan of fantasy, dystopia, classic literature, or personal development, Spotify's collection of free audiobooks promises hours of immersive storytelling and intellectual engagement. Happy listening!
Please note that the availability of free audiobooks on Spotify might vary over time, so it's a good idea to check for the latest updates and new additions regularly.
How to Download Audiobooks on Spotify?
Spotify offers an offline listening feature for premium subscribers, which allows you to download songs, playlists, and podcasts for offline use within the Spotify app. However, if you want to know how to download audiobooks on spotify without having premium account, your best bet is using a specialized downloading software. YT Saver Music Converter, an efficient video download and Spotify converter, enables the users to download songs or audiobook from Spotify into common formats like MP3, M4A, FLAC, WAV, and M4A. It can increase the efficiency of your downloads by providing the option to save the entire Spotify playlist with just a single click.
Moreover, you do not require any account for music streaming site you'd like to download music from, simply copy and paste the URL to begin the downloading process. There is no need to have any premium subscription of Spotify or any other platform.
Download high-quality Spotify songs and audiobooks in various output formats and highest bitrate 320kbps.
Provides fastest and most reliable Spotify music download; up to 10 times more speed than any other similar solution.
Compatible with 10,000+ websites, including all the popular music and video sharing platform.
Comes with an easy-to-use yet interactive user interface.
Features a built-in browser and file manager to provide seamless user experience.
Allows downloading an unlimited number of songs and complete audiobooks with 1-click operation.
How to Download Audiobooks on Spotify Using YT Saver?
Step 1: First of all, copy URL of the playlists on Spotify. You can access the audiobooks without login by visiting open.spotify.com. After that, open the YT Saver Spotify Music Converter.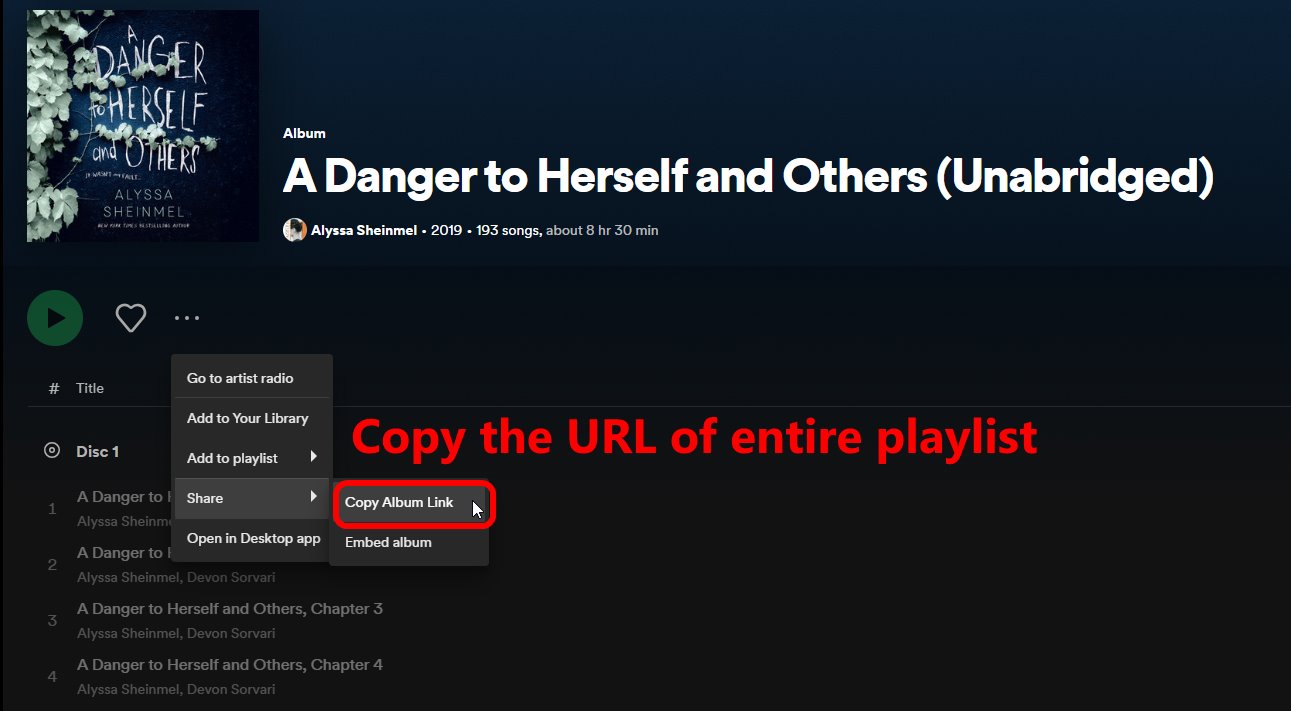 Step 2:
Head over to the Preferences section and choose the required output format and quality, such as MP3 and 320kbps.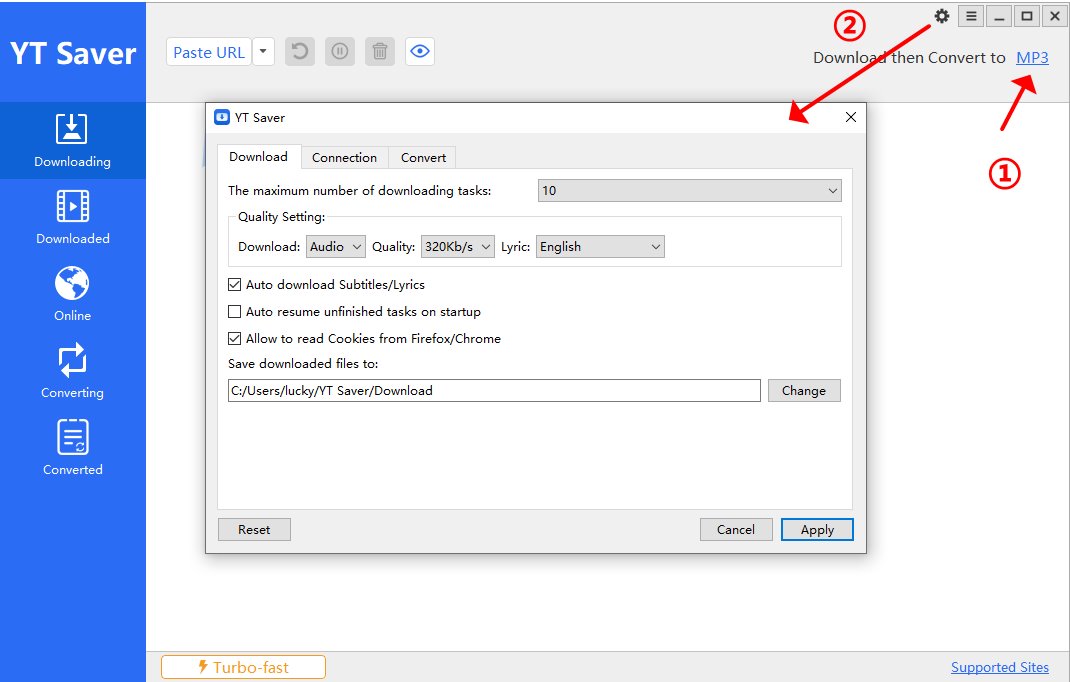 Step 3:
Then click "
Paste URL
" button and the program will retrieve the entire Spotify music tracks instantly.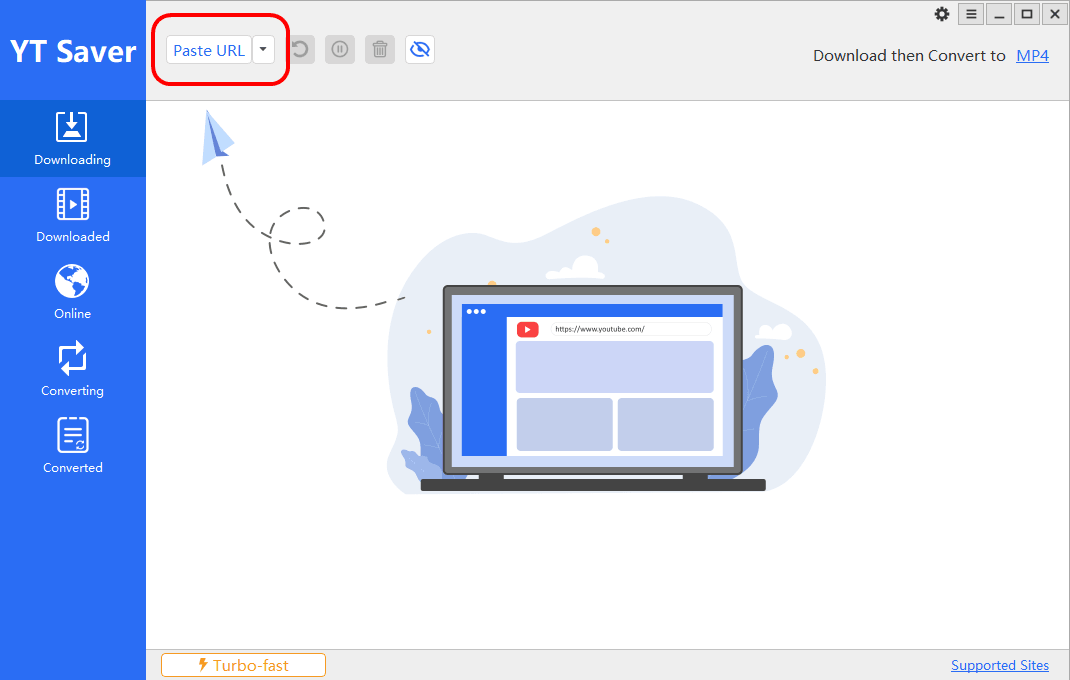 Step 4:
Finally, Click "
Download
" button and start downloading the target Spotify playlist to your computer.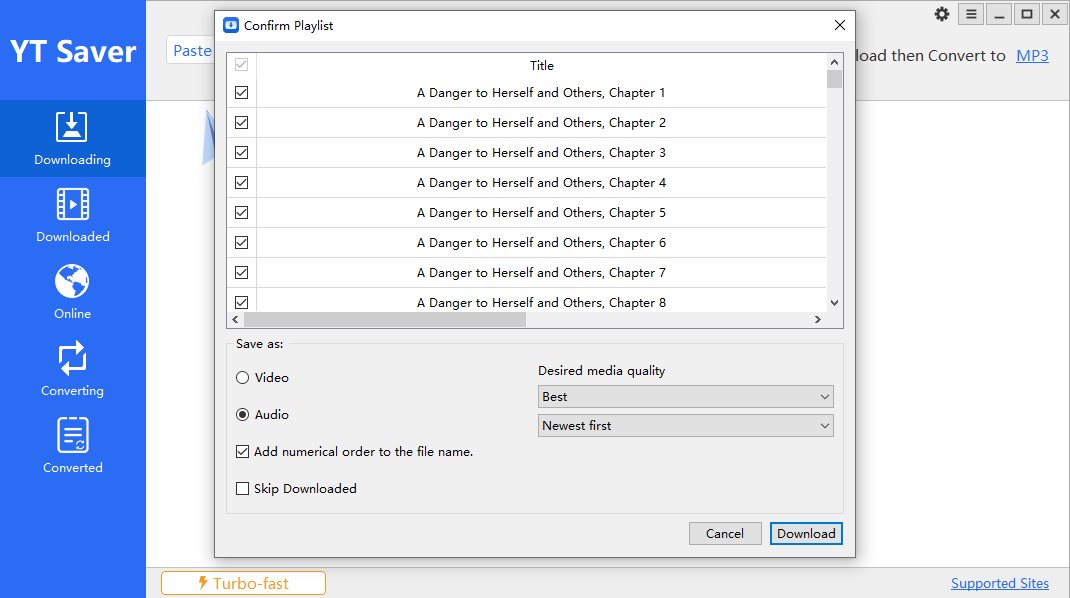 In "Downloading" window, you can monitor the process of the audiobooks download. YT Saver can save the target files at up to 10x normal download speeds.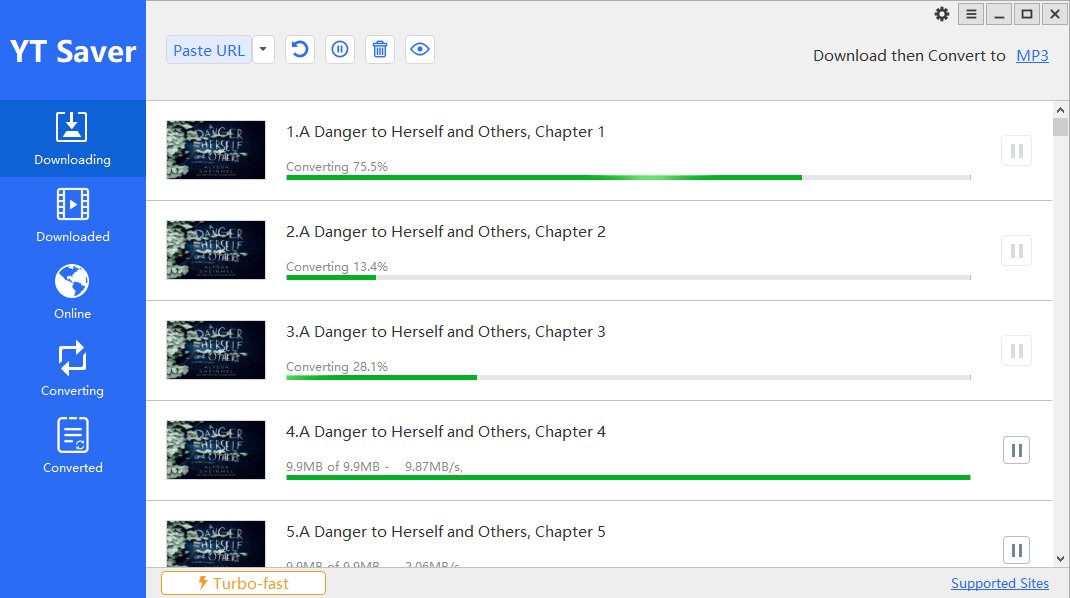 Also, you can copy the URL of single episode to download target episode. YT Saver provides a flexible download to meet your various needs.
Note:
YT Saver program is for personal usage only.
Bonus: How to Buy Spotify Audiobooks
Regarding audiobooks, if you're looking to download audiobooks legally, there are various legitimate platforms that offer audiobook downloads, such as Audible, Google Play Audiobooks, LibriVox, and more. These platforms have appropriate permissions from the copyright holders to distribute audiobooks.
You can also purchase on the Spotify:
1) You can visit the Spotify on your web device.
2) Select the option to search for Audiobooks.
3) Browse or search for any publication until you discover exactly what you are looking for.
4) Get the audiobook for purchase and then listen.
When you have purchased the audiobook, it will be available inside your Spotify library, which you can stream anytime, anywhere including your mobile phone.
The Bottom Line
In conclusion, Spotify offers a variety of free audiobooks that can be accessed through the app. From classic literature to modern bestsellers, there is something for everyone. The process of downloading these audiobooks is simple and can be done in just a few steps using YT Saver. By following the instructions provides in this post, users can easily download and enjoy their favorite audiobooks on-the-go. With the convenience of Spotify and the availability of free audiobooks, there is no excuse not to dive into a good book today!