We all love music, that is our nature as humans and there is a lot of competition in the music streaming service space. Spotify has one of the biggest music libraries, which is why there are a lot of applications and services that are centered around Spotify. More are being made everyday, and it will eventually become hard to keep track of them due to their growing numbers. Soundloaders is one such program, that is designed for Spotify. But what is Soundloaders, and what does it do exactly?

What is Soundloaders Spotify Downloader
Soundloaders is a free website, otherwise known as a web application that will allow you to download music and podcasts from various websites. It also has desktop applications for Windows and macOS. Currently, it supports the following music streaming services including Spotify, Apple Music, SoundCloud, Deezer.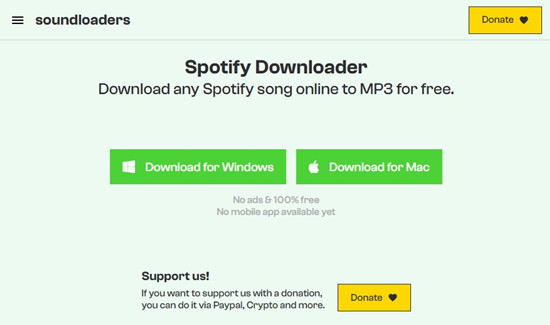 To focus more on Soundloaders for Spotify, you can save tracks from the Spotify web app to your computer, without any limits to the number of songs you can download. Best of all, Soundloaders Spotify downloader can keep the meta data information. The download speed is also very fast, especially for a free service and it should take a couple of seconds or a few minutes to finish a single track, dependent on your internet speed. You do not need to create an account with Soundloaders to be able to download files. Although Soundloaders claim that their service is 100% safe, some authoratative websites claim that their safety score is not that high, and therefore you would want to use it with a little bit of caution.
6 Solutions to Fix Soundloaders Spotify Downloader Not Working
The following six solutions for Soundloaders Spotify Downloader if it does not work as expected should give you a guarantee to solve the problem, so that you can resume downloading your favorite music from Spotify. Here are the solutions;
Solution 1: Use an alternative Spotify downloader
Soundloaders is not the only available Spotify downloader, meaning if Soundloaders not working for you, you can relax knowing that there are many alternatives available that have guaranteed results. Since there are many Soundloaders alternatives, which one is the best to download from Spotify? YT Saver Music Converter is your definite answer. YT Saver is built to download Spotify to MP3 kbps and is available on both Windows and Mac.
It's quite easy to use this program, copy the single link or the playlist link of the song(s), and click on "Paste URL" button in YT Saver. This program will automatically analyze and download the music file(s).
Solution 2: Check your Internet connection
As simple as it might sound, your internet connection might also be another reason why Soundloaders not working on your end. Soundloaders requires a quick and stable internet connection which if not available will give you connection errors and other problems. To fix this, disconnect and reconnect to your Wi-Fi or Ethernet, or restart your router. When you have done so, open your browser and check if you can open Google, and if you can, your connection should be okay.
Solution 3: Reinstall the Soundloaders program
If your Internet connection is okay as suggested above, then it is probable that your Soundloaders program installed on your computer is broken somehow. In some rare circumstances, some critical files (such as DLL files) may go missing from the installation directory, which will cause your Soundloaders program to completely fail running. In this case, you will need to download and install the program again directly from the Soundloaders website.
Solution 4: Unavailable Music in Your Country, use a VPN
Spotify is available in most regions of the world, but not every music tracks and albums are available in every location (some music is geo-restricted). To counter this, you would need to install a VPN and choose a virtual location that allows the music you want to listen to. One of the best VPN services which work well with Soundloaders and Spotify is Surfshark VPN. It has connections with 10 GBit servers in 100 countries, and it is very cheap, starting at just $2.49 a month.
Solution 5: Contact the Soundloaders official support team
Another solution that might work in this case is to contact the customer support, who might help you to alleviate the problem. In most cases, the support team can be very aware of the problems you might be encountering, and they could provide you a solution that you otherwise would not be able to find on the internet. Soundloaders has no live chat or phone contact information, but you can contact them through email, and they should be able to help you in under 24 hours.
Solution 6: Update to the newest version of Soundloaders
No software is perfect, which is why every piece of software get updates every now and then, unless the development team stops supporting it entirely. Why are software programs not perfect? Because of bugs. Soundloaders is a newer app, and like all the other newest apps, it has its own weaknesses and quite a number of bugs. It will eventually get better and more stable, but you will need to ensure that you are running the newest release for it to work properly.
Final Words
If Soundloaders not working, there are six solutions available for you, which include re-installing the program, checking your internet connection, using a VPN, contacting the support, and best of all trying an alternative. YT Saver Music Converter is by far the best means to download from Spotify, and you should give it a try.