Spotify is a streaming music application that allows you to play and browse through the selection of music from various musicians. There are times when you won't be in a position to access Spotify tracks due to problems with connectivity or country restrictions. In these situations, Spotify track downloading tools will allow you to save your most-loved songs for future use.
In this article, we are going to unveil all the ways you can download Spotify songs to mp3 for offline playback.
Best Way to Download and Convert Spotify to MP3
YT Saver Spotify Music Downloader is an application that allows users to download Spotify songs, playlists as well as albums, into a variety of formats that can be played offline, which include MP3, M4A, WAV, AAC, etc. It supports 10,000+ streaming sites, like YouTube, Spotify, SoundCloud, MixCloud, and more.
The program will save Spotify MP3 up to 320kbps, and retain all ID3 tags even lyrics. Anyway, it is the perfect tool to satisfy your need for downloading Spotify songs without premium.
📖 How to Download Spotify Songs to MP3 320kbps on PC/Mac?
Step 1 Find the song on Spotify that you want to convert into Mp3 and copy its link.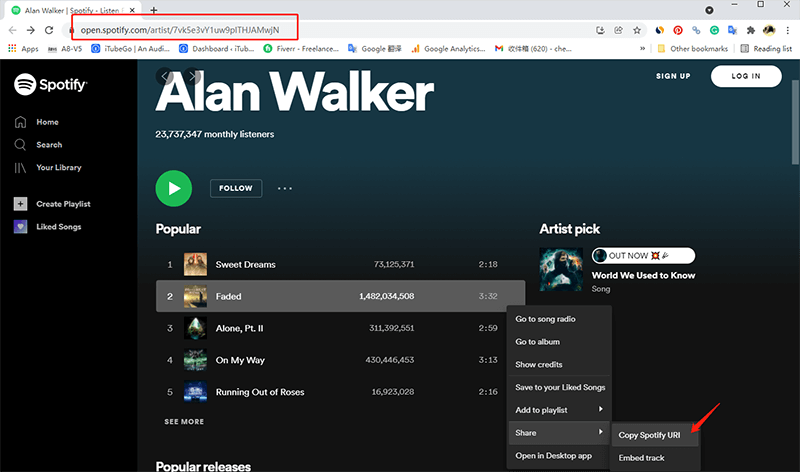 Step 2 Start the YT Saver program, and select the format options of output MP3, quality 320kbps from the Download section of the Preference menu.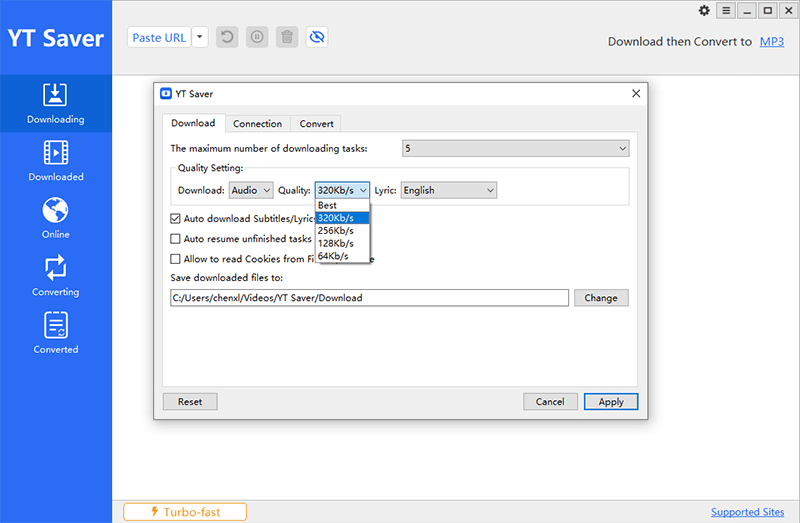 Step 3 Click "Paste URL," the Spotify track will begin downloading in the required format on its own.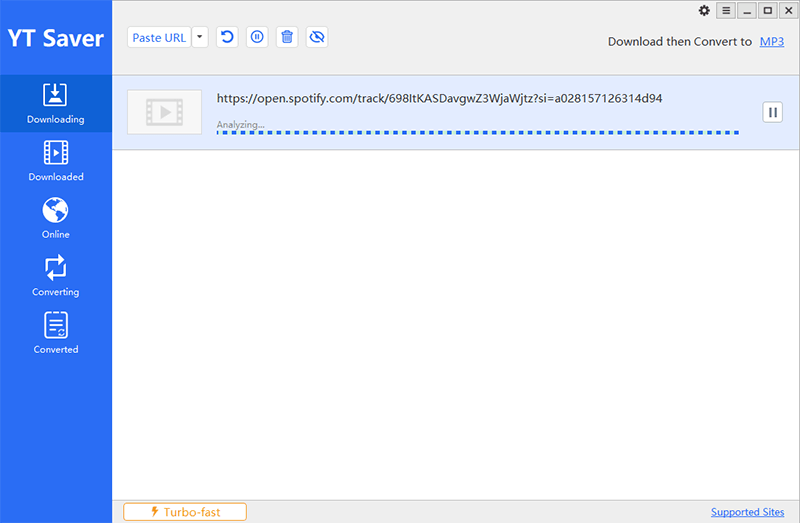 Step 4 When the song conversion and downloading is completed, you will be able to access the song inside your program's Downloaded tab.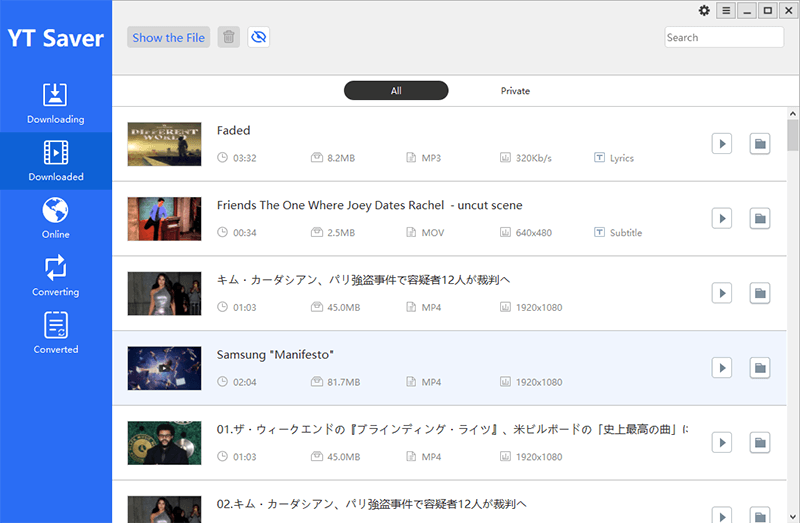 How to Convert Spotify to MP3 on Windows, Mac, Linux?
#1. Audacity
Audacity is a fantastic free, open-source audio editor that's as effective as premium paid-for programs. You can create your own recordings, eliminate noise, combine and cut clips, add special effects, and more, and get real-world professional results.
If you're looking for a no-cost Spotify music downloader tool, then you should check out Audacity. It's a great open-source and a free digital streaming audio recorder as well as an editor.
Audacity can be downloaded for Windows, Mac OS X, and Linux operating systems. It may be the sole Spotify music downloader available for Linux. The most impressive feature of this no-cost Spotify downloader is its high compatibility. It can save as well as remove music files from Spotify and other well-known streaming services.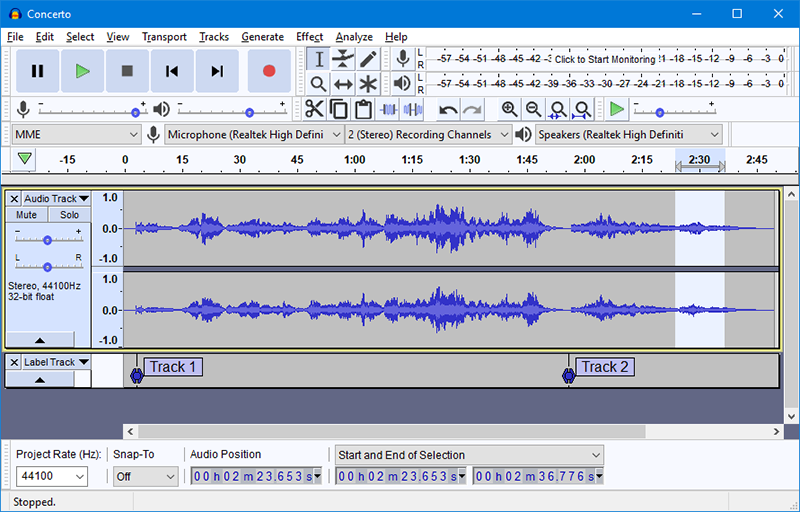 How to Record Audio from Spotify to MP3?
Step 1: Install and download Audacity, the no-cost Audacity Spotify downloader. It is a free Spotify downloader application.
Step 2: Select an audio host and an audio recording device.
Step 3: Choose Stereo recording, and then connect the device that plays back audio.
Step 4: Hit the recording button. Visit Spotify, Open the app and play the track.
Step 5: Click 'File' > 'Export' to download Spotify audio for free.
#2. AllToMP3
AllToMP3 is another well-known streaming music downloader that is free. It works with YouTube, Spotify, SoundCloud, and Deezer. It can also save audio in MP3 format only. It's accessible for Windows, Mac, and Linux OS.
To download or convert Spotify to MP3, it is possible to cut and paste the Spotify link into AllToMP3. This tool will find the same track in the video on YouTube. It will then convert it into MP3. This is not an easy method of converting Spotify music. It is, however, an option to download Spotify music to MP3 without cost.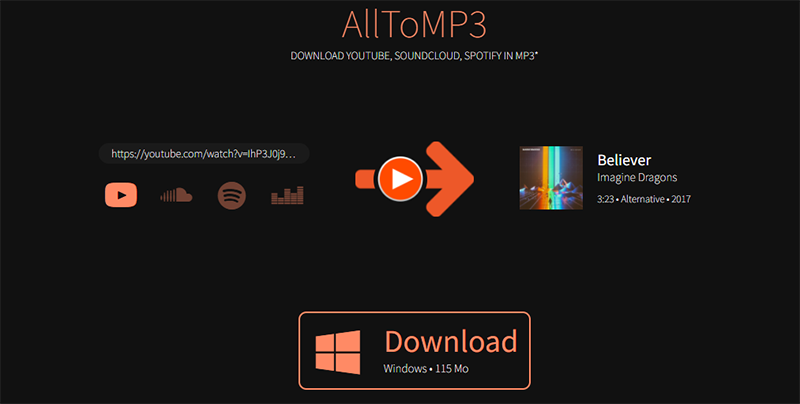 How to Download Spotify Songs to MP3 with AllToMP3?
Step 1: Find your most-loved Spotify tracks, and then copy the URL of the song, playlist, or album. After that, paste it into the search box located at the top of the AllToMP3.
Step 2: Press the button 'Enter' to initiate the recording process.
Step 3: Once the recording process has finished when the recording process is completed, you can search for the recorded Spotify MP3 tracks in your destination directory.
Note: This AllToMP3 cannot be used anymore, after you paste the url and press Enter, you will get nothing. Maybe the site owner no longer maintains this software.
How to Download Spotify to MP3 Online?
#1. Apowersoft Online Audio Recorder
Apowersoft Free Online Audio Recorder is another useful option for this purpose. This Spotify to MP3 converter online for free is an audio recorder that works on both Windows and Mac. It is able to record audio on your computer into MP3/OGG/WMA/WAV file formats.
Additionally, you can cut out the silences during the recording process. You can also edit the songs that you record, such as eliminating the unnecessary parts. Those who are new to the program need to install a launcher to facilitate the recording.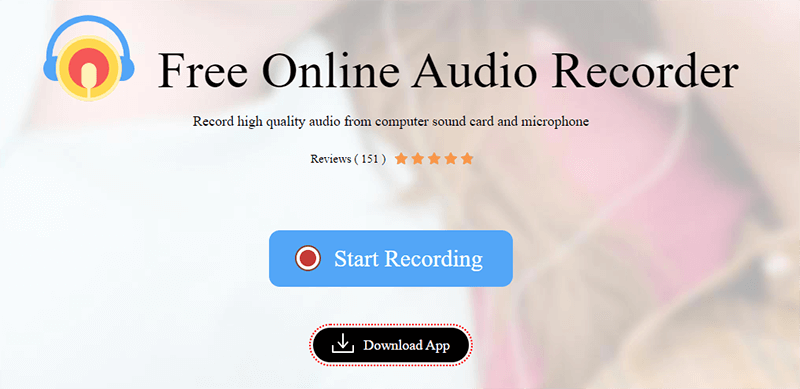 How to Download Spotify Music Online Using Apowersoft?
Step 1: Open the Apowersoft Free Online Audio Recorder website in the Chrome browser.
Step 2: Hit the Start Recording button to launch the launcher.
Step 3: Choose the audio source under 'Audio input.' Go to Tools > Options to change your preferred format for Spotify to convert it to MP3.
Step 4: Start playing the Spotify tracks you'd like to download. Return to Apowersoft to click Record.
Step 5: Once finished recording you can click "Open Folder to review the MP3 files you downloaded. Spotify Mp3 file.
2. Spotify-downloader
Spotify-downloader is an online platform that allows you to download music from Spotify for free. With this online tool, you can download any Spotify track, album, or playlist online as an MP3 file with one click. It is compatible with both desktop and mobile browsers and also adds all the metadata like the cover image, title, artists, and release date in the downloaded songs.
How to Download Songs on Spotify to MP3 Online via Spotify-downloader?
Step 1: Search for the track, album or playlist you want to download.
Step 2: Click the three-dot icon and select Share, then click Copy Spotify URI.
Step 3. Go to Spotify-downloader site and paste the Spotify URI into the search bar.
Step 4. Click the Search button to check the song information, then click the Download button.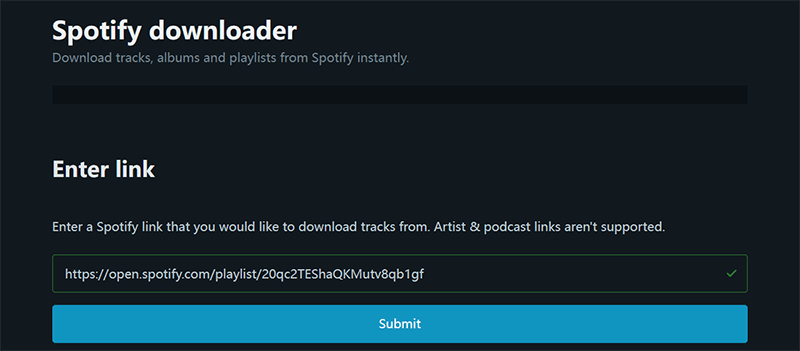 How to Convert Spotify to MP3 on Android/iPhone
#1. Fildo
Fildo is a Spotify music downloader for Android. It is able to change Spotify music to MP3 format. According to reports, they will release the iOS version very soon. Fildo is an MP3 streaming and downloader application that lets you stream high-quality MP3s from all over the world.
There's one thing that distinguishes the Fildo application different from other similar apps available. Fildo does not own its own library of music files. Instead, it rather pulls it from a variety of sources into one location.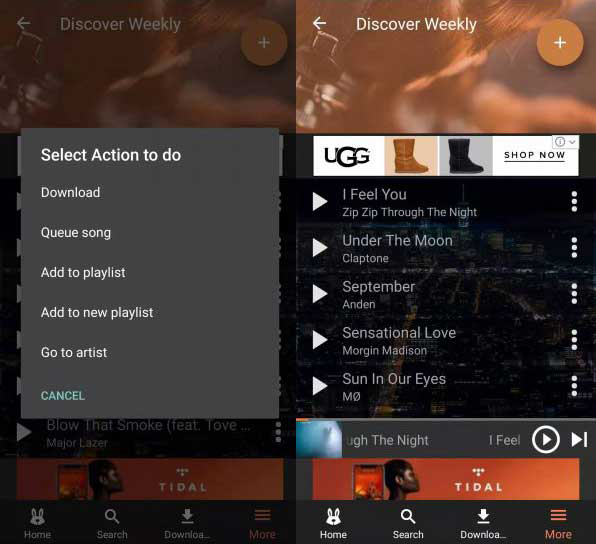 How to Download Spotify to MP3 on Android?
Step 1: Download and install this application for the Android smartphone.
Step 2: Launch it and then navigate to the More' tab, then 'Import' > 'Spotify.'
Step 3: In the next step, you'll need to log in to your Spotify account.
Step 4: After you have transferred the Spotify playlist, you can toggle 'Download' on in order to download your Spotify playlists to MP3 Android.
#2. Shortcuts
If you're an iOS user, you will see the steps to change Spotify to MP3 by following the steps below. In order to do this, it is necessary to use some Siri shortcuts. Before you begin, you must ensure that the Shortcuts App is downloaded on your iPhone.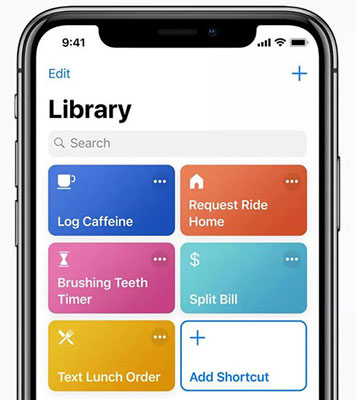 How to Download Convert Spotify Music to MP3 on iPhone?
Step 1: Open the shortcuts link within Safari. Add this link to the Shortcuts App.
Step 2: Get the Spotify tracks to link copied, and then execute the shortcut. It will then begin downloading Spotify music.
Step 3: Once downloaded, go into your Files app. Then hit 'iCloud' > 'Shortcuts' > 'Music'. You will find Spotify to MP3 files. Spotify in MP3 files.
#3. Telegram
Telegram is a cross-platform app for iOS as well as Android devices. Since there's an automated system on it, you are able to access Spotify. It can also be utilized as a Spotify downloader on iOS as well as Android. After that, you can download and transfer Spotify music.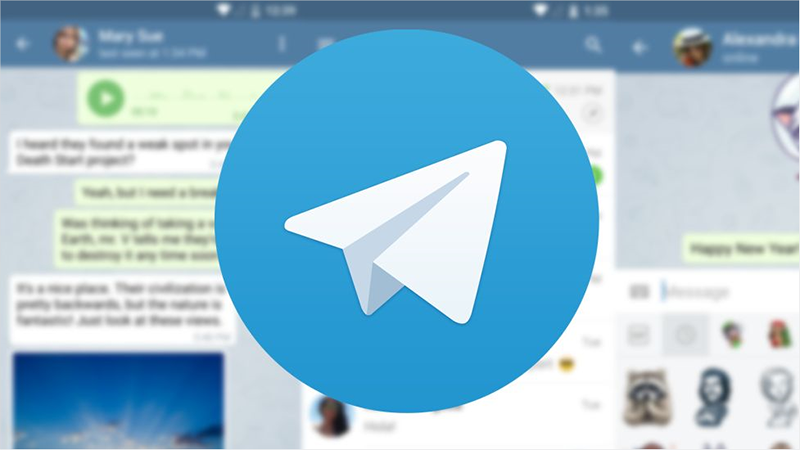 How to Download Spotify Songs to iPhone and Android?
Step 1: Install Telegram from the App Store.
Step 2: Start the Spotify application on your iPhone. Then copy the track's URL from Spotify.
Step 3: Switch on Telegram and search for Spotify downloader on Telegram
Step 4: Choose the Telegram Spotify bot from the results and click the "Start" button.
Step 5: Add the Spotify track's URL in the bar. After that, click the "Send" button for downloading Spotify songs.
Step 6: Click the Download icon and save Spotify to MP3 for your phone.
FAQs About Spotify to MP3
1. Why actually a Spotify MP3 converter is needed?
Every one of Spotify tracks is secured by DRM (Digital Rights Management) and encoded in OGG Vorbis format, so it is impossible to copy downloaded music to devices that don't support the Spotify application, such as iPod Nano, portable MP3 players, etc. With an expert Spotify converter such as a YT Saver music downloader, it is possible to listen to Spotify music on any device with no limitations.
2. Can I download Spotify songs on my computer?
Yes, provided that you are a subscriber to Spotify Premium subscription. There's a download button within your Spotify playlist that lets you download songs within your playlist to listen offline. However, if you don't have a premium account, you can easily try YT Saver music convertor and download your songs.
3. How is the output music quality?
According to Spotify, the free version of Spotify can only stream 96kbit/s on mobile and 160kbit/s Desktop and Premium users can play up to 320kbps. Professional Spotify to MP3 Converter such as YT Saver can preserve that original sound quality of Spotify music, whereas free Spotify MP3 converters cannot.
4. How you can download music from Spotify to your phone?
There isn't a direct application or software that can download Spotify music on the Android and iPhone without the purchase of a premium subscription. But there's a solution. The first step is to download the songs using the above methods. Transfer the songs to the phones of your Android or iPhone through the USB cable, or Bluetooth.
5. How to convert Spotify music to WAV, FLAC, AAC, and other formats?
Install and launch YT Saver.
Copy and paste the Spotify songs or playlists that link you would like to convert.
Select any output file format such as WAV/FLAC/ACC
Click the "Paste URL" button and enjoy music that is in the format WAV.
Unlimited download Spotify songs, playlists, albums without premium
Support 10,000+ video/music streaming sites
Convert online video/audio to MP4, MP3, MOV, M4A, AAC, etc.
Retain original sound quality, even MP3 320kbps
Preserves the original ID3 tag information
Offers 10X faster speed than any other downloaders