3 Easy Ways to Download Spotify Album to MP3
Content
Spotify is a music streaming platform that allows you to enjoy music or podcasts. It enables you to explore and play the selection of music from various musicians, albums, stars, and much more. You can listen to the music online, but to listen to it offline, you need to buy the subscription. However, if you don't want to spend any money, you can take help from various Spotify album downloader options available in the market.
This guide will provide different ways to download Spotify albums to MP3 files without the need to have Spotify Premium account.
Best Spotify Album Downloader Recommended
If you are looking for a program that works 100% reliably and comes with additional features, then you are landed at the right place. YT Saver Music Converter lets you download every kind of music, audiobooks, sound effects, etc. from a variety of music-sharing websites. This includes Spotify, SoundCloud, MixCloud, FreeSound, VEVO, and more.
Moreover, the downloader is fully compatible with various formats, including MP3, AAC, M4A, OGG, etc. It also allows you to download entire Spotify albums, playlists, and artists in one click.
😀Pros:
Support 10,000+ video/music streaming website, including Spotify, YouTube
Convert online medias to 20+ output formats, like MP4, MP3, MOV, AAC, etc.
Download complete playlists, channels, albums from Spotify in few minutes
Keep all id3 tags, including title, artwork, artist, album, etc
Save lyrics in various different languages automatically
The download speed is the fastest and seamless
Update frequently and timely respond to user feedback
☹Cons:
It's a paid software program
How to Download Spotify Album to MP3 on PC/Mac?
Step 1 First of all, open the Spotify album that you are looking to download and copy its URL from the browser address bar.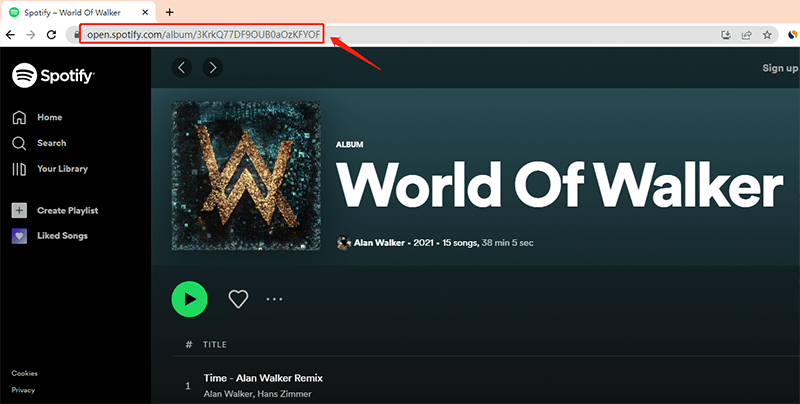 Step 2 Open YT Saver, choose the output format and quality, such as mp3 320kbps, from the Preferences section of the software.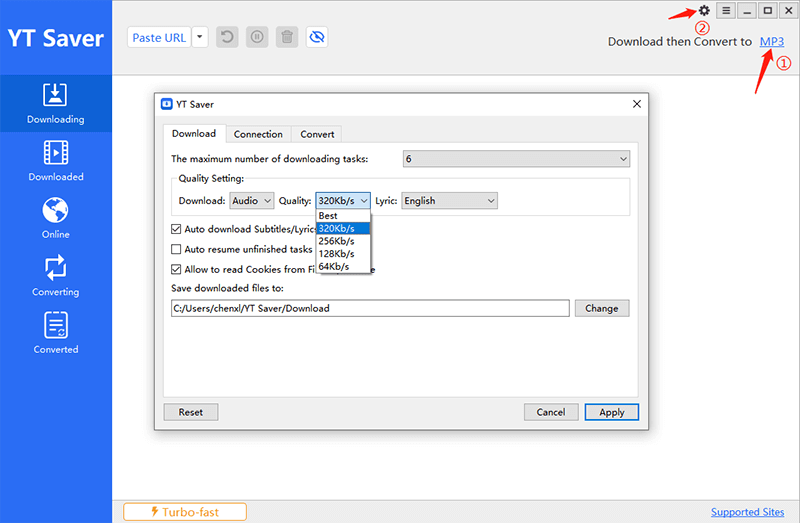 Step 3 Click on the "Paste URL" button and the album will start to analyze automatically and display all lists, check the songs you want to download, then click the OK button.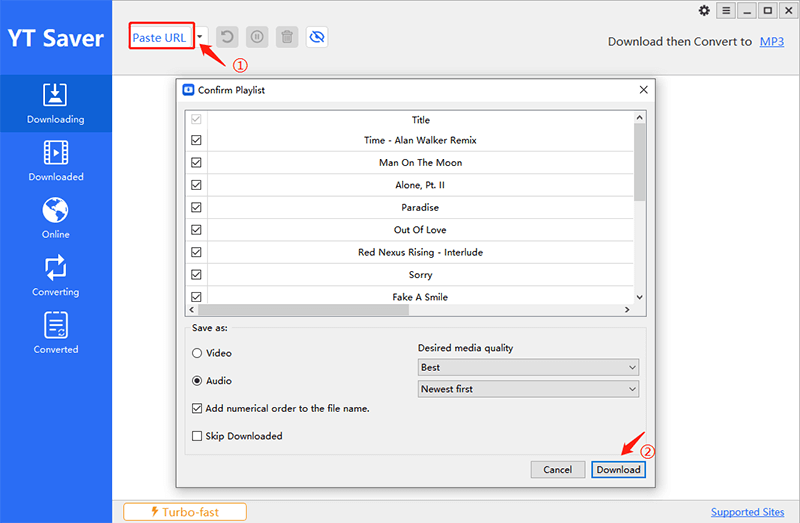 Step 4 The album will be started to download automatically. After the downloading process gets completed successfully, you can access the songs from the Downloaded tab of the program.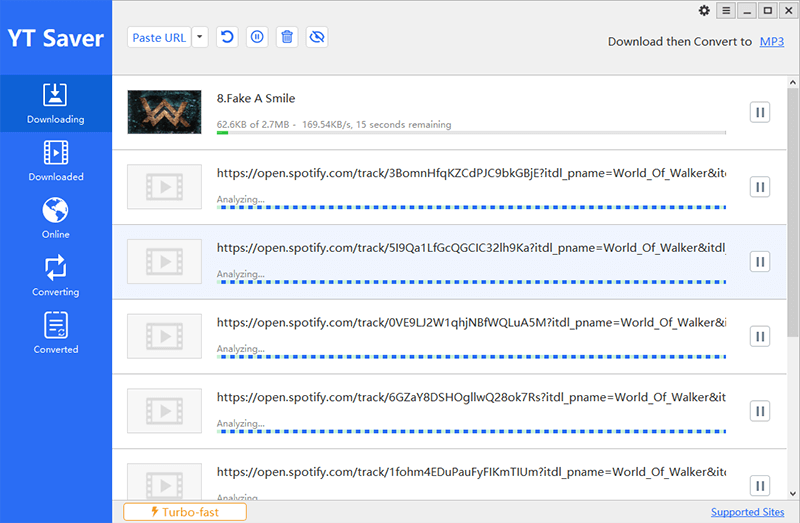 2 Spotify Album Downloader Online Tools
1. Spotify Downloader
Link: https://spotify-downloader.com/
Spotify downloader is a web-based tool that lets you download music from Spotify. To download music from the service, enter the name of the album, track, or playlist URL into the search box and press the search button.

You can get the complete album and playlist downloaded in the format of ZIP. This also includes all the metadata, including cover image artist, release date on the songs that are downloaded. Podcast, Show and Artist page links aren't currently supported. Spotify Downloader works with all browsers, including Chrome, Firefox, and Safari.
😀Pros:
Supports bulk download spotify album
Downloads as 320kbps MP3
No need to install anything
☹Cons:
Verification required from downloading music
How to Download Spotify Album to MP3?
Step 1: Launch Spotify. Locate the album, track or playlist you'd prefer to download.
Step 2: Click on the "3 dot".
Step 3: Choose "Share" and then click "Copy hyperlink".
Step 4: Copy the link from above and then click "Submit".
Step 5: Select to the "Download" button beneath the track you want to download. Or select the "Download Zip" link to download entire track or album.
2. Spotifydown
Link: https://spotifydown.com/
If you're a fan of music who would like to build up a collection for yourself or stream their entire playlist online and offline, SpotifyDown is the perfect tool for you. It is an incredible program that can convert Spotify songs to MP3 or other audio formats. Not just it can convert your music quickly and easy, it also preserves all the quality and originality of your songs and gets rid of those annoying Spotify advertisements for good.

With its sophisticated configurations, Spotify Music Converter supports numerous audio formats like FLAC to MP3 WAV to MP3 AIFF and MP3 and more. So, downloading your most loved tracks has never been simpler. Through Spotify Music Converter available for Spotify, it is possible to instantly convert any song into mp3 format. Let's learn how to use this spotify album downloader online.
😀Pros:
Free solution
Doesn't requires to install anything
☹Cons:
Too many ads
Only download music tracks one by one
Cannot download Spotify in 320kbps
How to Download Spotify Album using SpotifyDown?
Step 1: All you have to do is launch your Spotify app, find the album or song you'd like to download, then click the "3 dots" button that is just below the title, click "Share," and then click on the "Copy Link" button.
Step 2: Paste the URL into SpotifyDown and then press "Submit."
Step 3: Spotifydown will swiftly process your link, and all you have to do is to click "Download" button and you'll be all set to listen to your music offline without cost.
Conclusion
We've examined the top Spotify downloaders available to download music for offline usage. After all the analysis, we recommend YT Saver as the best option available. It is more than just an ordinary music downloader; it is a multi-purpose downloading software that may help users in a number of ways. Download the most recent version of YTSaver now and start enjoying high-quality spotify music downloads from today!
Amanda
She is engaged in the Internet industry and is a professional in audio/video downloading and conversion topics. She has published articles on some blogs and media to help many people solve audio and video problems. She usually watches YouTube and occasionally shares some video tutorials on YouTube. She is a humble and serious person, hoping to write technology and life in her own language.