The Spotify playlists encode using the Ogg Vorbis format, which CD players cannot play. However, the WAV is a lossless audio format commonly utilized in Windows system. It's also widely used by all CD burners because of its audio quality that is not compressed.
Therefore, if you want to playback Spotify music on your CD players, you can convert Spotify song to WAV format first. Today, we will review the most effective tools available for free online and spotify to wav converter software.
Related Reading
How to Convert Spotify to MP3 for Free
How to Convert Spotify to WAV with YT Saver
To burn Spotify music to your CD, conversion of Spotify to the WAV format is essential. However, because Spotify songs are protected under Digital Rights Management, only Premium subscribers can download Spotify songs to listen offline. But, they're not permitted to change Spotify tracks to WAV or other formats.
However, there are third-party applications that help solve the issue for good. YT Saver Music Converter is one such professional software that lets you download Spotify music in WAV losslessly for Windows or Mac. With just a few clicks, you'll download WAV music from Spotify with ID3 tag information, such as artist, album, album cover, track number, title, and many more retained.
How to Download WAV from Spotify on PC/Mac?
Step 1 Open Spotify and copy the song URL.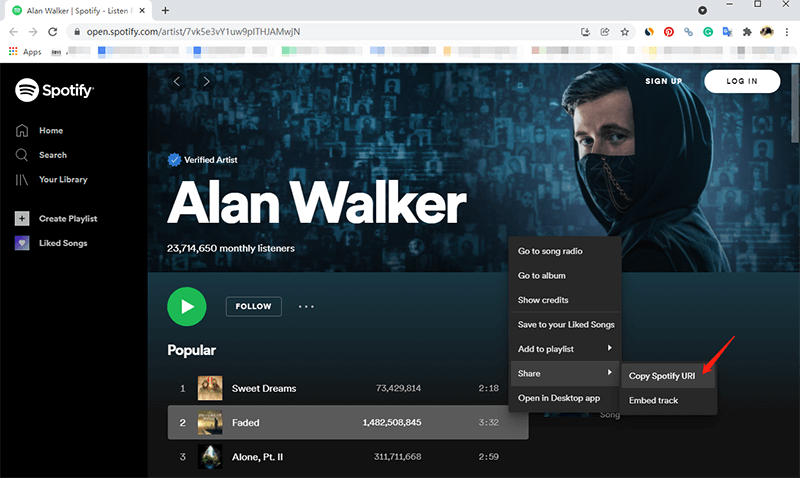 Step 2
Next, open the software, and choose WAV as the output format for your song.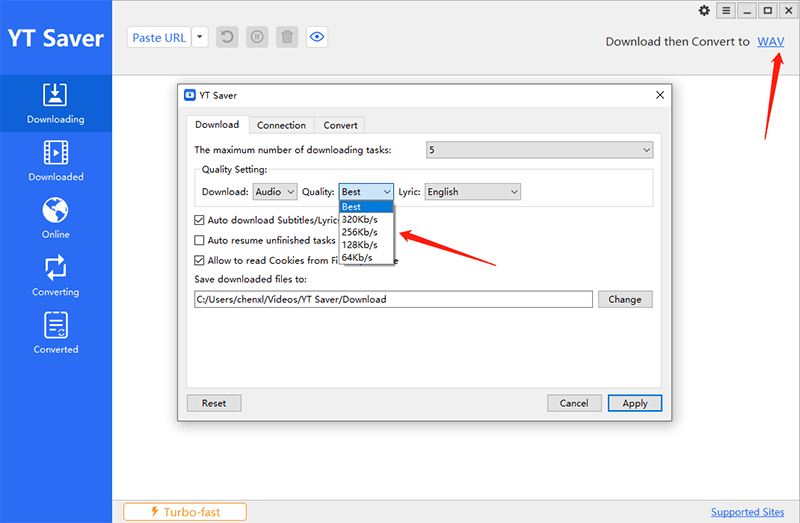 Step 3
Now click on the "Paste URL", button, and the song will start downloading automatically.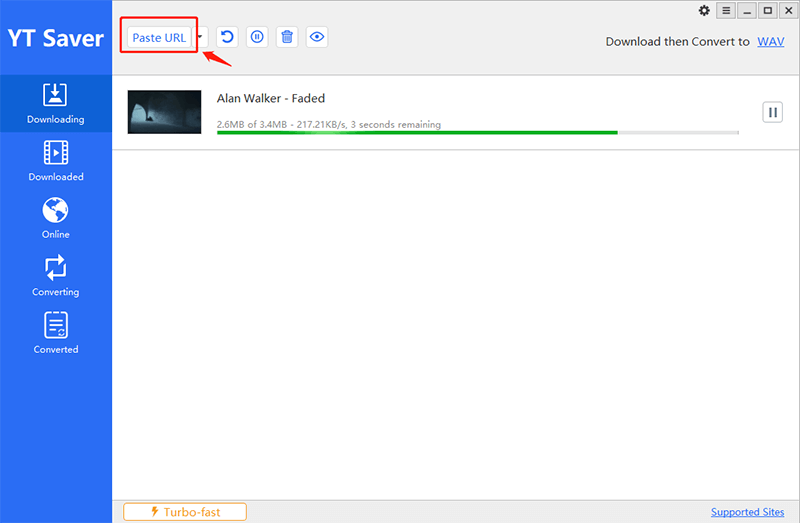 Step 4
Once the process gets completed, you can get your WAV files from the downloaded tab.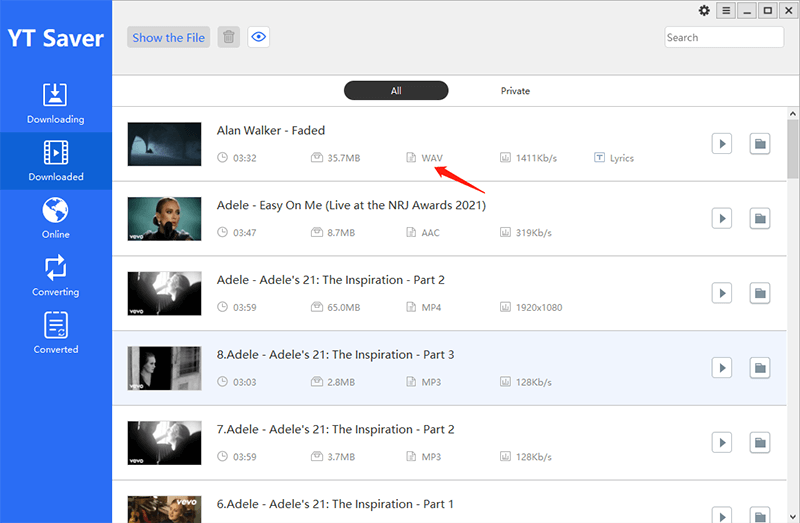 How to Convert Spotify to WAV Online for Free
If your budget isn't enough to purchase a high-end tool and you are looking for a low-cost online tool, maybe you can try Online-Converter.
Online-Converter is among the free online music downloading software that works with Spotify music. As its name suggests, it's an all-in-one audio converter that lets users convert any audio online. It can convert and download Spotify playlists into MP3, FLAC, WAV AAC, M4A, and OGG online, and it doesn't require downloading additional programs, just a tiny installer to begin the conversion.
How to Convert Spotify to WAV Online?
Convert your music or audio to WAV format using this online tool for free. Upload your audio file, and the conversion will begin immediately. You can also convert Spotify track to WAV online.
Step 1: Open Online-Convert WAV Conveter, choose "Enter URL".

Step 2:
Paste the copied Spotify song url to the search box, click "Add" button.

Step 3:
The conversion will begin, after that, click the "Download" button.

Spotify to WAV Converter vs. Online Tool
| Features | YT Saver | Online Solution |
| --- | --- | --- |
| Download Playlist, Albums, Artists | ✓ | X |
| Supported Output Formats | Supports 20+ Popular Formats | Limited Formats |
| Supported Streaming Sites | Compatible with 10,000+ Video/Music Sites | Only a Few Popular Sites |
| Download High Quality | ✓ | X |
| Turbo-fast Speed | ✓ | X |
| Network Connection Dependent | ✓ | X |
| Lifetime Update, Technical Support | ✓ | X |
| Stable to Download | ✓ | X |
Frequently Asked Questions
🎶 MP3 vs. WAV
MP3 files have bitrates that range between 90kbps and 320kbps, which is a significant contrast to WAV files that typically have a bit rate of 1,411 kbps when played at 16 bits. This variation in bitrate illustrates the degradation in the quality of MP3s as MP3s compress.
MP3s are indeed simple to transfer files due to their size-compressed file. But smaller files create MP3s more vulnerable to online piracy. Making use of MP3 files could expose you to what's referred to by the term "compression artifacts," which could appear in your audio recordings. As audio files compress, they may pick up undesirable sounds. WAV format is often utilized by radio stations such as BBC Radio, Global Radio, and others.
📼 Which Device is Compatible with WAV?
If you're planning to convert your audio files into WAV format, then you need to find out the device or player that can play WAV files. In reality, all portable devices available are able to play audios in the format WAV. This includes the Apple Watch, iPod, Sony Walkman, and others. If you want to play the WAV format using the player, you can utilize VLC media player, Windows Media Player, QuickTime Player, iTunes, and many more.
Convert Spotify into MP3, WAV, AAC, FLAC, and more.
Support YouTube, Spotify, Facebook, and other 10,000+ site
Download at 10X faster speed
Maintain the original quality and ID3 tags
Bulk download Spotify playlists, albums, artists, etc.