WAV file format has always been a popular format because it ensures a lossless audio format. It is capable of keeping the audio files in their original premium quality. Generally, a WAV file is used when people want to burn Spotify songs on a CD or download them for the best audio playback experience.
Nevertheless, converting Spotify into WAV lossless quality is not always an easy thing to do. Therefore, the purpose of this article is to discuss the top 3 ways in which you can convert Spotify into WAV losslessly.
Best Method to Convert Spotify to WAV Losslessly
YT Saver is certainly the best way to convert your Spotify songs, albums, and playlists into WAV lossless files. It is a user-friendly tool that supports over 10,000 websites and platforms, including Spotify, to help you download videos and music from them.
How to Convert Spotify Music to WAV for Free?
First of all, you have to download and install YT Saver on your computer system. Follow these steps to convert Spotify Music to WAV:
Step 1 Open Spotify and copy the song link that you want to download in WAV format.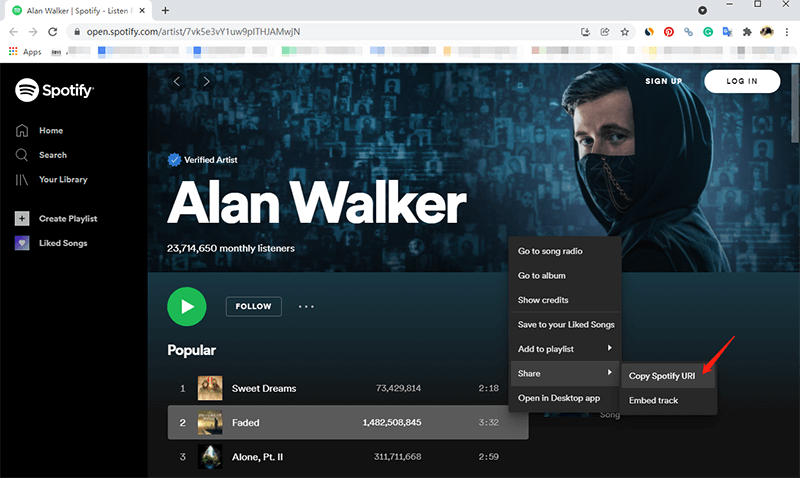 Step 2 Open YT Saver on your computer and choose the output format as WAV and the quality.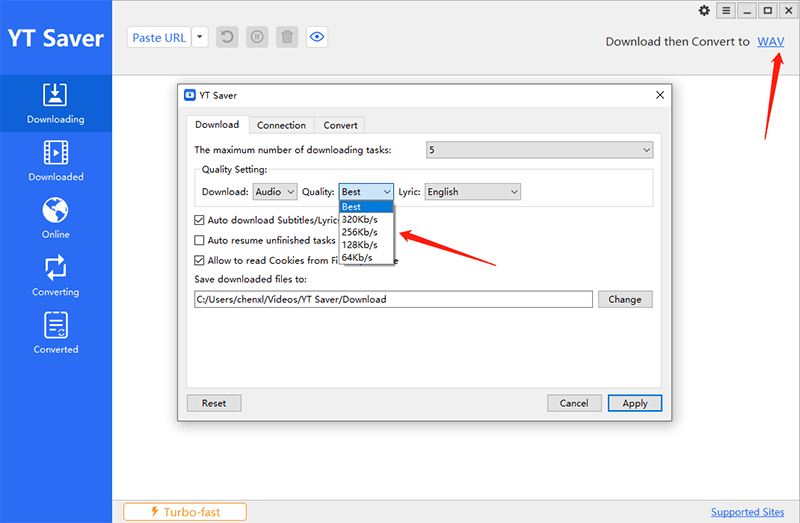 Step 3 Paste the URL, and downloading will start automatically.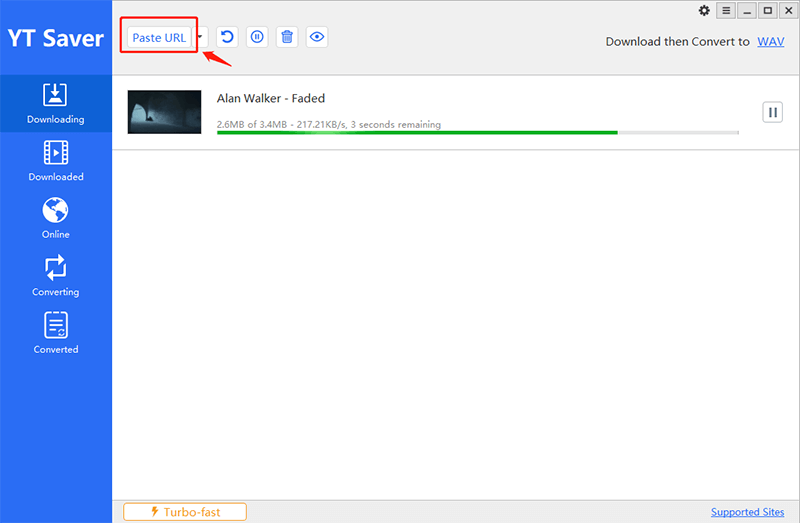 Step 4 You'll be able to find the downloaded song in the Download tab.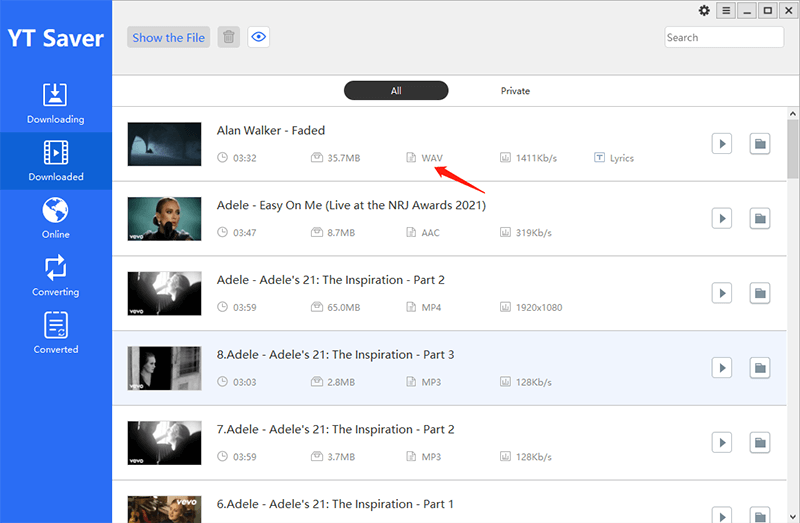 YT Saver is certainly the best Spotify to WAV converter because there is no quality loss involved in it. Moreover, the conversion is made directly, so you won't have to go through any extensive steps.
How to Convert Spotify to WAV online?
If you want to use reliable Spotify to WAV online convertors, you should keep in mind that you'll have to go through various steps to achieve this goal. The reason behind this is the fact that there is no Spotify to WAV converter that can make the conversion directly. So, you'll have to download Spotify to MP3 and then convert the MP3 file into WAV through an audio converter.
#1. Spotify to MP3 with SpotifyMate
In order to convert and download Spotify songs into MP3, you can use SpotifyMate. SpotifyMate is an online Spotify music downloader. You can use SpotifyMate to download entire Spotify playlists and albums without installing any tool or extension on your computer. It is an online platform, so you can access it via a web browser on any of your devices.
Follow these steps to download Spotify music with SpotifyMate:
Step 1: Open the Spotify app on your device or the web player and select the playlist that you want to download.
Step 2: Click on the three-dot icon, select Share, and click on the copy album/playlist link.
Step 3: Open SpotifyMate on your web browser and paste the link into the field.

Step 4: Click on the download button. The tool will give you the option to download each song in MP3 on the playlist one by one.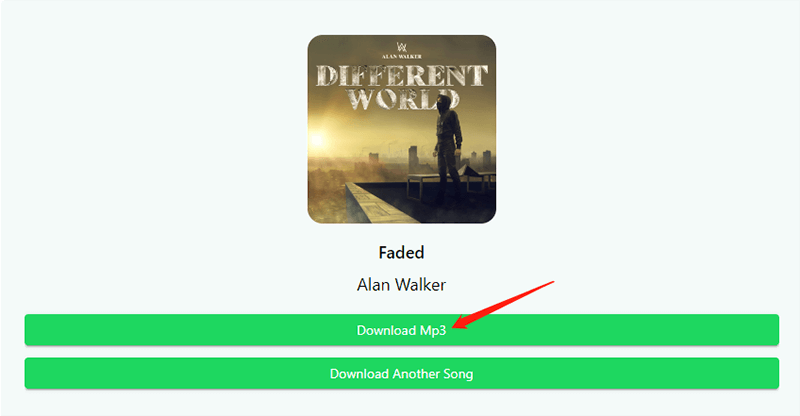 #2. Convert Spotify MP3 Files to WAV Lossless
Step 1: Open an Audio Converter Online.
Step 2: Upload the MP3 file or simply drag and drop it.
Step 3: Once the file uploading is complete, you'll have the option to change the output settings and even trim the file if required. Choose the output as WAV and download the file. In this way, you'll have Spotify to MP3 to WAV lossless files by using online tools.

How to Record WAV from Spotify Online?
Another way of obtaining Spotify songs in WAV lossless files is by recording them. For this purpose, you'll need a free audio recorder and an online convertor. Apowersoft Free Audio Recorder Online is a reliable online tool to use for this purpose. You won't have to download it on your system. Instead, you can easily access it via a web browser and download the file in MP3 format.
#1. Record Spotify Songs
Step 1: Open a new tab on your browser and access the Apowersoft Free Audio Recorder Online. You'll see the option to Start Recording on this page.
Step 2: Click on Start Recording and select System Sound as the target source.
Step 3: Play the Spotify song that you want to convert and download in WAV format online. Make sure you press the Start button at the same time to get the entire song. Once the song has finished, press the stop button to stop recording.
Step 4: After stopping the recording, you'll get the Save option. Use it to download the file to your computer. The file downloaded will be in MP3 format.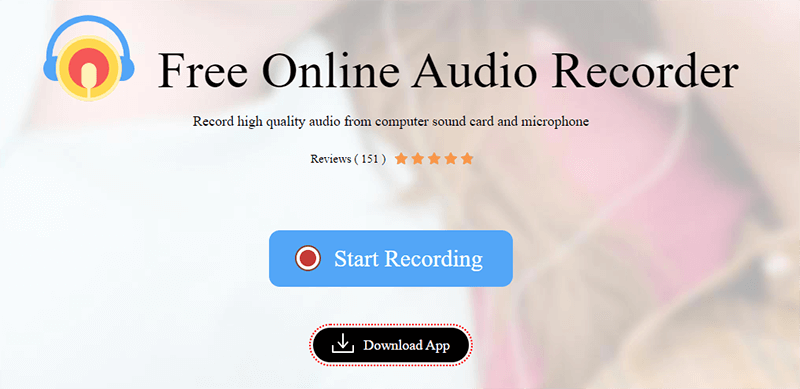 #2. Convert Spotify MP3 Files to WAV Lossless
Convert the MP3 file to Wav formats still using the Audio Converter Online.
FAQs About Converting Spotify Songs to WAV
Q1. What is the WAV format?
A: WAV stands for Waveform Audio File Format. It is an audio encoder that uses the renowned lossless method to make sure the music is saved in the best quality without any compression. A lot of companies as well as individuals, use the WAV format to save high-quality audio and offer the best music streaming experience.
Q2. Why choose to convert Spotify music to WAV instead of MP3?
A: WAV file format offers uncompressed and lossless audio quality. On the other hand, MP3 files are compressed, due to which the quality of the audio can also be affected. You can choose to convert Spotify music to WAV in many situations, such as:
Burning Spotify songs to CDs
Getting the highest possible audio quality
Enhancing the music streaming experience
Q3. How to add the converted WAV files to Spotify?
A: Spotify is fully capable of playing the converted WAV files. Once you have downloaded the Spotify music in WAV file formats, you can add the local files to Spotify by following these steps:
Step 1: Open Spotify on your device and access Settings.
Step 2: Enable the Show Local Files option.
Step 3: Open Your Library and select the WAV files that you want to add to your Spotify.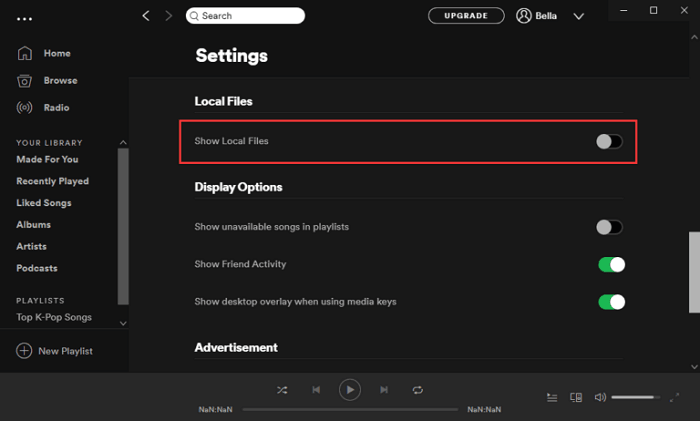 Q4. Where can you play WAV audio?
A: It is quite uncommon for users and even large-scale music websites to share WAV files. However, most of the audio players on desktops as well as smartphones, allow you to play WAV audio file formats. Some of these major media players are VLC, iTunes, Windows Medica Player, Bandcamp, and many others.
Conclusion
The bottom line is that if you choose to convert Spotify songs into WAV file formats online, you'll have to go through multiple steps and reconvert the MP3 file into WAV. This entire process becomes much easier and quicker with YT Saver, which allows you to obtain WAV lossless files with a few clicks.
Download Songs from Spotify, YouTube, SoundCloud, etc.
Convert Spotify songs to MP3, WAV, M4A, AAC, etc.
Downloading multiple songs or playlists in one click
Save MP3 songs up to 320kbps quality
Retains all id3 tags for downloaded songs