How to Fix Tuneskit Cannot Access Spotify Account Issue
Content
If you are a music lover and don't have premium access to Spotify, you can download third-party software's to listen songs offline. Tuneskit is one of the most popular options available in the market. However, sometimes users have reported certain issues such as Tuneskit cannot access Spotify account. Don't worry if you face this problem, this article will help you in providing with the solutions.
Moreover, we will also provide you with Tuneskit alternative so that you can listen to Spotify offline without any issue.
TunesKit Disabled My Spotify Account?
Sometimes when you try to download music on Spotify through TunesKit you can face problems. The one that is the most consistent is users getting signed off from their account. Moreover, they get an official email from Spotify that they violated their policy by downloading illegal and the account is suspended. Not to worry, you can recover your account by emailing them. Furthermore, we have compiled solutions for you!
🛠 Solution:
1. You can reduce your chances of being detected when converting your music by Spotify make sure you use 1x speed to convert when downloading through TunesKit.
2. Another highly recommended solution you can perform when downloading Spotify songs via TunesKit is you simply don't log in to your Spotify account.
Tuneskit Spotify Downloader Not Working?
Sometimes you face completely different problems when using TunesKit. We have listed some of the problems users face and their alternative as well.
1. Tuneskit Launching Spotify Failed?
For some users when they download Tuneskit and launch it, the downloader sometimes doesn't work for some reason. There could be a lot of reasons behind this. Some speculate it to be an issue with the region and advise to use a VPN.
2. TuneSkit Cannot Download Spotify Song or Playlist?
Another issue that users face is sometimes when they download TunesKit and wants to convert the songs for offline viewing they cannot do it. Instead, they get stuck to the drag or dropped page.
Don't worry if Tuneskit not working and you are facing these issues, there are solutions available.
🛠 Solution:
1. Update the Newest Version
Simple solution is to update you're your program. Go to menu and check for updates if you're working with the updated version. If you are, you can re-install the program. If everything still works, try listening to your Spotify playlist! You'll be surprised at the results!
And if you're still experiencing the same problem after this method, try clearing your cookies and cache and restarting the browser. Or try the next solution.
2. Try Tuneskit Alternative
If you're still having trouble with your Spotify account then it's time that you look for an alternative converter that offers the same services as TunesKit.
Best Tuneskit Alternative – YT Saver Music Converter
The ultimate solution to the Tuneskit cannot access Spotify account issue is to install a third-party converter. YT Saver Music Converter is a powerful program which can download Spotify music without premium account, and allow you to convert them into a variety of formats, including MP3, AAC, WAV, M4A, etc.
Moreover, you are able to download audios and videos from 10,000+ websites, including YouTube, Spotify, SoundCloud, Instagram, and many more. It is also possible to convert online files into formats that are fully compatible with iPhone, iPad, Android and desktop computers.
📖 How to Download Spotify Songs on PC/Mac?
Step 1: Copy the URL of the required Spotify song from the address bar of the browser.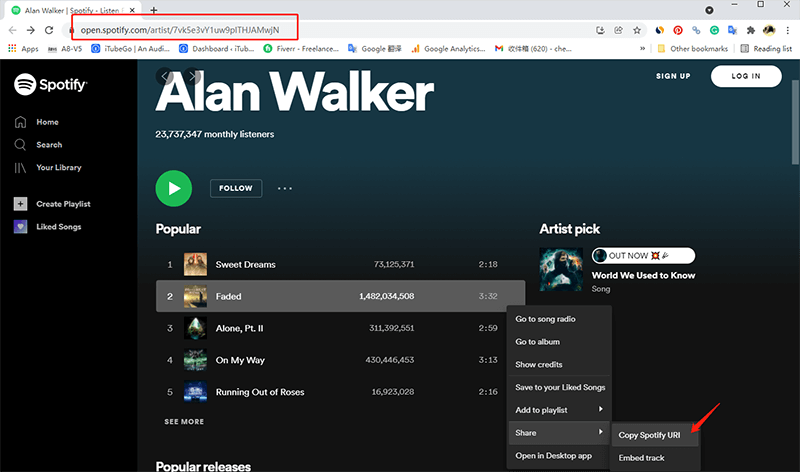 Step 2: Start YT Saver, select the output format of the song such as mp3 and required quality from the Preferences menu.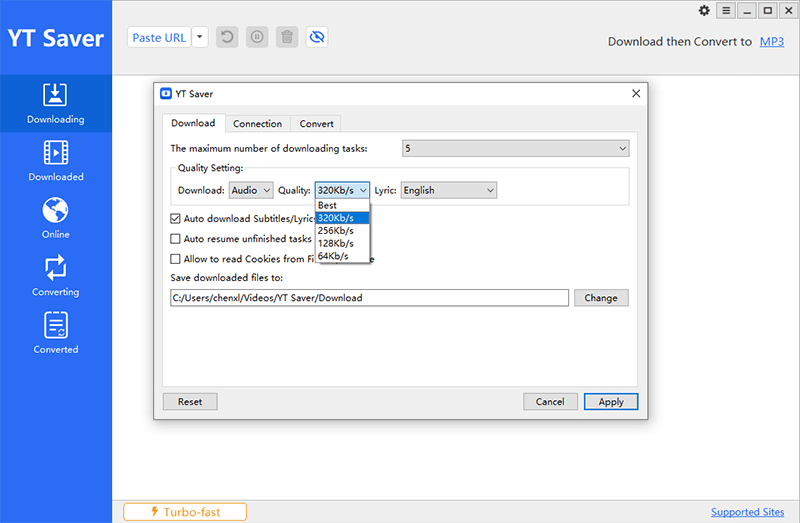 Step 3: Click "Paste URL" button and the track will start downloading automatically without you needed to inputting anything.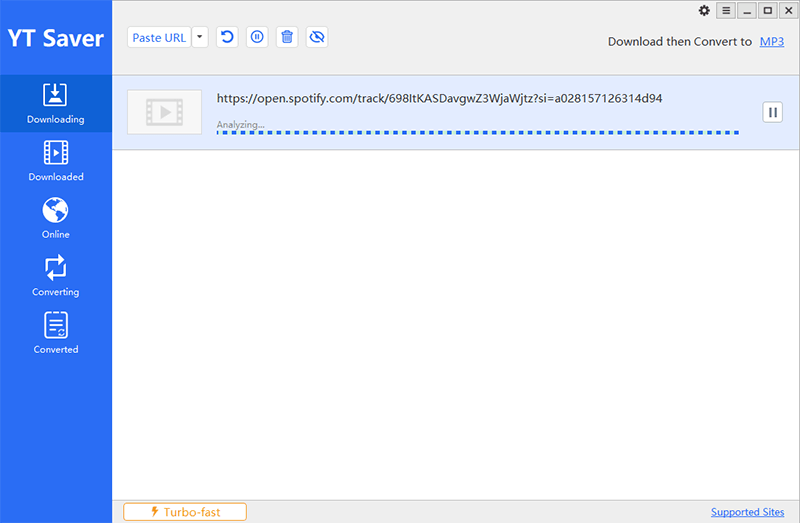 Step 4: You can go and look for the files in the Downloaded tab when the process gets completed.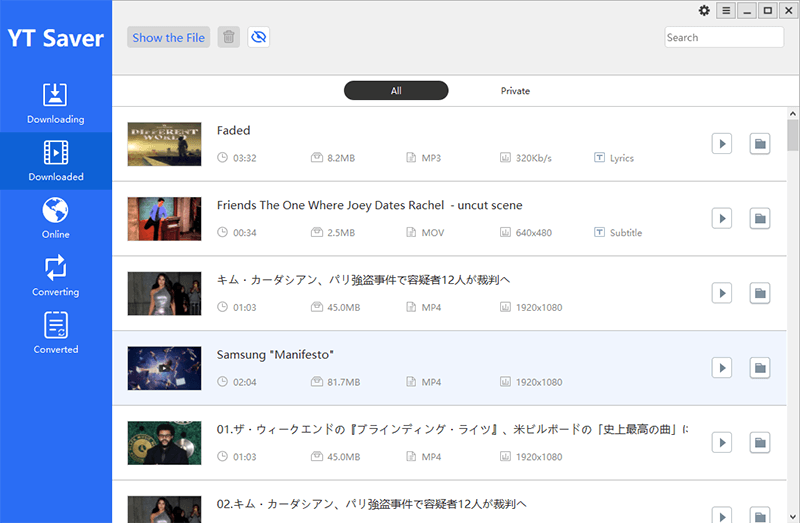 Conclusion
Hopefully the above-mentioned methods can help you get rid of the Tuneskit problem. The article has discussed both the problems and solutions. However, we would recommend using YT Saver as it provides with a lot more features. In paid version, you also get lifetime customer support so if you are ever run into a problem, they are there to help. Moreover, it provides downloaded content in the formats that are compatible with iPhone, android, windows and Mac.
Download single track, playlists, albums, artists from Spotify.
Support 10,000+ popular music/video websites.
Allows you to download Mp3 music in the highest bitrate i.e. 320kbps.
Convert videos to MP4, MP3, MOV, AAC, WAV, etc.
Downloaded file retain its original quality, ID3 tag information and even lyrics.
Enjoy the fastest speed of downloading and conversion.
Amanda
She is engaged in the Internet industry and is a professional in audio/video downloading and conversion topics. She has published articles on some blogs and media to help many people solve audio and video problems. She usually watches YouTube and occasionally shares some video tutorials on YouTube. She is a humble and serious person, hoping to write technology and life in her own language.