[5 Ways] How to Download Instagram Reels Audio as MP3 320Kbps
Content
Instagram videos, especially Instagram Reels are very popular, that 91% of users who were surveyed stated that they view videos on the platform at least once a week. Many more users stated that videos are much more engaging than photos. It is undeniable that videos are actively reaching users, and this trend will likely continue. If you are not already aware, many videos on Instagram go viral, (some can hit over 100,000 views in a manner of hours after they have been uploaded). Instagram will allow you to download your own Reels, but unfortunately, that is not the case if you try to download someone else's Reels. It is even more confusing if you try to Instagram Reels music download (where you save the video files as audio instead). Thankfully, there are solutions to that and this guide outlines five ways to download Instagram Reels audio.
Way 1: Using YT Saver Instagram Reels Audio Downloader – Recommended
Instagram continues to be the most popular image and video sharing platform worldwide. As a matter of fact, when Instagram launched Reels, some critics say it destroyed Snapchat, although that is very debatable. Instagram allows you to save your own Reels, but that is not the case if you need to download from other accounts. To download Instagram Reels audio MP3, you need a third party tool- YT Saver Music Converter.
This powerful software tool will make it very easy for you to fetch audio from video sources, because of its robust features and its support for over 10,000 websites, including Facebook, TikTok, Twitter, YouTube, BBC Sounds, Spotify, Bandcamp. It has been mentioned on sites such as iLounge, Softpedia, TechTimes and it has a 4.8/5 star rating on TrustPilot. YT Saver Music Converter is built with its own browser, which means you can do everything, (including searching for the audio or videos) right in the app.
Step 1: Download the newest version of YT Saver on your PC or Mac. The software packages are available to download from these provided buttons.
Install the software when the download completes. Open the downloaded setup file, choose your preferred language, read the user agreement and agree to the terms and conditions, choose the installation destination and it should begin to install.
Step 2: Set the output format and quality for the target video. Click on the "Download then Convert to XXX" button, where you should select MP3 from the list you are presented with.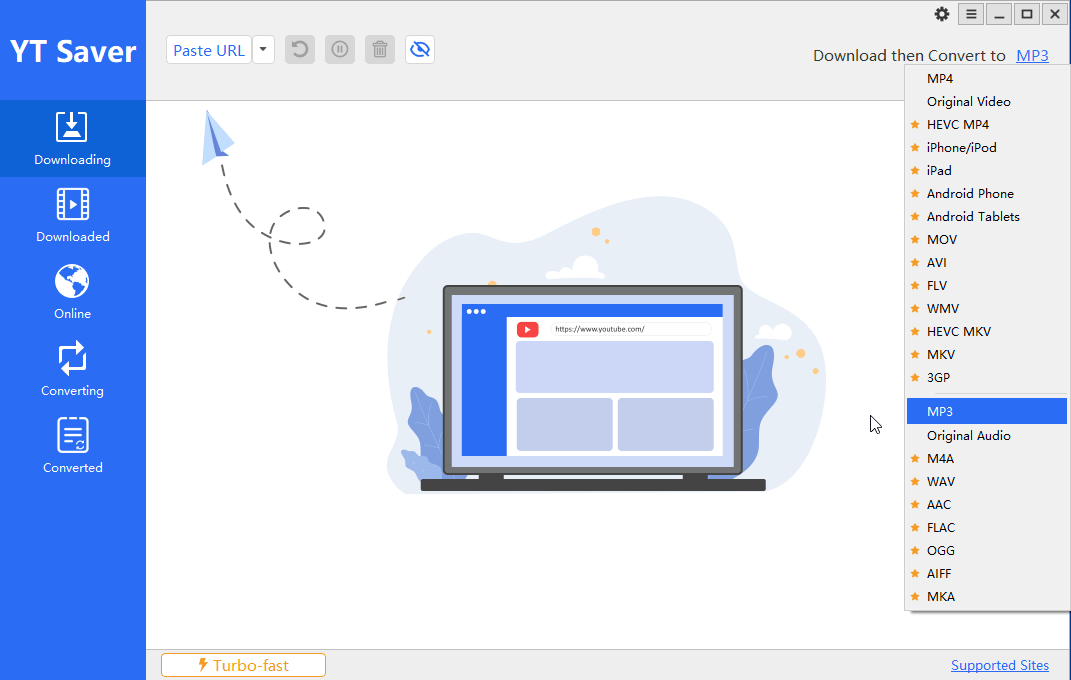 After that, navigate to the setting panel by hitting "Setting" icon (gear-shape icon) in the main interface, choose 320 Kb/s under Quality Setting tab.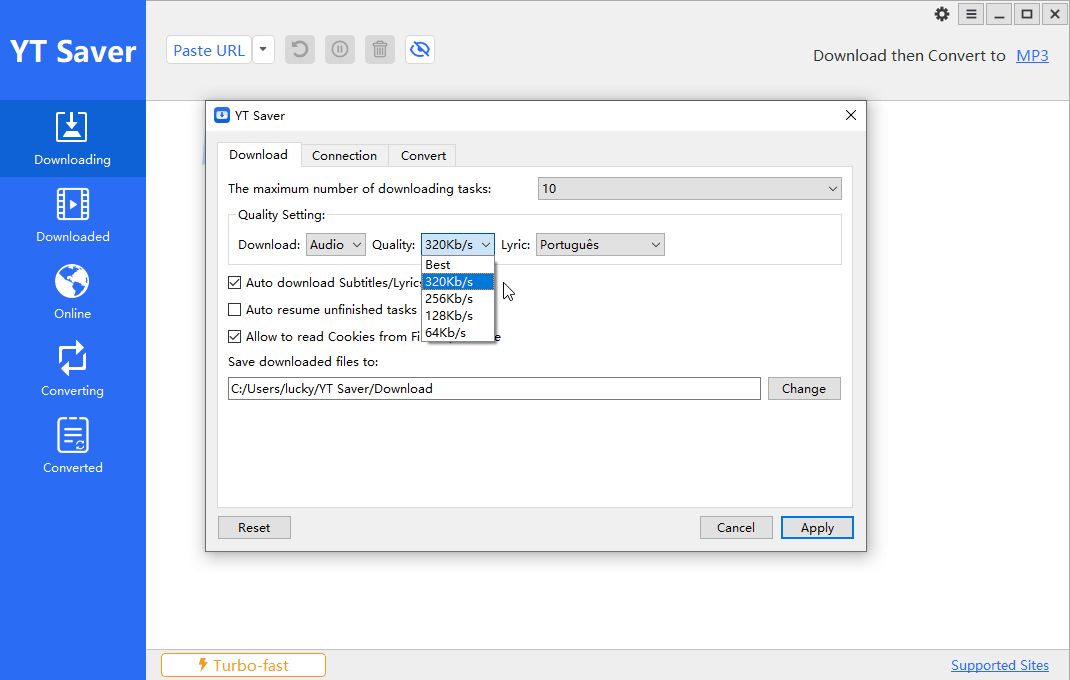 Step 3:
Copy and paste the URL of Instagram Reel, then click on the "
Paste URL
" button in YT Saver program, it should start downloading Instagram Reels audio MP3 then. If you want to download the Instagram Reel video instead of audio, just select the ideal video format in step 2.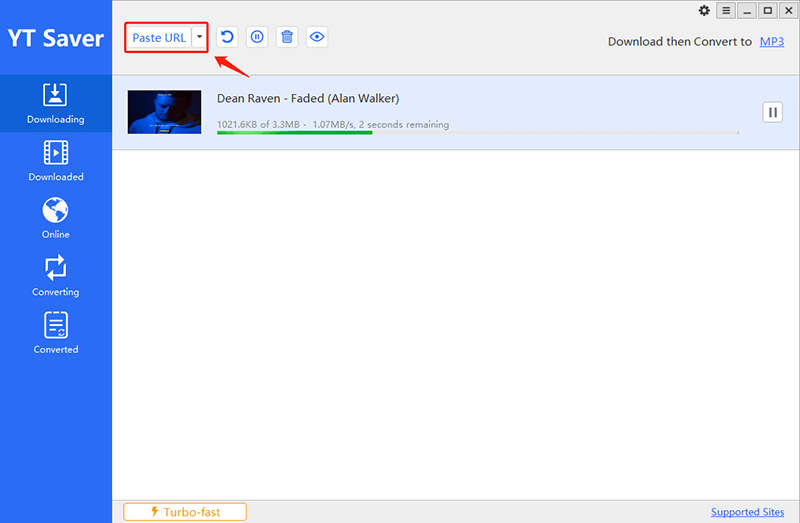 Step 4:
Check the finished task. When the Instagram Reels audio download is complete, you can check the audio file on "
Downloaded
" panel.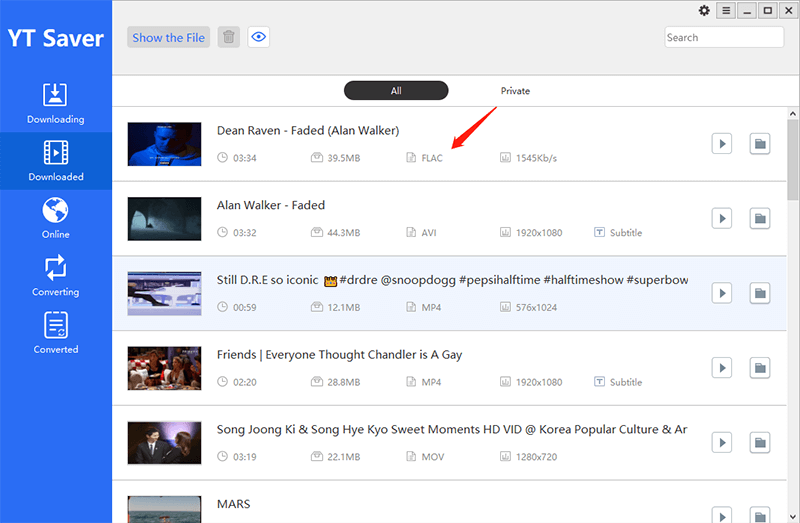 Tips:
YT Saver provides a private mode to protect all your download privacy. Right-click on the target file and choose "
Move to Private List
" tab.
Disclaimer:
YT Saver is a program intended for personal use only, and cannot under any circumstances be used for commercial purposes. The downloading of video and audio files from some websites in certain areas, countries or regions is subjected to local laws, which you should be aware and taking note of.
Way 2: Using Online Tool for Instagram Reel Audio Download
Apart from using the method mentioned above, you can also fetch the Instagram Reel audio by using web apps (commonly known as online downloading tools that work from any web browser). They are very easy to use, because all you need is the URL of the Instagram Reel. Insta Downloader by SaveMe is a good solution for this kind of task. It has a clean interface, (although the page is sometimes flooded by ads), no download limits, and is completely free to use. It is also secured with HTTPS, meaning your personal data will not leak. To start Instagram Reels ringtone download, follow these steps:
Step 1: Visit Instagram, and find the Reel you wish to download. Copy the video link from the address bar. If prompted, login with your username and password.
Step 2: Visit the Insta SaveTube site, and right on the homepage, paste the link you copied from step one.
Step 3: Click the "Download MP3" button when you have pasted the link, and the web app should fetch the audio file.
Step 4: Download the MP3 file. When the web app has finished fetching the audio file, it will present you with the download button.
Way 3: Using Music Recorder to Download Instagram Reel Audio Only
The ways above should be very easy to download Instagram Reels audio, but there is also another way that could also be easy, audio recording. Your computer is built with microphones that allow it to record audio, which can be saved as MP3. A good music recorder you can try is Leawo Music Recorder. It allows you to record from the microphone, and even built-in audio streams such as Dolby Digital. With a very simple interface, this app is also very easy to use. To start recording Instagram Reels, download and launch Leawo Music Recorder, then do this.
Step 1: Set the audio source from the "Add Source" button. Select "Record Computer Audio" in the Audio Settings panel if you need to record from the microphones.
Step 2: Select the output format. On the "Format" tab, choose the preferred output format such as MP3 audio.
Step 3: Start recording the Instagram Reels audio. When you have finished adjusting your preferred settings, click the record button to initiate the recording.
Way 4: Using Browser Extension to Save Instagram Ringtone or Audio
Another effective and easy to use Instagram Reels audio downloader is FetchV. FetchV is a web browser extension (an extension enhances your web browser with features that are otherwise not built with your web browser) that is designed to grab audio and video from multiple sites. It is available for Chrome, Edge, and Firefox. It can download most types of web videos, including HLS, M3U8, AAC, MP3, MP4, WEBM, FLV, etc from a few hundred websites. In the event it cannot fetch the video or audio file, it also has a recording function which will allow it to force the download. To download Instagram reels audio MP3, follow these steps:
Step 1: Launch your web browser, and visit your web store, where you should find all web browser extensions on sale, or for free. Search for the FetchV plugin (free of charge).
Step 2: Install the plugin, then navigate to Instagram. Search for the desired Instagram Reel you wish to save as audio, then open it.
Step 3: Allow the FetchV plugin to fetch the video, after which it should provide you the downloading options. From the presented list, select MP3 audio.
Step4: Initiate the download. Click on the download button you are presented with from step 3 to start the download.
Way 5: Using App to Fetch Instagram Reel Audio on Mobile Phones
To fetch Instagram Reel Audio on mobile phones using apps, you will still need the aid of a video to audio converter, because no mobile apps can do that yet. One of the well known apps that can easily and securely Instagram Reels download 4K is InSaver for Instagram. This app allows users to download all kinds of media from Instagram, which can be saved for offline playback. To use it, follow these steps:
Step 1: Launch InSaver, and click on the Instagram icon on the interface. This will allow you to explore the available Reels.
Step 2: Find the Instagram Reel you wish to download, then copy the link by selecting the option when you click the 3 dots.
Step 3: The Reel will be saved to InSaver, and you should get a download button from there.
Note:
When you save the Reel, you can use a video to audio converter (YT Saver provide a converter module inside) to save it as an audio file.

Manuel
As a Tech geek, Manuel is obsessed with technology and spend most of his time exploring it. The technology has become his life and he is enthusiastic about sharing all new tech gadgets that make him excited.