4 Simple Methods to Download Instagram Reels Video on iPhone/Android
Content
Instagram, owned by Facebook, has introduced a brand new feature, dubbed Reels, a copycat for making short TikTok-style videos. TikTok made it simple for users to share and download videos; however, Instagram Reels does not. This post will explain how to get Instagram Reels download on Android or iPhone.
How to Save Instagram Reels in the APP (iPhone & Android)
You can follow the below mentioned methods to save Instagram Reels in the Instagram application.
Method 1: Save Instagram Reels Directly
Step 1: Begin the process by opening Instagram and clicking on the search icon. After that, you'll find the Reels video you'd like to download.
Step 2: You can also download it via a user's profile. Simply select to open the Reels tab right next to an IGTV tab and select the Reels video you wish to download and then open it.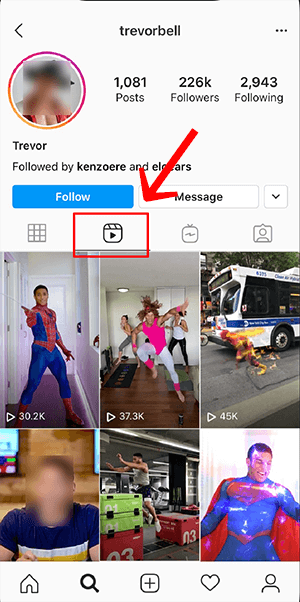 Step 3: Once you've got opened the reel open, click the three-dots symbol in the menu located at the bottom and then click Save.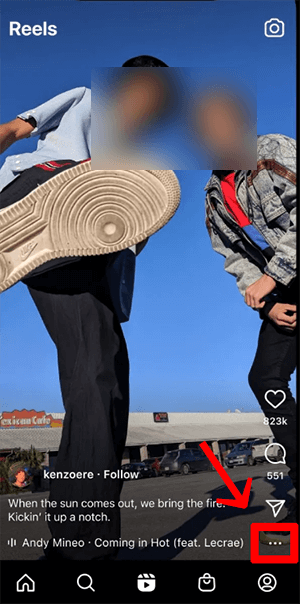 Step 4: To view to the reel you saved, return to your Instagram home screen, and tap your profile icon. The hamburger menu Account Settings, then Saved. There you'll save your videos to the All Posts folder.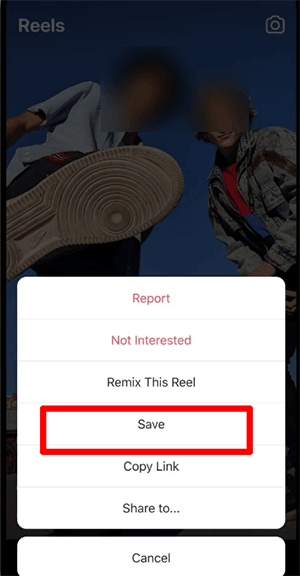 Method 2: Bookmark Instagram Reels
If you simply want to keep Instagram Reels for later use instead of downloading them, you can save the reel.
Step 1: Start your Instagram Reel you would like to save. Click on the 3-dot icon and then hit "Save".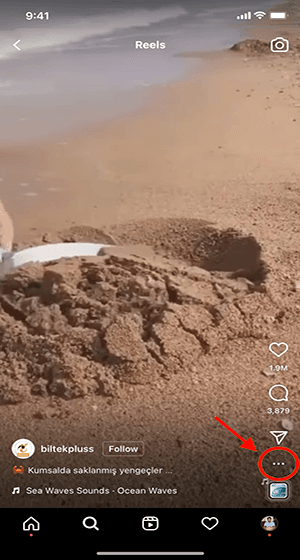 Step 2: Click on the "Save" option from the menu of options.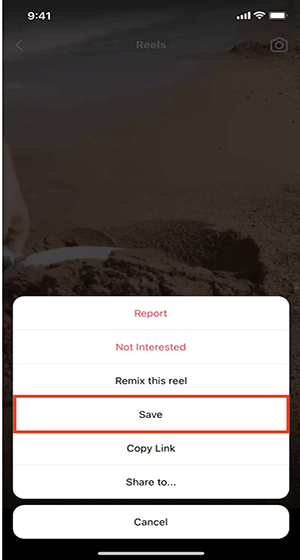 Step 3: To locate your Instagram Reels footage you've saved, go to "Profile screen" -> three-bar icon Saved." Clicking the button on "All post" will display all your saved posts, as well as Reels.
Method 3: Download Using Stories
An easy and useful method that does not require an additional application is Instagram Reels using Stories.
Step 1: Start the Instagram Reels video and tap on the Send/Receive icon.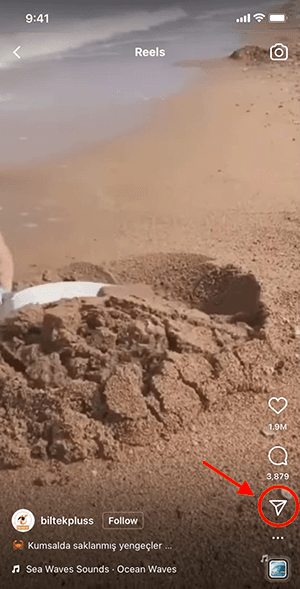 Step 2: Choose the "Add Relative to Story" option.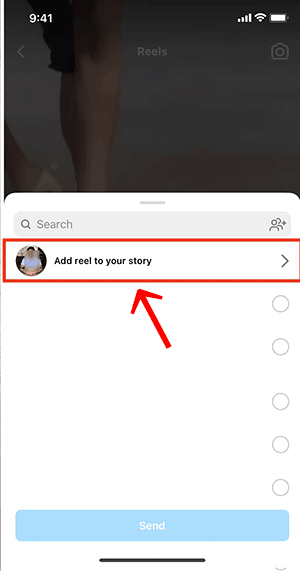 Step 3: The preview will pop up. If you want to stream the movie full-screen mode, you must pinch and zoom to fill the entire screen.
Step 4: After that, click "Download" option at the bottom. That's it! The video will be stored in the gallery on your phone.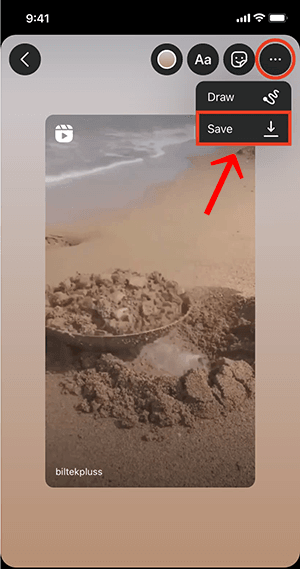 How to Download Instagram Reels Video Online (Android)
If you have an Android phone, here's how you can get Instagram Reels. There are a variety of online tools that allow you to get Instagram Reels without the need to install any application or software. These Instagram reels video download online tools allow you to save your videos with no watermarks or limitations.
Instagram Reels is a new feature that lets you make short-form video clips, with two options for length of 30 and 15 seconds. SnapInsta Downloader can help to download Reels videos that are posted on Instagram post to your devices the most efficient method possible when Instagram is not able to provide support in this.
IGDownloader includes with all of the functions that make this a well-known online tool. It's free, simple to use, and operates across all platforms. It permits users to download unlimited amounts of videos using the copy-paste method. It isn't able to download multiple videos simultaneously. It also allows users to download IGTV videos and reels. Additionally, you cannot download videos through a private profile.
InstaFinsta is a simple and quick tool for Instagram reels videos downloads in HD. With this Instagram reels downloader, it is possible to save the reels in MP4 high-quality in your phone's gallery without giving your login details. It is a free service for everyone. Instagram downloading of reels is free available to all users and allows you to download video reels unlimitedly.
The greatest benefit of Reels Video Downloader is that it does not utilize the Instagram API, so now you don't have to worry about providing your credentials to download the video reels. You can use our video download reels services without registering an account for signup or login.
How to Download Instagram Reels via One of These Tools
Step 1: Go to Instagram and open the Reels you'd like to download. Select the three-dot icon and select the "Copy link" option.
Step 2: Check out any of the above online tools. In this instance, we'll utilize SnapInsta. Click on the "Reels" tab and Copy that URL from this Instagram Reels video.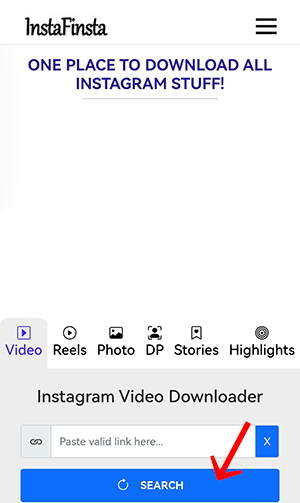 Step 3: Paste your Instagram copied URL into the toolbar of SnapInsta and then click on the
"Download"
button. When it's done downloading, you'll be presented with a preview of the video as well as a huge download button. Hit it, and you'll be able to confirm that you succeeded in downloading an Instagram Reels video.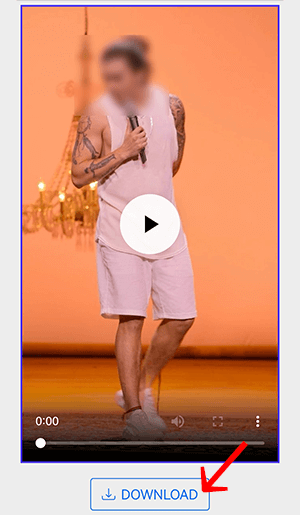 If the video begins showing in another tab, you must press long-press on the video and then click "Download" to save the video.
Note:
If you'd like to download the Instagram reels video online to your iPhone, you must install the Documents by Readdle application and then download the reels using the built-in browser.
How to Download Instagram Reels Video via APP (iPhone & Android)
1. Insaver for Instagram (iPhone & Android)
InSaver is a quick as well as secure Instagram reel downloader. It lets users save all types of media on Instagram in their gallery on their phone. It is possible to download and save Instagram reels and store them through InSaver. InSaver library. The saved videos may be removed one at a time or all at once.
Step 1: Open InSaver and then click the Instagram icon at the top left corner.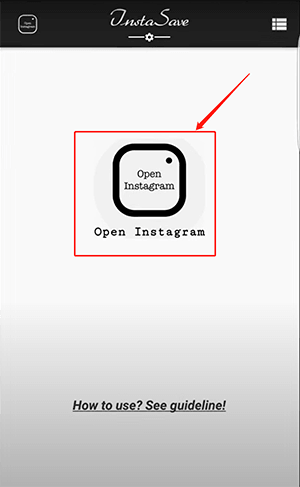 Step 2: Scroll down to locate the Instagram reel you would like to download.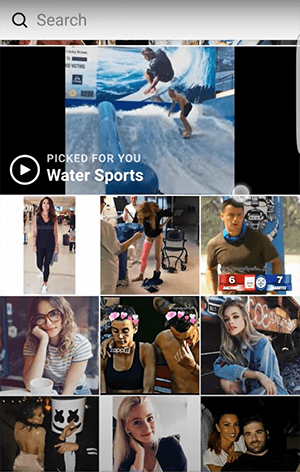 Step 3: Tap on three dots, then tap copy Link.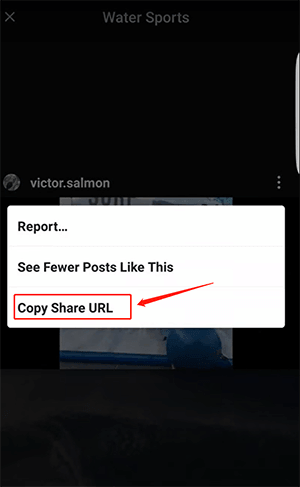 Step 4: The reel is now accessible within the InSaver application. If you wish to save it locally, click the down arrow icon in order to download Instagram reels onto your device.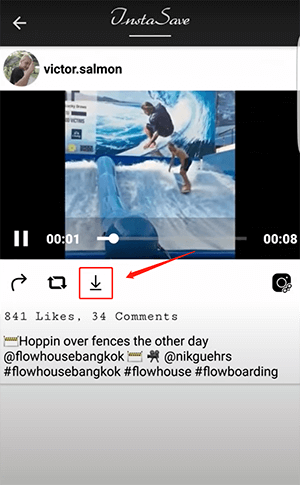 2. Video Downloader for Instagram (Android)
This Tool helps save Instagram photos, video, IG reels and stories. The Instagram story downloader is able to download every content from Instagram, Instagram lite and IGTV fast and effortlessly. It is a Safe and small downloader application for IG. It also allows Instagram videos Instagram to be downloaded in batches.
Step 1: Copy the link to the Reels & Highlight.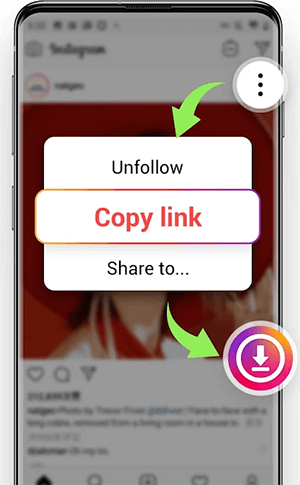 Step 2: Launch Downloader for Instagram.
Step 3: Download for Instagram download files automatically.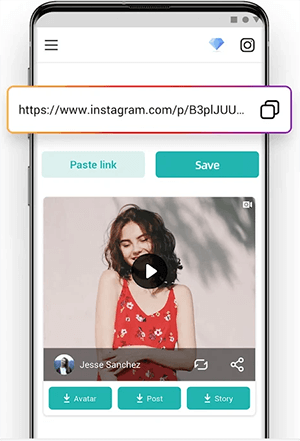 How to Download Instagram Reels on PC/Mac
Finally, in the end, if you are looking to download reels on your computer, we recommend using YT Saver. This third-party app on your device allows you to download reels in more than 20+ formats. Moreover, it supports more than 10,000+ websites. You can also download videos in bulk simultaneously.
How to Download Instagram Reels using YT Saver
Step 1 Copy your favorite Instagram reel video URL.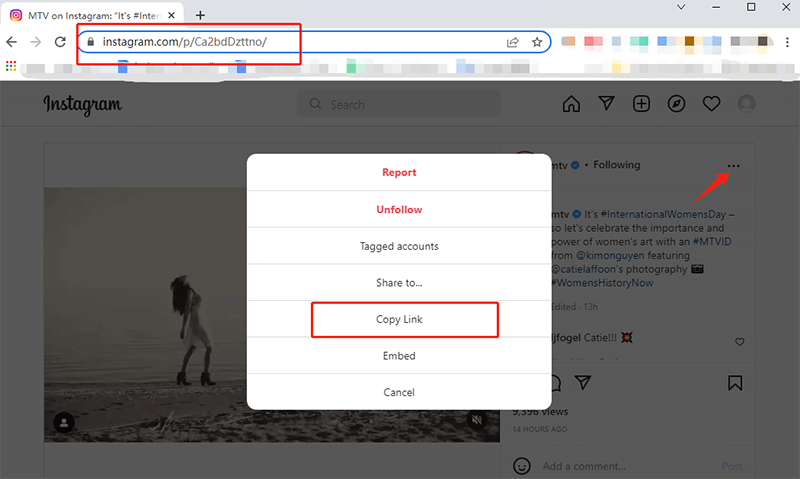 Step 2
Open the YT Saver software; choose the reels output format and quality mp4 and 1080p you want.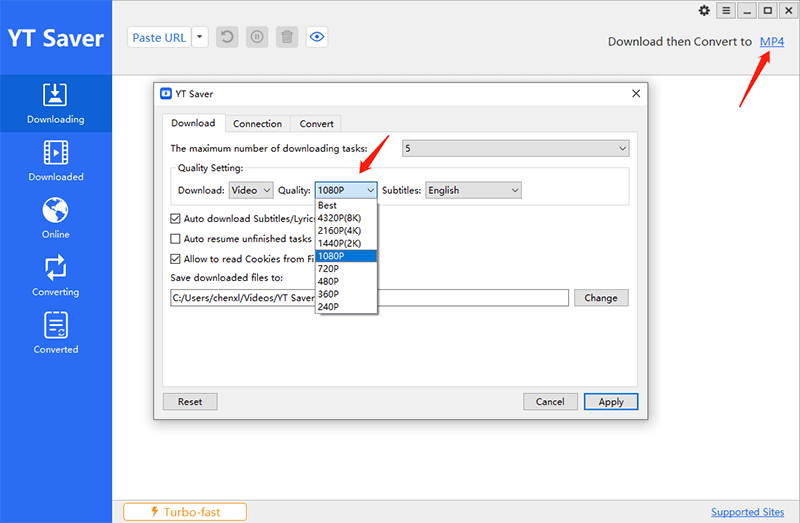 Step 3
Click "Paste URL" and the reel will start downloading automatically.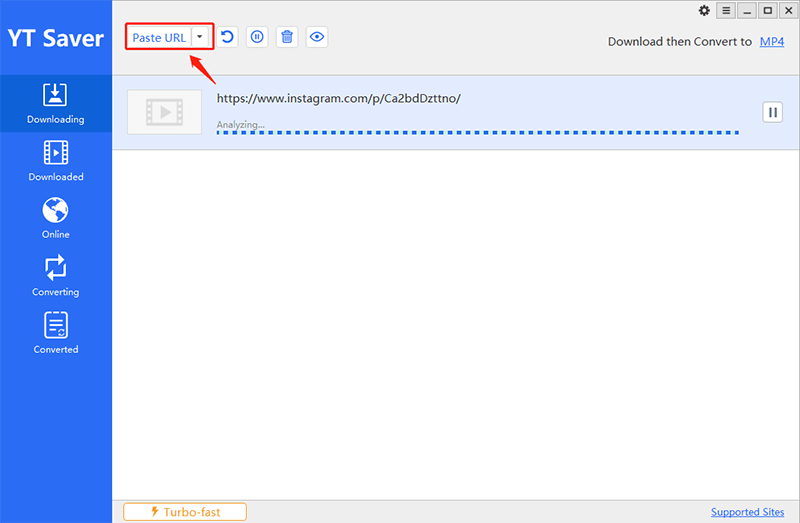 Step 4
When the downloading gets competed, find the reel on the Downloaded tab.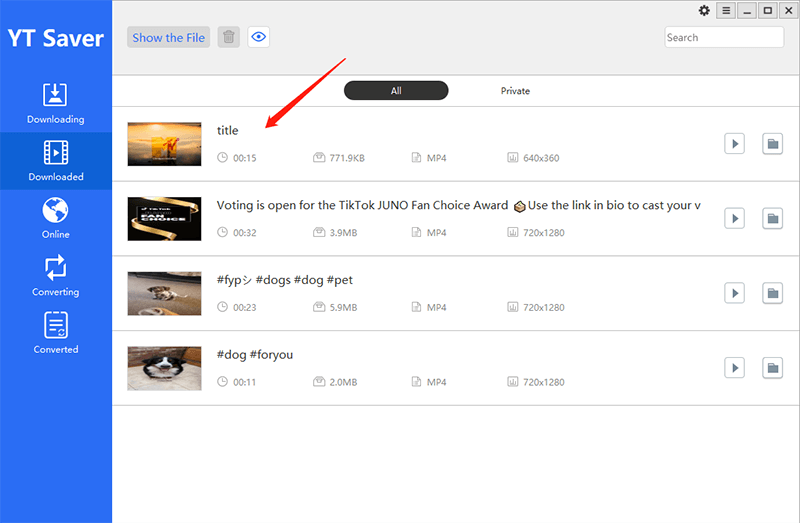 Frequently Asked Questions (FAQs)
🎵 How to Download Instagram Reel with Audio?
You can use all of the methods above to download Instagram reel with audio, if you want to save and share audio from Instagram Reels, try this method.
Play the reels whose audio you want to save from Instagram reels.
At the bottom left corner of the screen, click on the audio name and you will then be redirected to the audio page. To save the audio, tap on the three dots at the top right corner. You will see options 'save' and 'share'.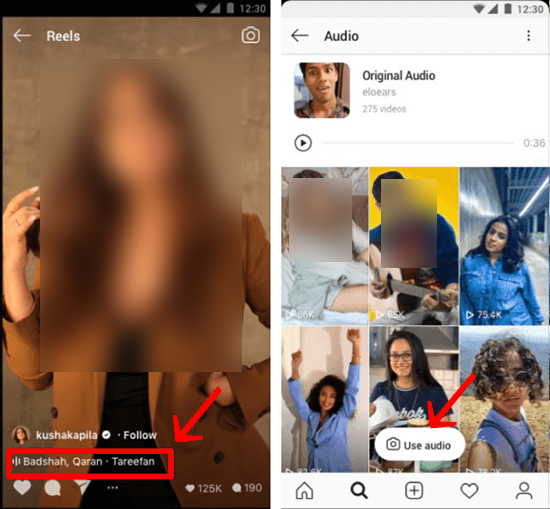 💻 How to Download Instagram Reels on Mac?
Download and install YT Saver for Mac on your Mac computer, then launch it and select your preferred format and quality from the "Prefenrence" Tab. Next, copy Instagram reel video URL from the Instagram site, come back to YT Saver, click the "Paste URL" button to start downloading. After finish the download proccess, you can open the downloaded tab to get your reel.
🖼 How to Download Instagram Reels without Watermark?
You can use Apowersoft tool to remove watermarks from your reels:
Open the software, and from the window, select the "Remove watermark from the video" option
Click on the plus sign icon or drag and drop the reel.
Click the "Selection" tool and, using this tool, highlight the watermark in your reels video.
Select the "Convert" button to save the reel on your computer.
Amanda
She is engaged in the Internet industry and is a professional in audio/video downloading and conversion topics. She has published articles on some blogs and media to help many people solve audio and video problems. She usually watches YouTube and occasionally shares some video tutorials on YouTube. She is a humble and serious person, hoping to write technology and life in her own language.