Instagram Stories is where to be if you're an individual looking to promote your own brand or a business seeking to convert customers into users. Many have learned how to utilize Instagram effectively since it is now an integral component the social media advertising strategies. Additionally, it's a great way to share glimpses of your everyday life with your followers. Hence, there are times when you want to download Instagram Story for offline viewing. In this article, we will share tricks for Insta story download.
How to Save Your Instagram Story
Method 1: Save Story in Your Instagram APP
Step 1: Log in and open Instagram.
Step 2: Click the icon for Your Story on the top left corner to browse the posts that you've added to the Story.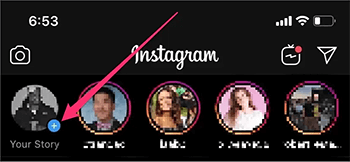 Step 3: Select the Story you'd like to save. Tap the three dots in the bottom right. Then tap on
Save
(iPhone) or
Save Video or Photo
(Android).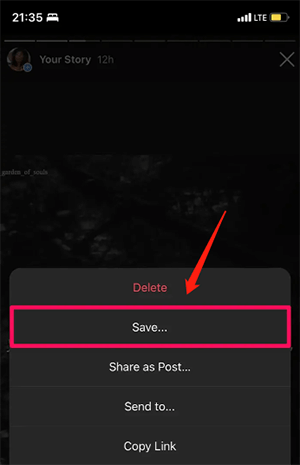 Note:
On an iPhone, tap Save Video /Photo to save the particular Story. To save your entire Story as a single vertical video, click Save the Story. Android users need to save each Story separately.
Method 2: Archive Story in Your Instagram App
Another method to save the Instagram Story automatically is to archive it within the app or on the memory on your phone.
Step 1: On Instagram, visit your profile and click 3 lines menu icon at the top-right corner.
Step 2: Tap on Settings, then Privacy.

Step 3: Tap
Story
. Under the
Saving
heading, you can scroll to
Save to Gallery
(iPhone) or
Save to Archive
(Android) to save your phone's app.

Step 4: You can also simply toggle on
Save to Archive
to save your photos and videos to your archive but not to your phone.
How to Download Other's Instagram Story
Method 1: How to Download Instagram Story on iPhone
If you're using an iPhone, you can use numerous apps to store Instagram Stories, but one of the most popular is Story Reposter. The app is free on the App Store. If you're really interested in downloading stories, there is an upgrade option to the Premium Package for. Story Reposter recently launched a new app that allows users to search and browse stories in Privacy. It allows you to view the stories you like on Instagram without being spotted, depending on the reason why you decide to do so.
How-to Steps:
Step 1: Be sure to grant access to the iPhone's image library. You can do this through the Settings app on your phone.
Step 2: To start, look up the Instagram handle or username, and on the search page, click on the profile. There will be a list of all stories they've published in the past 24 hours, including photos and video.
Step 3: Click on the Story you'd like to download. Press the "Share" button and then choose "Save image" and "Save video". The app is only compatible with saving stories posted by profiles that are publicly accessible.
Pros:
✔Free to download.
✔User-friendly.
Cons:
✖Display ads which can be quite frustrating.
Method 2: How to Download Instagram Story Online on Android
For android users, if you don't want to install any app, you can use the following Instagram story downloader online solutions.
https://www.storysaver.net/
https://toolzu.com/downloader/instagram/stories/
https://www.instadp.com/instagram-tools/story-downloader
How-to Steps:
Step 1: Enter the Instagram username and click on the download button.
Step 2: Select the story from the page o highlights to save.
Step 3: After that, click on the "Save to" button to download the story on your Android.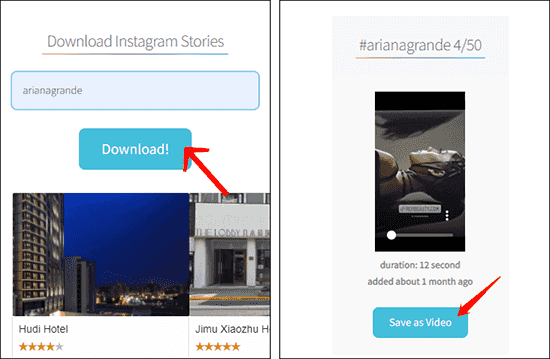 Method 3: How to Download Instagram Story on PC/Mac
The YT Saver is the software you're looking for, which comes with a smooth easy, fast, and easy-to-use download experience. This video downloader is a one-stop solution that can be used to download any Instagram video, story, reel, igtv, hightlight with 100% original quality. You can also download videos online from over 10,000 video and music-sharing websites, and save them to MP4, MP3, AAC, MOV and other 20+ output format.
How to Download Instagram Story or Highlight to Mp4 1080p
Step 1 Launch the YT Saver program, then select the output format MP4 and 1080p that you would like to use.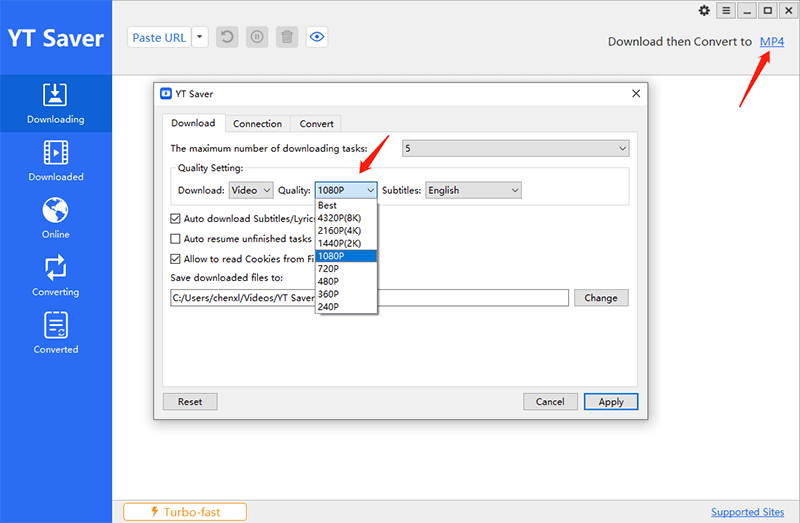 Step 2
Click on the "Online" section. Next, go to instagram.com, type in the username into the search box, and go to the profile.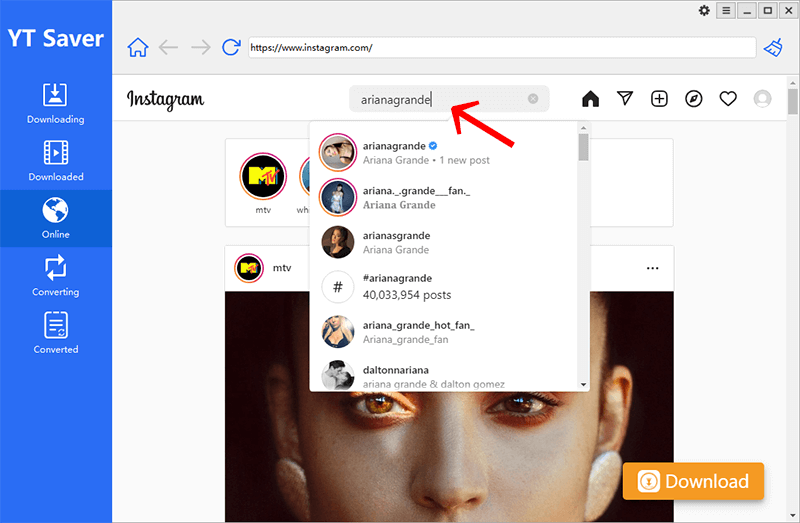 Step 3
Choose the Story (highlight) you would like to download.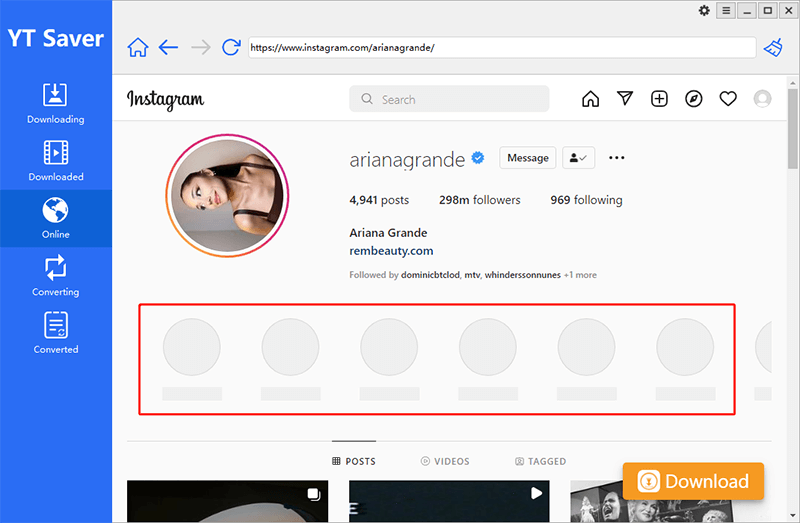 Step 4
Play the video, and then click the Download button.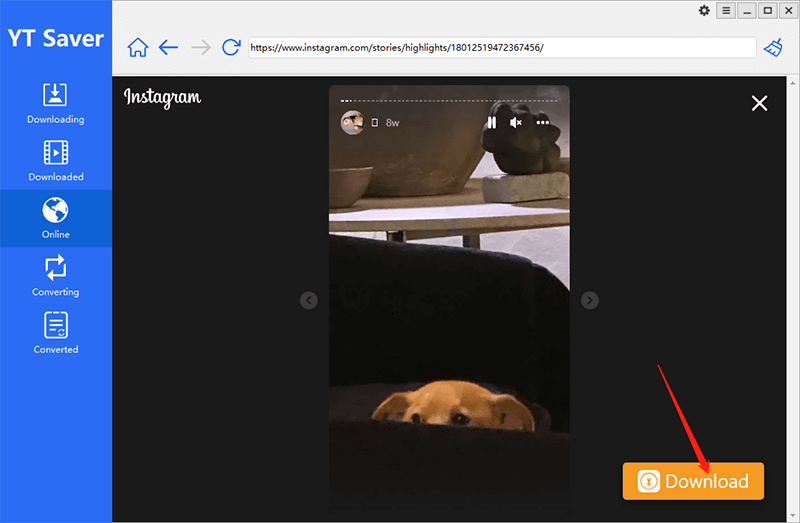 Step 5
The Instagram story will begin downloading on its own.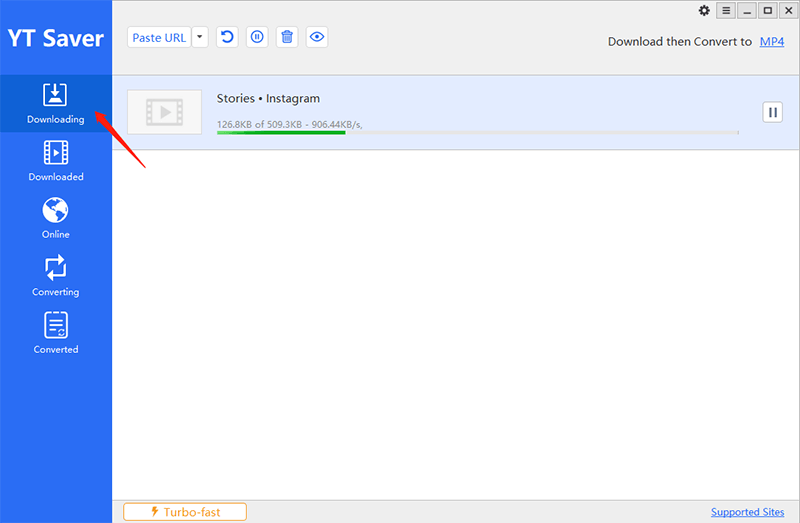 Step 6
You can watch the Instagram story in the Downloaded tab, once the process gets completed.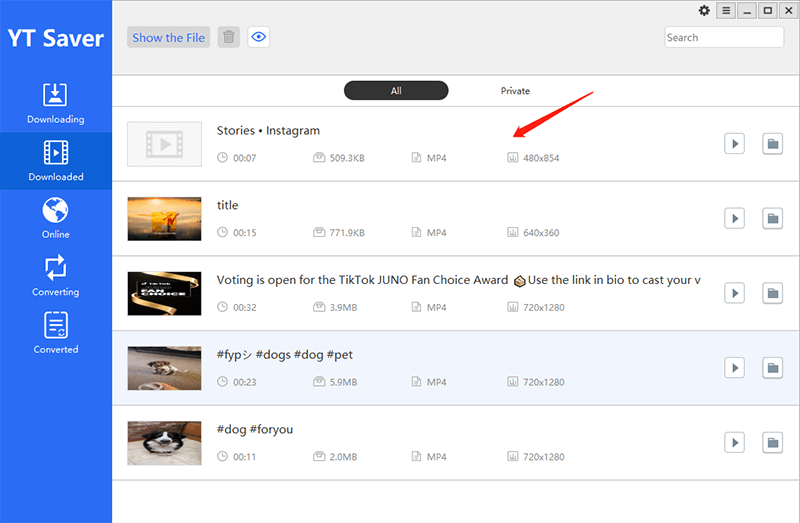 Frequently Asked Questions (FAQs)
🔏 How to Download Private Instagram Stories
Instagram Private Story Downloader is tool to download privately-owned Instagram stories online. Instagram stories uploaded by private accounts are accessible only to people who follow the private account. Use the following steps to download private Instagram stories:
(URL: https://www.howtotechies.com/private-stories)
Step 1: First of all, login to your Instagram account.
Step 2: Copy the user id whose stories you would like to download.
Step 3: After that, tap or click then the "Generate" click.
Step 4: Then click "Copy" and then open that copied URL in another tab.
Step 5: After the link has been opened, Select and copy all the text you can from the web browser.
Step 6: Paste the copied text into the input box. Then press or tap on the "Download" button to save stories.
🎶 How to Download Instagram Story with Music?
It isn't possible to save your Instagram story with music because Instagram allows users to download their stories as videos by using the save option. However, when you attempt downloading the content of your Instagram Story, you will discover that there is no music on your saved video. This is due to the fact that Instagram doesn't support the downloading of stories that contain music. If you'd like to download Instagram stories with music, you'll need to utilize a third-party program, such as YT Saver.
👨 How to Download Instagram Story with Username?
YT Saver provides the function to download an Instagram story by searching for the username and will show all stories in its own browser. You can download the stories one at a time in one click.
Download Instagram Videos, Stories, Reels, IGTV, etc. in One-click.
Support 10,000+ music/video popular websites
Batch download multiple video files simultaneously.
Download MP3 music up to 320kbps.
Convert video to MP4, MP3, MOV, AAC, etc.