If you're an avid user of Spotify or similar services, you may have made a lot of playlists. But, if your Spotify is linked to Facebook, and you do not want friends to have access to your music, the best solution is to open a different account. But how to transfer spotify playlists to another account?
In this post, we'll be discussing 5 solutions you must take note of to move spotify playlist to another account.
Method 1: Drag and Drop Spotify Playlist within Spotify APP
If you're trying to transfer Spotify playlists into a brand new account, it is best to do it on your computer. Let's discuss the most efficient method to complete the job:
Step 1: Launch your Spotify program for either your Windows or macOS computer. After that, log in to your previous Spotify account.
Step 2: Select a Spotify playlist, drag, and drag it onto the desktop. You'll receive the HTML-based file.
Step 3: Double click on the HTML file, and you'll then be directed to a website that displays the playlist you've selected.
Step 4: Log out of your old Spotify account and sign in to the new account. You can then directly transfer the playlist to the account you have created—the Spotify account by dragging and dropping it once more.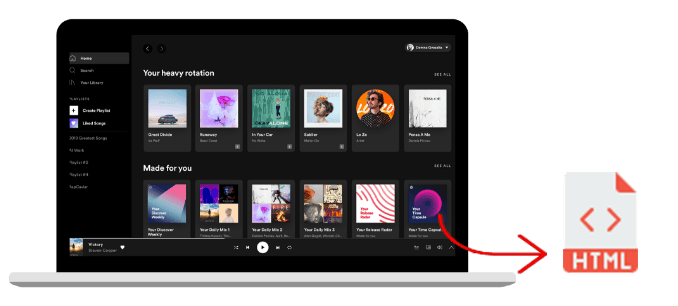 Then, your newly created Spotify account should now have precisely the same playlist. Click on the "Heart" icon to save the playlist it to your Spotify library.
Method 2: Search for Public Spotify Playlist
If you have many popular playlists available on Spotify, You can use your profile to save your playlists. Here's how:
Step 1: Sign in with your new account via the Spotify app. Click "Search" and then type in your old user profile.
Step 2: Find out and visit your account's old profile. You will then find the playlists that are public. Select the playlist you like best and save it into your brand new Spotify library.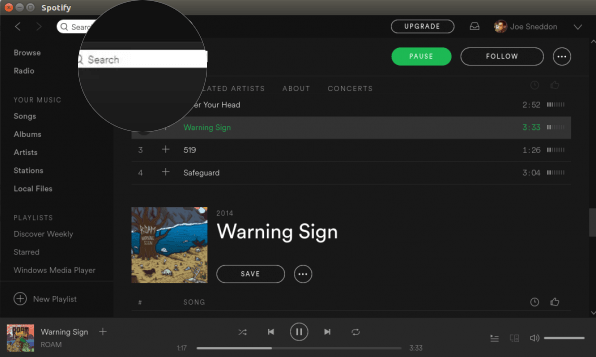 Method 3: Copy Playlist URL from Spotify Web Player
In this case, it is required to log into both of the Spotify accounts on your computer simultaneously.
Step 1: Sign in to your previous Spotify account via the web play section of Spotify, and then connect and add your new account to Spotify.
Step 2: Select a Spotify playlist from the web player. Right-click the playlist picture and select "Share > Copy the Playlist link".
Step 3: Open the Spotify application, and then paste the playlist URL into the search bar. Next, press "Enter" on your keyboard.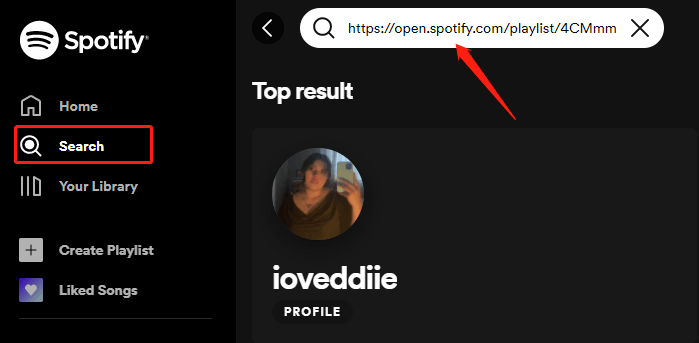 Now it is time to check the Spotify playlist will appear in your Spotify application, and you can connect it to the other.
Method 4: Copy Playlist URL from Spotify App
You can manually copy Spotify songs to a new account. Another method that can transfer playlists is to use Spotify's app.
Step 1: Launch the Spotify application on your computer and then sign in to your account from the previous one. Select a playlist that you wish to distribute between Spotify accounts and select the option "Collaborative Playlist." This will allow both accounts able to change and view the playlist.
Step 2: Right-click on the playlist again, then hit " Share > Copy URL Playlist" in the drop-down list.
Step 3: Sign out of your existing account in the Spotify app, then login into your new account. Type in the playlist URL and press "Enter" on your keyboard on your search box.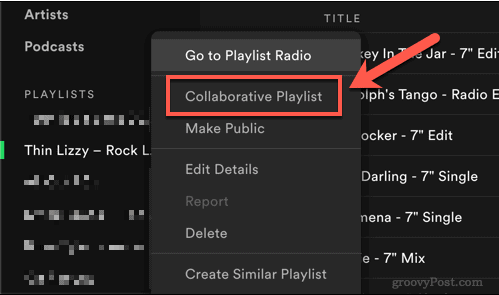 In the end, the playlist will be available on your brand new Spotify. You can then add it to your personal music collection today.
Method 5: Download Spotify Playlist for Transfer
Spotify is great at providing popular music. But, if you examine your Spotify playlist, you could notice that they are getting shorter duration over time. It is because some songs aren't in the Spotify library any longer. Is there a way to transfer Spotify playlists to another account without losing them later on?
Do not be concerned! YT Saver is here to assist you. It can download online Spotify songs and then convert them into OGG, MP3, and various other file formats. So, the music files will not be affected by the Spotify Cloud Music Library updates. It is possible to transfer and import your Spotify playlists to a different account later on.
3-Steps to Download and Transfer Spotify Playlists to Another Account
Step 1: In the first step, you will need to copy the Spotify playlist URL.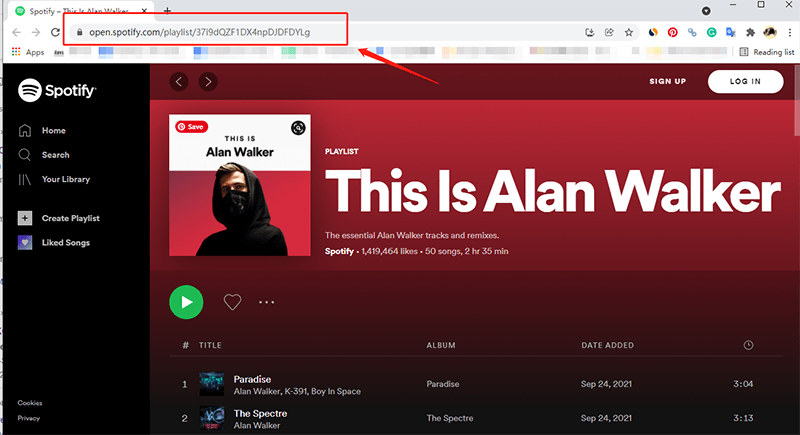 Step 2: Start the program, select an output type MP3 and select "Paste URL." The playlist will start loading, then select the songs that you want to download and then press the "OK." After that, the playlist will download immediately to the folder of your computer (create an appropriate folder for the playlist).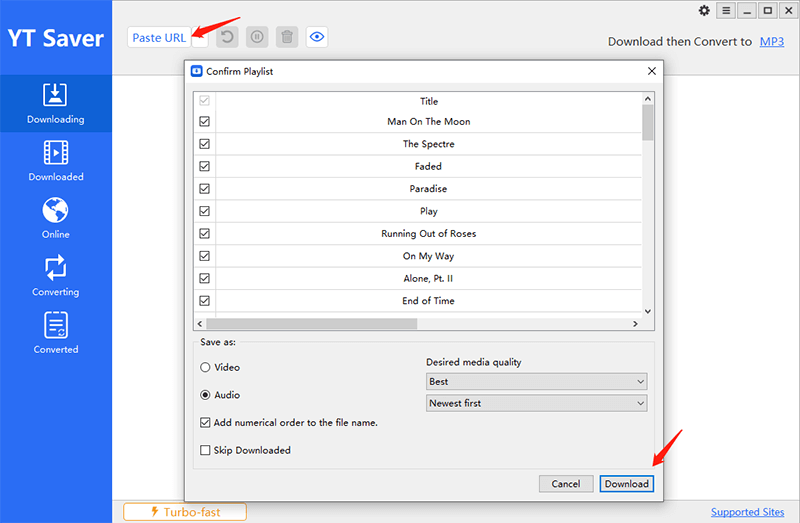 Step 3: Lastly, transfer and import the Spotify playlist to the new account.
Conclusion
Each of the mentioned methods works excellently for moving a Spotify playlist to another account. However, Spotify users often complain that some songs could disappear with the passage of in. If you use the YT Saver music converter, It is more reliable. It also lets you download Spotify songs offline and ensure that your playlists are safe for the duration of time.
Support YouTube, Spotify, SounCloud, MixCloud, etc.
Download Spotify playlists, artists or albums effortlessly
Batch download Spotify tracks at speeds up to 10X faster
Maintain metadata information intact like ID3 tags such as year, title, year, etc.
Supports highest quality 320kbps MP3 downloading