Spotify downloader lets you play Spotify songs while on the move anytime, without the internet or even the Spotify app. It doesn't matter if you have Spotify Free or Spotify Premium; they don't hinder you from using these extremely powerful Spotify music downloaders, which can find any track in the 70 million songs on Spotify.
In this article, we will discuss about some of the best Spotify downloader tools available out there, so without any further delay, let's get started!
4 Best Spotify Downloader Software
#1. YT Saver Music Downloader
YT Saver Music Downloader enables users of the app to download thousands of songs for free. It also gives users access to download complete tracks, albums, and artists from streaming music websites to your device with a single click.
This app works very well as it allows you to get access to music for free and gives you options to convert any music into MP3, M4A, WAV, FLAC, and other formats without any loss, and keep the original audio quality. In addition to provide dedicated features for Spotify, YT Saver is also compatible with more than 1,000 other music streaming sites, including YouTube, SoundCloud, MixCloud, Bandcamp, etc.
Step 1: Install the YT Saver music downloaders and open it on your PC/Mac.
Step 2: Open Spotify and look for your favorite song and copy its link.
Step 3: Go to YT Saver and set your quality and output format from the Preferences menu.
Step 4: Click on the Paste URL button, and your song will start downloading automatically.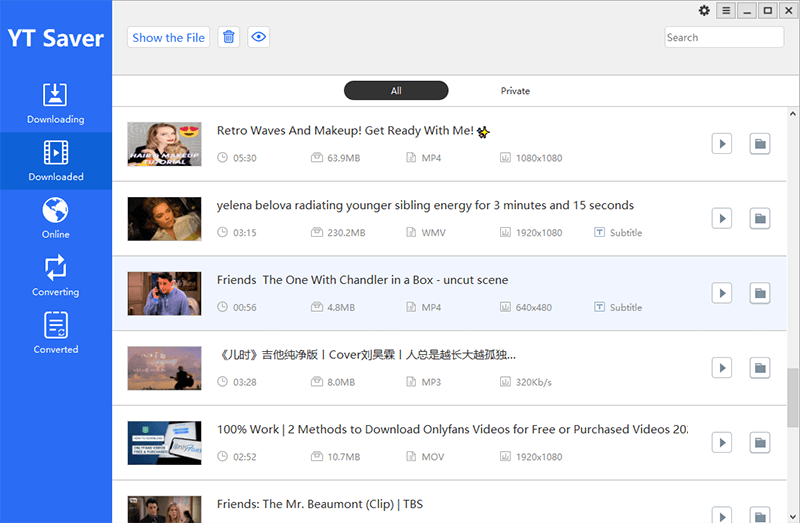 Pros:
✔ Supports 10,000+ video/music steaming websites
✔ Supports various qualities and multiple formats
✔ 100% Ad-free
✔ Preserves Music ID3 Tags
✔ Supports 10X Faster download speed
Cons:
✖ Paid software
#2. Audacity Music Downloader
Audacity is a fantastic free, open-source audio editor that's as effective as premium paid-for programs. You can create your own recordings, eliminate noise, combine and cut clips, add special effects, and more, and get real-world professional results.
If you're looking for a no-cost Spotify music downloader tool, then you should check out Audacity. It's a great open-source and a free digital streaming audio recorder as well as an editor.
Audacity can be downloaded for Windows, Mac OS X, and Linux operating systems. It may be the sole Spotify music downloader available for Linux. The most impressive feature of this no-cost Spotify downloader is its high compatibility. It can save as well as remove music files from Spotify and other well-known streaming services.
📖 How to Download Spotify Music with Audacity?
Step 1: Install and download Audacity, the no-cost Audacity Spotify downloader. It is a free Spotify downloader application.
Step 2: Select an audio host and an audio recording device.
Step 3: Choose Stereo recording, and then connect the device that plays back audio.
Step 4: Hit the recording button. Visit Spotify, Open the app and play the track.
Step 5: Click 'File' > 'Export' to download Spotify audios for free.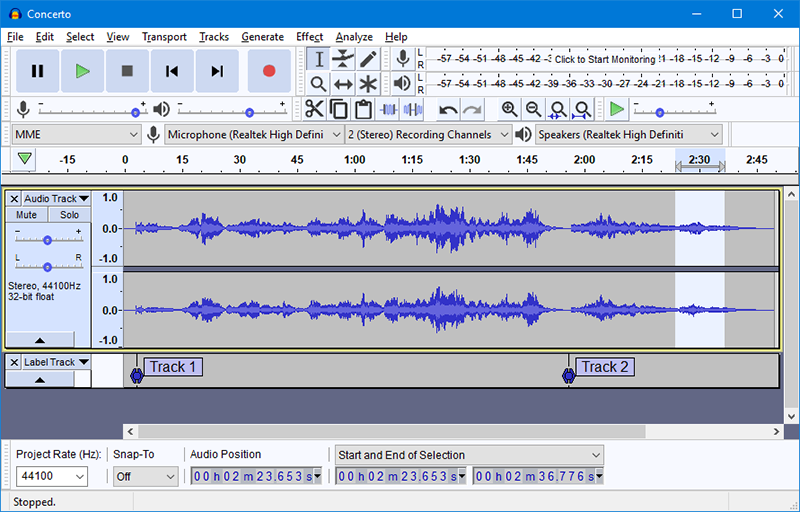 Pros:
✔ It's an entirely free Spotify downloader for Windows, Mac, and Linux
✔ An all-in-one editing and recording tool
✔ Record any sound that is playing on the computer
Cons:
✖ Unable to download Spotify songs to MP3 on your computer
✖ The editing function of the program can damage the original output quality
#3. iMusic Music Downloader
iMusic Spotify downloader is a complete tool for music. It allows you to download, save the audio track and then manage it. It can manage music downloaded from Spotify as well as other 3,000 music websites.
This Spotify playlist downloader it is easy to save Spotify music to MP3 format. Additionally, you can connect your Spotify music to the iTunes library in it. This makes it an ideal tool for users who wish to transfer songs between iOS devices that do not have iTunes.
📖 How to Download Spotify Songs to MP3 with iMusic?
Step 1: Install and download it. Install the iMusic Spotify downloader on your PC.
Step 2: Start the iMusic program. After that, select the 'Get Music' option.
Step 3: Choose 'Discover' to find Spotify songs that you can download.
Step 4: Click 'Download' within iMusic. After that, you can copy the link of the Spotify track into the box. Click the download option to save the Spotify track onto iTunes.
Step 5: Click the 'Library' tab in iMusic to start playing Spotify songs.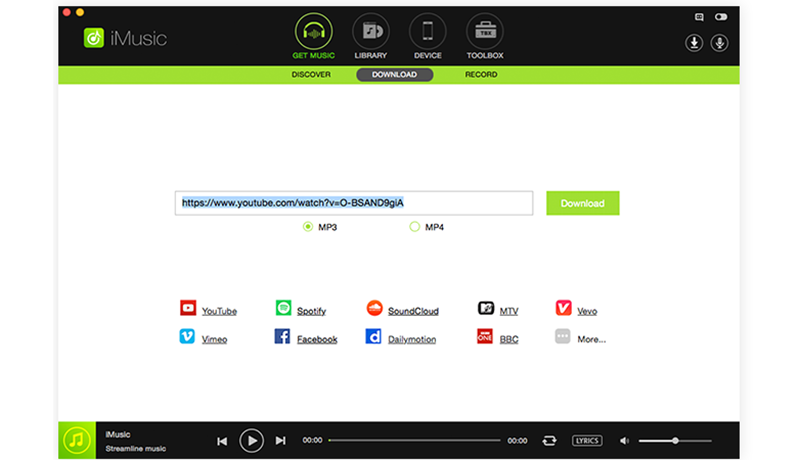 Pros:
✔ A music downloader that is an all-encompassing manager and recorder
✔ Compatible with Spotify and many others
✔ Rapid download speed with the highest quality audio lossless
✔ Also, Spotify supports recording Spotify music
Cons:
✖ Only support for the MP3 audio format
✖ It's not free and is much more expensive than similar software
✖ Sometimes, it isn't easy to locate the source track
✖ Inability to recognize or save ID3 tags often
#4. Wondershare Streaming Audio Recorder
Wondershare streaming audio recorder could be used in conjunction with a Spotify downloader. It is capable of recording songs from Spotify with high-quality audio. Furthermore, it is able to remove ads from music instantly. Additionally, users can modify and create ringtones using the built-in editor.
📖 How to Record Spotify to MP3 with Wondershare Streaming Audio Recorder?
Step 1: Install and download Wondershare Streaming Audio Recorder.
Step 2: In the next step, you will need to click on the "audio record' button for enabling the recording feature.
Step 3: Play and search for Spotify music that you like. It will then save and then download Spotify songs for you.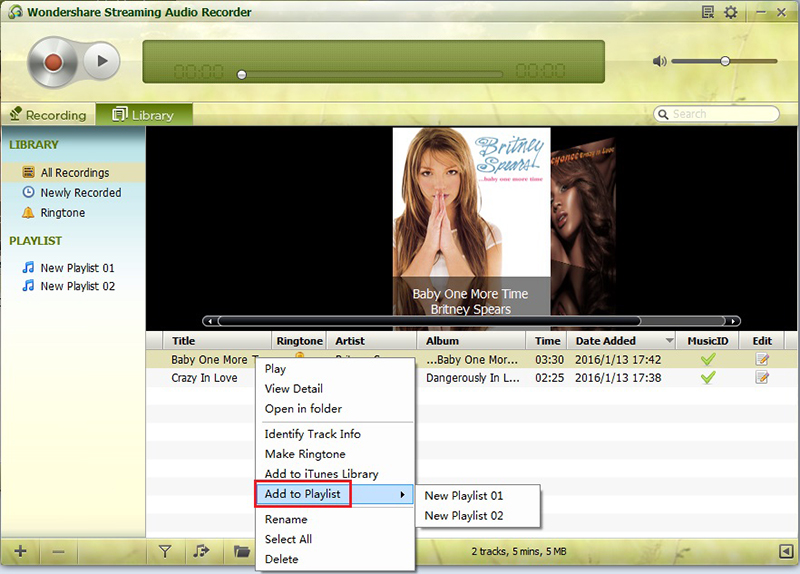 Pros:
✔ Available for a variety of streaming music services
✔ Maintain ID3 tags
✔ Support multiple languages
✔ Remove ads
Cons:
✖ Only output MP3 and M4A format for audio
✖ Poor output audio quality
2 Best Spotify Downloader Online Tools
#1. AllToMP3
AllToMP3 is free software that can perform the essential functions needed for converting Spotify songs to MP3. It is possible to convert the Spotify track into MP3 or download a Spotify track with just two steps. Download your Spotify tracks you wish to convert and click Convert to complete the job. The speed of conversion is fantastic, and it doesn't lose quality in the final file. Other than Spotify, the program can be used with other platforms, like YouTube or Sound Cloud in addition.
ALLToMP3 works because of its simplicity of design, which allows for an effortless Spotify conversion MP3 conversion process. Those who require additional features specifically for Spotify Offline download will be dissatisfied with the tool. If you're searching for tool to help you convert Spotify music tracks into MP3 and vice versa, then ALLToMP3 will be sufficient.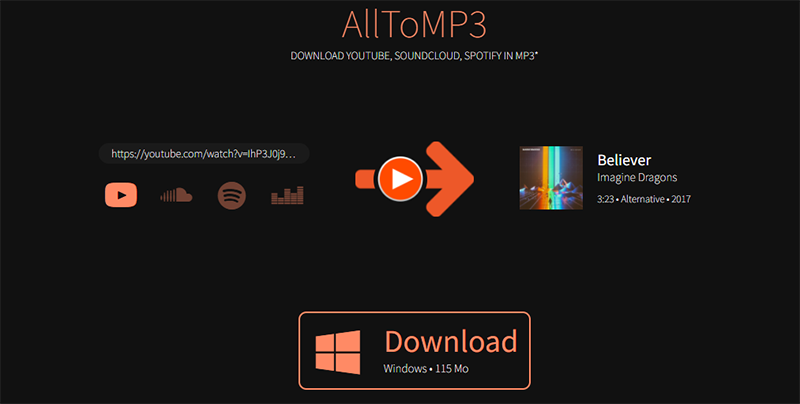 Pros:
✔ Clutter-Free UI
✔ Rapid conversion speed
✔ Batch conversion
✔ Simple two-step conversion
Cons:
✖ No additional features
Note:
This tool cannot use to download Spotify songs now because the site owner has not maintained it anymore.
#2. Apowersoft Online Audio Recorder
Apowersoft Online Audio Recorder is an online streaming music recorder. It is not difficult to see that Spotify is on this list of support. If you're looking to download Spotify tracks online, give a chance to try Apowersoft.
It's an effective Spotify streaming music player online. There's no requirement to download an additional app. It is possible to record tracks from Spotify to the most popular audio formats. Through the help of this Spotify song downloader, you can transform Spotify into mp3 WMA, AAC, RM, and many more formats. You can decide to keep the original ID3 tags or modify them to suit your needs.
Apart from recording any sound playing on your PC, Apowersoft allows you to capture audio tracks directly from the microphone. It also has a free Spotify downloader. However, in this case, it's a few unsatisfactory results.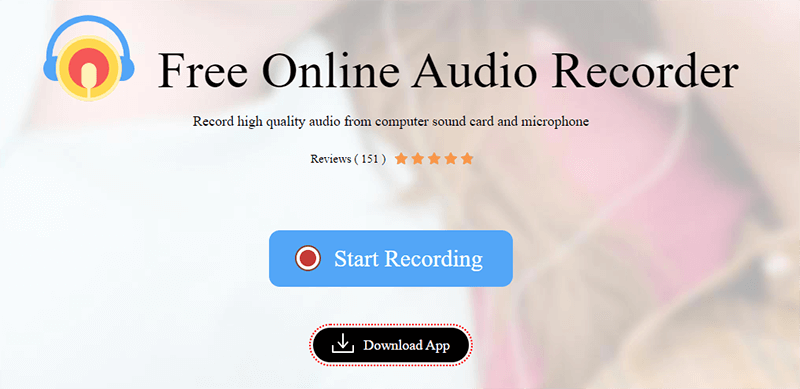 Pros:
✔ It's an entirely free internet-based Spotify music downloader that supports both microphone and system sound
✔ Record Spotify songs onto standard formats and to multiple devices.
Cons:
✖ The quality of output recorded isn't the best
✖ No audio editing feature
2 Best Spotify Downloader Chrome Extensions
#1. Spotiload Spotify VK Downloader
Spotiload is sometimes referred to also as Spotify VK Downloader. It's a Google Chrome extension for VK.com users. It allows VK.com customers to download Spotify tracks and playlists to MP3 via the Web Player. It also offers a no-cost Spotify downloader available online. It is important to note that there's not a version that works with that Firefox Web browser.
Therefore, don't install this Spotify plugin with other browsers. Additionally the fact that this Spotify music downloader online might be banned in certain countries. It's because Spotify does not authorize it. Before you download it, make sure you have it in your country.
📖 How to Download Spotify Songs with Spotiload Spotify VK Downloader Chrome Extension?
Step 1: You can find them on the internet Spotify MP3 downloader at Google. Then, include the Chrome extension in your Google Chrome browser.
Step 2: Go to vk.com social network to find the most popular Spotify tracks that you enjoy downloading.
Step 3: Hit the "Download" button to start the process of downloading Spotify.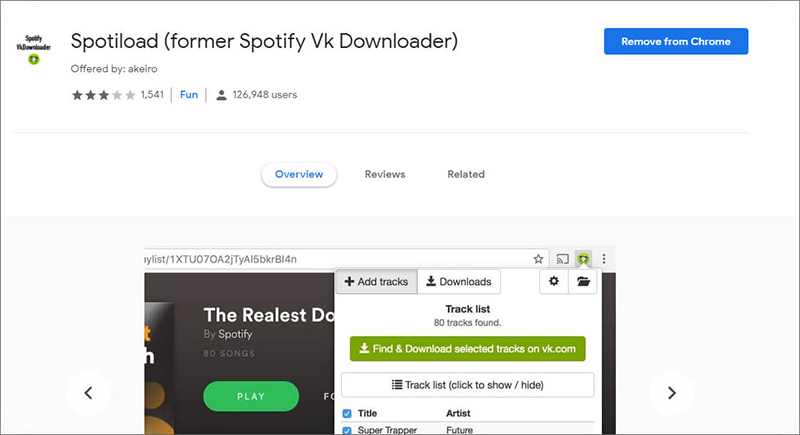 Pros:
✔ It's free and straightforward to install on a variety of operating systems
Cons:
✖ It's impossible to save all Spotify songs to listen to offline
✖ It's unstable when downloading Spotify songs that have multiple artists
✖ It's not available in all countries, and the use of vk.com could be illegal
✖ The quality of the music output isn't the best
#2. Spotify Deezer Music Downloader (Not Available)
Spotify and Deezer Music Downloader is a Google Chrome extension. It allows users to transfer Spotify tracks into MP3 with just one click. It is possible to search and install the extension in your Google. After installation, the add-on will appear at the top right-hand corner of your browser. Select it, and the Spotify Web Player will start instantly.
It is required to sign in to your account. After that, open a playlist and you'll see the green "Download" button at the right-hand side of every song. Hit it, and the music will download onto your PC in MP3 format.
📖 How to Download Spotify Music with Spotify Deezer Music Downloader?
Step 1: First of all, you will need to install the extension on Chrome.
Step 2: Select the song you'd like to download.
Step 3: Hit the download button for it to be downloaded.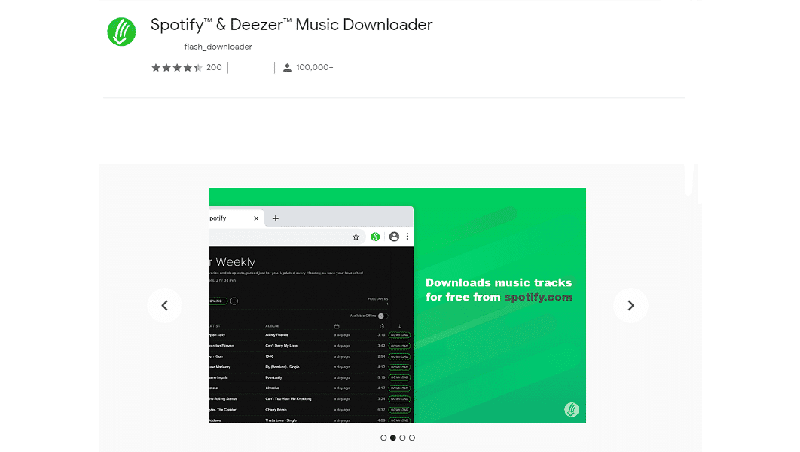 Pros:
✔ Simple and free to install
✔ Support for downloading Spotify, Deezer, Soundcloud, and many more music sources
Cons:
✖ Unstable and occasionally did not download
✖ The downloading process can be slow if your connection isn't performing well
✖ The output quality of sound is of the average rate
Related Reading:
Top 5 Best Spotify Downloader Chrome Extension You Can Try
2 Spotify Music Downloaders for Android & iOS
#1. Fildo
Fildo is streaming music through an MP3 downloader. Fildo is also accessible to download Spotify music. It is possible to be downloaded Spotify to MP3 for Android phones with just a couple of clicks. Be aware that there isn't a Fildo version available in the Play Store. You can find it on its website. It has recently launched its version for the Windows operating system. The name is Fildo Light (Filte).
📖 How to Download Spotify Songs to Android?
Step 1: Turn to the official site of Fildo. Install and run this Spotify music downloader app for Android devices.
Step 2: Select 'More' and then the "Import Spotify option to sign to the Spotify account. This will allow you to sync with your Spotify collection to Fildo.
Step 3: Now, click the download option to save Spotify music onto Your Android phone.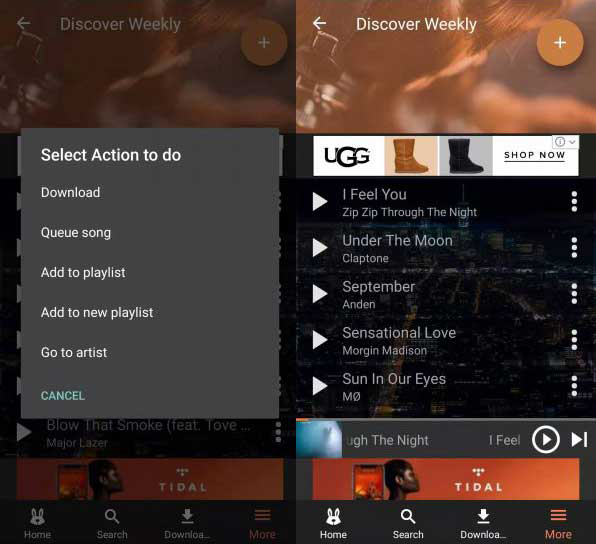 Pros:
✔ Works for Android or iOS devices. Supports download of music via Spotify and other music streaming websites
✔ A robust Spotify music downloader that works with Android, iOS, and Windows PCs
✔ Record audio tracks from sources such as streaming services videos, websites, local devices, etc.
Cons:
✖ A limited number of output audio formats to select from
✖ Output is a bit low-quality music
#2. Telegram
Telegram is a cross-platform app for iOS as well as Android devices. Since there's an automated system on it, you are able to access Spotify. It can also be utilized as a Spotify downloader on iOS as well as Android. After that, you can download and transfer Spotify music.
📖 How to Download Spotify Songs to iPhone and Android?
Step 1: Install Telegram from the App Store.
Step 2: Start the Spotify application on your iPhone. Then copy the track's URL from Spotify.
Step 3: Switch on Telegram and search for Spotify downloader on Telegram
Step 4: Choose the Telegram Spotify bot from the results and click the "Start" button.
Step 5: Add the Spotify track's URL in the bar. After that, click the "Send" button for downloading Spotify songs.
Step 6: Click the Download icon and save Spotify to MP3 for your phone.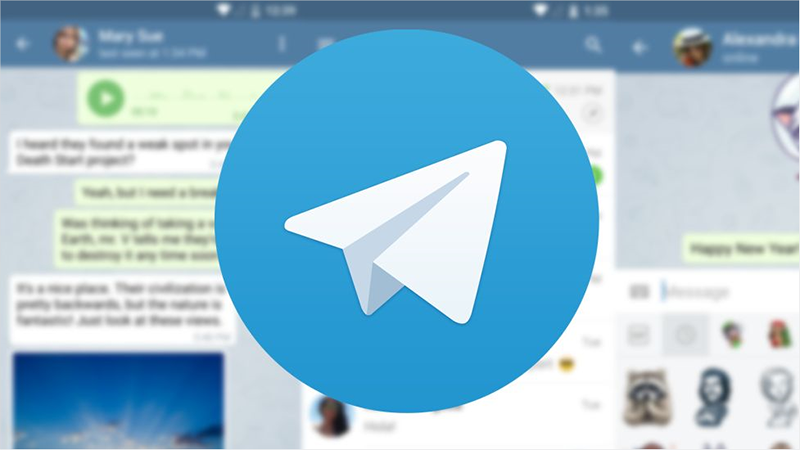 Pros:
✔ It's a free tool
✔ Safe, accessible, and speedy
Cons:
✖ You can't send more than one file
Comparison about These Spotify Downloaders
| | YT Saver | Audacity | iMusic | Wondershare | AlltoMp3 | Apowersoft | Spotiload | Deezer | Fildo | Telegram |
| --- | --- | --- | --- | --- | --- | --- | --- | --- | --- | --- |
| Price | $9.95 | Free | $39.95 | $19 | Free | Free | Free | Free | Free | Free |
| Compatible OS | PC/Mac | PC/Mac | Pc/Mac | Pc/Mac | Online | Online | Chrome | Chrome | Android | Android/iOS |
| Output Formats | MP4, MP3, WAV, AAC, and 20+ | WAV | MP3 | MP4, M4A | MP3 | MP3, WAV, FLAC M4A M4B | MP3 | MP3 | MP3 | MP3 |
| Download Quality | 100% Lossless | High Quality | High Quality | High Quality | Lossy | Lossy | Lossy | Lossy | Lossy | Lossy |
| Speed of Conversion | 10X | 1X | 1X | 1X | 1X | 1X | 1X | 1X | 1X | 1X |
| Cut/Merge Function | Yes | Yes | No | No | No | No | No | No | No | No |
The Bottom Line
You should now be able to comprehend the top 10 Spotify downloaders. If you're searching for a no-cost alternative to download your Spotify playlists online, then you can consider any of the above Spotify downloader online.
However, if you're concerned about the speed of downloading and the quality of your music, YT Saver Music Downloader is a good option. It can directly download all Spotify tracks and playlists with 10X fast conversion speed with original quality maintained.
Download Spotify songs, playlists, albums in high quality.
Support 10,000+ video/music sites, including YouTube, Spotify, Vevo, etc.
Retain ID3 tag information, including lyrics
Lets you download playlists, channels, album up to 320kbps
Allows you to download music in MP3, AAC, WAV, etc.