Instagram is one of the most popular social networking sites, where people connect through posting images or videos on their accounts. It's unique features like live Videos, IGTV, creative filers, highlights, etc. made it one of the most popular websites amongst the internet users in general. For any reason, if you want to use an Instagram downloader Chrome extension to enhance your online presence on this site, then you have come to the right place. This article will go into detail about the 3 top Instagram downloader chrome extensions, and even going a step ahead, let you know about the more useful alternative for downloading Instagram content.
Best 3 Instagram Downloader Chrome Extensions
Now, without any further ado, coming up next are the 3 best Instagram downloader Chrome Extensions you cannot miss at any cost.
1. Video Downloader for IW
Video Downloader for IW is a lightweight, multi-browser add-on that lets users download videos from the Instagram website. Simply install the add-on in your browser and then open the Instagram page.
Just connect it with your internet browser and begin browsing the Instagram website. Be aware that the toolbar button functions as an OFF switch. Its default setting is on, and the icon for the toolbar is dark gray. If you click on an icon, the status is changed to OFF, and the icon will change to a lighter gray. Note that when the add-on is off, the download icon will not be displayed on Instagram videos anymore.
How to Use This Instagram Downloader Extension?
Once the add-on has been activated (toolbar icon dark gray), you will see the download icon in the middle of every video (on the left-hand side of the top).
Click that icon to save the movie onto your computer. Be aware that the location for download is the default location to downloads within your browser
This extension will take video and download the highest quality video to your computer.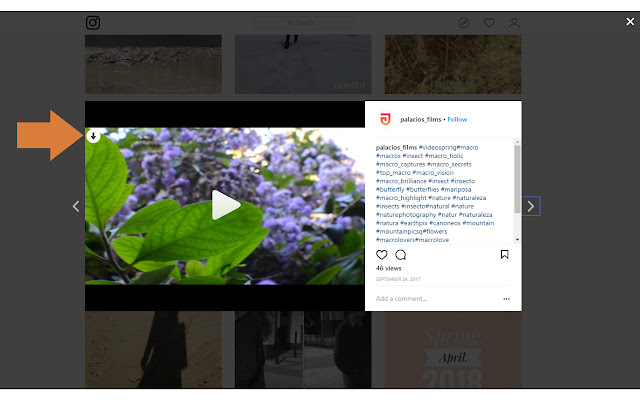 2. IG Downloader
IG Downloader is a helpful Instagram downloader extension to save videos and photos from Instagram.com. This extension lets you download all of the Instagram Images and Videos without the need to download any software. The most exciting feature is that the extension is free and doesn't collect any data from users like many other Instagram extensions.
How to Download IG Videos and Stories
Simply click on an image on the Profile page, and then click the download icon. If you have already clicked on an image, you can download using the button located just below that bookmark symbol.
Download buttons for large-scale account download can be found next on the Follow button's right side. Be careful not to download too many pictures simultaneously, as Instagram could temporarily block you due to the number of downloaded images (about five minutes).
If you want to save an image, you may also use Strg + s to save the post. If it's a slider, it will download the whole slide.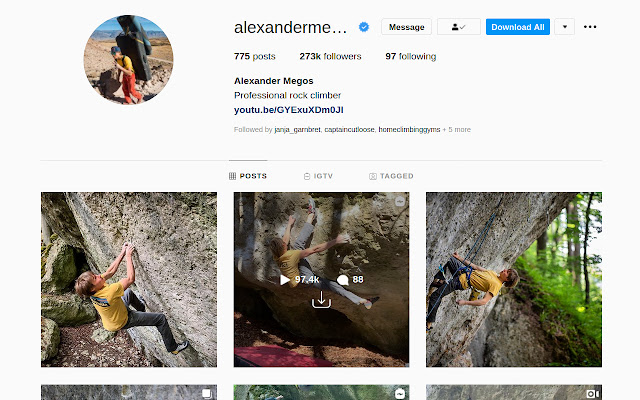 3. Image and Video Downloader
The third extension that you need to look out for is the Image and Video Downloader. First, install the extension from Google's web store for Chrome in your browser. It works with Google Chrome and other Chromium-based browsers, such as Microsoft Edge, Vivaldi, Brave, etc. It is an Instagram downloader extension that doesn't rely on any third-party services. It connects directly to Instagram. It's a light, user-friendly, and straightforward extension that doesn't monitor users in any way.
How to Download Instagram Video for Free?
After installation is completed, you can open an Instagram site in a brand new tab in the browse.
If you want to download an image on Instagram, you need to select it with a right-click and choose the option save it download it.
To save videos, first, play it, then right-click it and save the same way as before. This extension can be used for multiple videos and images published in one post.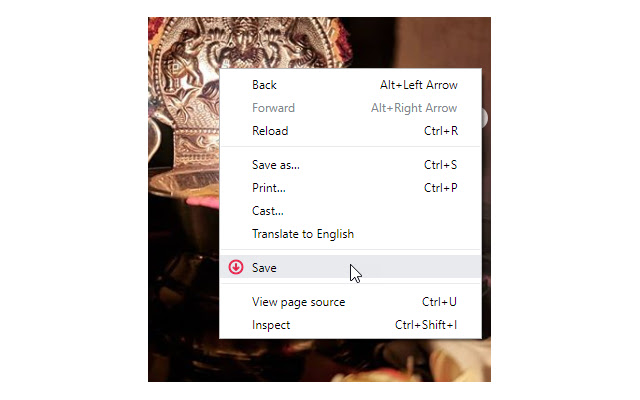 A Chrome Extension can only work only when your computer is connected to an active internet connection and has the Google Chrome browser installed in it. Moreover, It is sometimes not compatible with your system or crashes without any reason. If you are experiencing any such problem and looking for a stable and guaranteed alternative to Instagram chrome extension, you should try using YT Saver Instagram Downloader.
Best Alternative to Instagram Downloader Chrome – YT Saver
YT Saver is our top recommendation for downloading videos and audio content from Instagram. With the help of this software, you can easily download any type of videos from Instagram and 10,000+ other websites online. Apart from being highly powerful, YT Saver is designed to make the video downloading experience available to everyone. Thanks to its interactive and user-friendly interface. It allows you to download an unlimited number of videos, complete playlists, and even private content from Instagram without any problem.
Key Features
Download media content (videos/audios) with just a single click
Convert videos into MP4, MOV, MP3, AVI and various other output formats
Secure your downloaded music and video by storing them in a password-secured folder
Allows you to download videos in up to 8K resolution and also support 320kbps mp3 downloading
10X faster and more reliable than any other downloader available in the market
You can download this Instagram video downloader from below link:
How to Download Instagram Video on PC/Mac using YT Saver?
Step 1 First of all, open the software and select the output type and quality you'd like from the Preferences tab.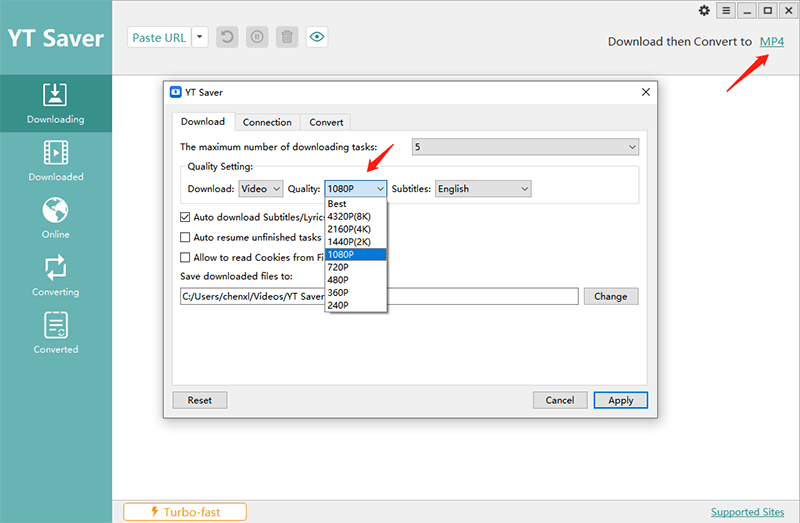 Step 2 Then, go to built-in browser in the online section, and then, click on the dedicated tab for Instagram.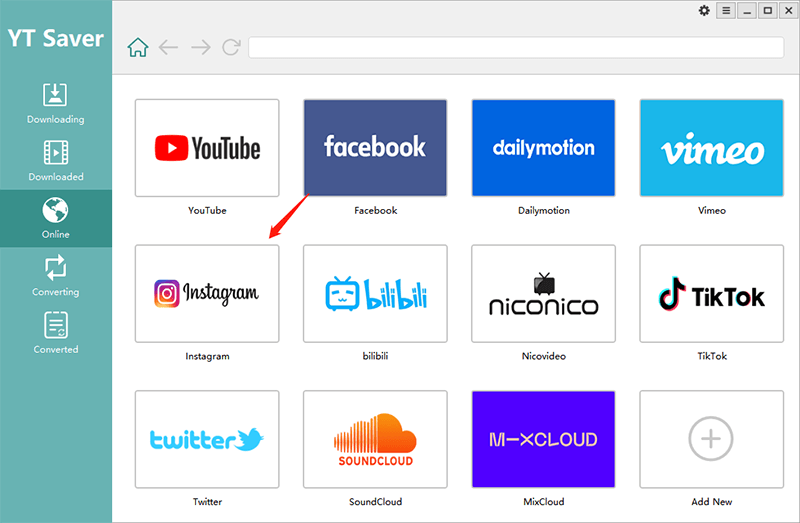 Step 3 Find the post video you wish to download on Instagram, click the three-dots button on the upper right corner and select "go to post."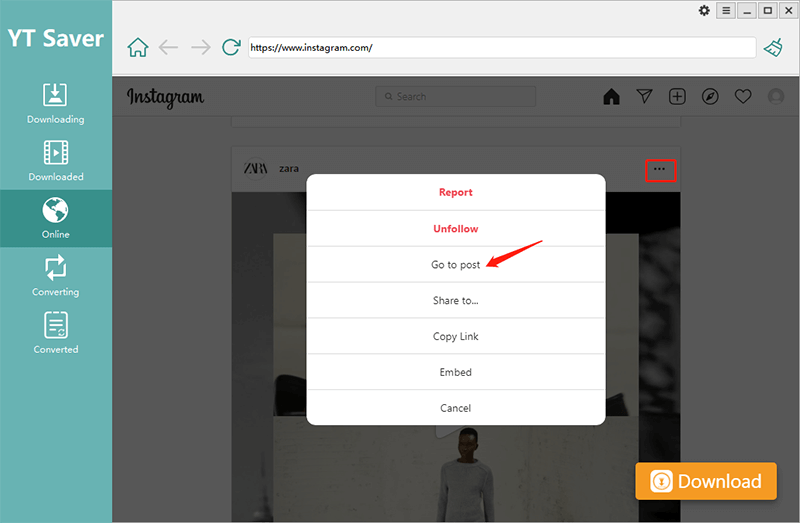 Step 4 Click the "download" button; the particular Instagram video will begin downloading automatically.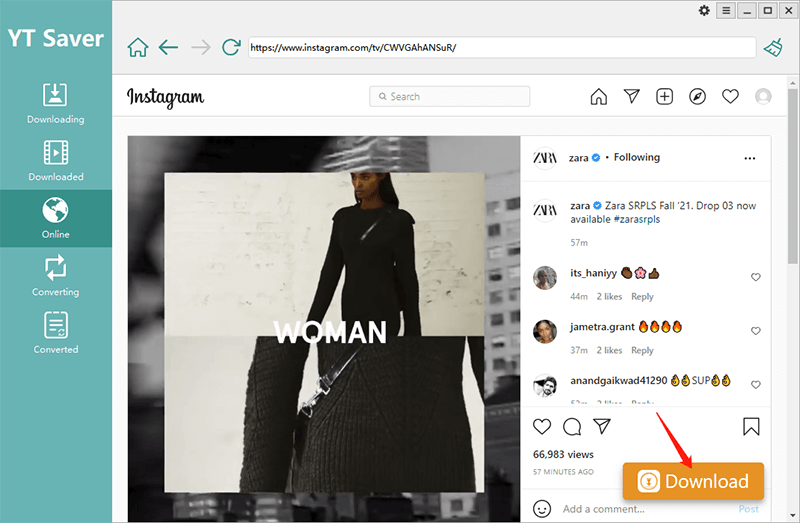 Step 5 Afterwards, you can look for the Instagram video in the Downloaded tab of the software.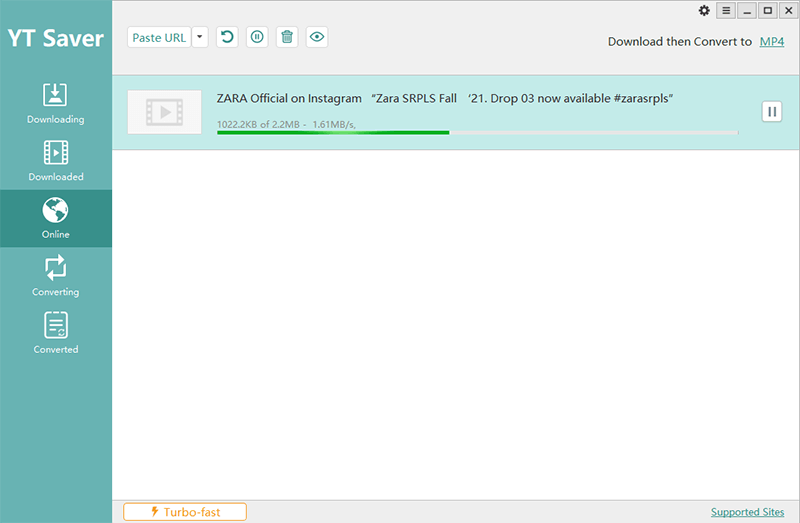 YT Saver vs. Instagram Downloader Chrome
To see these Instagram Video Downloader clearly, please check the pros & cons here:
YT Saver
Chrome Extension
Pros

Support Windows, MacOS, Android
Support downloads for Instagram Reel, Stories, Highlights, IGTV, Private Videos , and much more
10X Faster download speed
Supports more than 10,000 online video and music sharing sites
Download full playlists and channels
Supports various qualities: 1080p, 2K, 4K, 8k
Support 20+ output formats: mp4, mp3, aac, flac, etc
Support batch download of multiple audio and video files simultaneously
No Ads

Simple and free to use
No need to install any software

Cons

It's a paid software; however the pricing plans are very competitive

Uncertain
Sometimes, the program crashes and you are unable to download videos
Only a handful of formats are available, mainly Mp4
Annoying ads
Require browser compatibility
In Conclusion
Many more Instagram downloader Chrome extensions are available in the market, but some over time become unavailable. We have listed the best Instagram downloader chrome extensions that you can get right now. However, if you want a stable and more reliable solution for downloading Instagram content, then we will suggest you to use YT Saver Instagram Downloader.