Instagram is one of the most popular social networking sites, where people connect by posting images or videos on their accounts. However, Instagram doesn't provide a direct download option, so if you want to download Instagram videos, you should try some Instagram Downloaders.
This article will go into detail about the 3 top Instagram downloader chrome extensions, and even going a step ahead, let you know about the more useful alternative for downloading Instagram content.
3 Best Instagram Downloader Chrome Extensions
1. Video Downloader for IW
Video Downloader for IW is a lightweight, multi-browser add-on that lets users download videos from the Instagram website. Simply install the add-on in your browser and then open the Instagram page.
How to Use This Instagram Downloader Extension?
Step 1: Once the add-on has been activated (toolbar icon dark gray), you will see the download icon in the middle of every video (on the left-hand side of the top).
Step 2: Click that icon to save the movie onto your computer. Be aware that the location for download is the default location to downloads within your browser
Step 3: This extension will take video and download the highest quality video to your computer.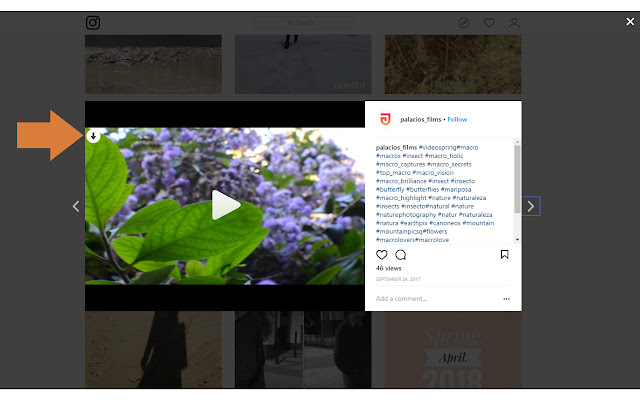 2. IG Downloader
IG Downloader is a helpful Instagram downloader extension to save videos and photos from Instagram.com. This extension lets you download all of the Instagram Images and Videos without the need to download any software. The most exciting feature is that the extension is free and doesn't collect any data from users like many other Instagram extensions.
Step 1: Simply click on an image on the Profile page, and then click the download icon. If you have already clicked on an image, you can download using the button located just below that bookmark symbol.
Step 2: Download buttons for large-scale account download can be found next on the Follow button's right side. Be careful not to download too many pictures simultaneously, as Instagram could temporarily block you due to the number of downloaded images (about five minutes).
Step 3: If you want to save an image, you may also use Strg + s to save the post. If it's a slider, it will download the whole slide.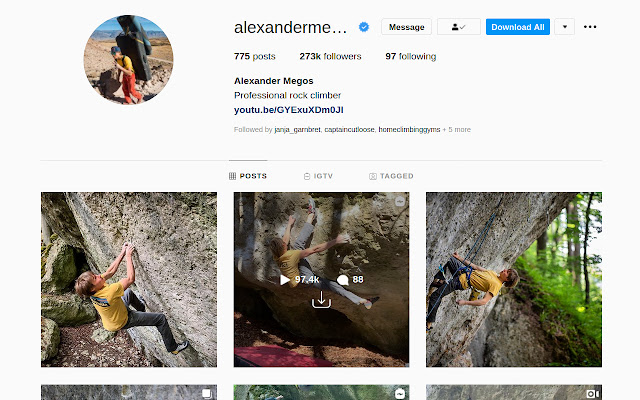 3. Image and Video Downloader
The third extension that you need to look out for is the Image and Video Downloader. First, install the extension from Google's web store for Chrome in your browser. It works with Google Chrome and other Chromium-based browsers, such as Microsoft Edge, Vivaldi, Brave, etc. It is an Instagram downloader extension that doesn't rely on any third-party services. It connects directly to Instagram. It's a light, user-friendly, and straightforward extension that doesn't monitor users in any way.
How to Download Instagram Video for Free?
Step 1: After installation is completed, you can open an Instagram site in a brand new tab in the browse.
Step 2: If you want to download an image on Instagram, you need to select it with a right-click and choose the option save it download it.
Step 3: To save videos, first, play it, then right-click it and save the same way as before. This extension can be used for multiple videos and images published in one post.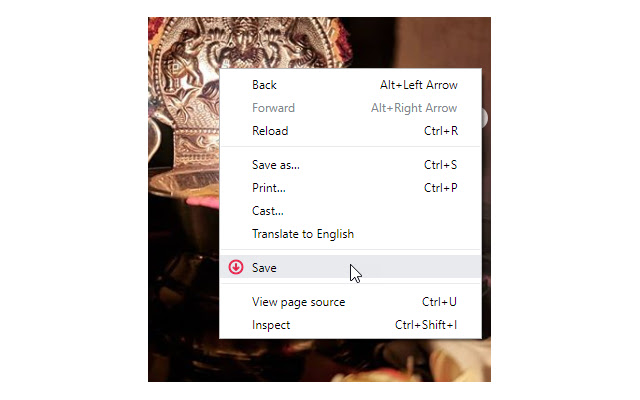 A Chrome Extension can only work only when your computer is connected to an active internet connection and has the Google Chrome browser installed in it. Moreover, It is sometimes not compatible with your system or crashes without any reason.
If you are experiencing any such problem and looking for a stable and guaranteed alternative to Instagram chrome extension, you should try using YT Saver Instagram Downloader.
Best Alternative to Instagram Video Downloader Chrome Extension
YT Saver Video Downloader is one of the best desktop software to download videos and audio content from Instagram. With the help of this software, you can easily download any type of video from Instagram and 10,000+ other websites online in high quality, ranging from 1080p-8K.
Moreover, it also allows you to bulk download an unlimited number of videos, complete playlists, and even private content from Instagram.
How to Download Instagram Video on PC/Mac using YT Saver?
Step 1 Find the post video you wish to download on Instagram, click the three-dots button on the upper right corner and select "go to post", then copy the video url from the address bar.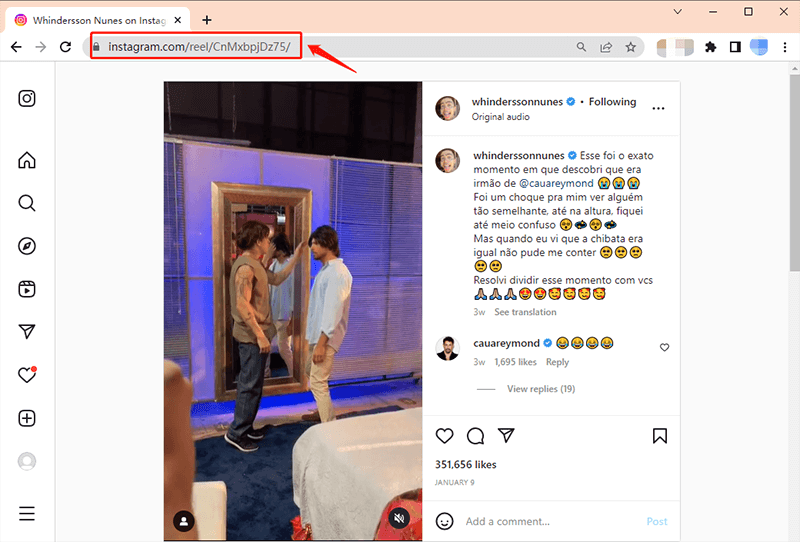 Step 2 Launch YT Saver, select the output type and quality you'd like from the Preferences tab.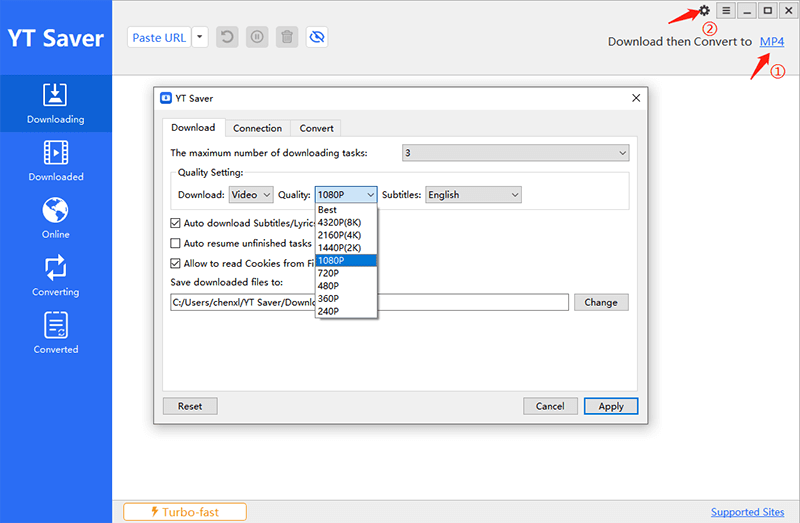 Step 3 Click the "Paste URL" button; the particular Instagram video will begin downloading automatically.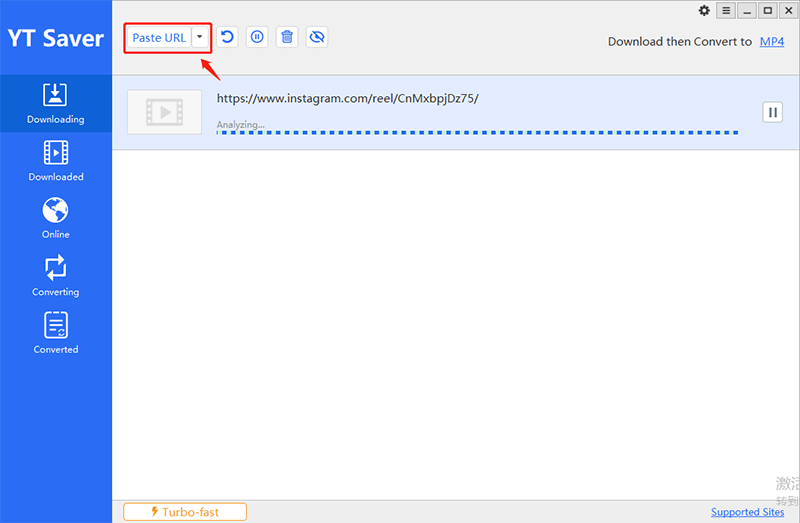 Step 4 Afterwards, you can look for the Instagram video in the Downloaded tab of the software.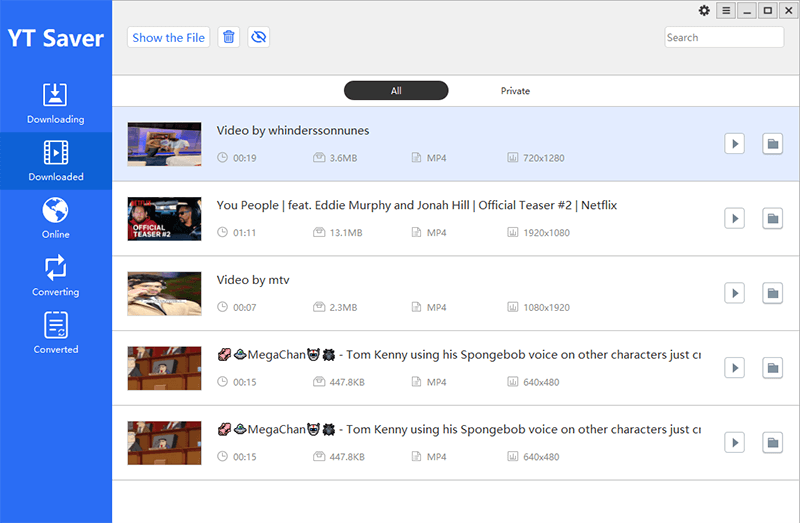 Conclusion
Many more Instagram downloader Chrome extensions are available in the market, but some over time become unavailable. We have listed the best Instagram downloader chrome extensions that you can get right now. However, if you want a stable and more reliable solution for downloading Instagram content, then we will suggest you to use YT Saver Instagram Downloader.
Download videos from YouTube, FB, Ins, TikTok, and more
Convert videos into MP4, MOV, MP3, AVI, etc.
Download videos in up to 8K resolution
Support 320kbps mp3 downloading
10X faster download speed
Ability to download private Instagram videos