There are many YT to WAV converter that allows you to download YouTube content to WAV audio format, which is lossless audio and uncompressed and can be easily played on various devices. In this article, you'll come to learn about some of the best tools that will enable you to convert YouTube to WAV.
Best YT to WAV Converter – YT Saver
There are numerous solutions available to convert videos from YT to WAV format. However, YT Saver Video Downloader is among the top YouTube converters on the market. It lets you convert videos from 10,000+ streaming platforms to many formats, like mp4, MP3, M4A, AVI, AAC, FLAC, and more.
You can cut your favorite YouTube videos in the required length and get them downloaded in the formats of your choice. Apart from downloading videos, it supports downloading YouTube playlists, channels, and multiple videos in bulk.
Pros:
✔ Supports 10,000+ websites, such as YouTube, Facebook, Instagram, Spotify and more
✔ Convert videos to 20+ output formats, including MP4, WAV, MP3, AAC, M4A, AAC, and many more
✔ Compatible with 720p, 1080p, 2k, 4k, and 8k video resolution
✔ Download YouTube playlists, channels, and multiple videos with just one click
✔ Supports downloading Mp3 for up to 320kbps bitrate
✔ 10X faster and reliable download speed
Cons:
❌ It is a paid software
How to Convert YouTube to WAV on PC/Mac?
Step 1 First of all, head over to YouTube and get the link of particular video that you want to get converted in WAV format.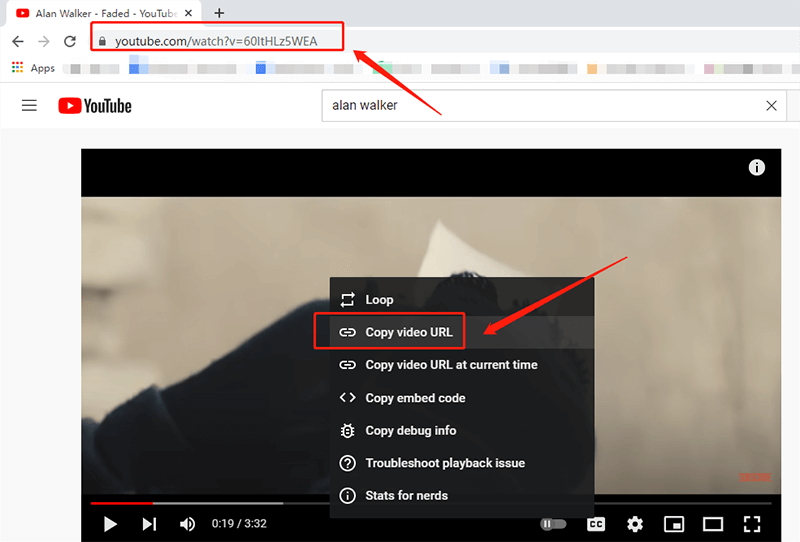 Step 2 Launch the already installed YT Saver program and open the Downloading tab in the Preferences section. Set the Download Type to Audio and the required audio Quality from the given set of options. After saving the changed settings, click on the "Download then Convert to" tab and select WAV for the downloading format.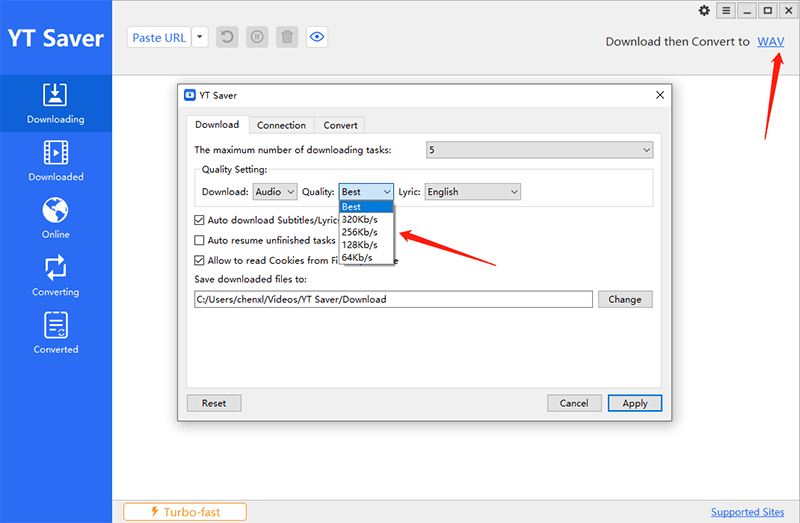 Step 3 In the next step, tap the "Paste URL" button on top-left of the interface, which will initiate the downloading process immediately.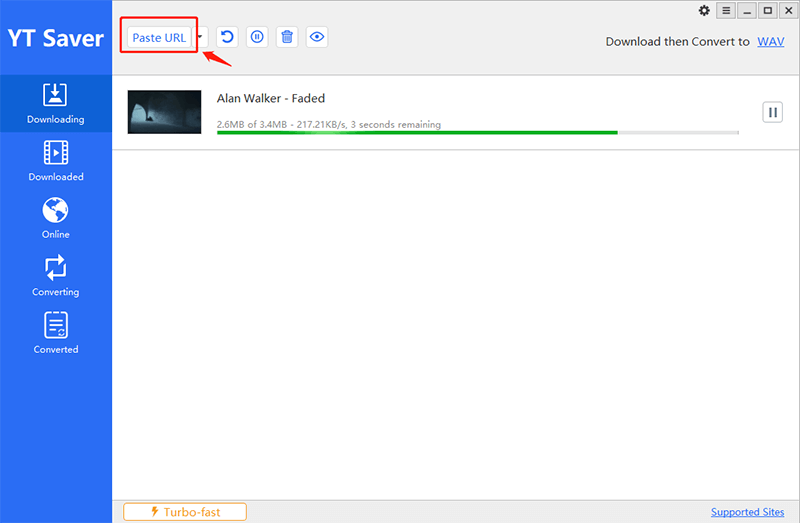 Step 4 When the process gets completed, you can access the downloaded WAV file from the Downloaded section of the software.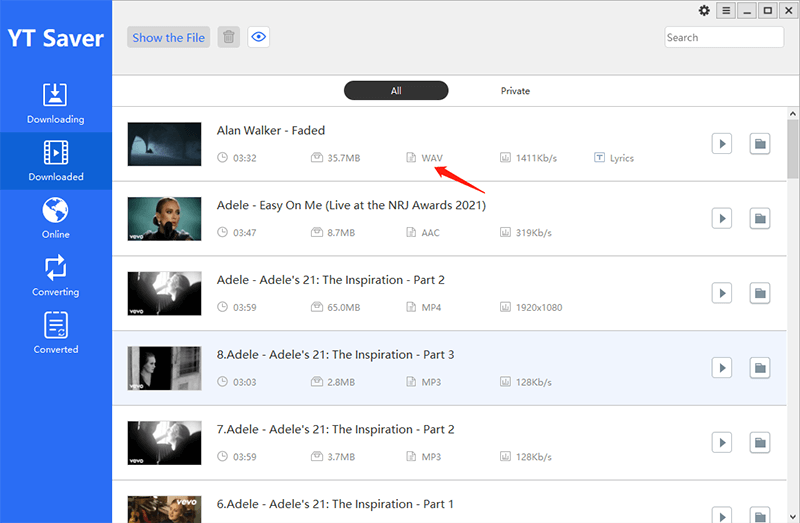 Other 4 YT to WAV Online Solution
1. SaveNow
SaveNow is a free online tool that allows you to download and convert videos from different social media platforms to different audio and video formats. The website requires the YouTube video's link in order to convert it to WAV, to allow you to listen at any time on any Windows PC, Mac, or iPod.
This application can convert YouTube videos into WAV format at high speed. It also lets you extract the audio without signing up for an account and is entirely free. Furthermore, this online tool lets you change the format of YouTube playlists.

Pros:
✔ Support many different audio formats
✔ It is user-friendly
Cons:
❌ Cannot download directly, will redirect to another site
2. Loader.to
Loader.to YouTube to WAV Converter is online that you can use for online conversion of any YouTube video into WAV files and then download it within a matter of minutes. That's right; there is no need for an application on your device or any technical skills to convert YouTube videos in WAV format on Loader.
The process is fast and straightforward since it permits you to convert any video on YouTube in WAV format simply by copying and pasting YouTube URL links.

Pros:
✔ Allows video and audio downloads
✔ Support MP4, MP3, WAV, and more
Cons:
❌ Cannot download; the download button for this tool is invalid
3. YouTube Converter
YouTube Converter is an excellent online yt to wav converter that is free, speedy, and safe. Simply copy or paste your YouTube video URL in the search box to begin downloading your YouTube video to WAV in just a few minutes. There are many ads on the website, and they could be annoying at times.

Pros:
✔ Support 4 different output formats
✔ Easy and simple to use
Cons:
❌ Longer conversion time
❌ Annoying ads can be interrupting at times
4. YouTube WAV
YouTube-WAV Converter is a free yt to wav online tool. The software doesn't offer advanced features for editing videos. It does, however, its sole task to convert audio files into WAV exceptionally well. It is simple to convert videos uploaded to YouTube, Facebook, Vimeo, Yahoo, and over 200+ websites to WAV audio format.
Youtube-WAV is a quick conversion tool for video files into WAV format. It supports all the most popular online social networks. You can download the online YouTube to WAV converter at no cost. There is no requirement on the site to sign up to use the online converter software.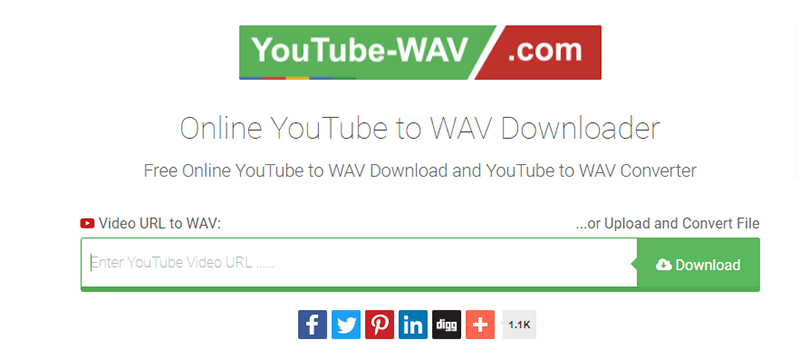 Pros:
✔ Support many audio/videos formats
Cons:
❌ Cannot download the files
YT to WAV Converter vs. Online Solution
| | Online Solution | YT Saver Software |
| --- | --- | --- |
| Supported Websites | Only YouTube | 10,000+ Video/Music Sites |
| Quality of Downloaded Audio/Video Files | Limited | Original, 320kbps, 256kbps, 128kbps, 64kbps |
| Range of Output Formats and Quality | Only WAV | MP4, MP3, WAV, MOV, M4A, FLAC, OGG, AIFF, and other 20+ formats |
| Playlist, Channel, and Album Download Support | X | ✓ |
| Keep Original ID3 Tags Information | X | ✓ |
| 100% Original Quality | X | ✓ |
| 10X Faster Download Speed | X | ✓ |
| Download Videos in Batches (Without Any Limitation of Numbers) | X | ✓ |
| Lifetime Updates and Technical Support | X | ✓ |
| Support to Resume Download Process When Broken | X | ✓ |
| Stable and Reliable Download | X | ✓ |
| Installation Required | X | ✓ |
FAQs
✨ What is a WAV audio format?
WAV is a format for audio files created in collaboration with Microsoft as well as IBM. It stores details about the audio file, including bit rate and track numbers, sample rate, and audio information. This means that the file may take up large amounts in space, i.e., as much as 10 MB in a minute. The audio format allows for a maximum file size of 4GB.
🎵 What is the best audio format– Wav or MP3?
For the majority of people, the most efficient audio format to download YouTube videos is MP3. The compressed format consumes less space compared to the WAV format. Choose the WAV format if you're looking for the highest quality sound. This format is ideal for seamless loops since, unlike MP3 format, there aren't silences at the beginning of the end of the Wav audio file.
🎈 How to Convert YouTube to WAV audio format?
Converting YouTube to the WAV format is simple. Copy and paste the YT video URL into the search bar, then click on convert. The software will present options to choose the audio format and the video quality. Additionally, specific software lets you cut files by specifying the start and ending time.