5 Easy Methods to Convert YouTube to AAC for Free
Content
If you frequently download videos from YouTube and wish to store them in ACC format, it is most important to utilize a reliable converter. And in this post, we will reveal the 5 best YouTube to AAC converters and shows you how to convert YouTube to AAC in high quality.
Best YouTube to AAC Converter
If you are looking for a wonderful YouTube to AAC Converter, YT Saver Video Downloader is undoubtedly one of the best choices. This software lets you save a video to your computer in various formats, including AAC, MP4, MP3, AVI, WAV, 3GP, and many more. It also offers the ability to download entire playlists and multiple files simultaneously without compromising on the audio quality.
This software supports 10,000+ video and music popular sites, including YouTube, Spotify, Instagram, Facebook, etc., and it also comes with a built-in browser that you can use to visit various websites and directly download videos/music from there.
📖 How to Convert YouTube to AAC on PC/Mac?
Step 1 In the first step, you will need to go to YouTube and copy the link to the video that you are looking to convert into AAC.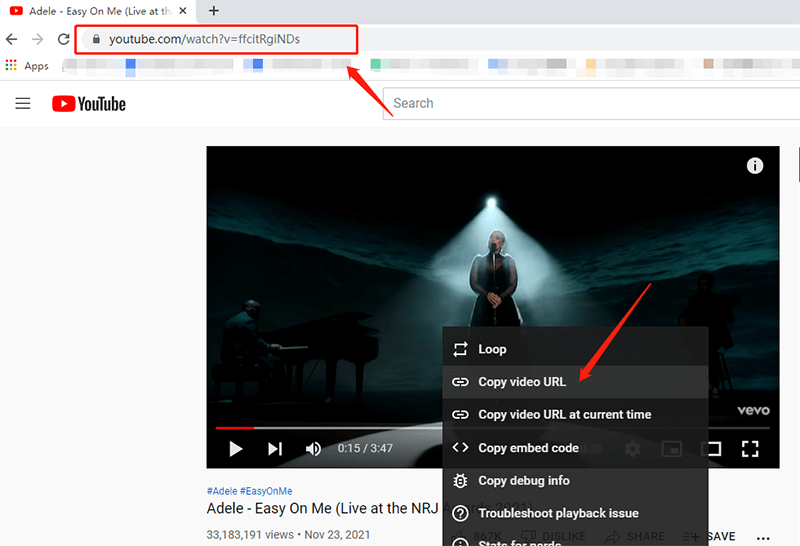 Step 2 Next, open YT Saver, and without wasting any time, head over to the Download tab in the Preferences menu and choose the parameters of your choice i.e. Audio and 320kbps. After doing that, open "Download then Convert to" and select AAC in the list of options.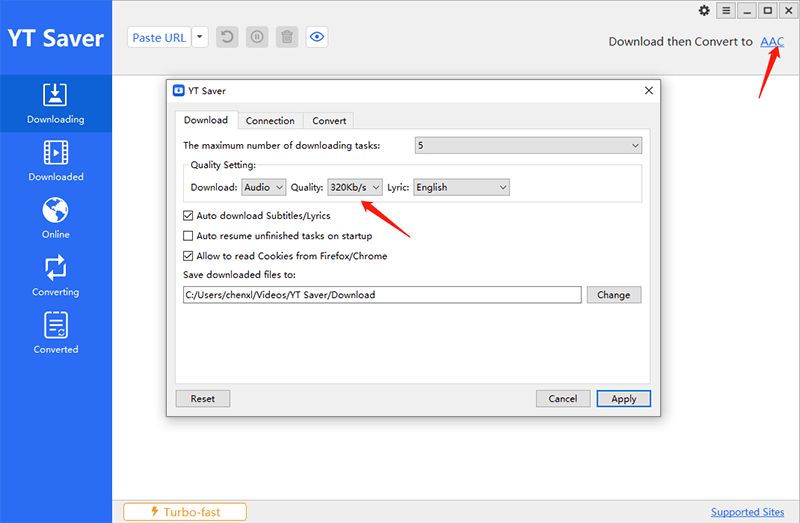 Step 3 Now, click on the "Paste URL" button and the conversion process will start instantly. After converting the video into your required format, the program will download the file to your computer.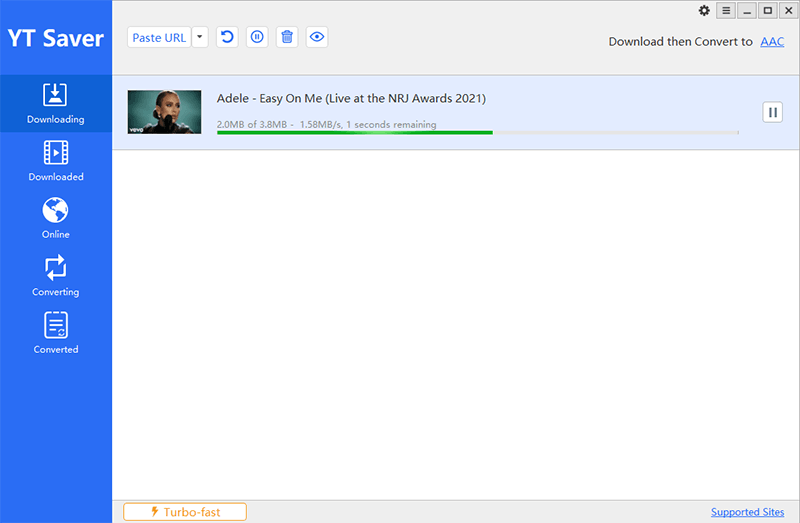 Step 4 Once the process gets finished, open the Downloaded file section and you can find the AAC file there.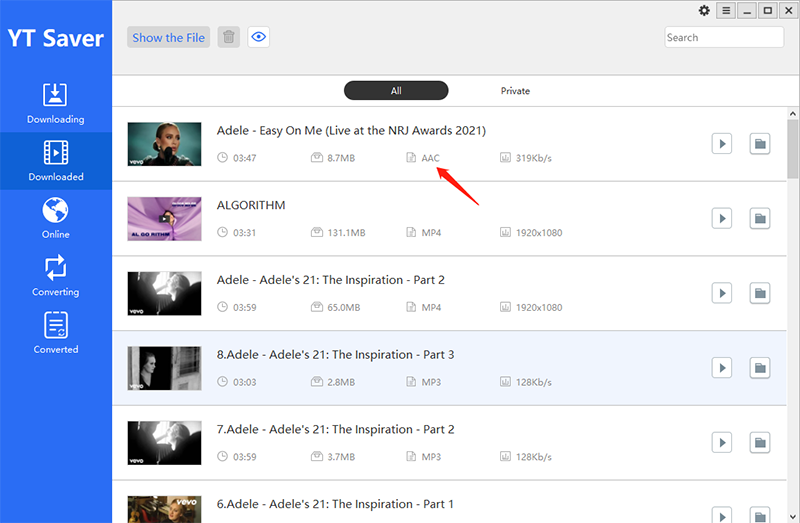 YouTube to AAC Converter APP
iTubeGo for Android is a free audio/video downloading application that can help you get your favorite media on your Android devices. It is one of those very few apps with which you can get YouTube videos converted into AAC and various other video or audio formats.
With the help of iTubeGo for Android, It becomes super easy to download music and videos straight from the Internet on your Android devices.
📖 How to Convert YouTube to AAC on Android?
Step 1 First of all, download and install the app via APK file on your Android device using the link given above.
Step 2 In the next step, launch the iTubeGo for Android app and head over to YouTube's website using the built-in browser of the app. Search for the particular song that you want to convert into AAC, and once found, simply tap the red-colored Download button located at the bottom of the screen.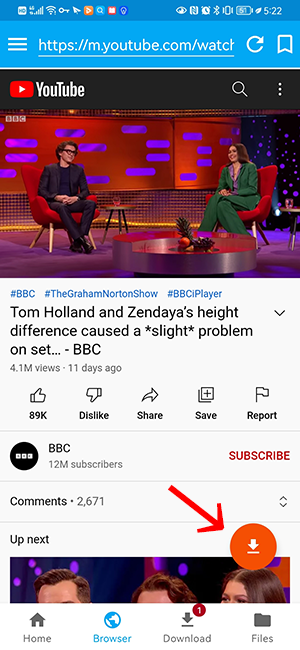 Step 3 Now, you will be provided with different download options to choose from. Select AAC and audio quality like 320kbps, click the OK button, and the file will begin to download on itself.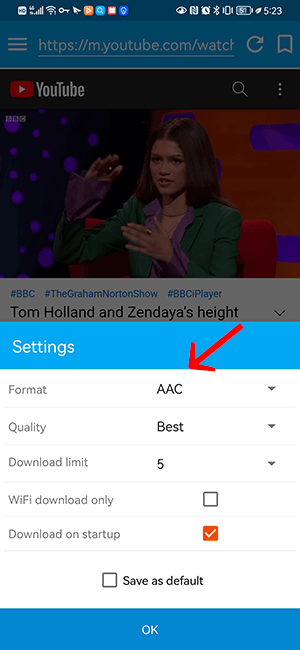 Step 4 You can locate the AAC file under the Files tab of the app when the downloading process gets completed.
3 YouTube to AAC Converter Online Tools
#1. CoConvert
You can convert and save any YouTube video into AAC with CoConvert today. It offers you a free version of the most efficient online converters available in the market. It also allows you to use the platform to change every yt to aac in a matter of seconds on your computer, tablet, or smartphone with no hassle.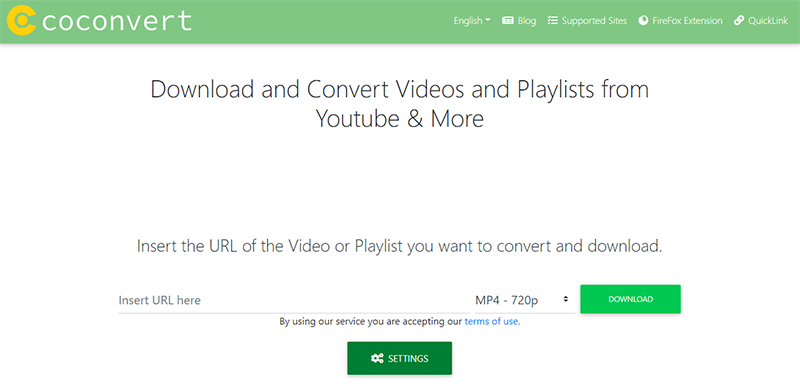 📖 How to Convert Videos from YouTube to AAC?
Step 1: Search for the URL to the playlist or video you'd like to convert and download from YouTube.
Step 2: Copy it. After that, paste it into the Insert URL Here box.
Step 3: Select the output format (AAC in this instance)
Step 4: If needed, set the settings to control the quantity and type of videos you would like to stream from your playlists.
Step 5: In the last step, you will need to click on the download button.
#2. Loader.to
In 2019 Loader is a new cloud-based service to download and convert YouTube in AAC online for free. It's compatible with several video platforms, like YouTube, Reddit, Pinterest, TikTok, etc. It also allows you to take up to twenty videos off of the YouTube playlist at once and comes with a variety of formats that you can choose from, including MP3, AAC MP4, M4A WebM, FLAC, OPUS, OGG, and WAV.

📖 How to Download YouTube to AAC Online?
Step 1:  First of all, visit https://loader.to/
Step 2: The URL is copied and pasted from a YouTube video into the URL field on the page.
Step 3: Select the video format you want to use as AAC.
Step 4: Make sure you set your "Playlist End" to 1 in the event that you only download the one YouTube video and not the entire playlist.
#3. YouTube-AAC.com
It's also a tool for browsing that doesn't require installation. The interface is easy, and YouTube's file can be converted to AAC, WAV MP3, and other widely used formats for audio and video. YouTube-AAC is a no-cost online application for media conversion that lets you convert, re-record and download almost any video or audio URL into commonly used formats.
Currently, it supports services including support to 720p 1080p, 720p, and 4K videos, and compatibility with Facebook, Vimeo, YouKu, Yahoo, and numerous others. This fast and free converter lets you watch your most-loved YouTube movies offline using your computer or TV or almost every other device.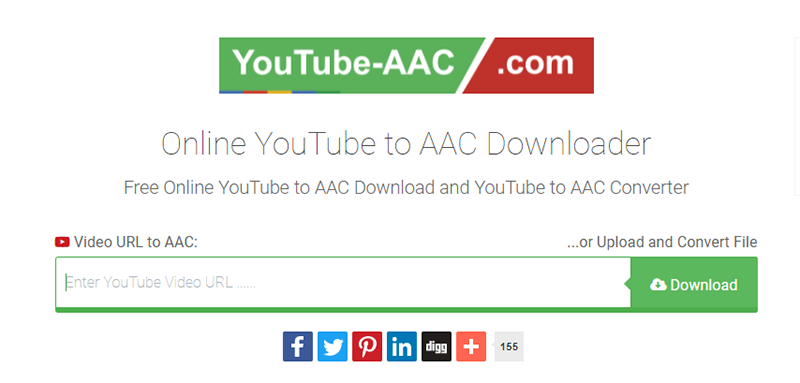 📖 How to Convert and Download YouTube Video to AAC Online?
Step 1:  Copy and paste your YouTube URL into "Video URL" and click Continue.
Step 2:  Select the format (MP3 or M4A, MP4, MP4) and then select the options for the conversion. The default settings are for most videos, which is a great setting.
Step 3:  Click the button 'Download' at the bottom of the screen to start the conversion.
Step 4:  This could take a few minutes. After the conversion has been completed, you are able to download the file converted.
YT to AAC Converter vs. APK vs. Online
| Features | Desktop Solution | Android App | Online Tools |
| --- | --- | --- | --- |
| Supported Websites | 10,000+ Video/Music Websites | 1,000+ Sites | Only YouTube |
| Supported Output Formats | MP4, MP3, MOV, AAC, WAV and other 20+ formats | MP4, MP3, M4A, AAC | Only Supports Limited Audio Formats |
| Quality Options | Up to 320kbps | Up to 320kbps | Low Quality |
| Playlist Downloads | Yes | Yes | No |
| Download Lyrics | Yes | Yes | No |
| Download Speed / Reliability | 10X Faster Download Speed | Fast and Reliable Downloads | Slower Download and Conversion Process (Some Download Button are Invalid and Cannot Work to Download) |
| Retain Music Tags | Yes | Yes | No |
| Running Platforms | Windows/Mac | Android | Web Browsers |
| Verdict | Powerful and Efficient Tool. Download Video/Music Without Any Quality Loss. | Allows Downloading Audios and Videos Directly on Your Phone, Anytime and Anywhere. | They're Free and Easy to Use, But There Are Many Limitations and Restrictions. We Don't Recommend Using Such Tools When the Network is Poor or Unstable. |
FAQs
✨ What is an AAC audio format?
AAC (Advanced Audio Coding) is a lossy format for audio compression. It's mainly used to encode audio with medium to high bit rates. AAC is the preferred audio format supported by iTunes and is used by numerous other platforms and devices. In some cases, it is contained in an M4A container, and therefore it typically includes an M4A extension.
🎵 What is the best audio format – AAC or MP3?
AAC provides higher quality than MP3 with the same bitrate even though AAC is also a lossy compression format. On the other hand, MP3 has lower quality than AAC at the same rate bitrate. The AAC format was created to enhance MP3.
AAC is also compatible with virtually all the devices and software that can support MP3. Also, it is compatible with almost all sorts of devices and programs, and especially that support MP3, such as iPhone, iPod, iPad, Apple iTunes, DivX Plus Web Player, PlayStation 3, BlackBerry, Android, and so on.
🎈 How to Convert YT to AAC audio format?
In order to convert YouTube video clips to AAC, there are many ways. However, the YT Saver software is easy, fast, user-friendly download experience.
Just choose the output format on the YT Saver program, then copy the desired YouTube video url to this program, which will detect the url automatically and download the AAC audio format to your device.
Support 10,000+ sites, such as YouTube, Spotify, Facebook, Instagram, etc.
Supports 20+output formats, such as MP4, MP3, AAC, WAV, etc.
Download audios in up to 320kbps and videos in 1080p, 2K, 4K and 8K
Offers 10X faster speed for downloading video/audio
Download YouTube playlists, channel, multiple videos in one click
Lainey
A Internet technology enthusiasts, editor and content creator who spends most of her time bringing the interesting, entertaining, original and well-written articles to people who love Internet Technology too.