How to Download TikTok Private Video on Android/ios
Content
TikTok as we all know is the most popular social media platform among the people of all ages. Its popularity surely has progressively increased during pandemic. On this platform, you can share a video of 15 seconds. TikTok allows you to like, share and even save the videos. If you want to download private TikTok videos, we have gathered some solutions that might surely be helpful here.
Download TikTok Private Video from Your Own Account
To download your own private videos on TikTok you won't need any additional third-party tools because you simply download your own videos through TikTok. Following are the steps you can take to download private TikTok videos of your own:
Step 1 Tap and open the TikTok application on your phone.
Step 2 On the main interface, to open your account profile tap on my menu which is in the lower right corner.
Step 3 To view private video tap the padlock icon on screen.
Step 4 You will now be able to view all of your own private videos. You can select the video you want to download.
Step 5 Tap on the three-dot icon to the lower right corner and tap on Save video button.
Step 6 The downloaded TikTok video with logo will be saved to the gallery of your phone.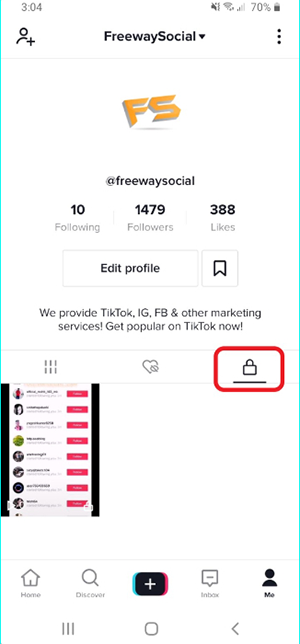 Note:
However, the private or protected videos from others are not downloadable through TikTok app. There is not "share" button so you can copy the url and download it via any tiktok video downloader.
Download TikTok Private Video from Others
To download private TikTok videos from others on your Android or iOS devices you can record the TikTok video through a screen recorder and then save it to your phone. You can use the built-in screen recorder in your device which can be a TikTok private video downloader. Following are the steps you can take to download private videos from TikTok:
Step 1 Firstly, you will swipe down from the top of your cellphone screen and tap Screen record option.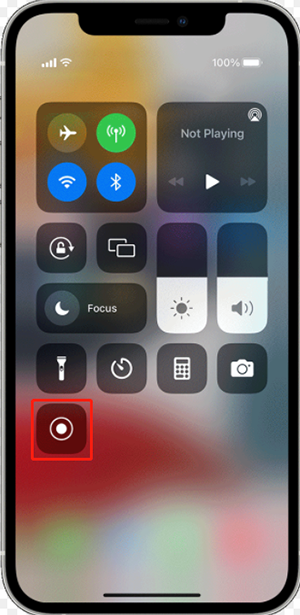 Step 2
If you couldn't find it there you might need to swipe right on the screen to find it.
Step 3 Still if you can't get the screen recorder in your cellphone then, you can tap on Edit option and drag Screen Record option to your Quick Settings.
Step 4 Now from home screen, tap and open TikTok app on your Android/iOS device.
Step 5 Now select the private video that you would want to record and tap on Start icon. The recording begins right after the countdown.
Step 6
To end the recording, you can swipe down from the top of the phone screen and tap the Screen recorder notification or red icon to end it.
Bonus Tips: Download TikTok Video on PC/Mac
YT Saver Video Downloader is the best TikTok video downloader for your PC or Mac. With many advanced features, it is a powerful tool to download videos with a number of online streaming platforms including YouTube, TikTok, Dailymotion, Vimeo etc. Not only it supports MP4 but can also convert videos to other formats including WAC, MP3, AAC, etc. The tool supports high paced downloading without any glitches. It is due to all these and many more reasons that this is a number one choice for downloading videos and music from multiple platforms.
How to Download TikTok Videos without Watermark with YT Saver?
The following are the steps you can follow to download TikTok videos:
Step 1 Copy the URL of the video you want to download from TikTok.com.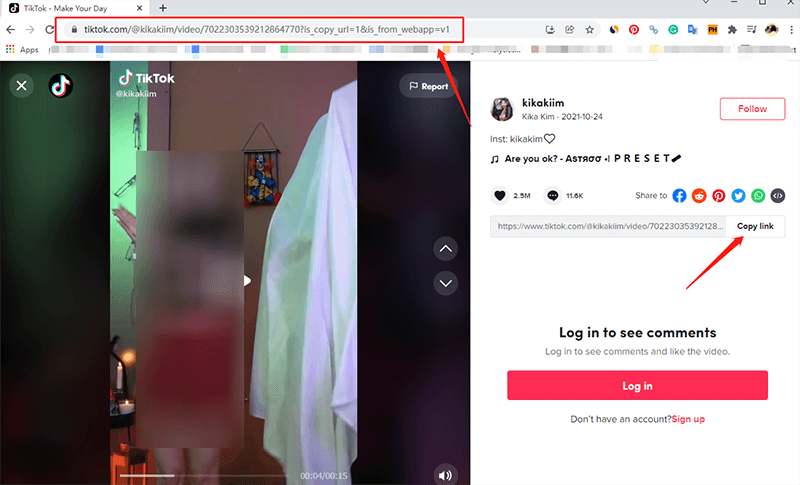 Step 2
Launch YT saver Video Downloader software on your PC. Next, choose the output format of the TikTok video to mp4 and resolution of 1080p from Preferences section.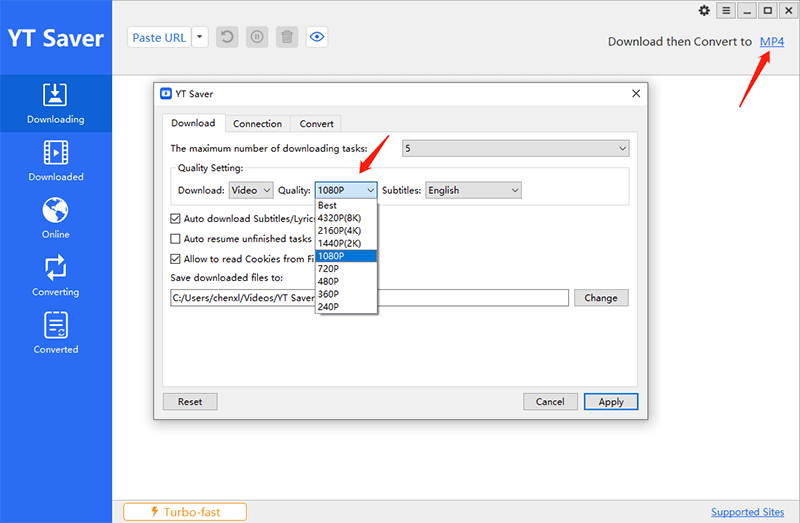 Step 3
Now, click on the paste URL button and the TikTok video will start downloading automatically.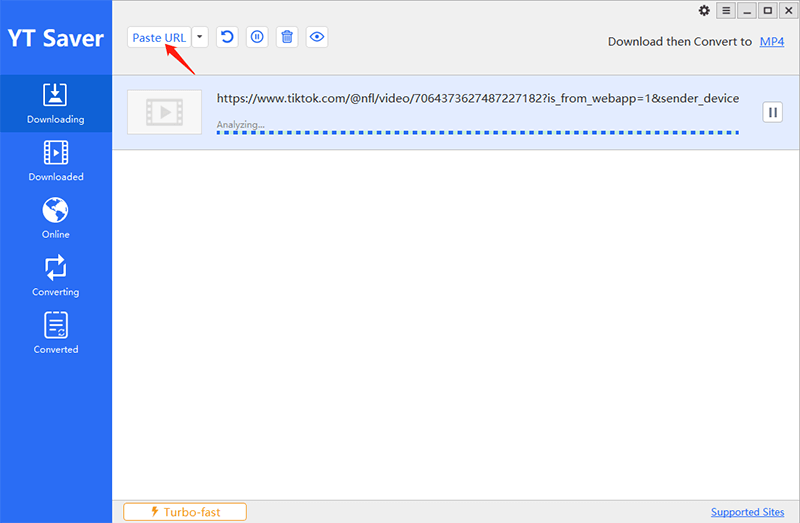 Step 4
You will be able to find the downloaded video from TikTok in the downloaded section of the software.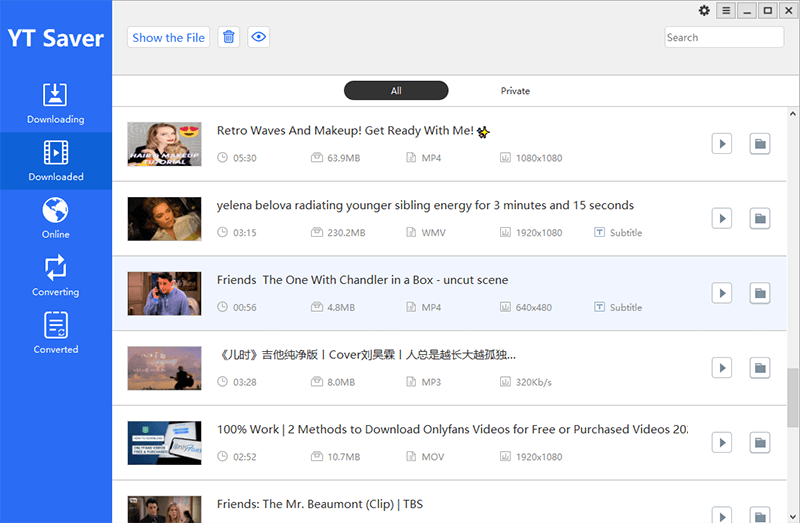 Final Thoughts
In this article, you got to know about the ways you can download private TikTok videos on your android and iOS devices. The private videos of your own can directly be downloaded from TikTok. Although, to download the private videos from other accounts you only can try screen recorder. We recommend you trying YT Saver Video downloader as it is an incredible option for downloading videos from various online platforms.
Download TikTok videos by usernames, hashtags.
Supports 10,000+ video and audio streaming platforms
Multiple video downloading has been made easy with a single click
10x faster downloading speed compared to other downloaders
Maintains high video quality from 1080p up to 8K
Lainey
A Internet technology enthusiasts, editor and content creator who spends most of her time bringing the interesting, entertaining, original and well-written articles to people who love Internet Technology too.