TikTok is one of the most popular social media platforms which is loved by millions due to its format and the interface it operates on. The platform offers videos of every kind from cooking to life and beauty hacks. Creators before uploading their videos can actually store and line up their videos in drafts. They can also edit and add effects to that saved draft. But the question here is how to edit a draft on TikTok? Well, this article is all about the same topic where you will find the ways you can edit a draft on TikTok. Also, some of your most asked questions will also be answered. Let's begin.
How to Edit Drafts on TikTok Before Posting
Once you have shot the TikTok video and saved it as a draft in the app only then you will be able to edit a draft on TikTok before posting it. Here are the steps you can take to thoroughly understand this method:
Step 1: Firstly, you will need to find the drafts in the app so for that you will open TikTok
Step 2: Tap on Me option in the bottom right corner of the screen.
Step 3: Here, beside your uploaded content you will find and tap on drafts option.
Step 4: Find the draft you want to edit and select it.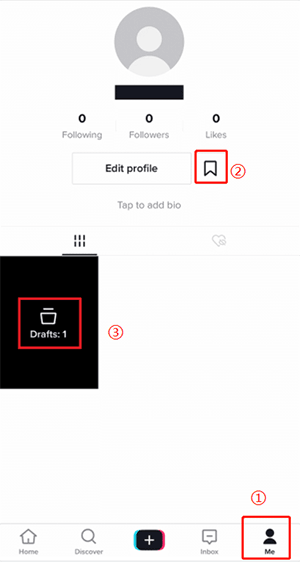 Step 5: Once, you select the draft tap on the option to edit draft before posting it.
Step 6: Firstly, you will be asked to add description and then go back to the editing section.
Step 7: Here, you will edit the draft according to your requirements and then tap on Next.
Step 8: Set the timeline of your video and add captions and then tap Next.
Step 9: Lastly, you will be asked to set the Privacy Settings and then tap on Post button.
How to Edit Drafts on TikTok After Posting
Still wondering how to edit TikTok drafts? Well, TikTok itself doesn't have an option to edit the drafts once you have uploaded them. But here we have a found a method to work around it so, you can edit the TikTok video draft if you see an issue after you have posted the video. Simple follow the instructions step by step to know more:
Step 1: Open TikTok app and tap on Me option.
Step 2: Select the draft video you want to edit.
Step 3: Then, tap on three horizontally dotted icon.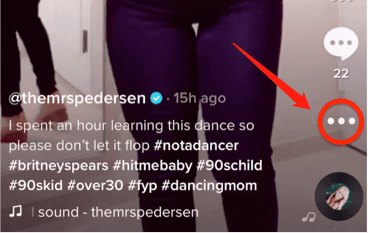 Step 4: Then tap on Save Video option.

Step 5: Now, tap on '+' icon at the bottom of the screen to reupload the video.

Step 6: Next, you will tap on upload option next to record button and here you will see a bunch of videos.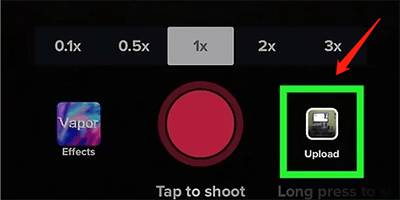 Step 7: Select the saved video and then tap on Next.
Step 8: Edit the video the way you prefer add text or effects and then tap Next.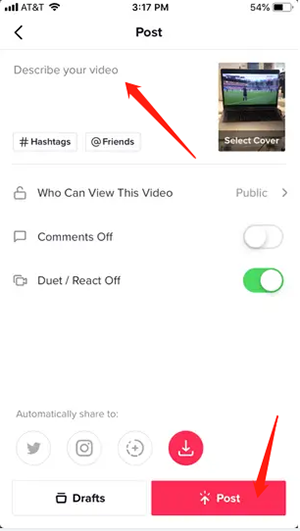 Step 9: Add the caption of your choice and select the privacy of your video.
Step 10: Lastly, tap on Post option.
Step 11: Once, the video has been uploaded. You can delete the previously uploaded video from your feed.
Bonus Tips: How to Download TikTok Video by YT Saver
Now, that you have learnt how to edit drafts on TikTok, let us give you a bonus tip by introducing you to a video downloader that will solve all of your downloading problems. It is none other than YT Saver Video Downloader. The tool not only downloads videos from thousands of streaming platforms but also downloads music and audio files without any quality loss. With its unique interface, it is being used by many users and is also perfect for the first-time users.
Download TikTok videos without watermark by username and hashtag.
Supports 10,000+ online streaming platforms including YouTube, Instagram, Facebook, TikTok, etc.
Provides 10x faster downloading
Retains the original quality of audio and video files
Converts videos to MP3, M4A WAC, MP4, AAC, etc.
Downloads videos in 4k and 8k resolutions
Frequently Asked Questions (FAQs)
In this part, we have answered some of your frequently asked questions about how to edit, delete or save drafts on TikTok.
✏ Why Can't I Edit My Draft on TikTok?
You can edit your draft on TikTok through this method: Once you have saved the draft, you can access it by tapping on Me icon in bottom right corner of the screen. Then, tap on drafts folder. Here you can select the video draft you want to edit and then add music, effect or captions. Last, you can save it or post it on your feed.
📷 How to Save TikTok Drafts to Camera Roll?
Open the drafts folder and select the video you want to save. Tap on Next button. Then change the Privacy to Only Me. Tap on More options icon. Last, tap on Save to device and your video will be saved to Camera roll.
✂ How to Delete Drafts on TikTok?
Try this method to delete drafts on TikTok: Go to drafts folder. Select the videos you want to delete. Tap on the delete option at the bottom. For confirmation, tap again on delete option that popped up.