Whenever you are using TikTok and scrolling through For You page, in a matter of few swipes you could find yourself watching videos of various types from makeup and motivational content to kitchen and life hacks. In here, there are several videos you end up liking and want to download them. Although, TikTok unlike other social media apps has a feature to download some videos.
What if you want to download all the videos from an account by their username? For that, in this article, we will discuss 5 best tools that will get you any TikTok video download by username on your device.
The Fastest Way to Download TikTok Video by Username
YT Saver Video Downloader is a software capable of downloading audio and video files from various online streaming websites which may include; YouTube, TikTok, Instagram, Dailymotion, Vimeo, etc., and you can download music, audiobooks, background score and much more with quite a lot of ease. This downloader not only allows you to download TikTok clips but also convert them into high quality video files up to 8K. Due to its UI, it's very easy to use with many other impressive features you can't ignore.
How to Download TikTok Video by Username?
Explained below are the steps you can take to download any TikTok video by using the username of the TikTok account holder with YT Saver Video Downloader:
Step 1 Firstly, launch YT saver Video Downloader software on your PC. Choose the output format of mp4 and 1080p for the TikTok video from Preferences section.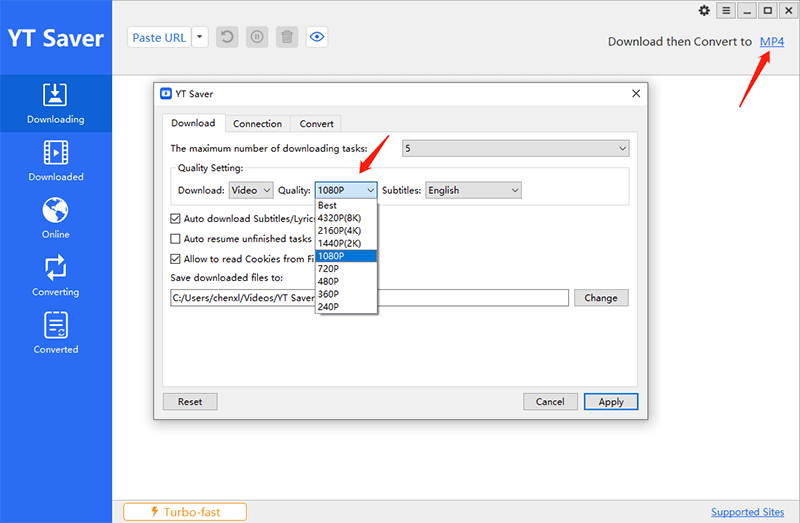 Step 2 Then, in the built-in browser section, go to tiktok.com and search for the username of an account holder.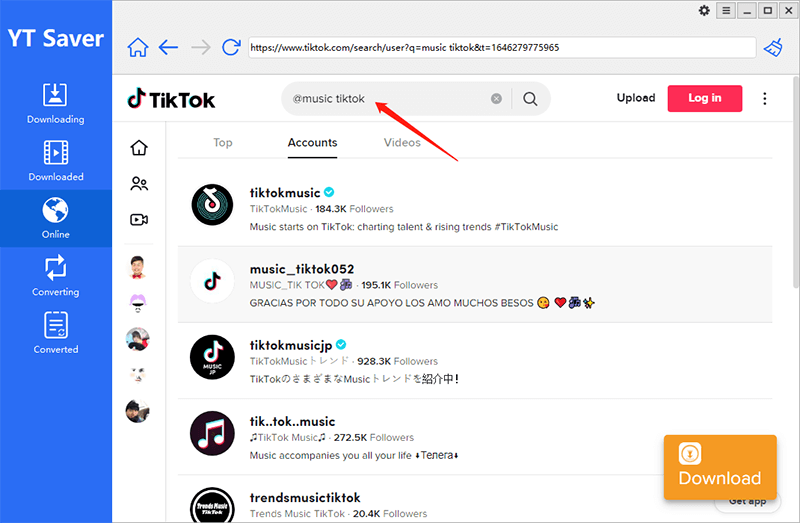 Step 3 All the videos from that particular account will be displayed, now play the one you want to download.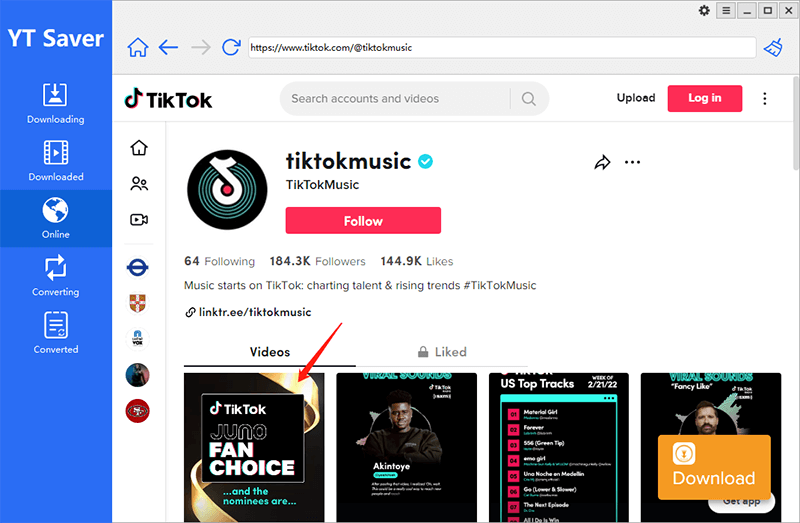 Step 4 Now click on the "download" button and TikTok will start downloading automatically.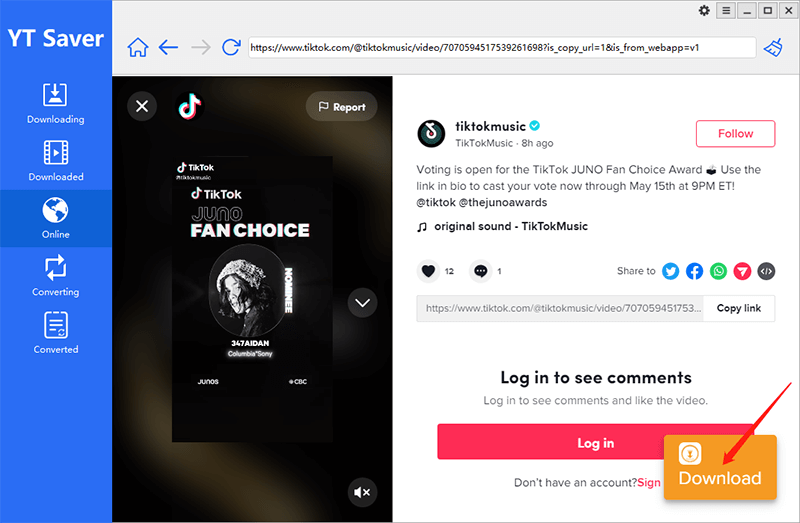 Step 5 Find the TikTok video in the downloaded tab once the download is over.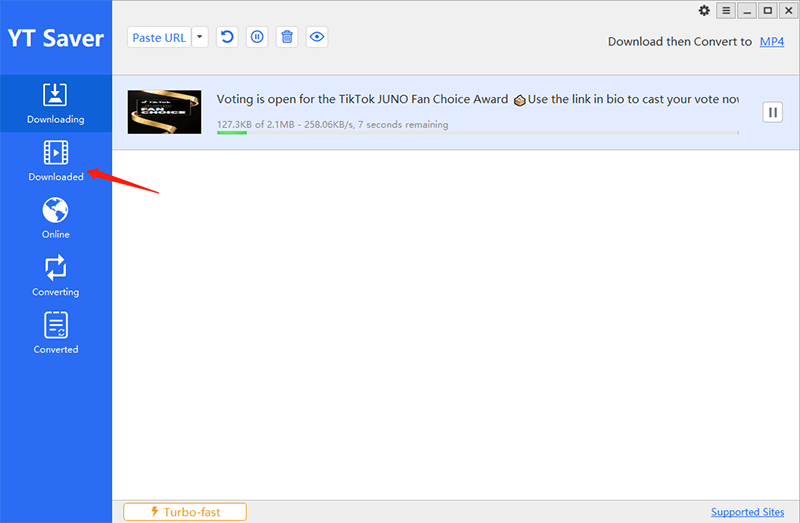 Note:
If you want to get TikTok video download without watermark by username. Then you can search for the username from the TikTok site via the built-in browser and play the TikTok video. After that, copy the URL from the address bar of the browser and click the "Paste URL" in the Downloading section. This will ensure the beginning of the download process of TikTok video. In this way, you will be able to download any TikTok without watermark.
Other 4 Ways to Download TikTok Video Online with Username
In this part, we will discuss 4 online tools to get TikTok video download with username. So, you can ultimately decide whether you want to go for them or not.
1. TikTokD
TikTokD is an online TikTok video downloader which can be used to download videos without the watermark. It is completely free and downloads videos in a fast pace maintaining the original quality of the videos. You won't require any subscriptions or charges to use TikTokD. You can not only download TikTok videos but also has an option to download audios only. You can download the videos using hashtags, video links and also usernames.

2. FreeVideoDownloader
FreeVideoDownloader is another tool to download TikTok videos completely free and doesn't require any sign ups. With this downloader you can download all the videos with or even without the watermark. The tool doesn't require you to download any software or application in order to function. Not only you can download the videos but also extract the audio and music from TikTok clips. You can download the video by using username, hashtag or through the URL.

3. DlTikTok
Another online tool to download TikTok videos for free is DlTikTok. This tool helps you to download TikTok video with and without the watermark of the video. Other than downloading videos you can also download the audio and music from any particular TikTok video. This tool claims to download the TikTok videos by entering the @username in the download bar in a single click.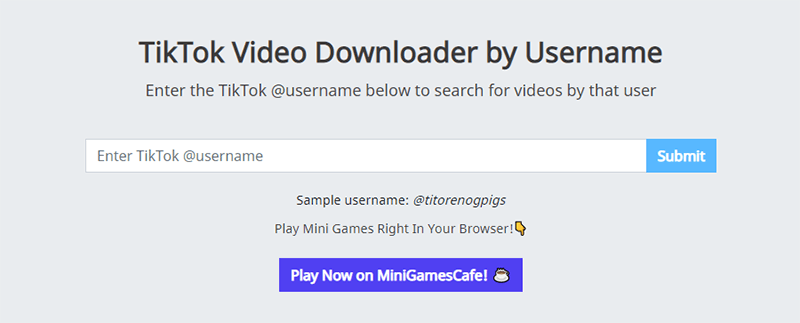 4. OnlineTik
This tool claims to be number one solution to downloading TikTok videos online for free. OnlineTik talks about efficiently downloading the video while maintaining the video quality. You can download any video from TikTok through URL, hashtags and even the username. It has a variety of TikTok hashtags and popular TikTok usernames to choose from.

Note:
Indeed, you can't actually search for all videos by putting in the username in these online tools above and download the video.
TikTok Video Downloader Software vs. Online Solutions
In this part, we will compare TikTok Video Downloader software with online TikTok video downloading tools so you can get a better idea of what these tools are capable of. Then, you will be able to choose the tool according to your preferences:
Features
Desktop Software
Online Tools
Supported Websites
10,000+ video/music sites
Only TikTok
Supported Output Formats
MP4, MP3, MOV, AAC, WAV and other 20+ formats.
Only mp4, mp3
Quality Options
HD, 2k, 4k, 8k and mp3 320kbps
Low quality
Playlist Downloads
Yes
No
Download Speed/Reliability
10X faster download speed
Longer download and convert process.
In some cases, download button is invalid and cannot download
Lifetime update, technical support
√
×
stable to download
√
×
Running Platforms
Windows, Mac
Browser
Summary
Powerful tool. You can download multiple TikTok video without watermark by usernames, hashtags in high quality with one-click.
They claim that they can download TikTok videos by usernames, but it is not indeed, you cannot search for any videos and download the videos.
In Conclusion
As we are concluding this article, we will hope you are now able to know how to get TikTok video download by username. As we have described above 5 tools that can enable you to download TikTok videos. Also, for comparison we made a chart so you can figure out which tool is beneficial for you. As you have seen most of the online tools were not able to download TikTok videos by entering the username therefore, we recommend using YT Saver a desktop software that will download all your TikTok videos via username.
Support 10,000+ music/video sites, including YouTube, Spotify, Facebook, etc.
Downloads multiple videos, playlist or albums in 1-click
Converts videos to MP3, WAC, MP4, AAC, etc.
Built in browser makes streaming a lot easier
Downloads files 10x faster than other tools without losing quality
Download song-related TikTok videos up to 320kbps