How to Download TikTok Live Streams Fast & Secure
Content
TikTok is one of the most famous platforms for content creators. This app allows its users to go live and interact with people in real-time. Many people stream live to share their activities to entertain people. The do live gaming, indoor or outdoor activities to engage the audience.
While many online businesses and brands stream live sessions to showcase their products. In these live stream sessions, you can ask questions about their products, and they can answer you in real-time. As you know, you can easily download any TikTok video with the account holder's permission. However, the question arises, how to download TikTok live streams? Downloading TikTok live streams can be more challenging. But don't worry, you are in the right place. In this article, I will tell you how you can download TikTok Live videos easily.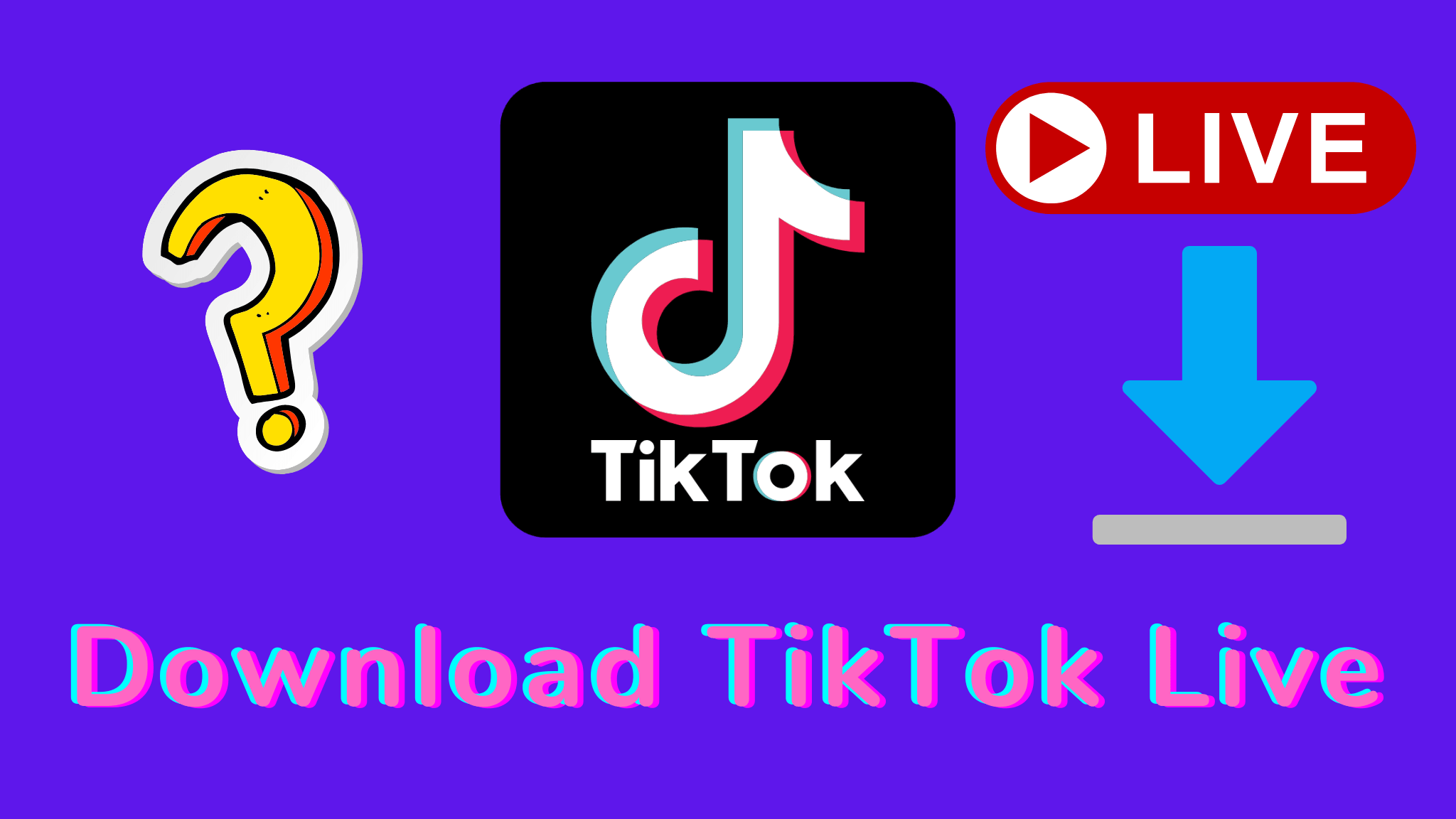 How to Watch TikTok Live
Unfortunately, TikTok live videos are not available for all of its users. TikTok has set the criteria that you must fulfil to get access to TikTok Live. First of all, you must have got 1,000+ followers within 30 days. Or, any of your uploaded video have got 1000+ views. Secondly, you must be at least 18 years old.
If you meet the above requirements, you can quickly get access to random live streams or live recordings on TikTok. In the following, I have explained how to watch TikTok live videos on both PC and mobile.
1. How to watch TikTok live on PC
It is very easy to watch TikTok live streams on a desktop computer or a laptop. Without exaggerating, On the PC, you have access to unlimited live videos to watch, unlike the TikTok application on your smartphone. As you keep scrolling, there will be popping up unlimited and non-stop live videos. Follow the steps below to watch TikTok live on PC.
1. Type the URL TikTok.com/LIVE/ on your browser or click on this link TikTok LIVE (you must have login your account on the browser)
2. Pause the default playing video and scroll down to see many other live-streaming videos.
3. You can also search for your desired videos by typing in the search bar.
You can watch any of the appearing Live videos. These videos are sorted based on your location. So the live streams at the top of the page are closer to your area. The more you scroll down, the more far-away live streams appear.
So, that's how you can watch TikTok live on your PC.
2. How to watch TikTok live on a Mobile Phone
Watching the TikTok live on your mobile phone is quick and easy. TikTok can show various live streams depending on how many followers you have. But you can watch any of these live streams even if you don't follow some people.
Follow the steps below to watch TikTok live on mobile.
1. Open the app on your smartphone
2. At the top left, a live option with a little TV icon will be available.
3. Tap on this icon, and it will show you different live videos.
4. You can scroll down to see the other videos.
Note:
On the live playing videos, you can see how many people are watching it, which filter they are using on video, and the people's comments. If you swipe right, all these options showing up on the video will disappear. In this way, you can watch live videos without any intervention.
So in this way, you can watch and participate in TikTok live videos.
How to Download TikTok Live – Best TikTok Live Video Downloader
TikTok saves the live streams to make them available for those who could not watch them live. Moreover, another reason behind recording live streams is to allow people to download these videos.
If you have watched any TikTok live streaming and want to download it, you can easily do that with this amazing software. To download TikTok live videos quickly, you can use YT Saver Downloader. Here are major features of YT Saver Downloader.
It allows you to browse for the video and audio sharing sites easily with a built-in web browser
The software can support over 10,000 websites, including OnlyFans, Fansly, YouTube, Facebook, TikTok, Spotify, and more.
It can download complete playlists and channels.
Supported video resolutions for downloading range from 320p, 480p, 720p, 1080p, 2K, 4K and 8K.
The downloaded videos can be converted to MP4, 3GP, MKV, WMV, AAC, WAV, OGG, etc.
It has a built in Private Mode. You can protect some videos and audios from prying eyes.
This amazing software allows you to download videos from almost all social media platforms, including TikTok live videos. All you need to do is follow the steps below:
Step 1: First, you'll need to follow the link below to download and install the YT Saver Video Downloader on your computer.
Step 2: Once it's installed, you'll need to open it and look at the top right part. Here, you can choose the video quality you want to download. Plus, you can also set the output format for the target video.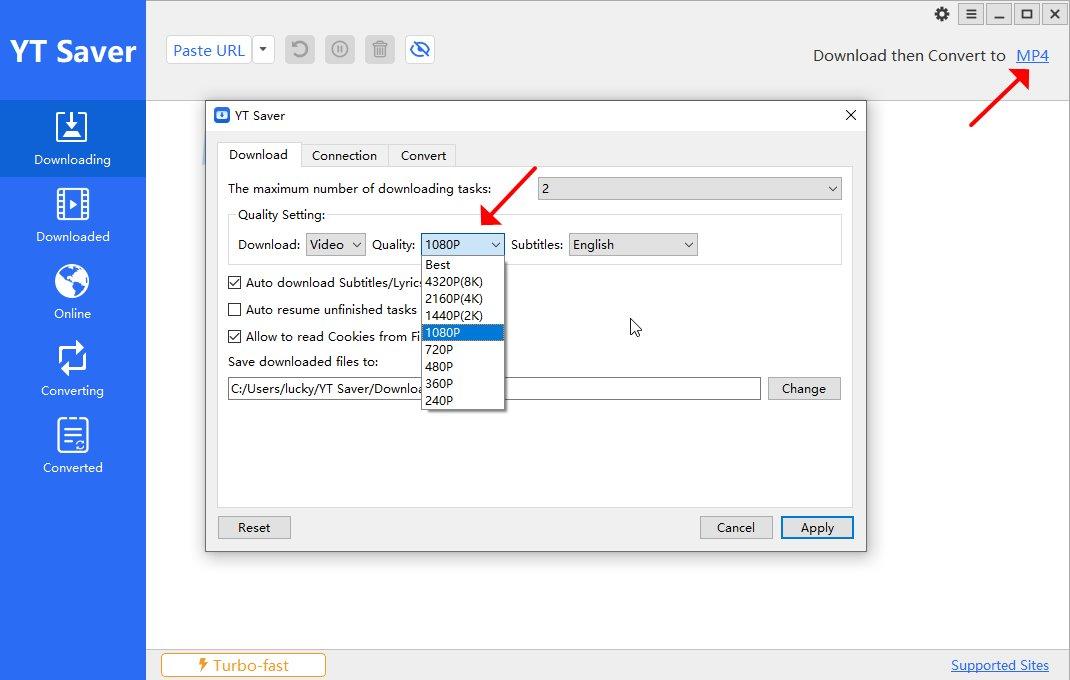 Step 3:
Go to TikTok Live and copy the link of the video you want to download. Click on the Paste URL button in YT Saver.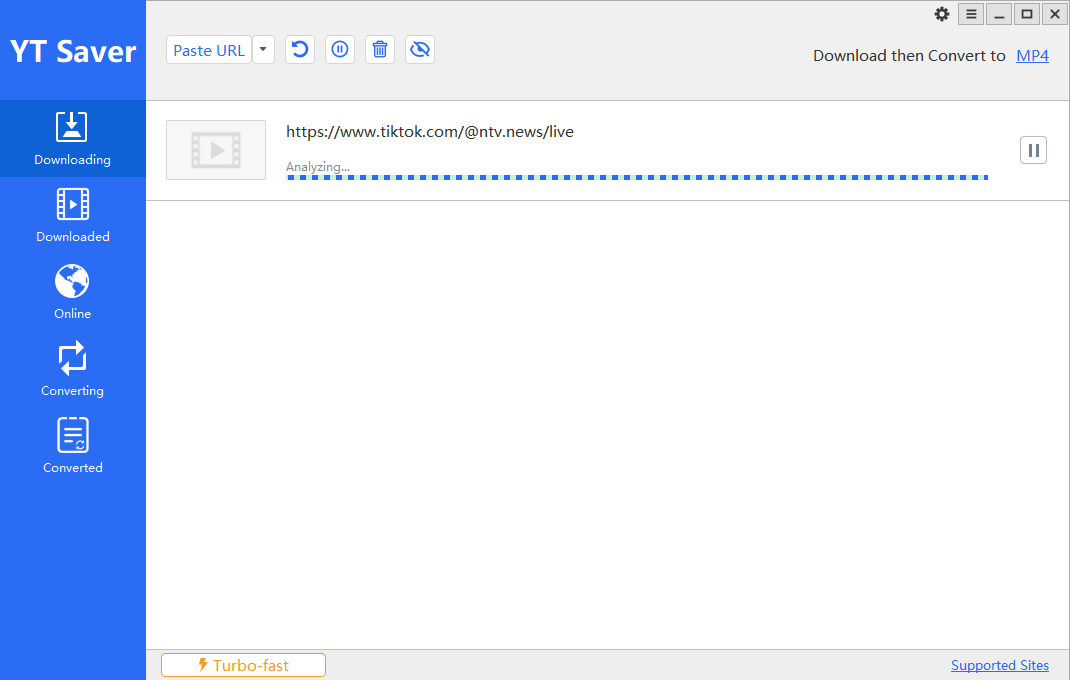 Step 4:
It will start downloading your video. You can click to stop the downloading anytime (Please kindly note that when you hit the stop button, the entire download task will end subsequently)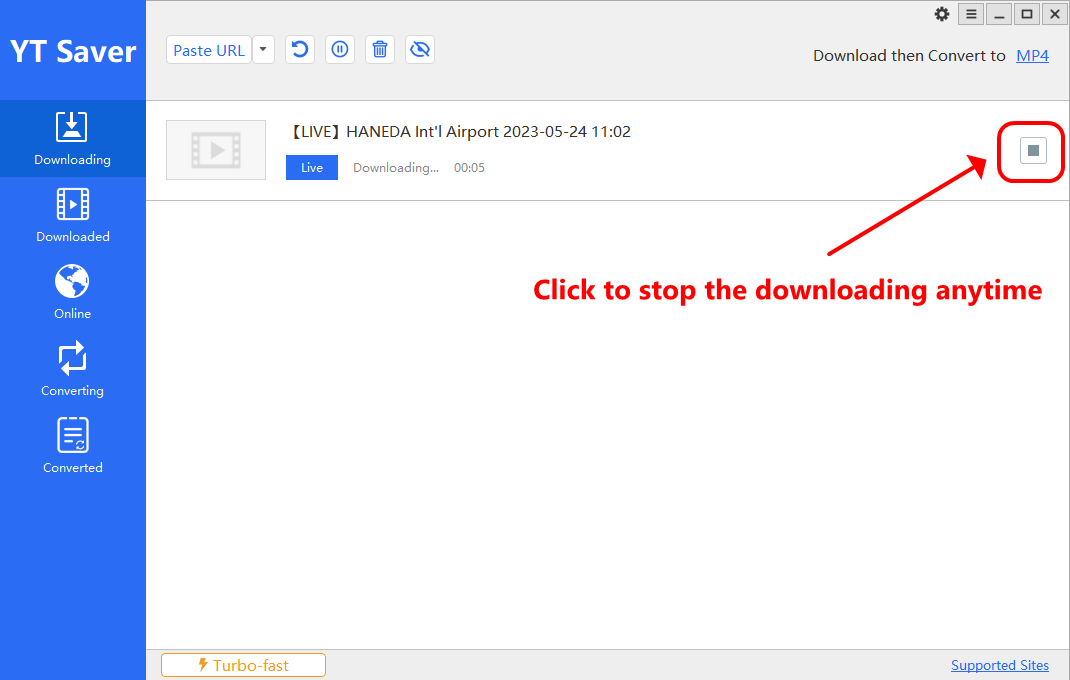 Step 5:
Check the finished tasks. All the downloaded videos will be archived to the "Downloaded" panel, where you can preview the videos and even move specific videos to Private Folder.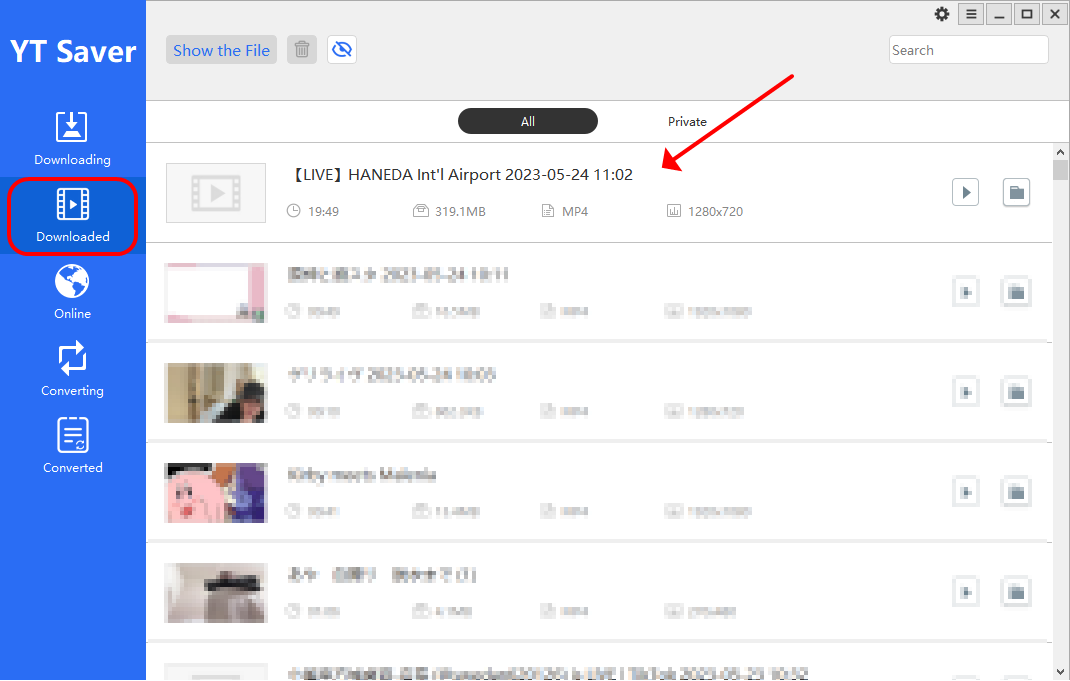 In this way, you can download TikTok Live videos effortlessly.
FAQs About TikTok Live Stream
1. How does TikTok live work?
First of all, you must fulfill the requirements set by TikTok for streaming live. These requirements are: at least achieved 1000+ followers in 30 days, or a video got the same number of views. And you must be at least 18 years old. If you fulfill these requirements, you can stream live by following the steps below:

Tap the "create" button.
Swipe to LIVE in the menu, pick a picture, and give your stream a name.
Press Go LIVE when you're ready to start the broadcast.
2. Can anyone go live on TikTok?
No, TikTok doesn't allow anyone to go live. There is a criteria to go live on the app. The requirements are: you have gained at least 1,000 or more followers in 30 days, or the same number of people watched any of your videos. Moreover, you have to be 18 or older. If you meet these requirements, you can live stream.
3. What is a TikTok Live subscription?
The LIVE Subscription feature of TikTok is like a mobile version of Livestream. It enables creators and TikTok users to connect in a more real way. The feature is good for both the author and the subscriber. On TikTok, creators can get subscribers and make a steady income, while subscribers can enjoy perks that give them more exposure during a live stream and make them less common.
4. Are TikTok lives recorded
Yes, live streams are recorded to replay and download. Users can easily watch these videos later or download them using YT Saver Downloader.
Conclusion
Streaming live videos is one of the best features of TikTok. Since this feature is added to this app, people are loving it. This feature has added more glamour to this app. TikTok records the live streams for replays and downloading. You can easily download TikTok live streams using YT Saver Video Downloader which is one of the best video downloaders for social media platforms.
Hazel
With my keen interest in this field, I stay up-to-date with the latest trends and technologies in video processing and online video solutions. I cover a broad range of topics, including video compression techniques, live streaming technologies, video hosting platforms, and more.