While not as well-known as YouTube, Vimeo is a major online video-sharing platform with around 15 million unique monthly users. Regardless of the quality of Vimeo content, it is very safe to say that there are just a very tiny amount of videos officially available for download. This is why everyone is looking for the best and most effective free video downloader.
Keep reading the article and learn more about how to locate free Vimeo video downloaders in 2022.
Download Vimeo Videos Using Best Vimeo Downloader
YT Saver Video Downloader is a very effective tool that allows users to download and convert online videos to a variety of audio and video output formats, and it is compatible with all popular sites like YouTube, Vimeo, Instagram, Dailymotion, etc.
This download tool also has a built-in web browser that allows you to view videos and download them directly remaining within the program, and it supports you to bulk download playlists, channels, and multiple videos in a few minutes.
You will also have access to the following features after installing the software on your PC.
How to Download Vimeo Video to MP4 on PC/Mac?
Step 1 Copy the video URL of the Vimeo video that you are looking to download.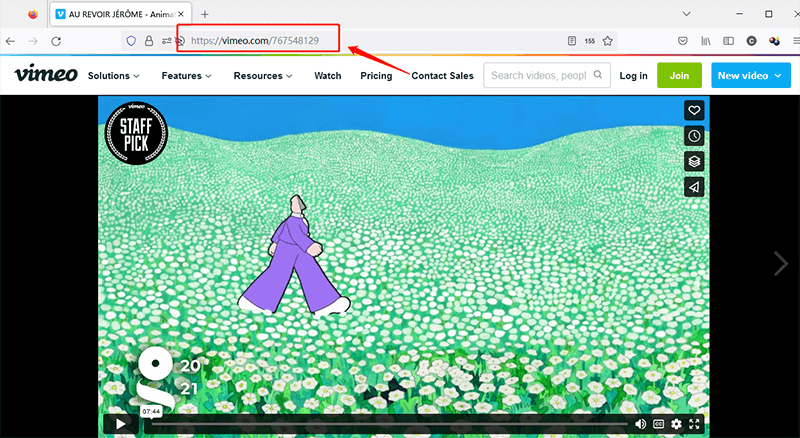 Step 2 Open the YT Software and head over to Preferences section to select the quality and the output format, such as mp4 and 720P or any other desired quality.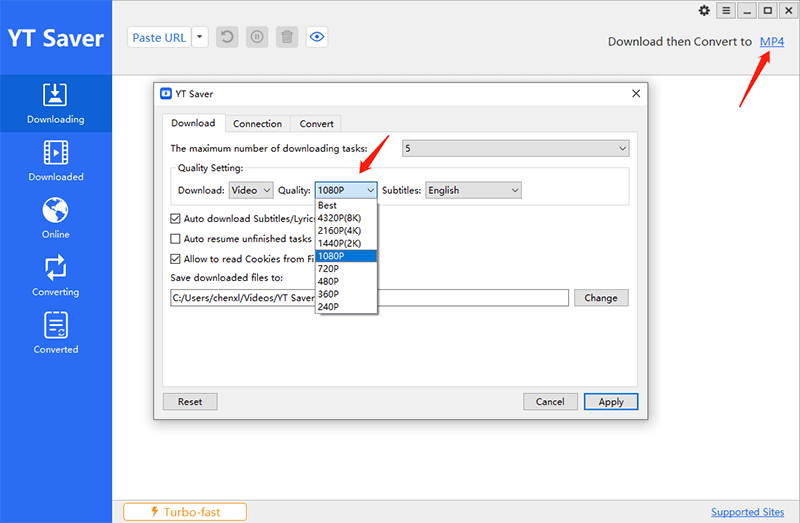 Step 3 Next, simply click on the Paste URL icon. When you click the button, the video will begin downloading immediately.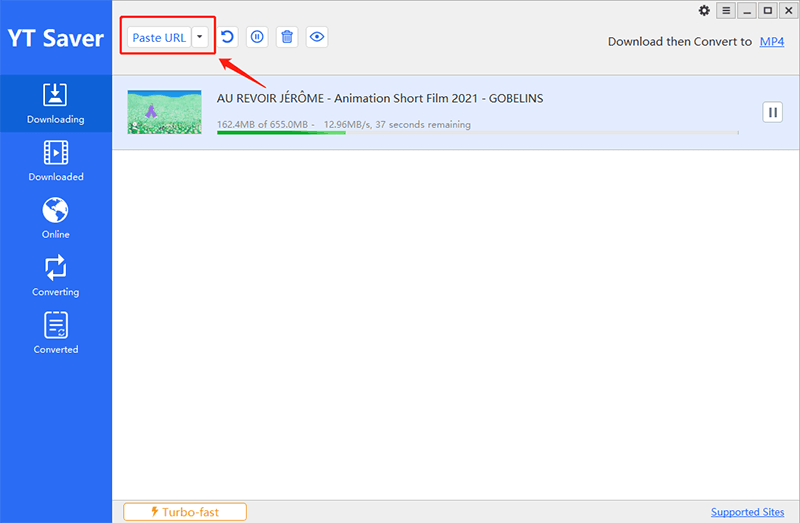 Step 4 Look for the Vimeo video in the Downloaded tab when the process gets completed.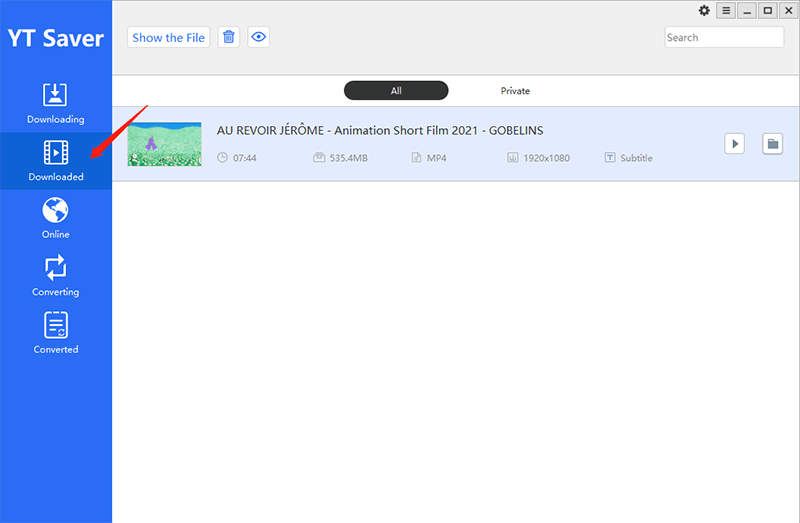 Download Vimeo Videos Using Firefox Extension
The Firefox browser has a plethora of helpful add-ons. This free Video DownloadHelper is a well-known Firefox plugin that can be used with a number of well-known video streaming websites such as Vimeo, Facebook, Myspace, and others.
It gets even better, this plugin allows you to download videos in bulk from Vimeo. To ensure you have a free internet connection for huge downloads, turn off other websites and disable other applications that require a lot of CPU in your Mac. It may also cause Firefox to crash if numerous movies are queued for download at the same time.
How to Download Vimeo Videos with Vimeo Downloader Firefox Extension?
Step 1: Install the extension, and the DownloadHelper icon will appear at the bottom of your browser.
Step 2: Launch Firefox and search for the Vimeo video you want to download.
Step 3: Begin watching the video and then click the symbol. Following that, you will find one or more listings for videos in Flash format, as well as listings for videos in MPEG4 format.
Step 4: Select one of the MPEG4 files to download to your computer.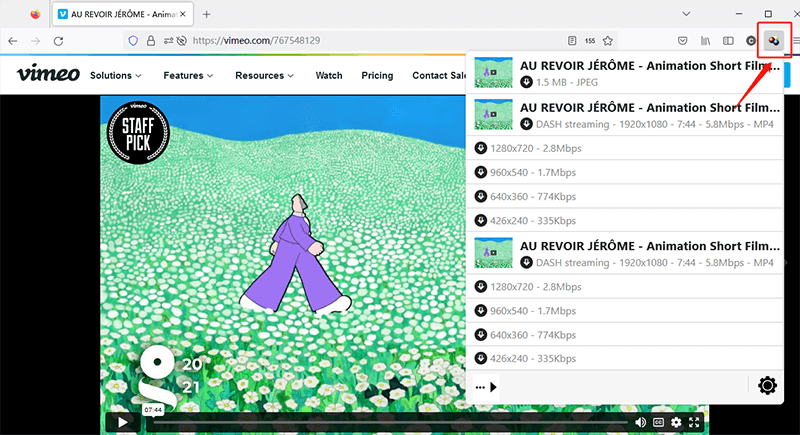 Download Vimeo Videos Using Chrome Extension
To download Vimeo videos without any hassle, you can use this Video Downloader for Vimeo. Like every Chrome extension, it is installed within the Chrome browser and only is activated when you click it.
It lets you download all the other videos available on the site without having to go to each separately. Vimeo displays like-looking videos in the upper right of the browser, a feature that is designed to keep you browsing and watching for as long as possible.
This Vimeo Downloader Chrome extension allows you to take multiple downloads from the site you're on and watch the videos in its pop-over when you want to. It's a fantastic tool when you're trying to download a number of videos without having to view it all at first!
How to Download Vimeo Videos with Vimeo Downloader Chrome Extension?
Step 1: Download Vimeo Downloader from to Chrome Web Store
Step 2: Navigate to Vimeo within Chrome
Step 3: Choose a movie you'd like to watch
Step 4: Just click the Vimeo Downloader button within Chrome
Step 5: Choose the video you want to download or watch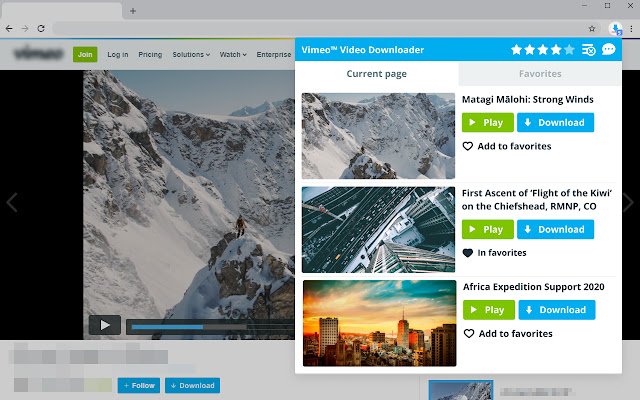 Download Vimeo Videos Using Free Online Tools
Savevideo.me can assist you in downloading videos not just from Vimeo but also from Dailymotion, Facebook, Instagram, and other social media sites such as Instagram, Dailymotion, and Facebook. It is unable to analyze YouTube videos. Although you may choose the output quality, 4K videos cannot be downloaded using the online Vimeo downloader.
How to Download Vimeo Videos Online?
Step 1: Copy the Page URL of your favorite (Vimeo) video
Step 2: Paste the Page URL into the form on the website and then press the " Download" button
Step 3: Right-click the mouse on the "Download video file" link and choose "Save Link As" …" from the menu context. Save it on your device.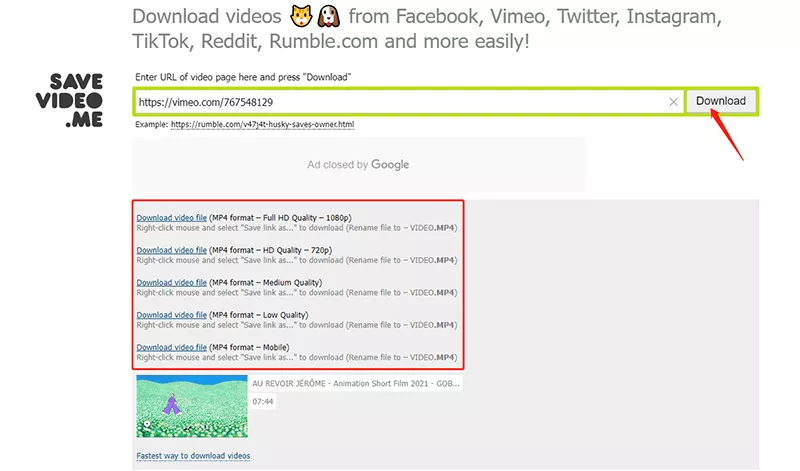 Download Vimeo Videos Using the Built-in Download Option
If you're a frequent visitor to Vimeo, you'll notice that select films have download options in the middle of the page. By clicking the download option, you may save your Vimeo movie to view later without the need for any other software or add-ons.
True, this has its limitations. It is not available for all Vimeo videos. The bulk of private movies, films, and TV shows require a premium plan to view. You may get free Vimeo video material by following these three methods for saving Vimeo embedded movies to Mac without using any third-party software.
How to Download Vimeo Videos Directly?
Step 1: To activate resource tracking in Google Chrome, check the box next to "Enable resource monitoring."
Step 2: This film may be seen on Vimeo. Locate the Download button on the toolbar, if one is present. Select the format, resolution, and size that you desire by clicking it. The video format that you download from Vimeo will be determined by the source. You may save the video in MOV, FLV, or MP4 format.
Step 3: Start with the video download. Right-click on the video and choose "download related file." It will then download in the background.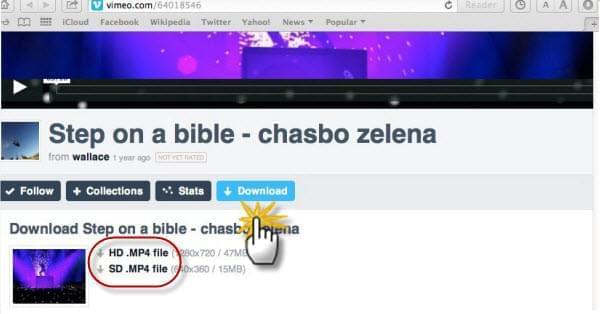 Note: Viewers who do not have a Vimeo account cannot download the original files. For the average user, users can download five Vimeo private films per 24 hours. Vimeo Plus and Pro customers can keep the original source files that are un-transcoded on Vimeo and allow other users to download them as well.
FAQ About Downloading Vimeo Videos
📱 How to Download Vimeo Videos to iPhone?
You can save videos on Vimeo to watch offline using Vimeo's Vimeo app. The app is completely free, and it is available to download on your iPhone via the App Store.
🔏 How to Download Private Vimeo Videos?
It isn't possible to download Vimeo private videos with YouTube's Chrome downloading tool or Vimeo application — as the owners of private videos want to prevent their content by preventing it from downloading and distributed without permission. If you have their permission, you can use downloaders such as YT Saver.
💻 How to Download Vimeo Videos not Available for Download?
If there's no download button available on the Vimeo video, that indicates that the video is private and cannot be downloaded without the permission of the owner. There are workarounds available that will help you transfer private content on Mac by using Developer Tools in a browser However, we recommend not doing this unless you have explicit consent to download the video.
📲 How to Download Vimeo Videos to Android?
You can use third party tool such as iTubeGo for Android app and download Vimeo videos. The steps are very easy, just search for the video in the built-in browser within the App, then click the Download button, choose the output format and video resolution via its pop-up, click the OK button to start the download process.
Support 10,000+ video/music sites, like YouTube, Vimeo, etc.
Convert videos to 20+ output formats, like MP4, MP3, etc.
Supports high definition video resolutions, including 4K and 8K
Download unlimited videos in bulk and entire playlists
Provide 10X faster download speed