Pinterest is one of those social networks you might think is dying, until you learn that it has millions of active users and die hard fans. So, what exactly is Pinterest? Pinterest is a visual discovery engine for finding ideas like recipes, home and style inspiration, and more. The ideas are 'Pinned' to what Pinterest calls the 'Board', and billions of such pins exist (usually as images). If you have a business account, you can also 'pin' videos to your Board. With so many interesting videos from business accounts on Pinterest, it is only natural that some people may find them interesting to an extent where they want to download them. Therefore, continue reading to discover the 8 best Pinterest Video Downloaders.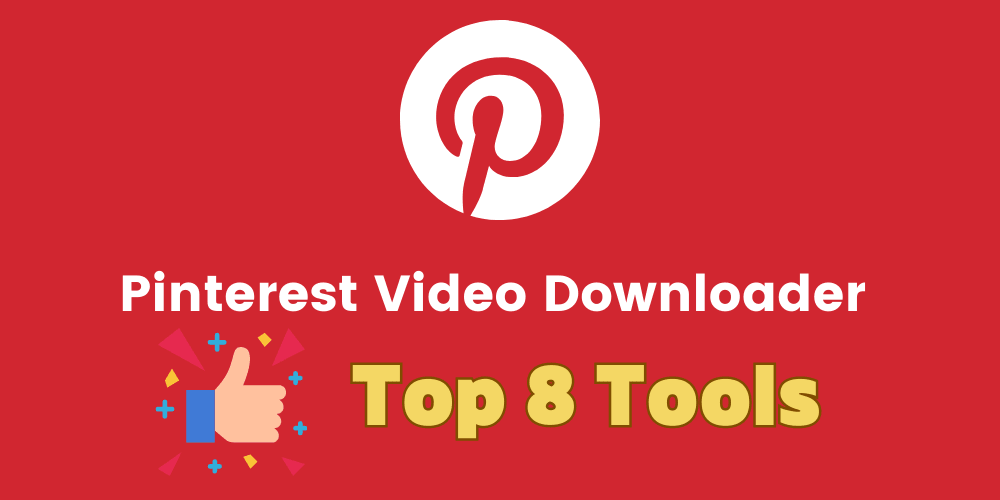 8 Best Pinterest Video Downloaders to Convert Pinterest Video to MP4
Without the use of third party software or services, you cannot download Pinterest videos. If you are looking for ways on how to download Pinterest videos, you will need a Pinterest downloader and many of them exist. However, these stand out as the best Pinterest to MP4 downloaders.
1. YT Saver
The best Pinterest downloader or Pinterest to MP4 converter is YT Saver Downloader. It is so good that it has been mentioned on sites such as iLounge, Softpedia, TechTimes and it has a 4.8/5 star rating on TrustPilot. It is built to support over 10,000 websites and it has other interesting features which you can refer to on the next part of this guide.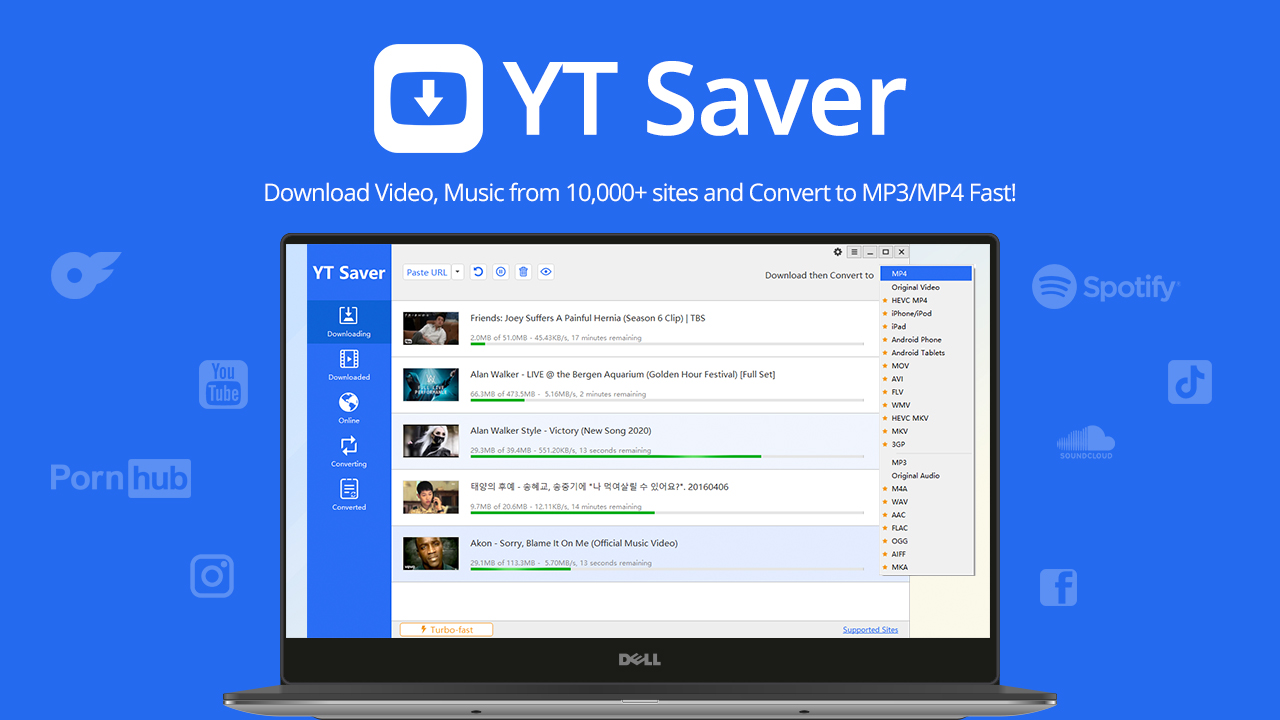 2. StreamFab Downloader
The second best Pinterest Video downloader is StreamFab Downloader. It is built with support for YouTube, Vimeo, Pinterest and many other popular video sharing platforms. You can save the videos in 4K, 1080P, 720p, or 480p resolutions. It comes with batch mode, which allows you to download many videos simultaneously. Another great feature is its ability to save subtitles as SRT files or remux video. This software is available for both Windows and macOS, at $39.99 a year.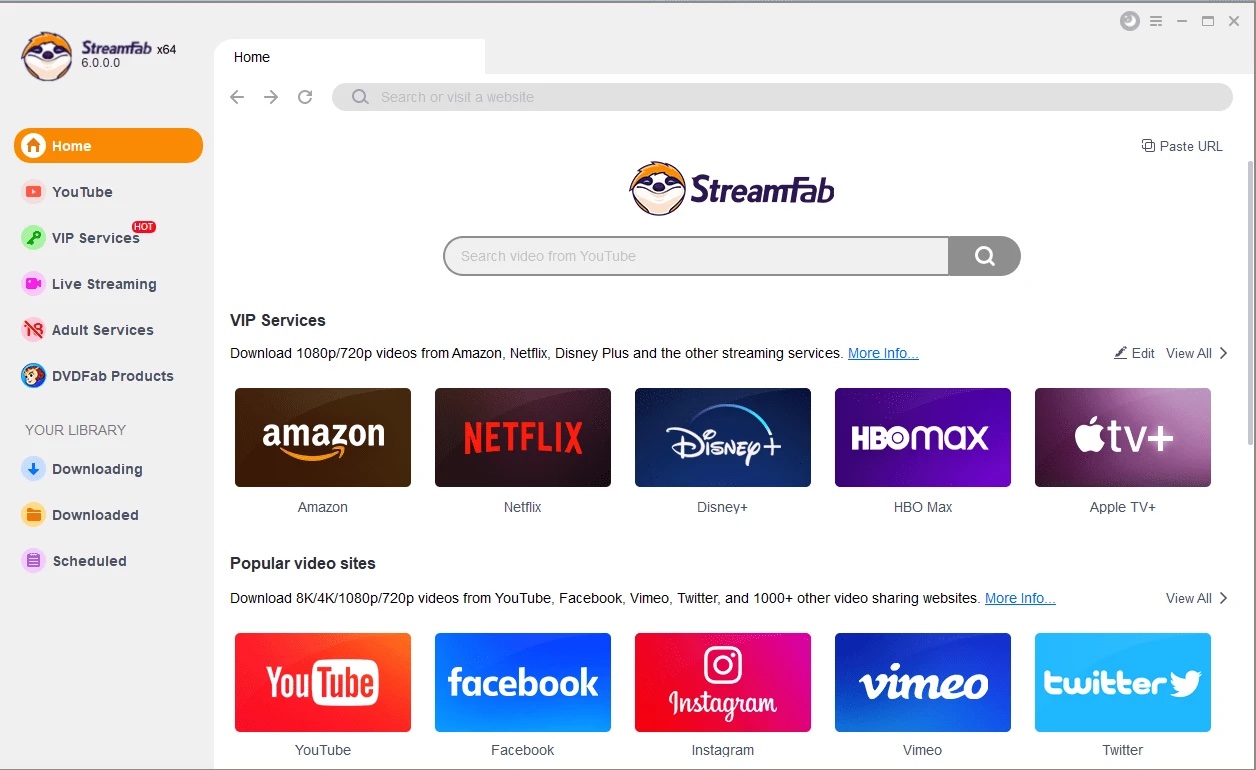 3. VideoProc
VideoProc is the third best Pinterest to MP4 converter. It can download and save videos in different resolutions, such as 4K, 1080P, 720P. It supports a few more websites, and comes with a built-in video converter. The editing toolkit can cut, crop, merge and fine-tune your downloaded videos. VideoProc is priced from $38.90 a year.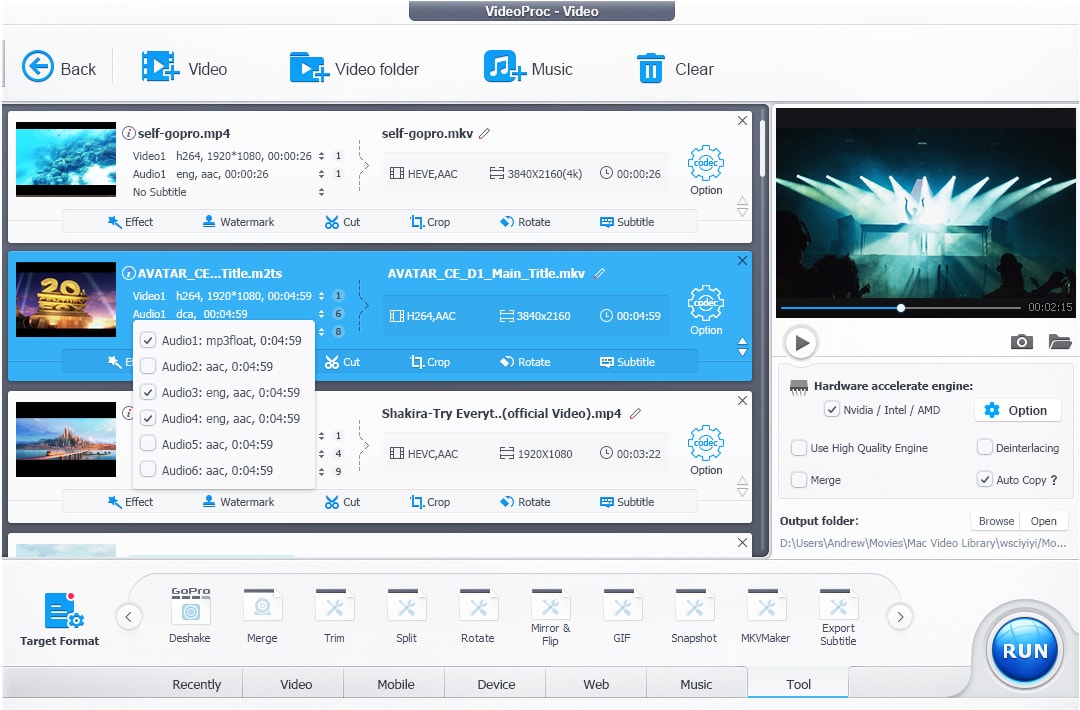 4. 4K Downloader
With 4K Downloader, which is the fourth best Pinterest video downloader, you can download from YouTube, Vimeo, Flickr, Facebook, DailyMotion, Pinterest etc. The coolest feature is its ability to download the 4K, 360º and 3D videos from YouTube, as well as an in-app proxy settings, which allows you to bypass geo-restrictions. 4K Downloader is priced from $29.99 per month.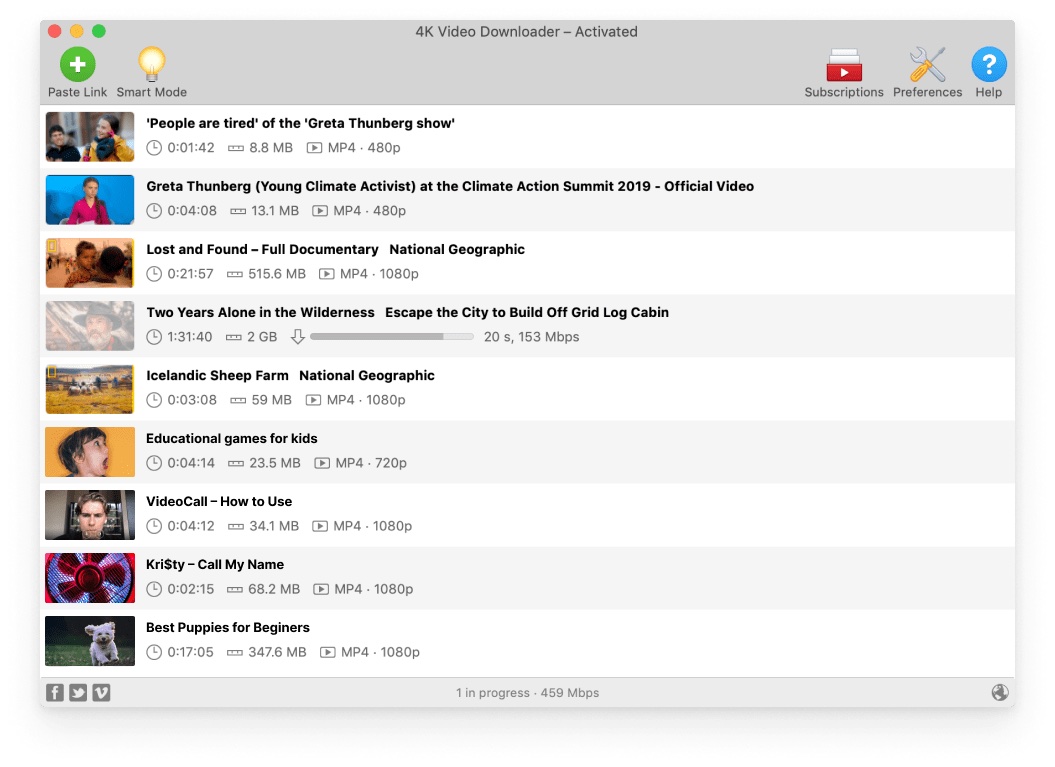 5. Allavsoft Downloader
Allavsoft Downloader supports both Windows and macOS if you are looking for a good alternative to the ones mentioned above. It supports many video sharing sites and platforms, such as YouTube, Tik-Tok, Facebook etc. The biggest advantage is its ability to support 4K resolution for video downloads. There is no unlimited free version available, and it starts at $49 a year.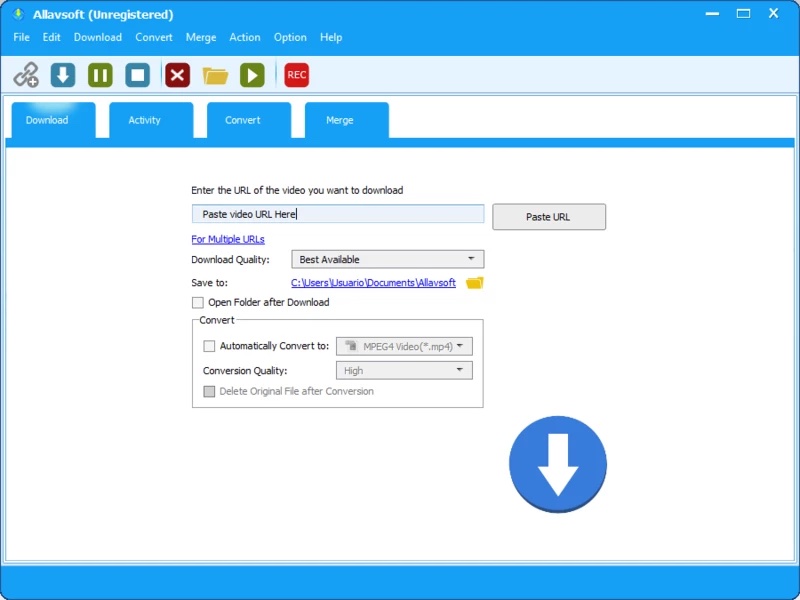 6. PinterestDownloader.com
Pinterest Downloader is a free Pinterest video downloader online tool. You can also download Pinterest Images and Gif directly to your computer. The biggest advantage of course is, no need to download and install any softwares onto your computer. The disadvantage is, it will only support the Pinterest service.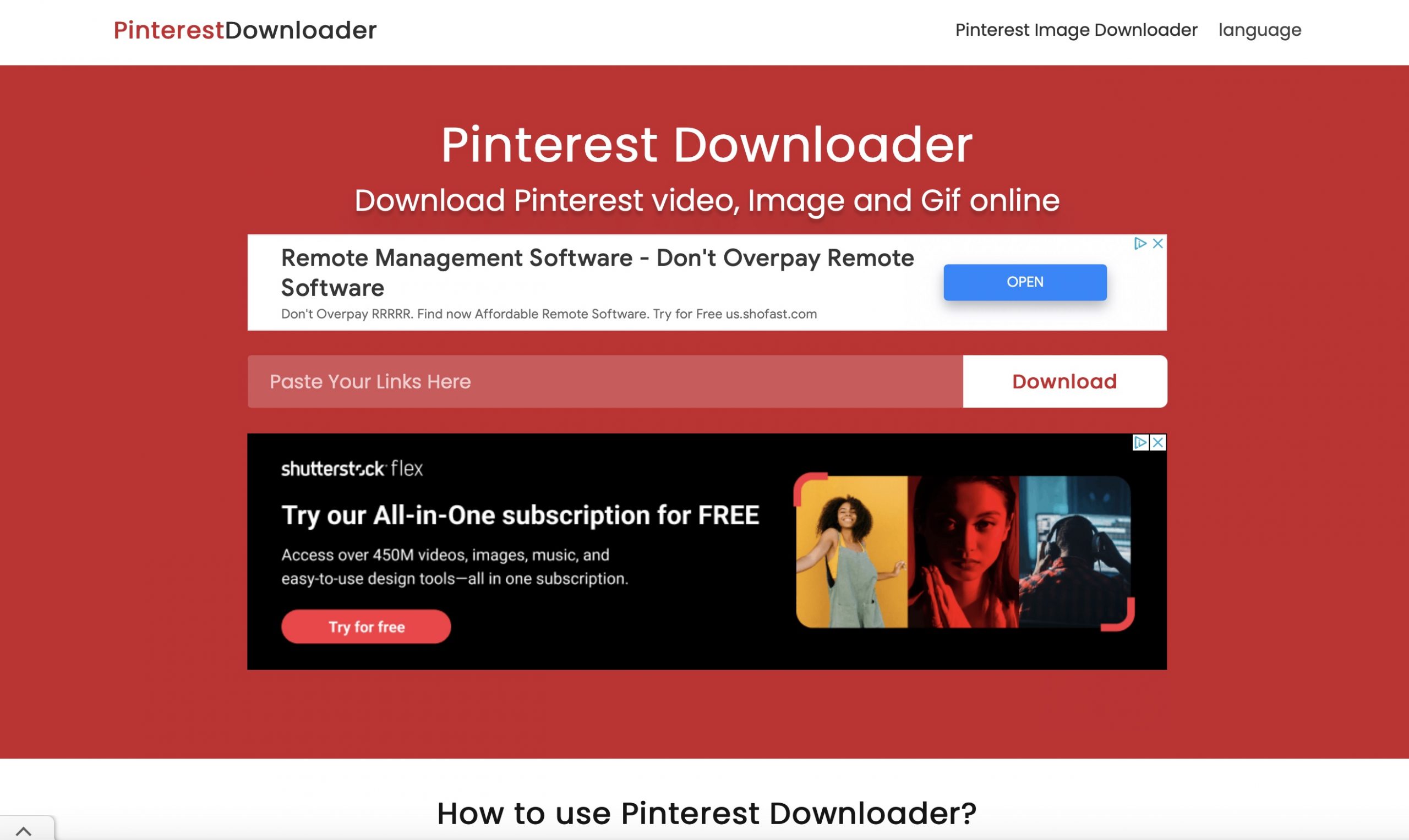 7. SavePin.app
This is another online Pinterest downloader that will basically save all Pinterest videos, images and GIFs. It can save the videos in 720p and 360p resolution. The advantages and disadvantages of SavePin.app are similar to PinterestDownloader.com.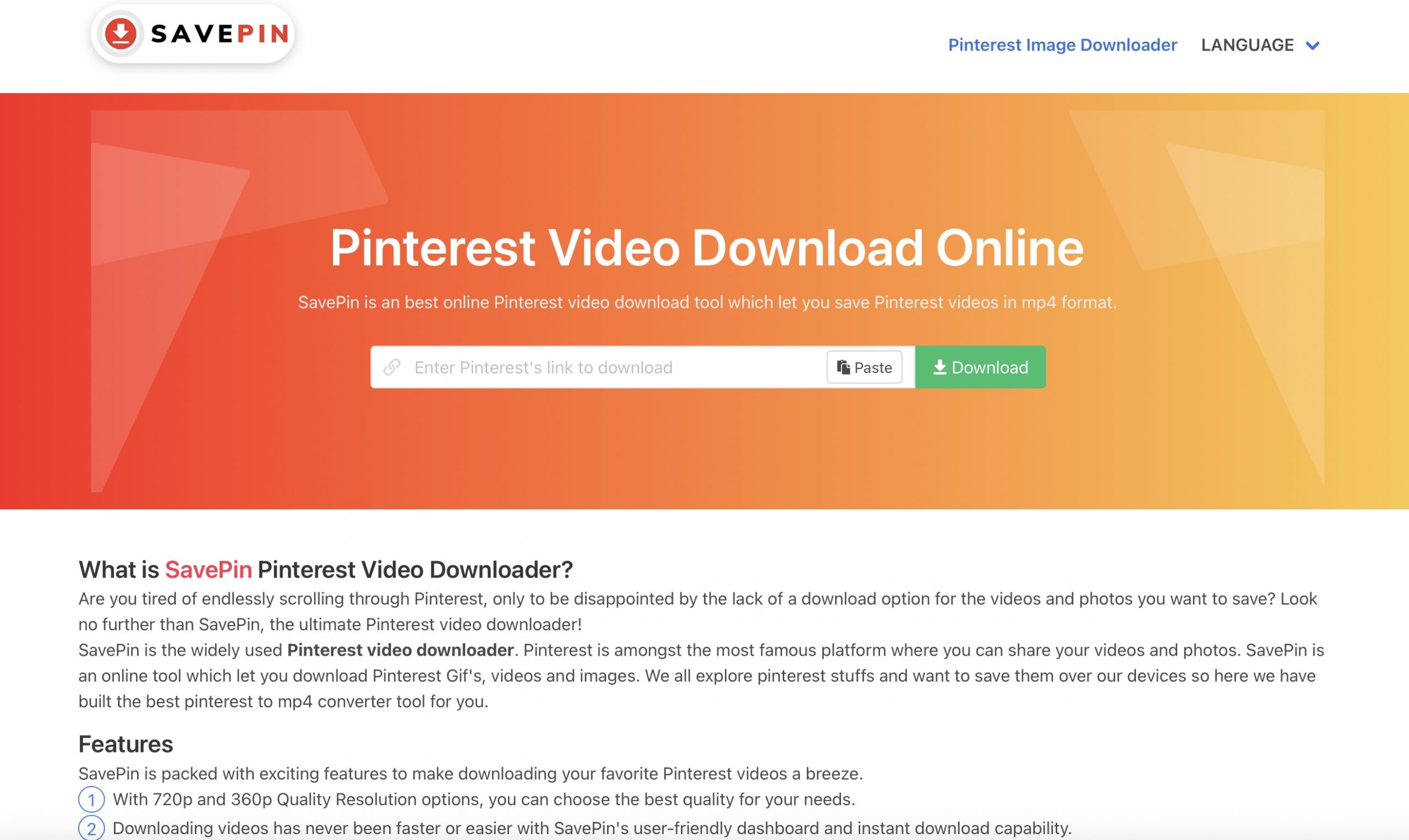 8. PinterestVideo.com
Last on the list is also another online tool that is only designed to download Pinterest videos, images and GIFs. Similar to the two mentioned above, the advantages and disadvantages are also exactly the same.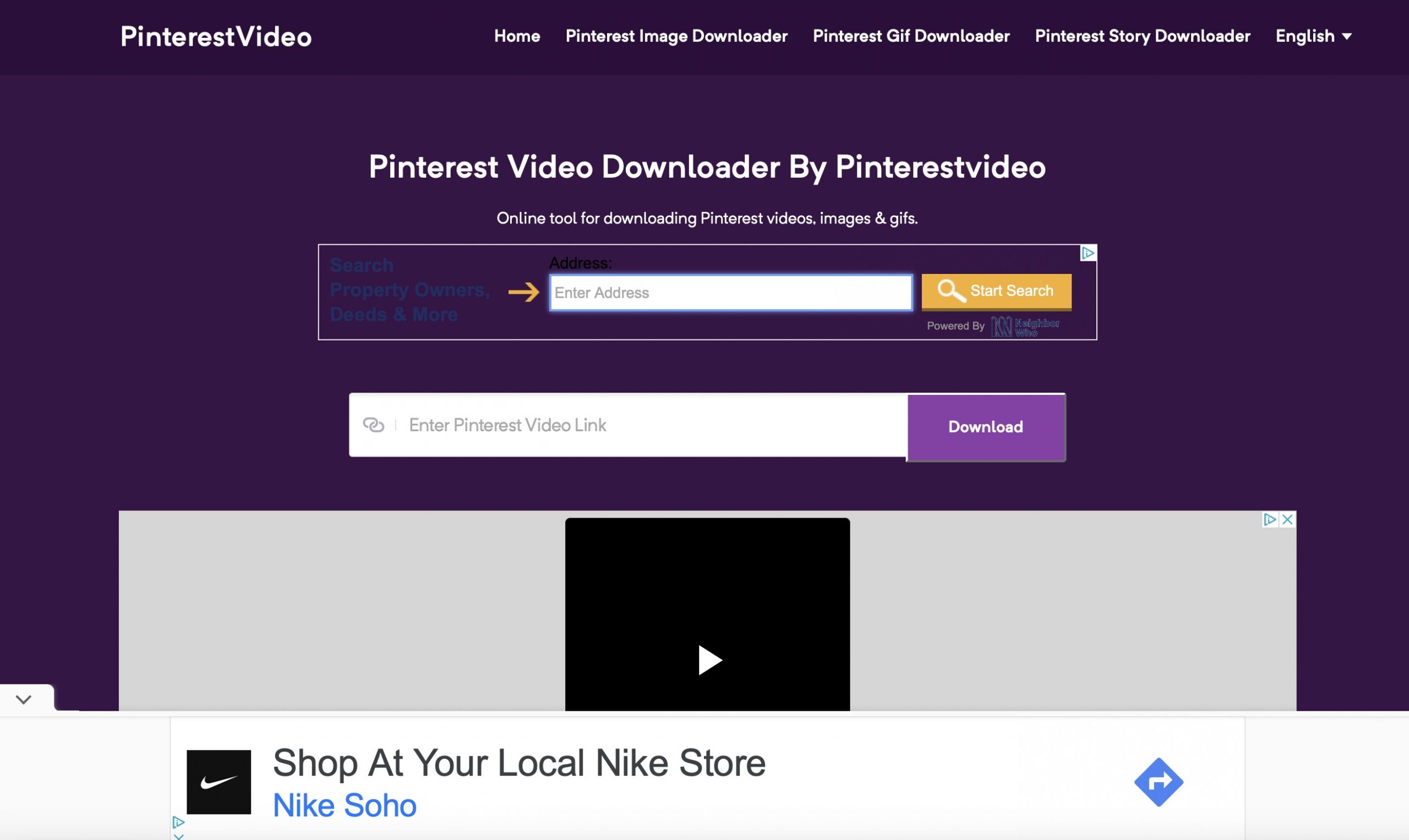 Detailed Tutorial – How to Download Pinterest Video?
From the previous segment of this article, you got to know about the 8 best Pinterest video downloaders that are available for you to try now. YT Saver is the best among them, but for what reasons? Why should you use YT Saver Downloader to download Pinterest video and from other websites? Check the software's features and advantages below.
It allows you to browse for the video and audio sharing sites easily with a built-in web browser
The software can support over 10,000 websites, including OnlyFans, Fansly, YouTube, Reddit, Facebook, Spotify, and more.
It can download complete playlists and channels.
Supported video resolutions for downloading range from 320p, 480p, 720p, 1080p, 2K, 4K and 8K.
The downloaded videos can be converted to MP4, 3GP, MKV, WMV, AAC, WAV, OGG, etc.
It has a built in Private Mode. You can protect some videos and audios from prying eyes.
Disclaimer:
YT Saver is a program intended for personal use only, and cannot under any circumstances be used for commercial purposes. The downloading of video and audio files from some websites in certain areas, countries or regions is subjected to local laws, which you should be aware and taking note of.
How to download Pinterest video and convert Pinterest video to MP4 with YT Saver?
Step 1: Download the newest version of YT Saver on your PC or Mac. The software packages are available to download from the provided buttons.
Step 2: Set the output format. Click on the "Settings" icon on the upper right corner of the interface. From the "Download" tab of the "Preferences" window, choose video or audio, and choose the desired quality for the files to be downloaded.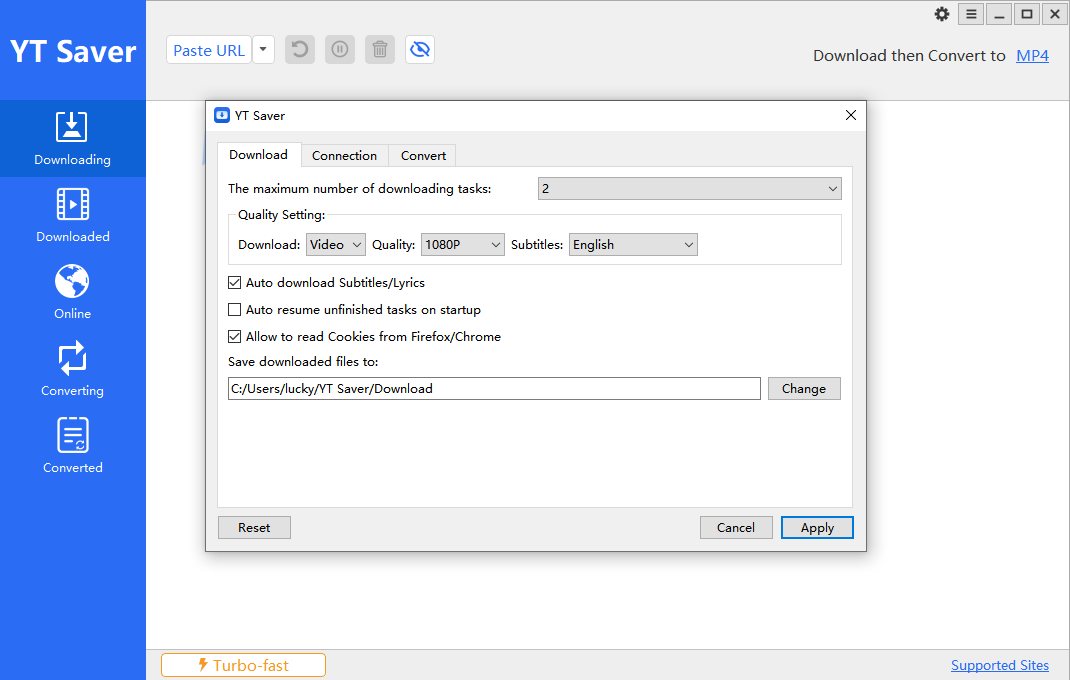 Don't forget to switch to the desired format you need by clicking on the "Download then Convert to…" tab.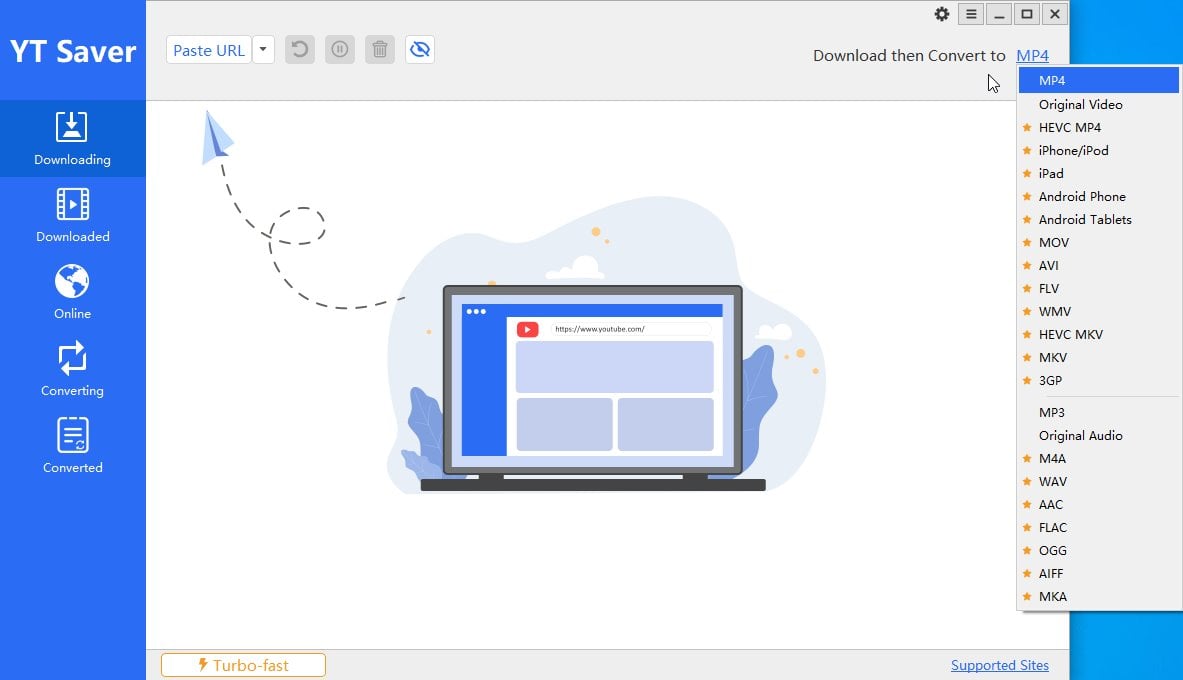 Step 3:
Copy and paste the URL of target video. Visit Pinterest and copy the video link from your web browser's address bar.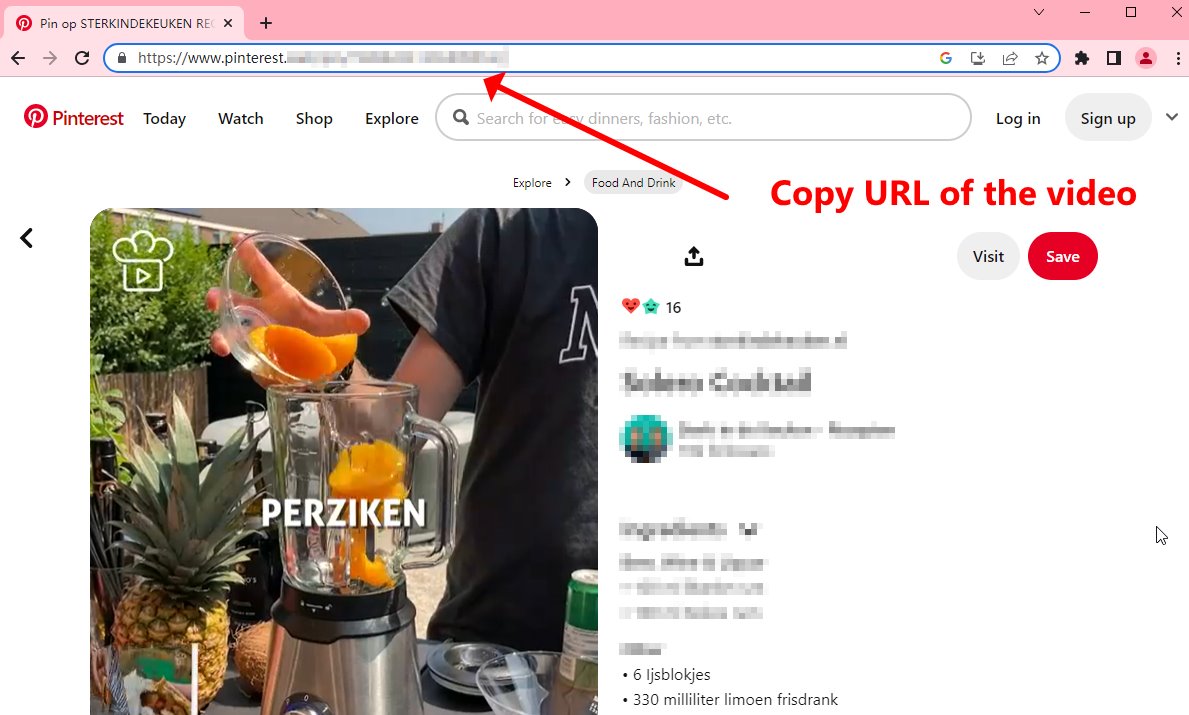 Step 4:
Start downloading Pinterest video. In the software's interface, you do not have to paste the video URL. You simply click the "Paste URL" button, and it will automatically start analyzing and downloading the video.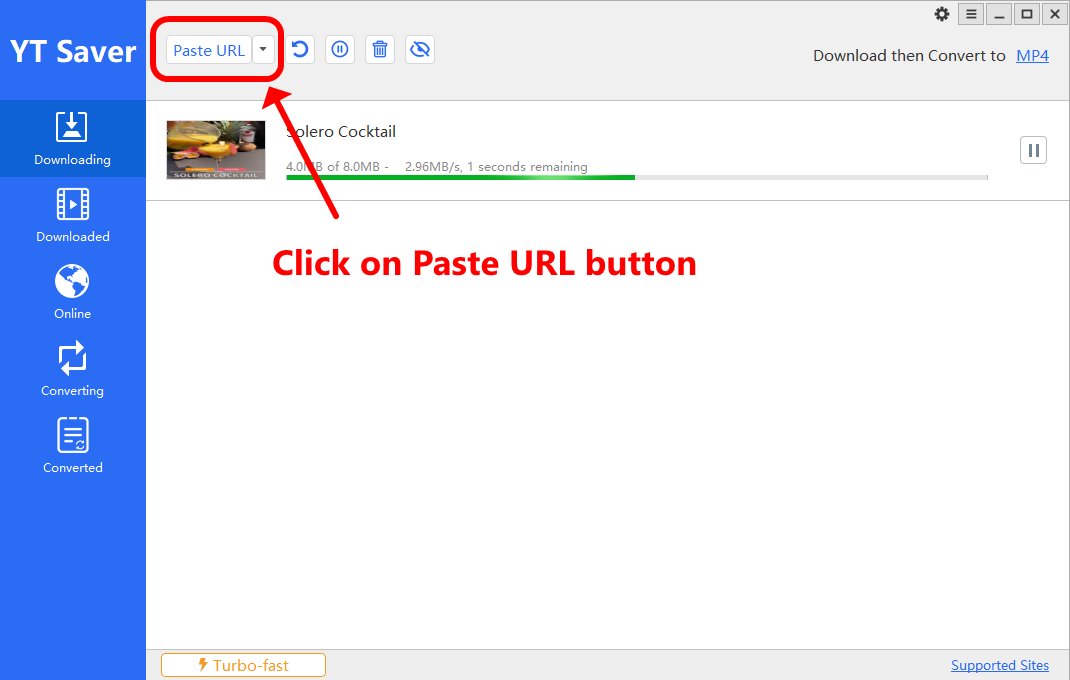 Note:
The YT Saver Pinterest downloader will not only download and convert Pinterest videos to MP4, but it can also save in a lot of other video and audio formats.
FAQs about Pinterest
Do you still have more information you need to know about Pinterest? Here are some frequently asked questions about Pinterest and their answers.
Q1. Why Pinterest is not working?
Pinterest may not be working due to several reasons which include, issues with Pinterest servers, internet connectivity issues, your web browser issues (such as cookies and cache) or geo restrictions. To fix it, figure out which of those reasons are causing the errors.
Q2. How to download Pinterest videos on iPhone or an android device?
Unfortunately, no independent Pinterest video downloader apps exist for the iOS and Android mobile operating systems. You can use an online video downloader tool directly from your mobile device, or use desktop downloaders such as YT Saver then transfer to your device.
Q3. How many Pinterest accounts can I have?
According to Pinterest, you can only have four accounts of your own, which you can also link together and switch without logging out.
Q4. Is Pinterest dying, or people will continue using it in the long run?
Pinterest has millions of devoted followers, and it is very popular no matter what time of day it is. The popularity is not dwindling anytime soon.
Q5. Is Pinterest only for women?
Believe it or not, a staggering 80% of people registered on Pinterest are women. But that does not necessarily mean it is a women-only social network, because the 20% of males on there are in their millions.
Q6. What are the disadvantages of using Pinterest?
Pinterest marketing is slow, the service does not treat all creators equally, and it is constantly changing which can be confusing for some users.