Reddit is a massive collection of forums where people can share news, content, comment on other people's posts or provide support to other people's queries. The content can be audio, image and video. It is broken into more than a million communities, which are popularly known as subreddits. Each subreddit begins with "r/," which is also part of the URL that Reddit uses to direct users to any particular subreddit. For example, r/Memes is a place where more than 25 million members (referred to as memists in that community) share and discuss image and video memes.
Since you can find video content on Reddit, is it possible to download video from Reddit? You can continue reading to find out how to save Reddit video below.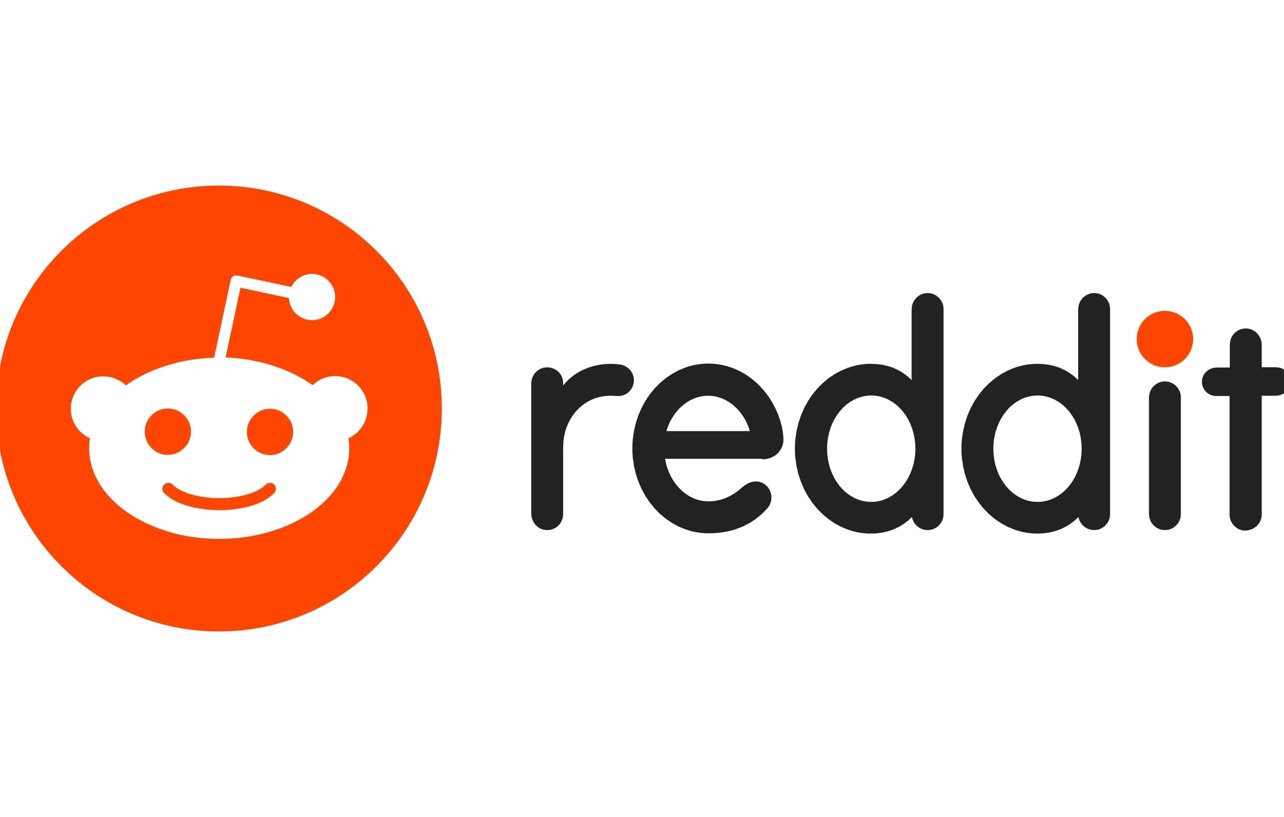 How to Download Reddit Video on Windows/Mac?
Reddit is a great resource when it comes to discussions, and when you need help with something. What that means is, the videos you see in your favorite subreddits could actually help you. And now, how do you save Reddit videos, or Reddit video meme for keeping? Sometimes, you may also encounter a Reddit videos not playing problem, which is why download video from Reddit is a good idea.
For that kind of task, you can turn to YT Saver Downloader, an trending internet video and audio downloader. It is the perfect Reddit video downloader for both Windows and Mac, that you can trust for quick and efficient downloading tasks. Not only does it support YouTube, but it supports over 10,000 websites. It has been mentioned on sites such as iLounge, Softpedia, TechTimes and it has a 4.8/5 star rating on TrustPilot. Before you use the YT Saver to download Reddit videos, check the bullet points below for its features.
It allows you to browse for the video and audio sharing sites easily with a built-in web browser
The software can support over 10,000 websites, including OnlyFans, Fansly, YouTube, Facebook, Spotify, and more.
It can download complete playlists and channels.
Supported video resolutions for downloading range from 320p, 480p, 720p, 1080p, 2K, 4K and 8K.
The downloaded videos can be converted to MP4, 3GP, MKV, WMV, AAC, WAV, OGG, etc.
It has a built in Private Mode. You can protect some videos and audios from prying eyes.
Disclaimer:
YT Saver is a program intended for personal use only, and cannot under any circumstances be used for commercial purposes. The downloading of video and audio files from some websites in certain areas, countries or regions is subjected to local laws, which you should be aware and taking note of.
How to download Reddit videos on Windows or macOS with YT Saver?
Step 1: Download the newest version of YT Saver on your PC or Mac. The software packages are available to download from the button.
Step 2: Visit Reddit, and find the video you need to download from its subreddit, then copy the URL. If you saved the URL elsewhere, you can skip this step.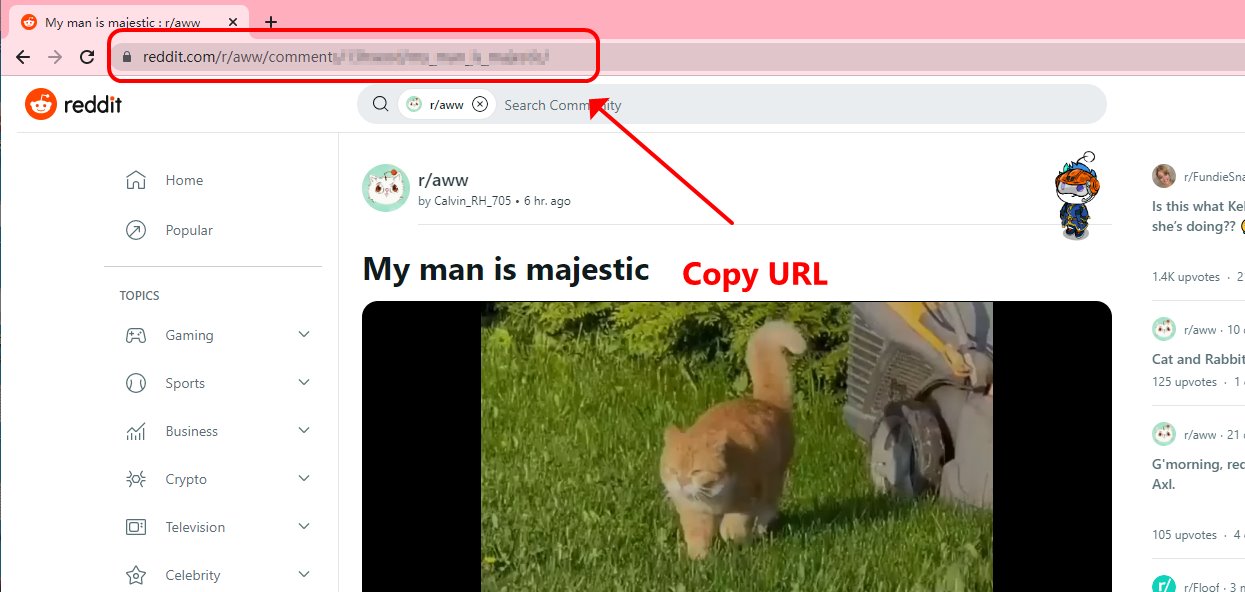 Step 3:
Set the output format. Click on the "Settings" icon on the upper right corner of the interface. From the "Download" tab of the "Preferences" window, choose video or audio, and choose the desired quality for the files to be downloaded.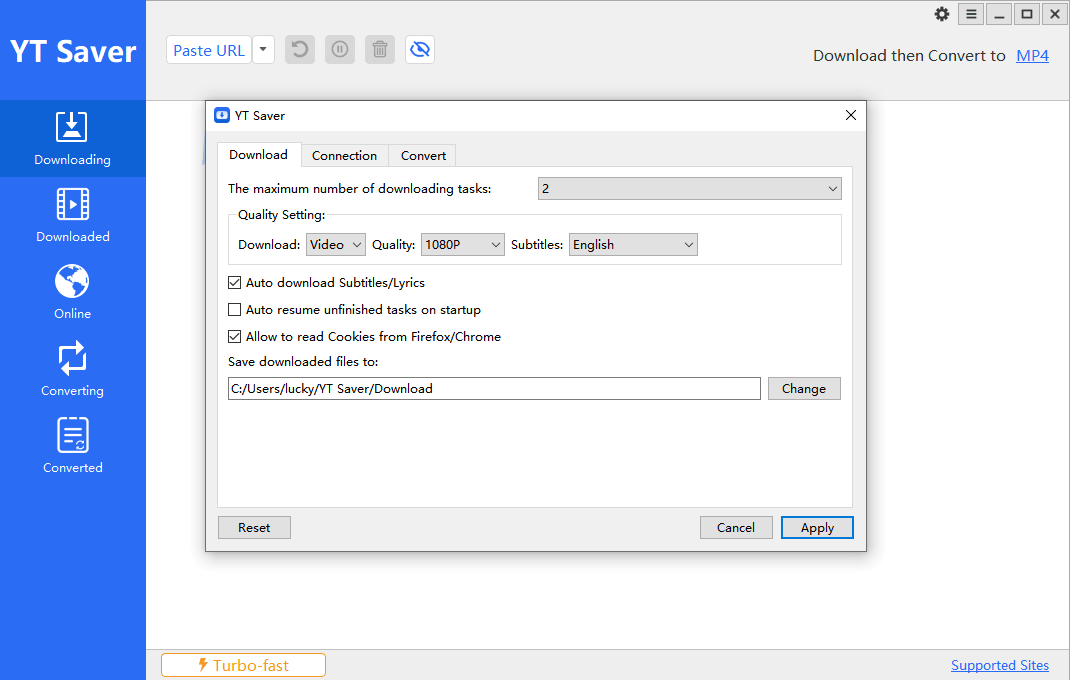 Also, you can select the output format for the target video by clicking the "Download then Convert to…" tab.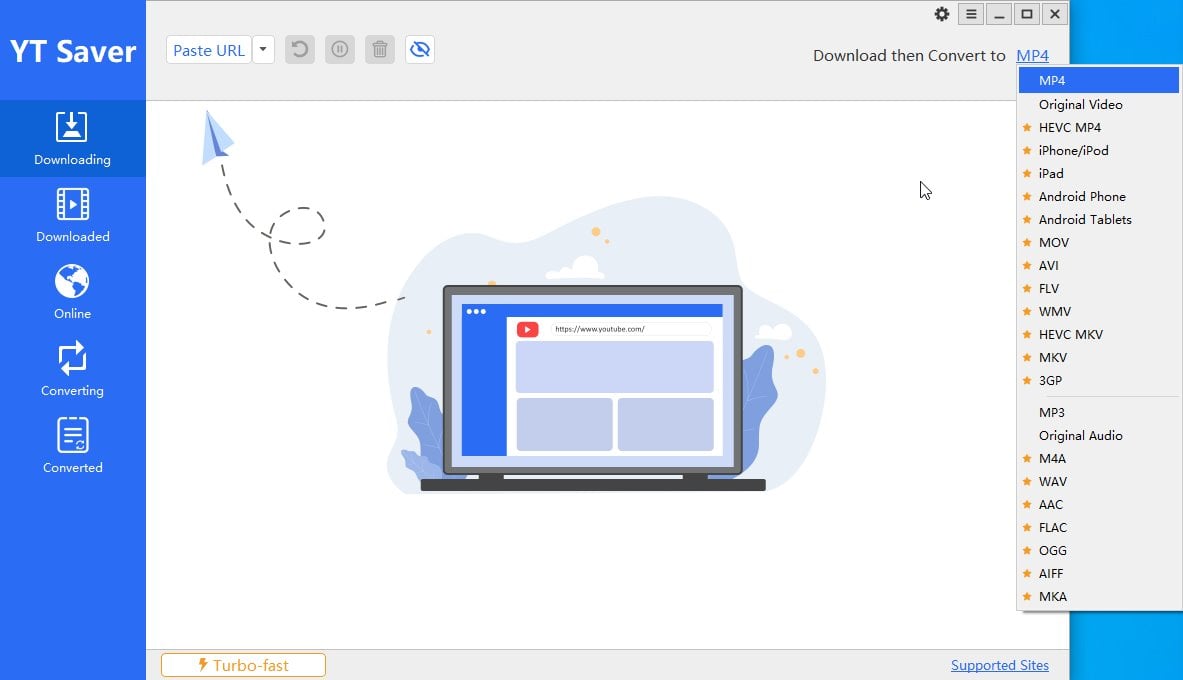 Step 4:
Paste the copied URL. In the software's interface, you do not have to paste the video URL. Just simply click the "Paste URL" button, and YT Saver will automatically start analyzing the video.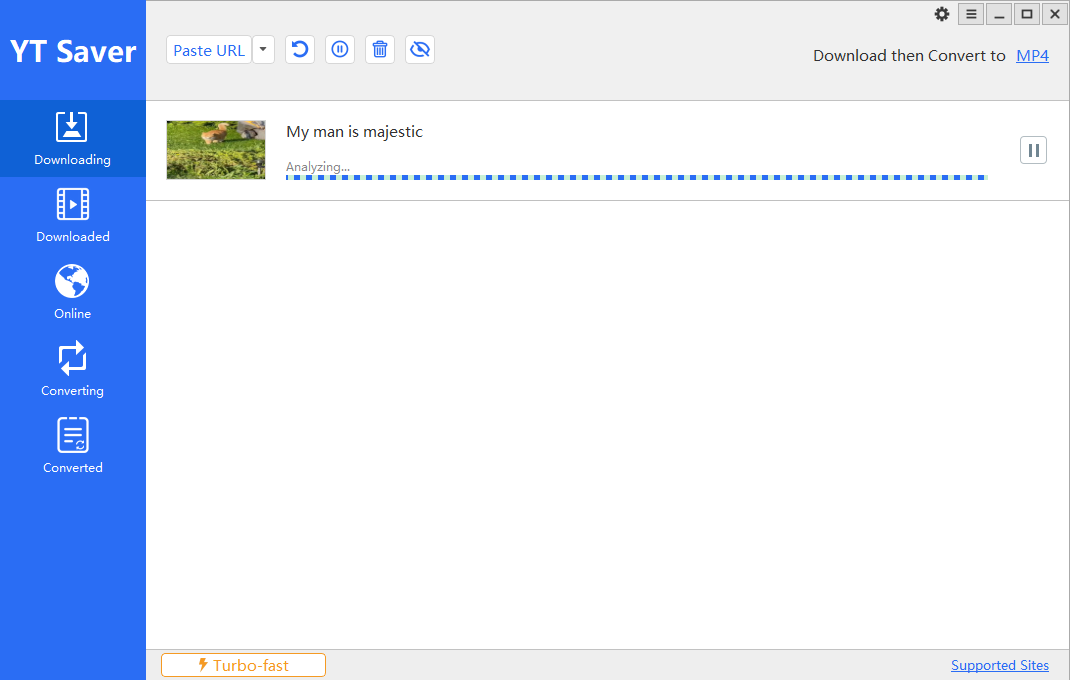 Step 5:
All the downloaded tasks will be archive to the "Downloaded" panel, where you can also move certain downloaded videos to Private Folder.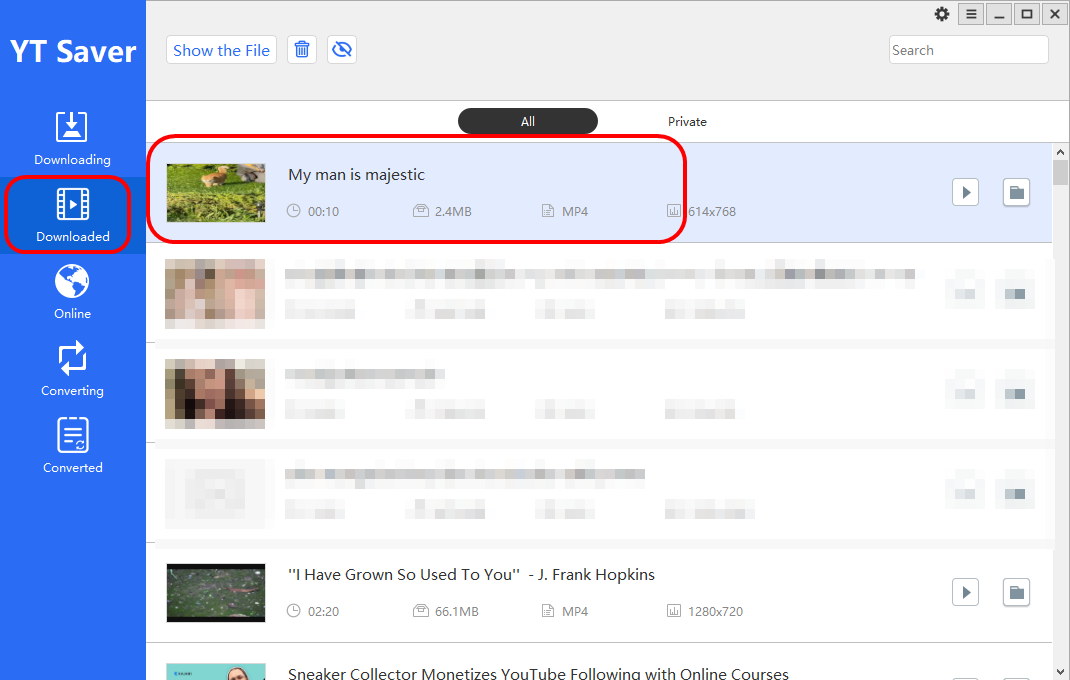 How to Download Reddit Video on Android/iPhone/Pads?
1. When it comes to downloading Reddit videos on Android and iOS mobile devices such as iPhones and iPads, it is not as tricky to save Reddit video, but it comes with limitations. As a matter of fact, the official Reddit app for Android and iOS actually does allow downloads of videos, but you would be subjected to watermarks. If you are willing to save Reddit videos, such as Reddit funny videos, Reddit video memes etc., with watermarks, follow these steps.
Step 1: Tap the video post on the subreddit, then tap the meatball menu (…) which should be at the top right corner.
Step 2: Select 'Share' from the menu which shows up.
Step 3: Tap 'Save Video' from the share sheet, and it should be saved to your camera roll.
2. Using the official Reddit app does not only put watermarks, but it also limits you the the videos you can download. Yes, you cannot download all Reddit videos with the official Reddit app for Android and iOS. For more, you would want a third party Reddit video downloader, basically a client app which has more features. Slide for Reddit is a very popular Reddit client that also allows videos, as well as packing other cool features such as an ad-free experience. To use Slide to download video from Reddit, follow these steps.
Step 1: Download the Slide for Reddit app on your Android or iOS device.
Step 2: Find the video post, then simply tap on it to go full screen. Tap 'Download' on the bottom right corner, and it will be immediately saved to your camera roll.
How to Download Reddit Video on Chrome/Edge/Firefox?
Not willing to download additional apps on your Windows or Mac? You can also utilize your web browser to download Reddit video, using methods such as Chrome extension download video. The extensions are also available on other browsers, such as Edge, Firefox and Safari. One good Reddit video downloader extension is called Downloader for Reddit, by Ksenia Erastova. It is a free extension that is available on Google Chrome and Firefox. It essentially downloads all images posted on Reddit or Imgur, all videos posted on Reddit and Imgur. The extension can also work in multi-thread options just in case you need it to. It is by no means perfect, as it only supports Reddit, but it will do the trick. To start using it, follow these steps.
Step 1: Download the and install extension on your browser. It can be found on the Chrome and Firefox web store.
Step 2: Navigate to the Reddit post with the video you want to download. The extension should start finding all downloadable media on the page you are looking at.
Step 3: Start your download. When it has fetched all possible downloadable media, it should give you the download button which you should click to start the download.