Top 6 Free Methods to Download TKTUBE Videos
Content
Warning:
This article involves adult-oriented content, and is not suitable for persons under the age of 18.
Are you very interested and intrigued by Asian, and particularly Japanese porn? That is normal, because it is some of the most watched porn on the planet. We can all agree that Asian females are beautiful, hot and desired throughout the world, which explains the popularity of Japanese porn. Because it is so popular, hundreds of Asian and Japanese AV porn sites exist, such as TKTUBE.
What is TKTUBE?
TKTUBE.com is a Japanese completely free adult site that features amateur, censored, and uncensored porn in various categories. It also features some western porn, although not that much. The website is almost updated daily, with a very high frequency of about several dozen videos. You do not need to sign up or login to watch the videos, which is typical of most free porn sites anyway, although you would need to login if you want to add some items to your favorites, or watch later. It has more than 30,000 movies on its servers, and it has minimal ads, which is something many of its users appreciate. If you are here, you are probably looking for a TKTUBE downloader as sometimes the download link from TKTube might not working. Therefore, continue reading to find out more.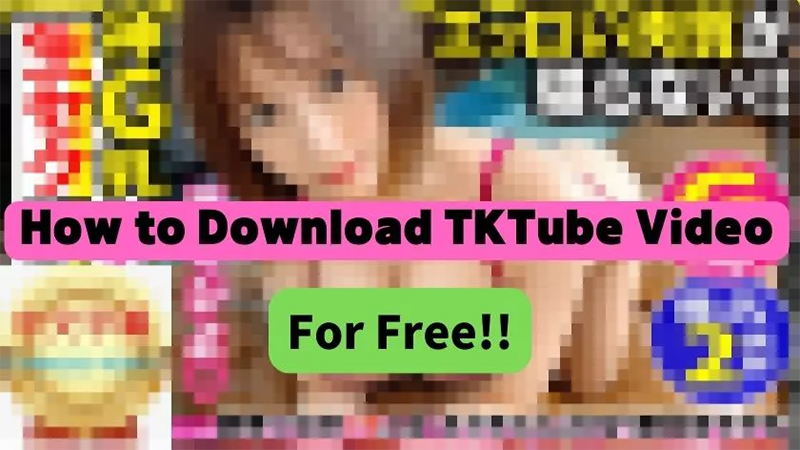 1. How to Download TKTUBE Videos with YT Saver
Since TKTUBE does not have a download button for all of its videos, what is the best TKTUBE downloader around? If you regularly, visit TKTUBE and other free JAV porn sites, then you would need a reliable video downloader that can support all of them, especially if you regularly download porn videos. YT Saver Downloader, one of the most powerful and trending internet video downloader is one such tool you would need in this case. Here are the features and advantages of YT Saver.
It allows you to browse for the video and audio sharing sites easily with a built-in web browser
The software can support over 10,000 websites, including OnlyFans, Fansly, YouTube, Facebook, Spotify, and more.
It can download complete playlists and channels.
Supported video resolutions for downloading range from 320p, 480p, 720p, 1080p, 2K, 4K and 8K.
The downloaded videos can be converted to MP4, 3GP, MKV, WMV, AAC, WAV, OGG, etc.
It has a built in Private Mode. You can protect some videos and audios from prying eyes.
Disclaimer:
YT Saver is a program intended for personal use only, and cannot under any circumstances be used for commercial purposes. The downloading of video and audio files from some websites in certain areas, countries or regions is subjected to local laws, which you should be aware and taking note of.
How to download free porn videos from TKTUBE with YT Saver?
Step 1: Download the newest version of YT Saver on your PC or Mac. The software packages are available to download from the provided buttons.
Step 2: Set the output format. Click on the "Settings" icon on the upper right corner of the interface. From the "Download" tab of the "Preferences" window, choose video or audio, and choose the desired quality for the files to be downloaded.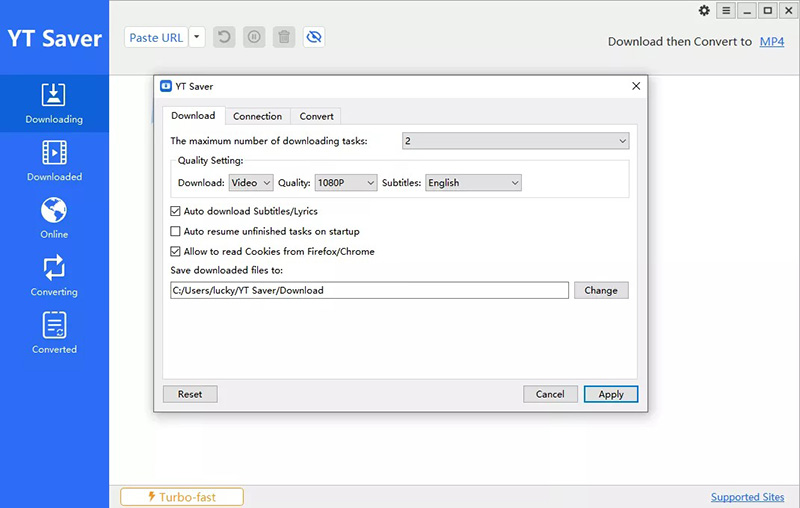 Also, you can select the output formats for target video by clicking on "Download then Convert to …" tab.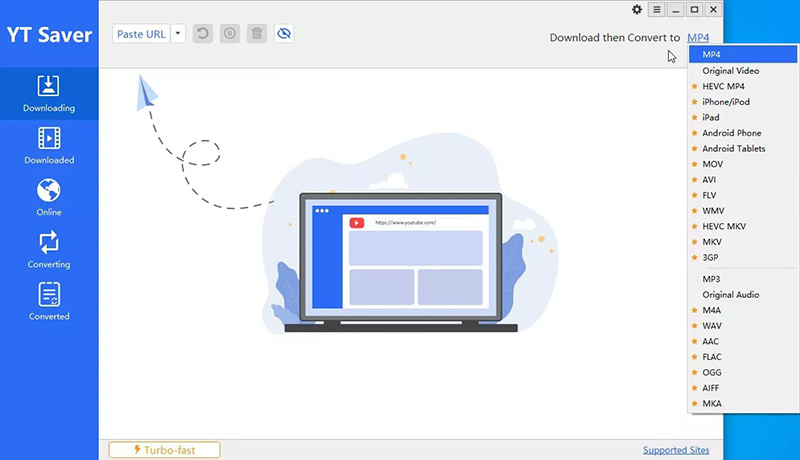 Step 3: Visit TKTUBE, and find the video you want to download, then copy the URL. If you saved the URL elsewhere, you can skip this step.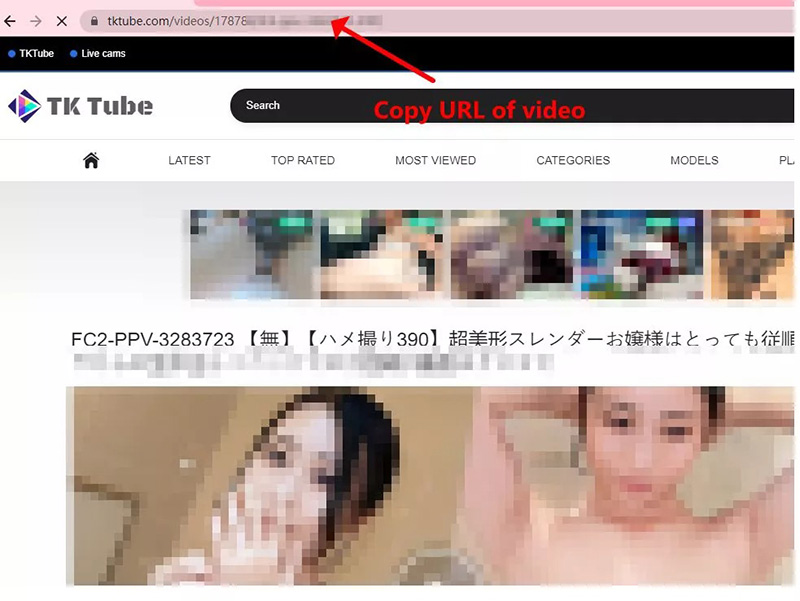 Step 4: Paste the copied URL. In the software's interface, you do not have to paste the video URL. You simply click the "Paste URL" button, and it will automatically start analyzing and downloading the video.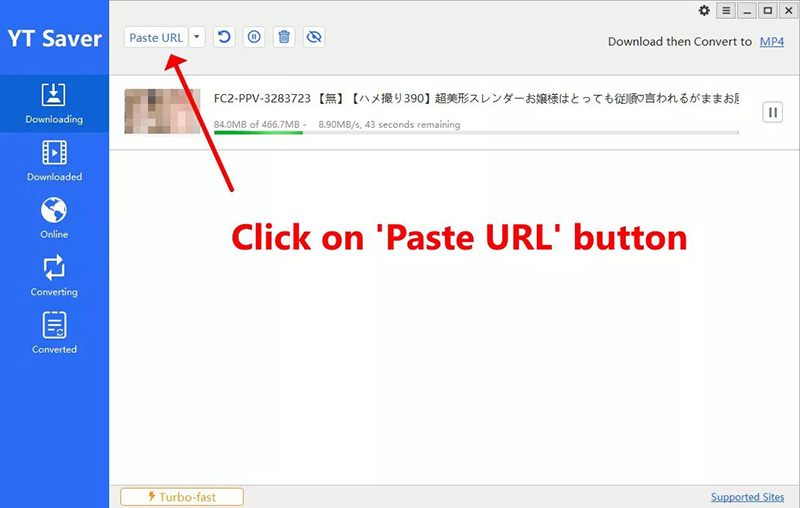 Step 5: Check the downloaded videos. All the finished tasks will be archived to "Downloaded" panel, where you can move the specific video to Private Folder to protect your video privacy.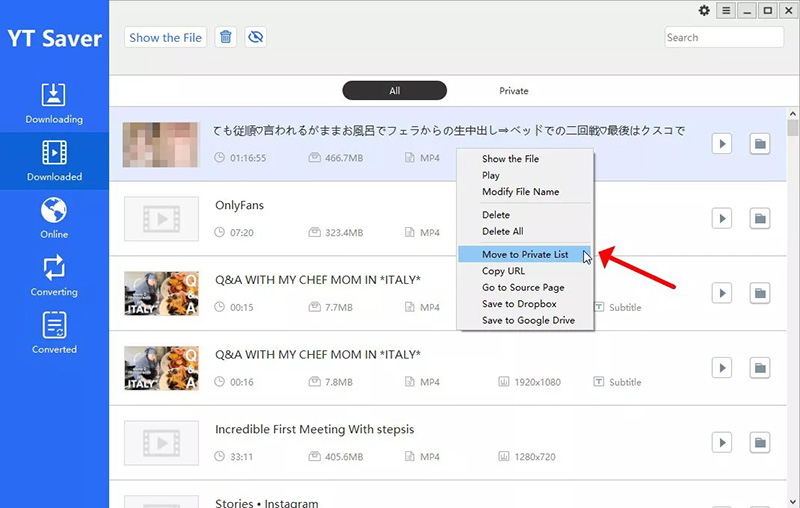 2. How to Download TKTUBE Videos with Inspect Element
Inspect Element is a Google Chrome feature that will allow users with sufficient knowledge about developer tools and features to do a lot more than what the browser offers you by default. The features are found through what Google calls the 'Inspect tab' or element. In this case of trying to download from TKTUBE.com, the Inspect element essentially allows you to easily capture Internet videos by using capture requests. However, it can only capture the requests of the current tab. To start the TKTUBE download, follow these steps.
Step 1: Visit TKTUBE and find the porn videos you want to download.
Step 2: When you find the video you want to download, from that page, right click on any empty space and select 'Inspect'. Alternatively, press the Ctrl+Shift+I keyboard shortcuts to open the tab.
Step 3: When the Inspect tab opens, click the two indicators pointing to the right. Afterwards, click 'Network' from the pop-up menu. Click on the 'Media' button from the next tab, then you should see a randomly named file under the 'Name' roll.
Note: Find the file from tktube.com under Initiator tab if there are many videos.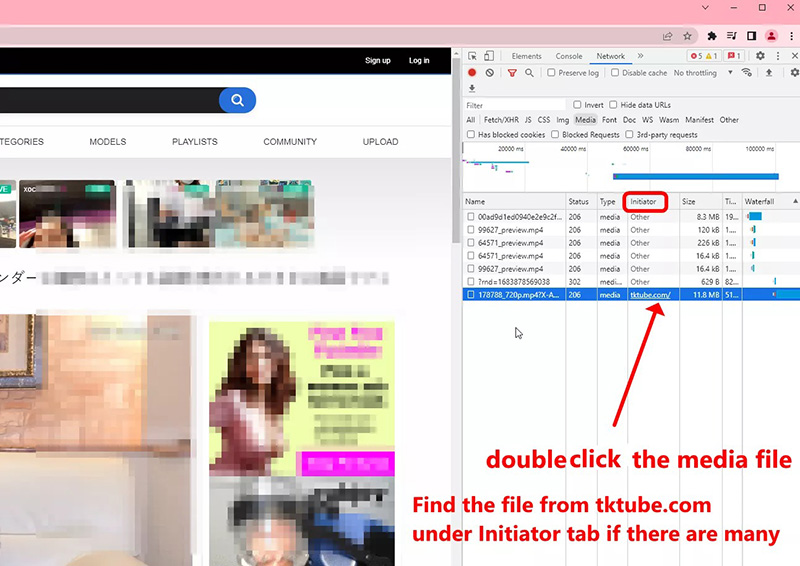 Step 4: Double click the chosen file, you should see a pop-up window that playing the target video with the download button. Click it to initiate your download.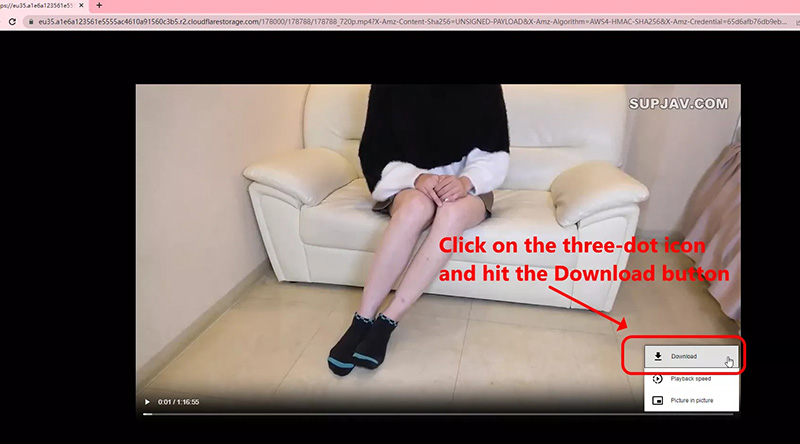 This method of downloading videos is a little bit of complex and cannot guarantee results like YT Saver does, but feel free to try it if you have sufficient skills in software development.
3. How to Download TKTUBE Videos with Video DownloadHelper Extension
The Video DownloadHelper Extension for web browsers is also a working and proven method to download from TKTUBE. It works with browsers such as Mozilla Firefox, and can extract videos from a few supported websites (in this case it will support TKTUBE, so you are in luck). The way it works is actually pretty straightforward. You visit the website with the video that you want to download, start the playback and allow Video DownloadHelper to detect the embedded video. More specifically, follow these steps to use it to download from TKTUBE.
Step 1: If you want to download the video quickly without dialogues, start by visiting the TKTUBE site, and allow Video DownloadHelper to find the embedded videos.
Step 2: Click on the 3-dots sign at the right of your web browser interface, this opens the list of actions.
Step 3: Select and click the 'Quick download' option from the list. This should save the videos you intent to download with the default name to the default download directory.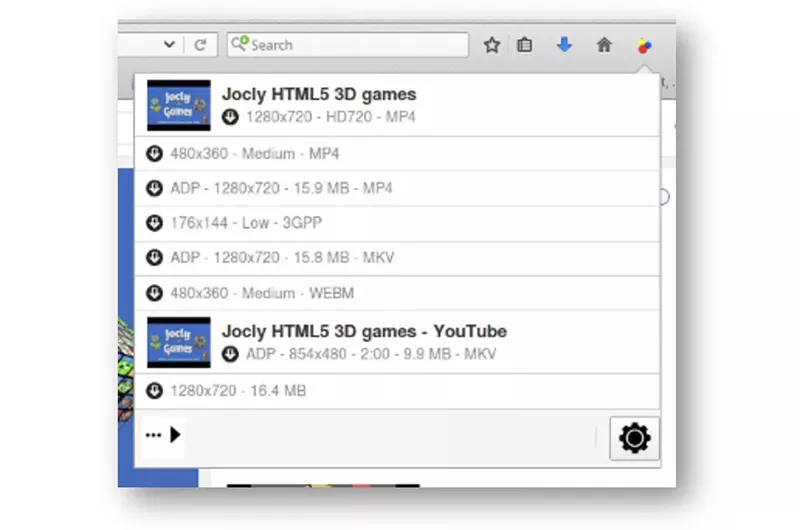 4. How to Download TKTUBE Videos with FFmpeg
FFmpeg is another downloading option that you can try, especially if you are good at programming. Think about it, downloading porn through command lines, that is so cool right? FFmpeg develops libraries and programs for handling multimedia data when users want to transcode videos, which is its primary use, although it can also be used for downloading them. However, if you need to download videos, you would need the aid of a python code. Here is an example FFmpeg-Python video downloading code.
ffmpeg -i "url_to_download" -ss 00:00:15 -t 00:00:25 -c:v copy -c:a copy "demo.mp4″
Therefore to download from TKTUBE with FFmpeg, follow these steps;
Step 1: Visit TKTUBE and find the video you wish to download. Copy the URL link, which you will need for the FFmpeg-Python code.
Step 2: Use the Python code to mentioned above, and paste the TKTUBE URL where it says "url_to_download".
Step 3: Allow the FFmpeg downloader to finish the download.
Again, FFmpeg can be complex to use, such that you may fail to download the video entirely if your parameters are wrong, or if you make any typing errors. Therefore, it would be best to use YT Saver, VideoDownload Helper or the methods below.
5. How to Download TKTUBE Videos with Video Downloader App
Are you on a mobile device trying to download from TKTUBE.com? YT Saver for Android can help you with that. YT Saver App supports over 10,000 sites, including TKTUBE, Pornhub, OnlyFans, Fansly, XVideos, JableTV. It can download video in 720p, 1080p, 4K. This formidable tool supports batch downloading, which is great if you need to download multiple videos or audio tracks. Moreover, it has a built-in website to allows everything to search target video content. To download the porn videos with YT Saver App, follow these steps.
Step 1: Download YT Saver App and install it on your Android device.
Step 2: Search for the TKTube video. Visit the TKTUBE com, search for your video and grab the video URL, which you should into the search box of YT Saver App.
Step 3: Set the output format from the available list and click on "OK" to start downloading video.
If you use iOS, you can try the iDownloader Fast app, which is basically a file manager for iOS with its own built-in browser. It has features, such as the multi-part downloading capability to maximize the download speed. It also has a scheduler, for scheduling your download at convenient time. You can see more of its features from the AppStore.
6. How to Download TKTUBE Videos with Screen Recorder Tool
To download from TKTUBE.com, you can also simply use your screen recording tool, which will guarantee the results. However, keep in mind that whatever is happening on your screen will be recorded, meaning you would have to stop all other tasks, and possibly mute all notifications. Moreover, the quality of the video cannot be guaranteed. Both Windows and macOS do have free built-in screen recorders which are very easy to use. The functions of both are mostly similar, and they are pretty easy and straightforward to use.
Step 1: Visit the TKTUBE.com site, and find the video you want to download. Before you start the playback to initiate the recording, make sure everything else you do not want to be seen in the recording is closed.
Step 2: On your keyboard, click the 'Windows+ Alt+ R' buttons to start the recording. A small recording widget will show at the top right, and it will show you how long you have been recording. You can start the playback of your video as soon as you start the recording.
Step 3: Stop the recording when your video has finished playing. To stop, you can also hit the 'Windows+ Alt+ R' buttons on your keyboard, or click the green stop button. You should find the recorded video in your video library.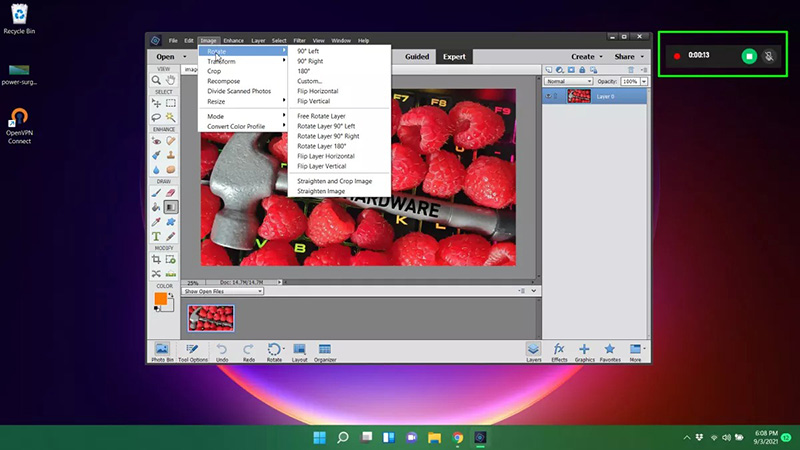 Using the macOS screen recorder (QuickTime) to record and save videos from TKTUBE.
Step 1: Visit the TKTUBE.com site, and find the video you want to download. Before you start the playback to initiate the recording, make sure everything else you do not want to be seen in the recording is closed.
Step 2: Click on 'Launchpad' to view all your installed apps, and find QuickTime Player.
Step 3: When QuickTime opens, move your mouse over to the menu bar. Click 'File' then select 'New Screen Recording' from the list of options available. Select your recording area, or choose the record entire screen option.

Step 4: You can start the video playback. When your video has finished playing, you can click the stop button at the menu bar, and your video will be saved to the Movies folder.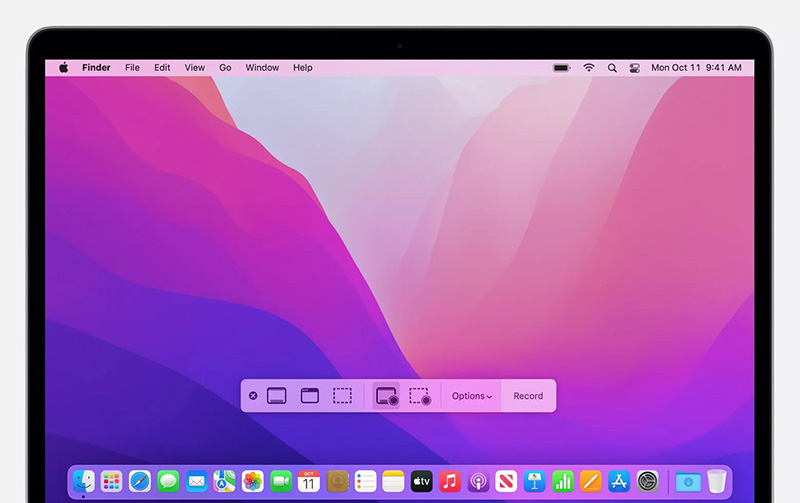 Hazel
With my keen interest in this field, I stay up-to-date with the latest trends and technologies in video processing and online video solutions. I cover a broad range of topics, including video compression techniques, live streaming technologies, video hosting platforms, and more.