As you are aware of the gaining popularity of TikTok you must have heard about the duets feature that TikTok has launched. This feature allows you to interact with the other creators when you share the same trending content. Thus, allows you to reach larger audiences and increase your visibility. The question for a new user is how to see duets on TikTok? Well, you are at the right place because this article will not only let you know the way to watch the duets but also some other tips and tricks to gain popularity.
How to See People's Duets on TikTok
Without a doubt trending duet videos can help you gain more popularity on TikTok. But how to view duets on TikTok? Well, to view duets of your favorite creators you will have to search manually. Here is an easy guide:
Step 1: Open TikTok app.
Step 2: In the search section type in duets @username of the creator to view their duets.
Step 3: Instead of typing the username you can also copy it from the user's profile.
Step 4: The search results will show up the popular duets that the user had made. Pick a video and watch the duet.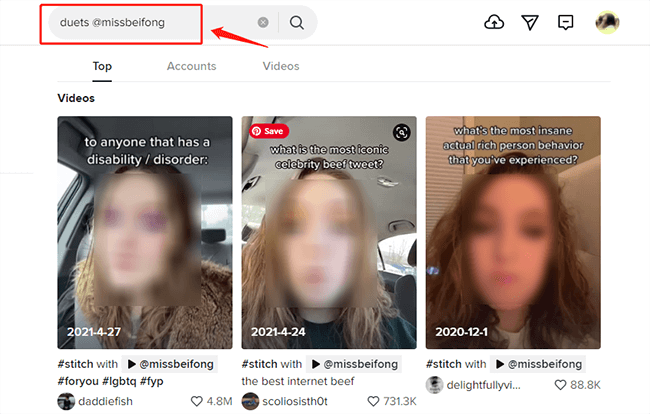 How to See Duets of Your Video on TikTok
Duets feature allows you to create your own video using the main video. This way you can create content of your own and jump on the trending topics and gain more views. How to see duets of a video on TikTok? To see who used your video to create a duet, follow the steps below:
Step 1: Open the TikTok application.
Step 2: In the search bar enter duet @username. You will enter your own username and search.
Step 3: You will be able to view a list of popular duet videos people have created using your video.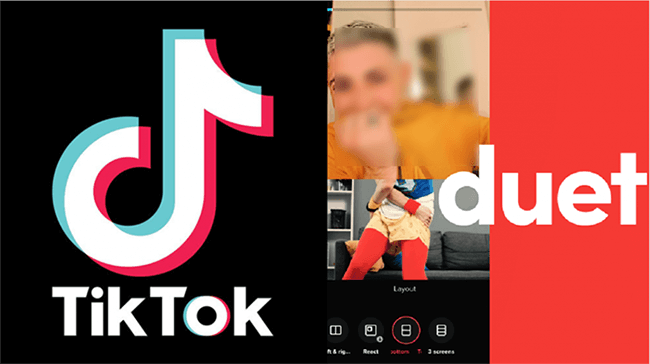 Here's what you can do to prevent people from using your video to create duets:
Step 1: Open TikTok and go to the privacy settings.
Step 2: Tap on Privacy and Safety option.
Step 3: Next, you will tap on who can duet with me.
Step 4: To disable this feature completely, you can select off option.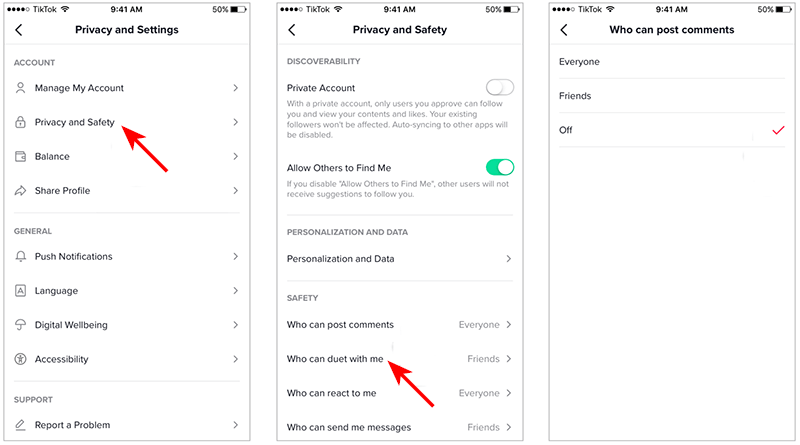 Will Duets Increase My TikTok Views? Why
Well, yes duets will definitely increase your reach and visibility to the audiences and thus will contribute to increase views. There could be a number of factors contributing to it:
1. Keeping Up with The Trend
People usually make duets on the videos that are trending to be relevant which results in increase in your views. When you create a video to a trendy music, beat or content this will definitely boost your way up gaining you handsome number of views. This gives you an advantage to become popular in case your video goes viral and you can get listed in best duets list.
2. Using Popular Tags
Once you have created a duet on an already trending video and then you use popular hashtags. It will for sure reach to a wider range of audiences because of high traffic on search engine. You can become popular based on these tags.
3. Compared to The Original Video
When you create a duet, your video will most definitely get compared to the original video. This is to see how perfectly you were able to recreate the video of your own. People judge you on the basis of your creativity and performance. Your video can get viral if you were able to copy the video perfectly and will get more views, likes.
4. Challenges
Creating videos with challenges on TikTok will most certainly give you more views when people will search about the duets with challenges. These videos are more fun to watch and recreate.
Frequently Asked Questions (FAQs)
1. How to See Who Dueted Your Video on TikTok?
If you have enabled the duets feature on TikTok, users will be able to use your video to create their duets. You as an original creator will only receive the notification if you are tagged in the video.
2. When You Duet Someone on TikTok do They Know?
Yes, you can see the duets on TikTok by typing duets @username of the creator you want to see the duet of. Then, you will see all the popular duets of them.
3. How to See Stitches of a Video on TikTok?
If you want to the stitches of any video on TikTok you will simply type stitches @username and all the results will show up related to that.
Bonus Tips: How to Download TikTok Duets Video on PC/Mac
If you like a duet on TikTok and want to download it then, you can try YT Saver Video Downloader. It is an amazing tool which will get you to download any video you wish to from 10,000+ various online streaming platforms. Not only it is capable of downloading videos but also convert them to other formats, such as MP4, MP3, AAC, MOV, M4A, etc. Along with downloading videos, YT Saver downloads audiobooks, music and songs in original sound quality. Its faster downloading speed makes it an efficient tool which saves your time and also protects the user privacy.
How to Download TikTok Duets by YT Saver?
Step 1 Launch YT Saver Video downloader after the software has been downloaded and installed to your PC. In the built-in browser, go to tiktok.com and search for the duet video you want to download.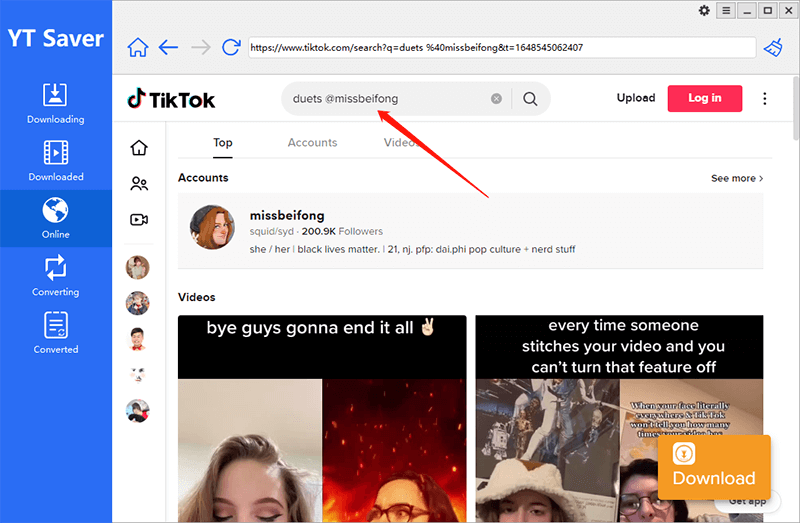 Step 2 Then, you will choose the output format for the duet video according to your requirements from Preferences section of the software.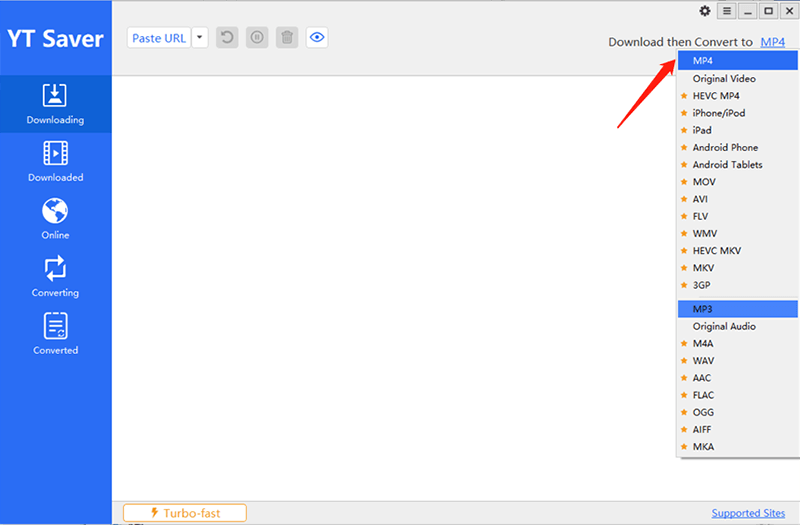 Step 3 Now, play the video you want to download and then click on the "download" button.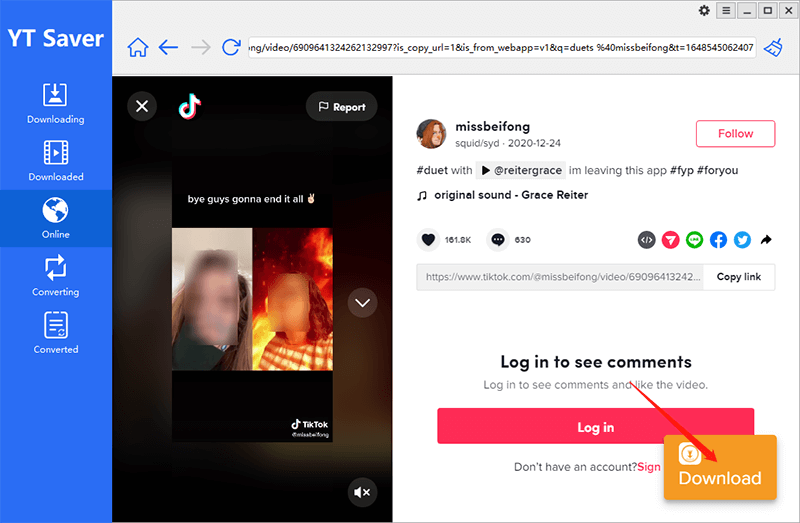 Step 4 The TikTok video will begin downloading instantly. Once the download has been completed, you can find the TikTok video in the downloaded section of the software.