If you're a music lover, you must have heard of SoundCloud, the ultimate platform for discovering independent artists and their soul-stirring melodies. But here's the catch! SoundCloud doesn't let you download songs directly. How do you save your favourite tracks offline and enjoy them whenever you want?
Well, you need to use a third-party tool to convert and download SoundCloud tracks to MP3 format. And guess what? We've got you covered with this ultimate tutorial on the best ways to download SoundCloud to MP3 format, be it through online tools or desktop software. Let's dive in and unleash the music lover in you!
Step 1: Download Songs from SoundCloud Music
Method #1: Best Tool to Download SoundCloud Music
Are you tired of being unable to download your favourite SoundCloud tracks to MP3 format? Well, let us introduce you to the ultimate solution – YT Saver! It's one of the best online tools that let you download SoundCloud tracks in various formats, including MP4, MP3, and WAV. This user-friendly website has an intuitive interface that makes it easy to convert and download SoundCloud tracks in just a few clicks.
The best part is that YT Saver also supports other popular websites like YouTube, Vimeo, and Dailymotion. So, whether you're a music lover or a video enthusiast, you can download your favourite tracks from multiple platforms in the desired format. Say goodbye to buffering and lagging and hello to uninterrupted streaming with YT Saver.
Steps to Download Music from SoundCloud
Step 1 Copy SoundCloud URL
Open your web browser and navigate to the SoundCloud website. Find the track you want to download and copy its URL from the address bar at the top of your browser window.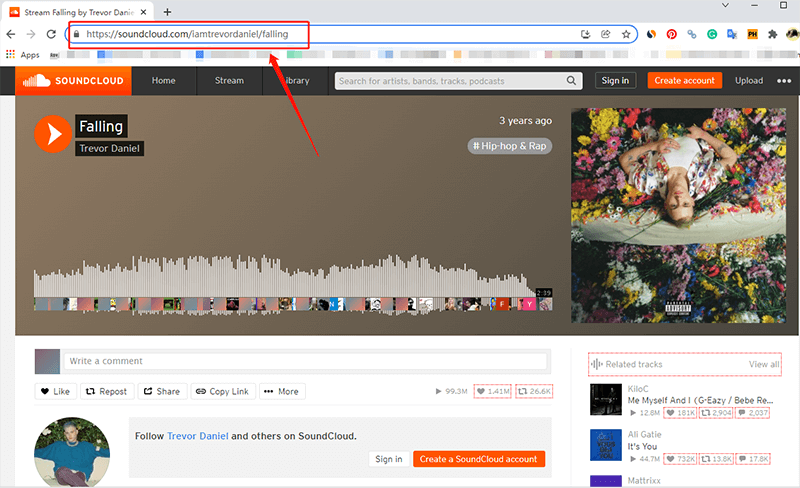 Step 2 Open YT Saver, Select Format and Quality
Open YT Saver video downloader on your PC, choose MP3 as the output format and select the desired quality from the dropdown menu.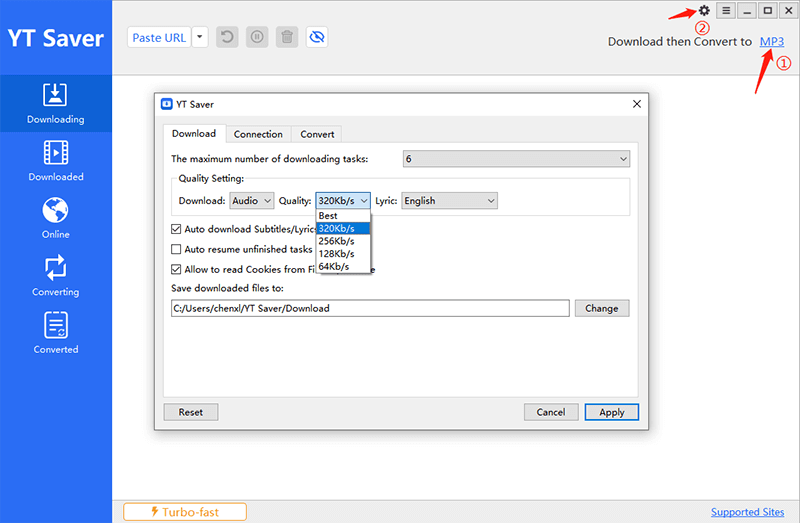 Step 3 Paste the URL
Return to the YT Saver tab, and click on the "Paste URL" button. YT Saver will download the SoundCloud track automatically.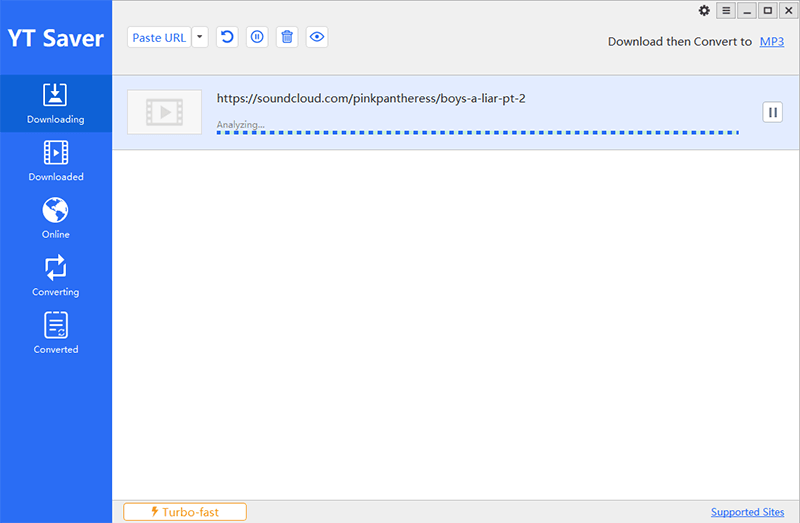 Step 4 Find Video Downloaded
Once the download is complete, navigate to the "Downloaded" tab within YT Saver to access the MP3 file. You can then play the downloaded SoundCloud track on any compatible media player.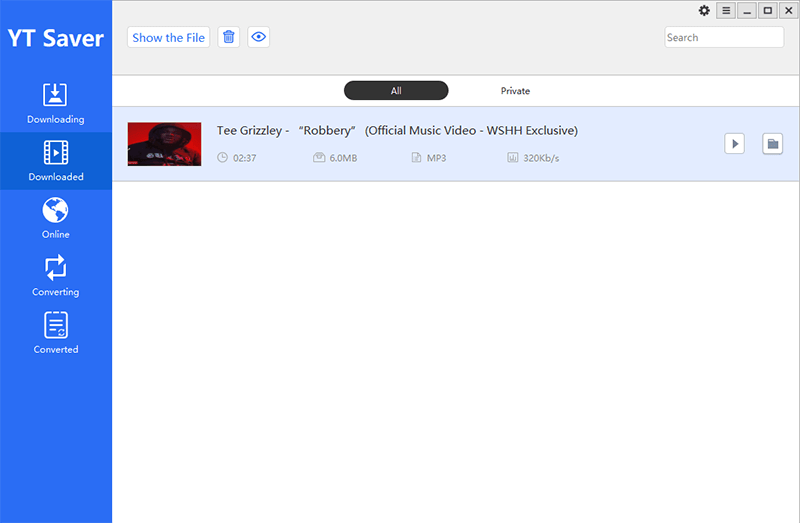 Method #2: Download SoundCloud Music with Online Tool
If you want to use an online tool to download SoundCloud songs, Don't worry! We got you covered. One such online tool is Keepvid. It is an online tool that makes downloading SoundCloud tracks easy. The best part is that it requires no installation so you can start immediately. Here's a quick guide on how to use Keepvid to download SoundCloud tracks.

Steps to download SoundCloud songs online:
Step 1. Copy SoundCloud Track URL
Choose the SoundCloud track to download and copy its URL from the address bar.
Step 2. Open Keepvid
Then, paste the SoundCloud track URL into the Keepvid homepage search box. Click "Download."
Step 3. Choose MP3
After analyzing the SoundCloud track, Keepvid offers multiple download options. Choose MP4 and quality. MP3, WAV, and AAC downloads are also available.
Step 4. Download SoundCloud Track
Click "Download" after selecting MP4 format and quality. Keepvid downloads the SoundCloud track. Downloading may take several minutes, depending on file size and internet speed.
Step 5. Locate the SoundCloud Download
SoundCloud tracks are in your device's "Downloads" folder after downloading. If it's not there, try Keepvid's "Downloaded" tab.
Step 2: Add Images and Change It into MP4
If you have a blank MP4 file and want to add images or cover, several online tools make the process easy and quick. Here are some simple steps to add images and covers to your audio file.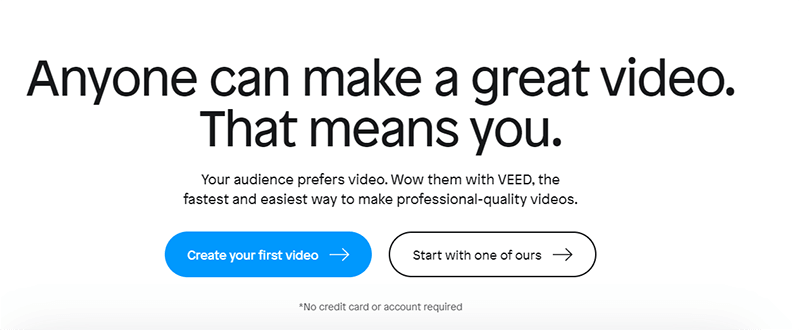 📖How-to steps
Step 1: Choose an Online Tool
Many online tools allow you to add images and covers to your blank MP4 file. One of the most popular options is Veed. The tool is free and user-friendly.
Step 2: Upload Your MP4 File
Once you have chosen an online tool, upload your blank MP4 file to the tool. This can be done by dragging and dropping the file into the upload box or selecting the file from your device.
Step 3: Add Your Image or Cover
Once your file has been uploaded, add your desired image or cover to the blank MP4 file. With Veed, select the "Add Media" button and choose your desired image or cover.
Step 4: Customize Your Video
Once you have added your image or cover, you can customize your video by adding text, music, or additional images. This is a great way to create a visually appealing video.
Step 5: Save and Download
Once you have finished customizing your video, save and download it to your device. With Veed, simply select the "Export" button and choose your desired output format.
In conclusion, adding images and covers to a blank MP4 file is easy and can be done quickly with online tools like Veed. You can create a visually appealing video that will impress you with a few simple steps.
FAQs
1. Which Is Better, SoundCloud or Spotify?
SoundCloud and Spotify are popular music streaming platforms, but they differ. SoundCloud is known for its user-generated content and underground music, while Spotify has a more mainstream music selection and includes podcasts. The choice between the two ultimately depends on your preference and what type of music you enjoy.
2. What Is The Most Streamed Song on SoundCloud?
According to the latest data from RouteNote, the top 5 most streamed songs on SoundCloud as of September 2021 are:
XXXTentacion – "Look At Me"
Juice WRLD – "Lucid Dreams"
Post Malone – "White Iverson"
Lil Uzi Vert – "XO TOUR Llif3"
Lil Tecca – "Ransom"
It's worth noting that these rankings may change over time as new songs are released and gain popularity on the platform.
Various options exist to download SoundCloud tracks to MP4 format, including online tools and desktop software. YT Saver is an excellent tool that let you download SoundCloud tracks in various formats easily.