3 Best Rumble Downloaders to Download Rumble Video Easily
Content
Rumble is a rapidly growing video distribution website, which is considered an excellent alternative to platforms like YouTube or Vimeo. It enables producers to post videos and monetize their work. Rumble video creators can upload and host their videos, manage, distribute, and even develop OTT feeds, and then monetize their content.
However, if you want to save your favorite video, there's no Download button; nor download links available on the official website.
If you're looking to download Rumble video content, your most effective option is to utilize a powerful and feature-packed rumble downloader. In this article, we will discuss various ways to download rumble videos for offline viewing.
Download Rumble Video Using Best Rumble Downloader
YT Saver is a video/music downloader that enables users to download content in a wide range of output formats and qualities. It includes an unlimited download feature, which will make it possible for you to easily browse and download as many files as you want from Rumble or any other video-sharing platform.
YT Saver Video Downloader not only allows users to download videos but also converts offline or online media into video and audio output formats. This software has a built-in web browser that allows you to conveniently explore content and convert rumble to mp4 in literally no time.
How to Download Rumble Video to MP4 on PC/Mac?
Step 1 First of all, copy URL of the Rumble video that you want to download.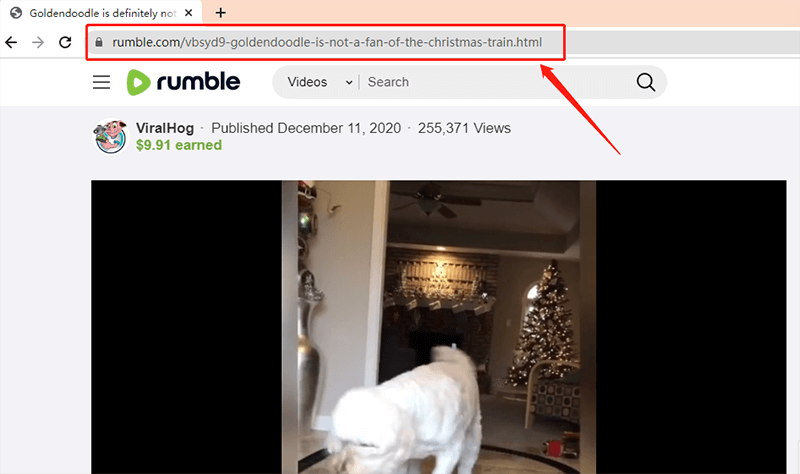 Step 2
Install and open the YT Saver software, and then, select your preferred output format and the video quality such as mp4 and 1080p, from the Preferences menu.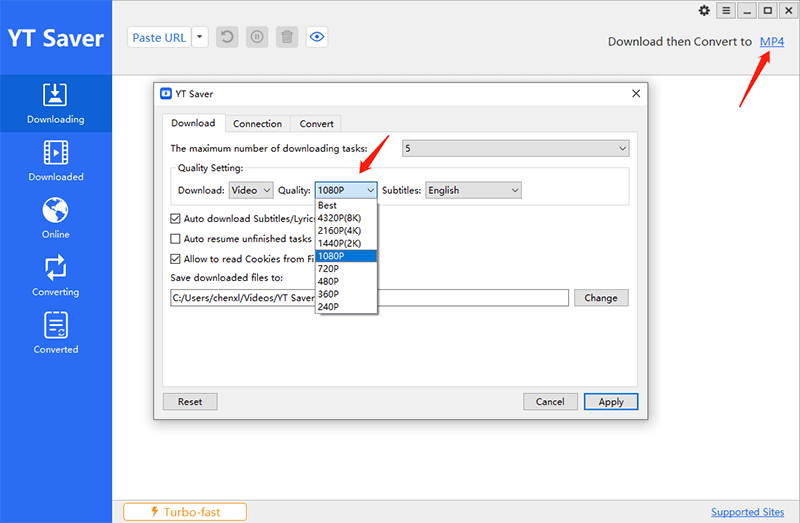 Step 3
In the next step, you just need to click on the icon labeled as "Paste URL", and the rumble video will start downloading automatically.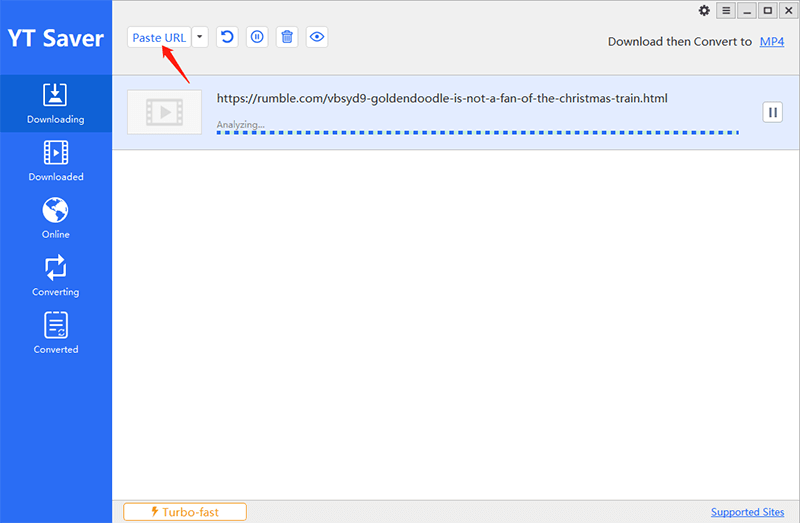 Step 4
When the process gets completed, you can find your rumble file on the Downloaded tab of the software.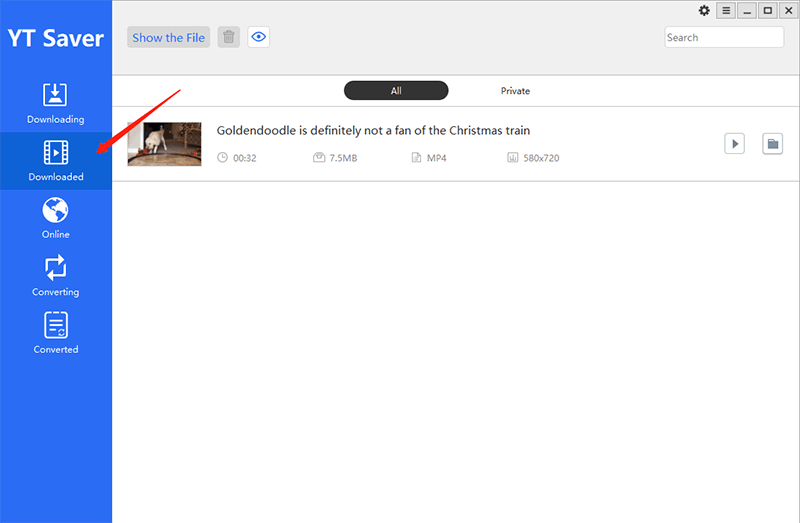 Download Rumble Video Using Firefox/Chrome Extension
DownloadHelper is an extension that works well with both Firefox and Chrome Web browser. It allows users to download videos from websites which stream videos via HTTP. This extension lets you download videos from nearly any site. You can download videos in multiple file types and save almost all kinds of videos: MP4, Mkv, mpg and Flv. the extension includes a built-in video converter that allows you to download and convert your video.
How to Download Rumble Video Using this Extension?
Step 1: Download the extension for chrome and Firefox browser by visiting the official site.
Step 2: Go to this Rumble video page on which you're interested in downloading and then the DownloadHelper extension for the video DownloadHelper extension will transform into a "colored three balls" icon. The downloads from all sources will be scanned and listed in the drop-down menu while you watch the movie.
Step 3: Click on the download icon and select "Use Browser" in the pop-up window to download the Rumble movie.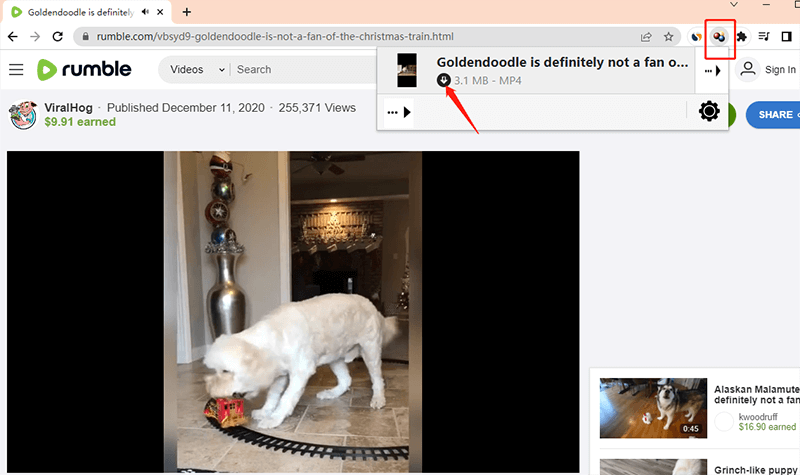 Download Rumble Video Using Rumble Video Downloader Online
You can also use rumble video downloader online tools to download rumble videos for free. But you will face some problems, like pop-ups, redirects, and annoying ads. Besides, the downloading process is very easy even if you are a computer beginning.
How to Download Rumble Video Online?
Step 1: Open one of these Rumber downloader online tools according to your preference.
https://freedownloadvideo.net/rumble-video-downloader
http://savevideo.me/
https://pastedownload.com/rumble-video-downloader/
Step 2: Copy the Rumble video, then paste it to the blank area, and click the Download button.

Step 3: After waiting for video parsing, select the video resolution, and click the Download button again, it will be saved to your device directly.

Conclusion
Now, we hope you can easily save videos by using Rumble video downloader, or any of the browser based techniques discussed above. We suggest using a specialized downloading tool, YT Saver. The online browser extensions aren't as stable as any reliable desktop software, like YT Saver. Moreover, extensions are susceptible to misuse and it's difficult keeping track of security risks, considering the number of small studios that produce a lot of extensions.
Download videos from Rumble, YouTube, Vimeo, etc.
Download high-quality videos ranging from 720p-8K
Supports 20+ output formats, like MP4, MP3, MOV, etc.
10X faster downloading speed than any other similar option
Download rumble videos in bulk without any restrictions
Amanda
She is engaged in the Internet industry and is a professional in audio/video downloading and conversion topics. She has published articles on some blogs and media to help many people solve audio and video problems. She usually watches YouTube and occasionally shares some video tutorials on YouTube. She is a humble and serious person, hoping to write technology and life in her own language.