JustFor.Fans is a website where people can check out photos and videos of their favorite adult models. You will have to pay subscription charges to keep a check on the activity of your favorite models.
Users were wondering if they can access the videos offline via just for fans video downloader or is there a way you can download the content from JustFor.Fans? Well, of course, this article will guide you to download all of the content you want with the 4 methods below.
Best Justforfans Downloader You Cannot Miss
If you are looking for Just for fans downloader then, you should definitely check out YT Saver Video Downloader. This software allows users to unlimited download videos from thousands of video streaming platforms, so as music, playlists, etc. and it also converts video to MP4, MP3, MOV, M4A, and other formats you want.
With its clean and intuitive interface, it is already a choice for many users and is also perfect for beginners. It has a lot more to offer to its users so you should definitely not miss this one.
📖 How to Download JustFor Fans Videos in HD/4K?
Step 1 Once, you have installed the YT Saver Video Downloader; choose the output format and video quality according to your preference on the downloading tab.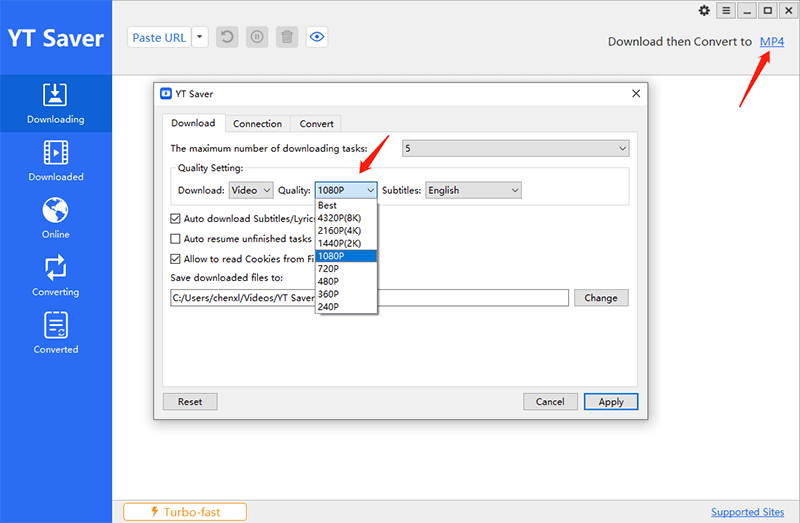 Step 2
Next, you will click on the Online tab in the built-in browser of the software and go to
https://justfor.fans/
. Log in with your JustFor.Fans account.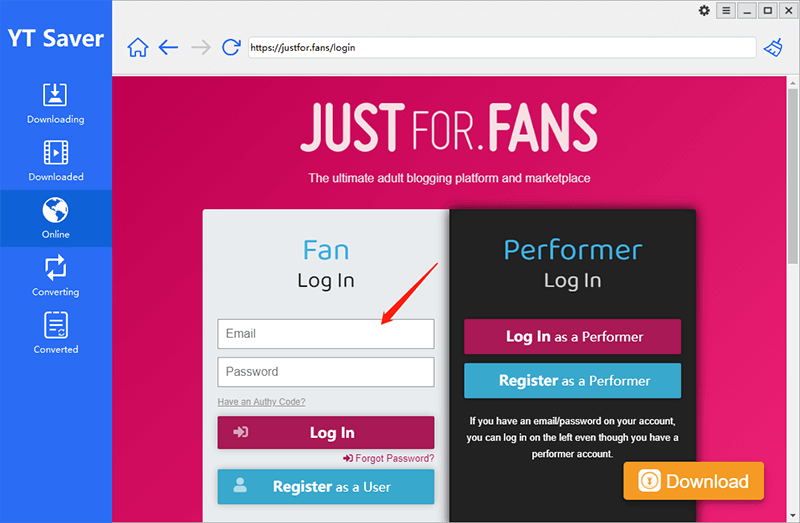 Step 3
Choose the users that you have subscribed on JustFor.Fans and find the video you want to download. Now click on the download button to start the downloading process.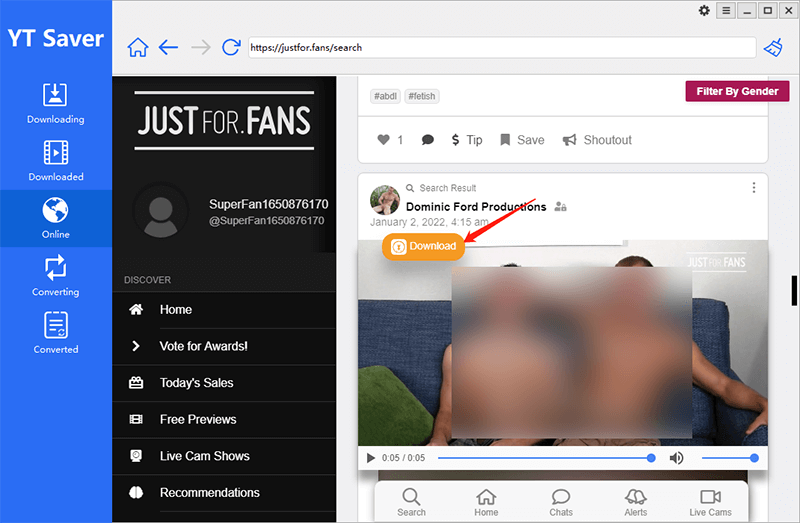 Step 4
After the download has been completed, you can find the JustFor.Fans video in the downloaded tab of the software.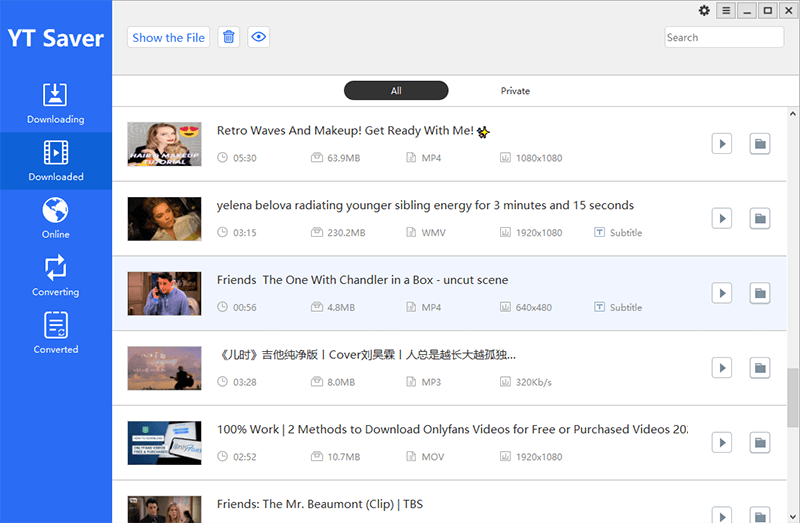 Note:
You have to pay for the video first, then you can see it and download it to your device.
Other 2 JustForFans Downloader Chrome Add-ons
Here we will guide you in-depth about two add-ons for your chrome browser which are among the best Justforfans downloader chrome extensions and you can use them as an alternative to software downloaders.
1. ExtFans
The ExtFans is justforfans downloader chrome which is proven to be helpful in case you want to download videos or pictures from JustFor.Fans website. This add-on only works if you have bought a subscription for justfor.fans website and logged in with the account. You can install the latest version of the extension from Chrome extensions. You can download all of your favorite videos and pictures very easily using this extension.
📖 How to download Justforfans video using Justfor.fans Downloader chrome:
Step 1: Firstly, download the add-on and unzip the zipped folder to get crx file.
Step 2: Go to the settings of your browser and then, in more tools click on Extensions.
Step 3: Now, enter the Developer mode.
Step 4: Next, you will drop down the crx file you extracted and complete the installation process.
Step 5: Now, when you will view any picture or video from JustFor.Fans site a download pop up will appear next to it and you will be able to download content by clicking on it.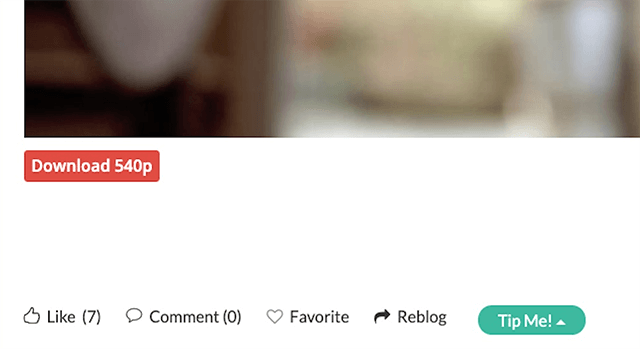 2. Video Downloader Prime
The next Justforfans downloader chrome on our list is Video Downloader Prime which is very convenient and easy to use. It is helpful in downloading videos from various platforms in all the popular formats.
This extension will protect the user's privacy and don't collect the data. It doesn't have the capability to download videos from YouTube due to restrictions by Google and has the option to specify the size of the video file to begin downloading process. You can select the output format of your videos before you step ahead to download any video.
📖 How to download Just for fans video using Justfor.fans Downloader chrome:
Step 1: To download Video Downloader Prime, go to Chrome Webstore and search for the extension.
Step 2: Once you have downloaded and installed the extension to your PC, you will see a download pop-up next to any video you will play on Justfor.Fans site.
Step 3: As you will click on the pop-up on the screen, your video will be downloaded.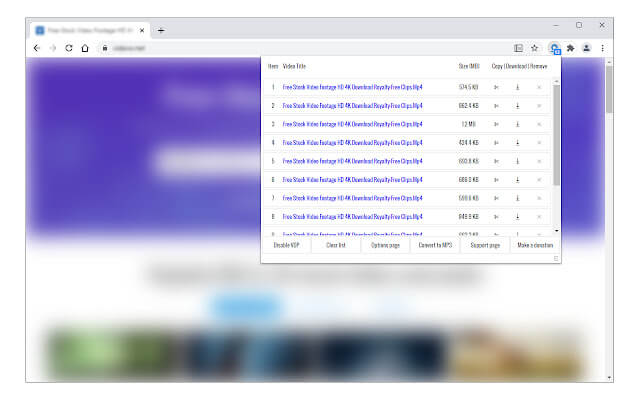 Justforfans Downloader Firefox Extension
Video DownloadHelper is one of the most useful browser extensions for downloading videos from the most popular streaming video sites. The drawback is that you have to install it on your Firefox browser, sometimes it cannot work because of the lower browser version. However, if you need to download tons of videos every day, Video DownloadHelper is definitely worth it for it's 100% free.
📖 How to download Justforfans video using Justforfans Downloader Firefox:
Step 1: Download the extension from https://www.downloadhelper.net/, then install it on your Firefox browser.
Step 2: Go to https://justfor.fans/, log in to your account and play the video you want to download. Then click the Video DownloadHelper add-on icon on your browser, and you can see the download button for this playing video.
Step 3: Tap on the download button, and the video will be downloaded automatically on your computer.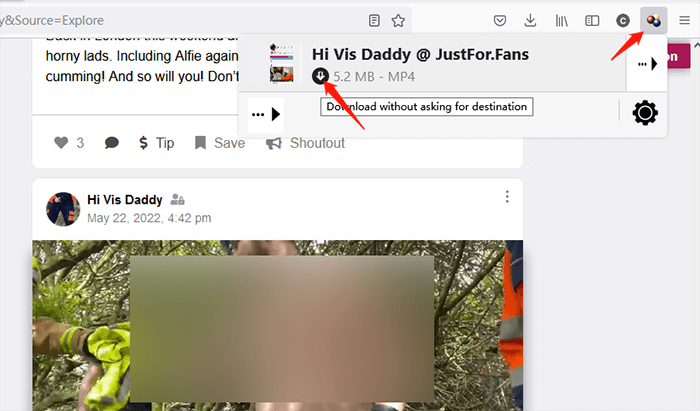 Conclusion
If you are an avid viewer of JustFor.Fans websites and looking for a solution to download the videos for a long time. Then, we hope this article was fruitful for you.
In this article, we have explained 4 solutions in detail but for an ultimate solution, we recommend you to try YT Saver Video Downloader. This downloader even allows you to download Onlyfans videos with ease.
Supports 10,000+ video platforms including YouTube, Onlyfans, Fansly, etc.
10x faster download speed
Bulk download multiple videos in one-click
Convert videos to MP4, MP3, M4A, MOV, AAC, etc.
Downloads videos in even high resolutions of 4k and 8k
Come with a private mode to protect your downloaded videos