Vimeo is the world's third largest video-hosting service by user numbers and volume (it has more than 90 million registered users, and more than 170 active viewers worldwide), after YouTube and Daily Motion.
Similar to streaming giants such as Netflix, Hulu, HBO Max etc., Vimeo is also involved in the original content market. Some of the most popular Vimeo original series include 555, Wizard Mode, The Outs, Rodolex of Hate, and Loyiso Goal; Live in New York. They are known as the world's largest ad-free open video platform which provides powerful tools to host, share and sell videos in the highest quality, which is its biggest advantage over YouTube. But perhaps one of its biggest features is Vimeo Livestream, which is due to the growing popularity of live streaming in the industry. If you are here, you are probably looking for ways on how to download livestream Vimeo. Therefore, read along to find out more about Vimeo live video, and how to download for offline playback.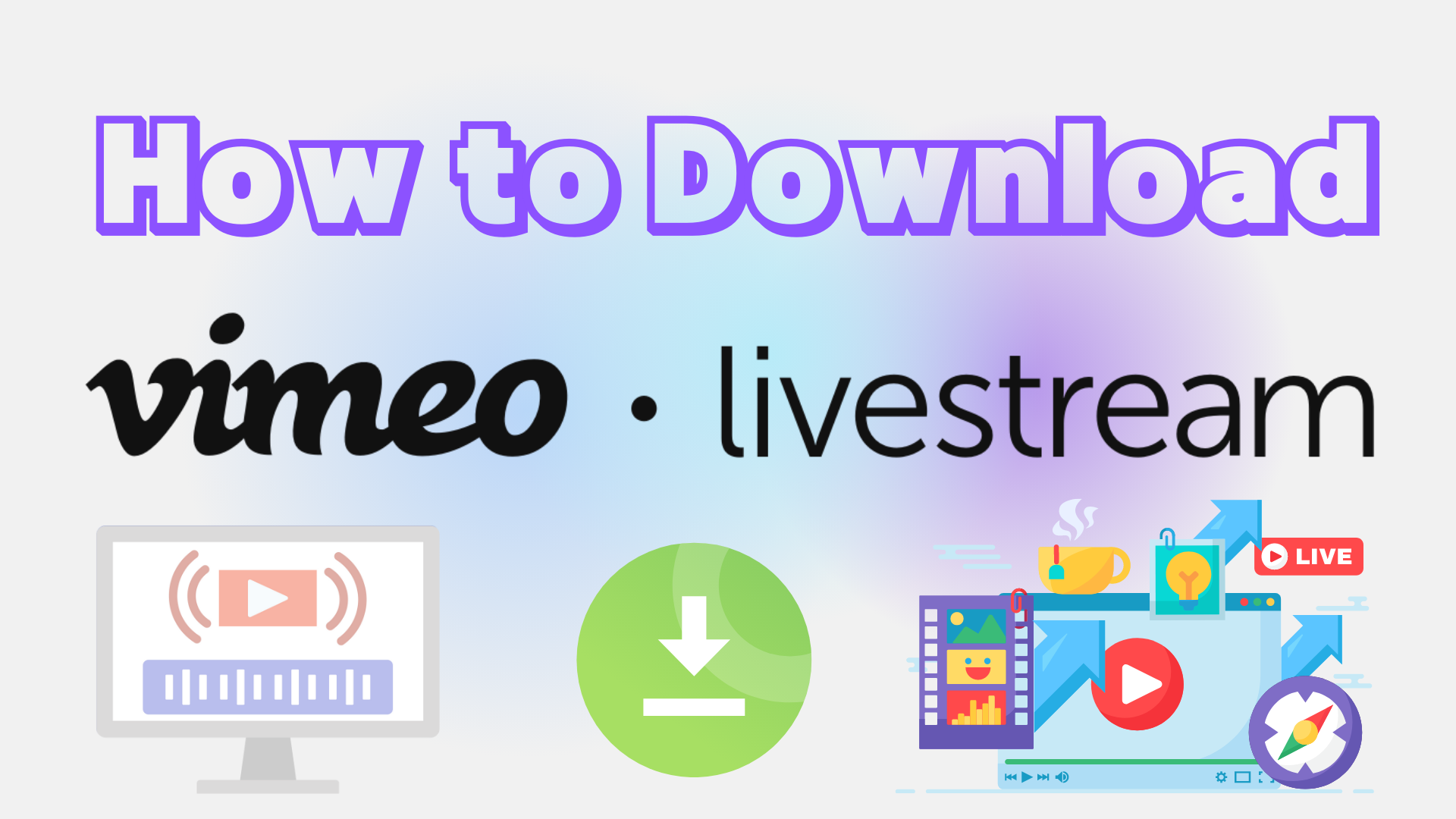 How to Save Vimeo LiveStream?
First and foremost, what is Vimeo livestream? Vimeo livestream, or Vimeo stream is almost a separate entity of Vimeo, which provides users with the ability to broadcast live video content by camera, or screen sharing. Several leading brands, such as Hillsong, LinkedIn, Deloitte, Nikon etc., employ Vimeo streaming for their services. It is accessible via the web, iOS, Android, Roku, and Apple TV. If you are a content creator, Vimeo livestream has various products in the the cloud platform, production services and a Vimeo livestream studio product.
1. How do I watch a livestream on Vimeo just as a viewer?
To start watching Vimeo livestream, you start by visiting the following link: https://livestream.com/watch. The interface is very easy and intuitive, if you regularly watch videos on video hosting services. If you want to find a specific live stream, you can simply search for it. If you are not sure about what to watch, you can browse for the categories on your left.
2. Can you record Vimeo livestream?
You can certainly record Vimeo livestream by using a screen recorder. Unfortunately, you cannot directly download livestream Vimeo directly on the site, (you would need third party tools to download livestream Vimeo, and 3 methods have been listed below). What you can do instead is, you can save the Vimeo livestream to your own Vimeo account (free for viewers). To do that, you simply locate the livestream video you want to save, open it, then click the '+' button on the right of the video. This will save the livestream video to your collection and saved items.
Method 1: Download Vimeo Livestream via YT Saver
Vimeo is the third biggest video sharing platform, which means it easily draws millions of users. Due to the growing popularity of live streaming, Vimeo live-stream is also existent if you solely prefer Vimeo over other streaming platform. On the previous segment of this article, you saw that it is possible to save Vimeo live video, but strictly as playlists which you can only watch if connected to the internet. Therefore, what is the best method to download livestream videos from Vimeo? Your answer is YT Saver Downloader, an advanced internet video downloader. As a matter of fact, YT Saver is all you need for all internet video downloading tasks (including live stream videos), because of its efficiency, ease of use, and its ability to download videos from over 10,000 websites. It has been mentioned on sites such as iLounge, Softpedia, TechTimes and it has a 4.8/5 star rating on TrustPilot. Before you use the YT Saver as a Vimeo stream downloader, you might want to check the software's features;
It allows you to browse for the video and audio sharing sites easily with a built-in web browser
The software can support over 10,000 websites, including OnlyFans, Fansly, YouTube, Facebook, and more.
It can download complete playlists and channels.
Supported video resolutions for downloading range from 320p, 480p, 720p, 1080p, 2K, 4K and 8K.
The downloaded videos can be converted to MP4, 3GP, MKV, WMV, AAC, WAV, OGG, etc.
It has a built in Private Mode. You can protect some videos and audios from prying eyes.
How to download Vimeo Livestream online with YT Saver?
Step 1: Download the newest version of YT Saver on your PC or Mac. The software packages are available to download from the provided buttons.
Step 2: Open YT Saver & Set the output format. Click on the "Settings" icon on the upper right corner of the interface. From the "Download" tab of the "Preferences" window, choose video or audio, and choose the desired quality for the files to be downloaded.
Don't forget to select the needed video/audio format. The default output format is MP4, you can change it right here.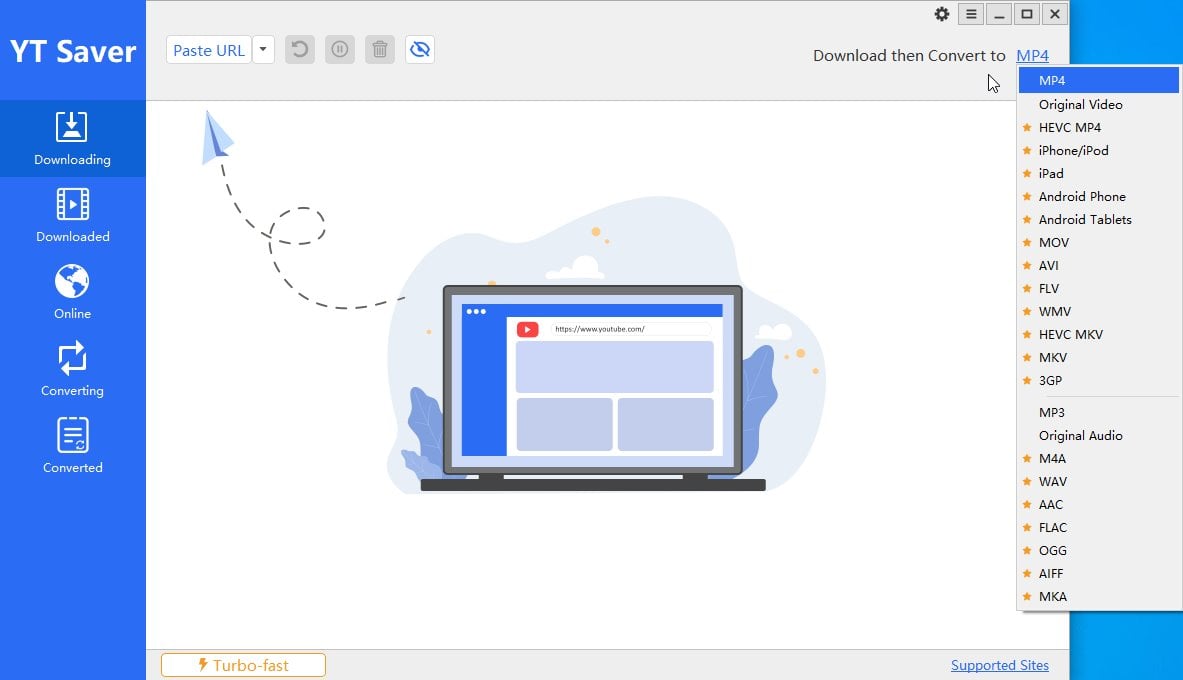 Step 3:
Launch the software to start downloading the videos from Vimeo livestream. Visit Vimeo, and find the Vimeo live video you want to download. Copy the URL, and if you saved the URL elsewhere, you can skip this step.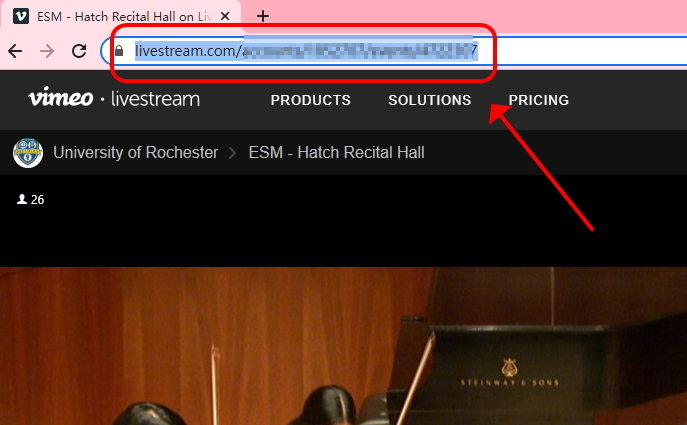 Step 4:
Paste the copied URL. In the software's interface, all you need to do is simply click the "Paste URL" button, and it will automatically start analyzing the video link.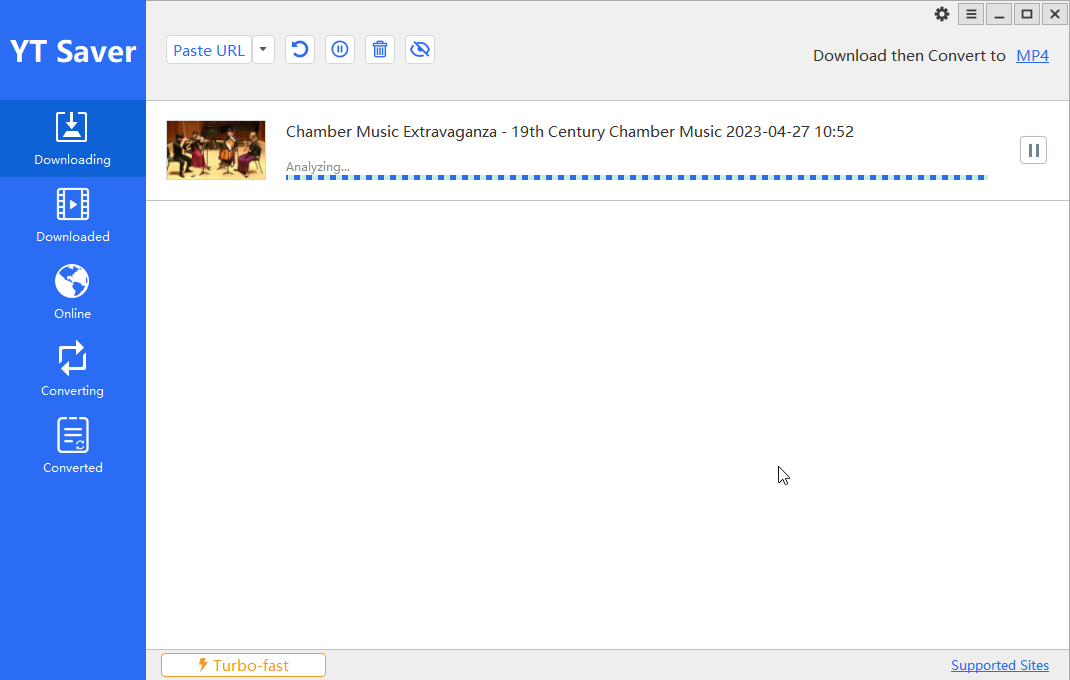 Step 5:
Check the downloaded live stream. All the downloaded task will be archived in "Downloaded" panel, where you can also move specific downloaded videos to Private folder.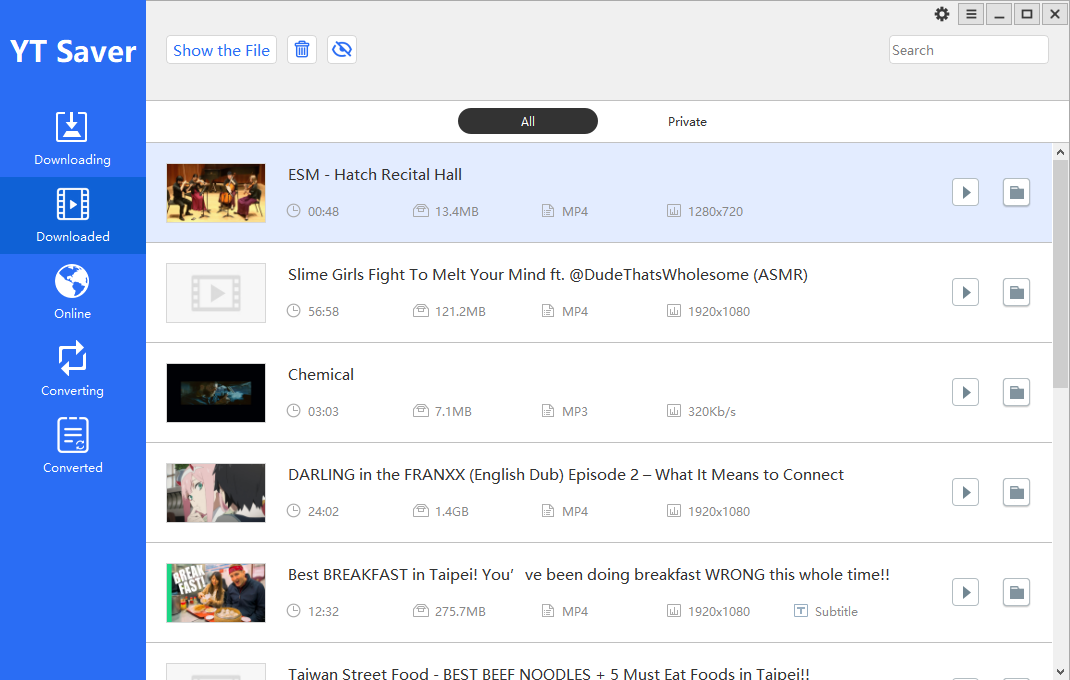 Disclaimer:
YT Saver is a program intended for personal use only, and cannot under any circumstances be used for commercial purposes. The downloading of video and audio files from some websites in certain areas, countries or regions is subjected to local laws, which you should be aware and taking note of.
Method 2: Download Vimeo Livestream from My Events (For Video Owner Only)
If you are a content creator and if you own a Vimeo event, Vimeo will grant you the ability to download your Vimeo streams for offline playback. Unfortunately, viewers cannot download livestream Vimeo. If you are just a viewer, you can use YT Saver to save Vimeo livestream. If you own the livestream, then simply follow these steps;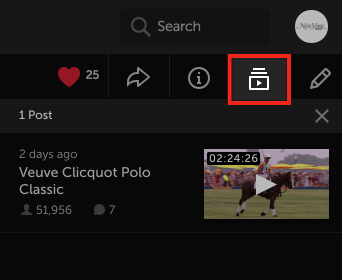 Step 1: Go to the events page.
Step 2: Click the 'Posts' icon in the upper right corner of the event page.
Step 3: Move over to the video you want to download, then find and click the gear icon on the corresponding video.
Step 4: Proceed to download the video. You will be provided with the available video resolutions, from which you can choose a suitable one.
Method 3: Download Vimeo Livestream using Online Tool
Not willing to download and install video downloading software in order to download livestream Vimeo? Vimeo livestream downloaders like YT Saver are really the best options, but online tools are also convenient for use, although limited in comparison. To download Vimeo live video, you can also use Yoo Download, a downloader which supports Vimeo livestream, Facebook, Twitter, Instagram and more. To start using it, follow these steps;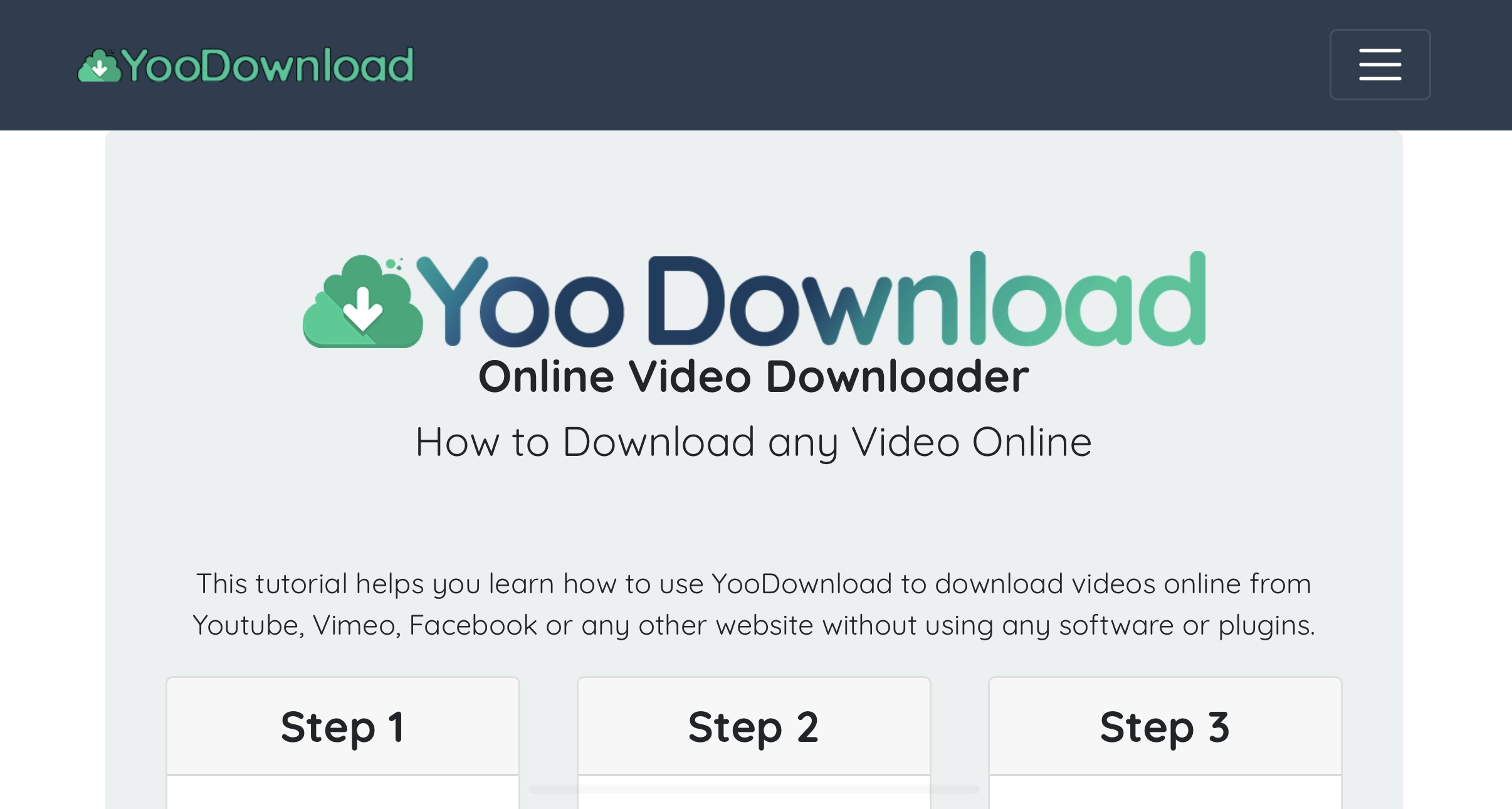 Step 1: Visit Yoo Download. You can do a web browser search for this site.
Step 2: Copy the link of the livestream video, then go back to YooDownload and paste it.
Step 3: Start the download. When you click the download button, the site will begin to fetch the video, and it should automatically download in a few seconds.