Complete Guide – How to Download OnlyFans Protected Video Easily
Content
OnlyFans is a popular content subscription service that allows creators to share exclusive content with their fans for a fee. While the platform offers a variety of content, including photos and live streams, some creators also offer DRM-protected videos that cannot be downloaded directly from the site. If you're a fan who wants to save these videos for offline viewing, you may be wondering how to download them easily. In this complete guide, we'll show you step-by-step how to download OnlyFans DRM video easily, using simple tools and techniques. So, let's get started!

What is DRM on OnlyFans?
DRM, or Digital Rights Management, on OnlyFans, refers to the security measures implemented by the platform to protect the digital content uploaded by creators. DRM is a technology that restricts the unauthorized copying and distribution of digital content, such as photos and videos, on the platform. On OnlyFans, DRM is used to prevent subscribers from downloading or saving the content shared by creators. This means that when a creator posts photos or videos, subscribers can view them on the platform but cannot easily download or save them to their local devices. OnlyFans drm aims to protect the intellectual property of its content creators and ensure that their exclusive content remains accessible only to paying subscribers.
However, there are methods and tools available that claim to bypass or remove DRM from OnlyFans content, allowing users to download OnlyFans drm video. It's important to note that attempting to remove DRM from OnlyFans content without proper authorization may violate the platform's terms of service and potentially infringe on the intellectual property rights of creators.
How to Download OnlyFans DRM Video in Detail?
When it comes to downloading OnlyFans DRM videos, there are various tools available in the market. However, not all of them are reliable or user-friendly. This is where YT Saver OnlyFans DRM Downloader comes in. It is a desktop-based software that allows you to easily download OnlyFans DRM videos with just a few clicks. You don't need any technical knowledge or expertise to get started. Simply download and install the software on your computer, copy the link of the OnlyFans DRM video you want to download, and paste it into the YT Saver interface. Then, select the format and quality you want and click on the download button. That's it!
YT Saver also offers a range of features that make it stand out from other tools on the market. For example, it allows you to download entire playlists and channels at once, so you can save time and effort. Besides, it supports 10,000 websites including Fansly, YouTube, Vimeo, Jable TV, TKTube, JustforFans. Let's check out the steps to Download OnlyFans DRM Videos Using YT Saver.
Step 1: Install YT Saver OnlyFans Downloader
First, you will need to download and install the YT Saver on your computer. To do that, download the installation file of YT Saver from their official web page and follow the coming instruction to install the program.
Step 2: Select the Required Video Format & Quality
Launch YT Saver and select the required download option from the Preferences section of the software. YT Saver typically provides options to choose your preferred video quality, including different resolutions and formats. Select the quality that best suits your requirements.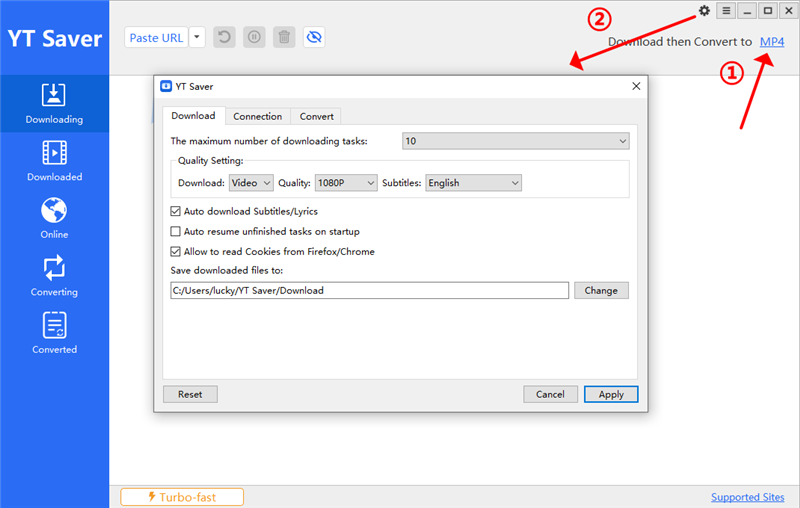 Step 3: Find the OnlyFans Video in YT Saver
Enter Online module in YT Saver, go to https://onlyfans.com/ and log in to your OnlyFans account. Access the OnlyFans video you want to download, click on the download button in yellow, and this program will start downloading OnlyFans video automatically.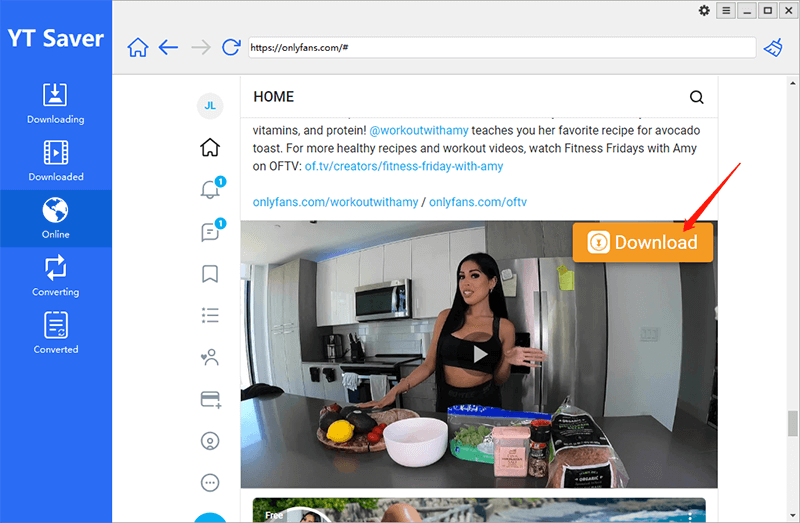 Step 4: Preview the Downloaded Video
After the process gets completed, you can access your OnlyFans video from the Downloaded section of the program. Besides, YT Saver provides a private mode to protect all your video privacy. Right-click on the downloaded file and select "Move to Private List" option to keep certain files password protected.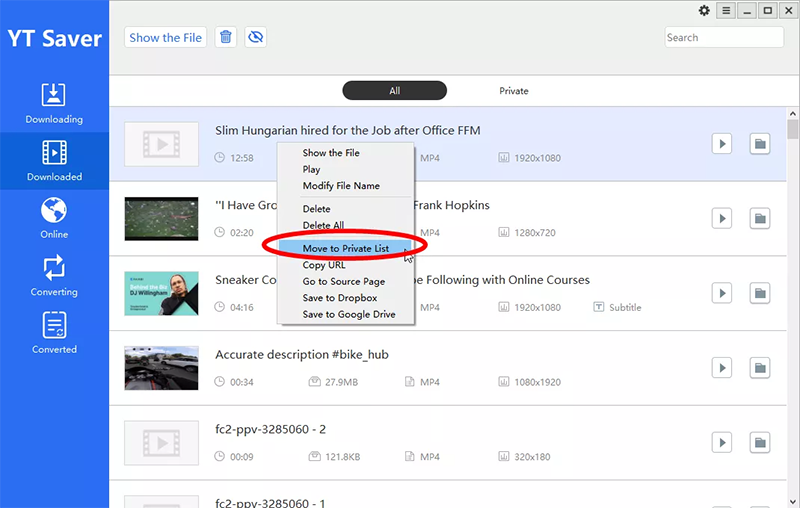 Note:
YT Saver comes with an Android version to help users to download favorite video on their Android phones. Please pay attention that YT Saver program is only for personal usage.
Frequently Asked Questions about OnlyFans
Q1. What is OnlyFans and how does it operate?
OnlyFans is a subscription-based social media platform designed to facilitate content creators sharing exclusive material with subscribers who pay a monthly subscription fee to gain access. Creators may share photos and videos, livestreams, and written posts directly through OnlyFans to their fan subscribers who then gain access by subscribing directly. Furthermore, OnlyFans operates using a revenue-sharing model; creators receive part of any fees paid from subscribers as income sharing income through the OnlyFans subscription fee revenue-sharing model.
Q2. How do creators on OnlyFans make money through this platform?
Creators on OnlyFans earn revenue through monthly subscription fees paid by fans who subscribe to them; when fans become fans of a creator on OnlyFans, part of that monthly payment typically goes back into his or her pocket as royalty payments from fans subscribing.
Q3. Is OnlyFans designed only for adult content or can it also host other forms of media?
OnlyFans has become well-known for hosting adult content due to its flexible content policies; however, its reach extends far beyond adult genres. Creators across a spectrum of niches such as fitness, cooking, art, and music use OnlyFans as a platform to share their expertise and engage with audiences – onlyFans allows creators to choose which types of posts to share, making this platform appropriate for a wide array of interests and creating lasting connections among fans of any age.
Bonus: 6 More Platforms like OnlyFans
Each platform offers content creators an opportunity to monetize their work, engage their fan base, and distribute exclusive material. However, creators and users should carefully read through each platform's terms of service, content guidelines, and monetization options in order to determine which option meets their particular needs and preferences.
1. MYM
MYM is an inclusive platform, catering to models, artists, and influencers from around the globe. One of its stand-out features is inclusivity; offering both adult and non-adult content categories for creators on MYM to monetize by selling subscriptions to fans that allow access to exclusive photos videos live streams as well as subscription tiers that enable subscription monetization of subscription tier content creators' work on MYM's subscription models and interactive tools as well as tools that assist creators interact with fans while selling digital products or merchandise; its user-friendly interface and customization features make MYM an appealing platform among content creators looking to monetize their work on MYM's customizable user-friendly platform that makes MYM one of its most sought-out options among content creators looking to monetize their work on MYM's versatile platforms!
2. iFans
iFans stands out with its straightforward user-friendliness and user-generated interface, making it accessible to both creators and subscribers alike. Creators can monetize their content easily via subscriptions; sharing photos and videos exclusively for paying subscribers; direct messaging between fans; live streaming services and selling digital products like e-books or merchandise can all help diversify income sources while engaging their fan base effectively. This platform was specifically created to meet those goals!
3. JustFor.Fans
JustFor.Fans is a subscription-based platform specifically created for adult content creators. It provides a secure and discreet environment in which creators can safely share explicit material with subscribers without fear of their identity being revealed, making JustFor.Fans are a favored choice in adult entertainment industries worldwide. Creators on JustFor.Fans can earn money by offering videos, photos, and live shows as content offerings; custom video requests also enable creators to provide personalized services directly for fans' desires while protecting creators with privacy options making JustFor.Fans an industry standard platform! We also provide a reliable solution to download video from JustforFans.
4. AVN Stars
AVN Stars, part of Adult Video News (AVN), caters specifically to adult entertainment creators and content publishers. Attracting both established and emerging creators alike, creators can monetize their material by uploading explicit videos, photos, or any other adult-focused media directly to subscribers of AVN Stars subscribers – including features like direct messaging with fans or promotional tools designed specifically to grow fan bases and increase earnings – creating an ideal platform tailored specifically for adult content producers.
5. FanCentro
FanCentro is a user-friendly subscription-based fan platform with the goal of helping creators monetizes their content by selling access to private social media accounts or offering exclusive material through subscription models. Features of FanCentro include pay-per-view content, the capability of scheduling posts ahead of time, and tools designed specifically to foster fan interaction – making FanCentro an efficient way for creators to manage fan bases efficiently while effectively monetizing content creation processes.
6. AdmireMe.VIP
AdmireMe.VIP is an expansive subscription-based platform similar to OnlyFans that cater to creators in various niches – models, influencers, and artists among them. Creators can monetize their content by selling subscriptions directly to fans; and then sharing exclusive photos or videos exclusively for paying subscribers. AdmireMe.VIP emphasizes fan engagement as part of its user experience offering features designed to boost the earnings of creators; you can customize profiles for greater audience connectivity through this versatile platform.
The Bottom Line
In conclusion, if you're looking for a reliable and user-friendly tool to download OnlyFans DRM video, YT Saver is definitely worth considering. With its powerful features and easy-to-use interface, it's one of the best options available on the market today.

Manuel
As a Tech geek, Manuel is obsessed with technology and spend most of his time exploring it. The technology has become his life and he is enthusiastic about sharing all new tech gadgets that make him excited.