To some extent, we can all agree that the world is becoming very unpredictable, especially in the field of employment, given the advancements of AI and automation. Because of that, it is only natural that many individuals seek more, and perhaps better education. Thanks to the availability of the internet in most parts of the world, it is even easier to connect with the best educators from all over the world, through online courses. A number of platforms for learning courses online exist, and Thinkific is among the best when it comes to learning about business and entrepreneurship.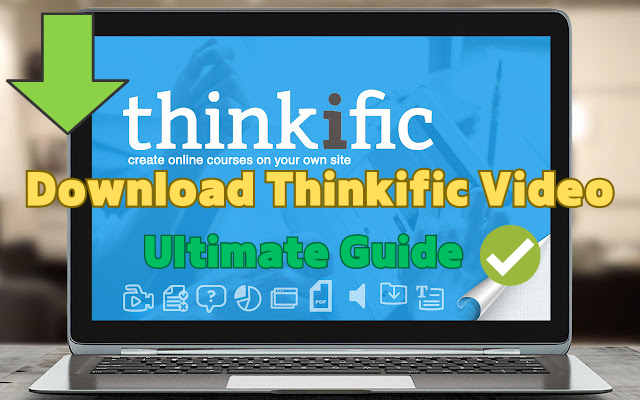 1. What is Thinkific?
Thinkific is an online course learning platform, which was designed for businesses and entrepreneurs, so that they can design, create, market, and manage their online courses. As a matter of fact, it is one of the most popular online platforms to learn business courses, with over 100 million courses taken from students in all corners of the world. Most importantly, Thinkific is highly favored by course creators and educators, because it has powerful tools that make it easy for them to share their knowledge, grow their audience, and scale their businesses.
What are the most popular Thinkific courses?
Dunbar Academy This is a course designed for dog trainers, and you gain access to you to an extensive library of video courses, including recorded podcasts and workshop.
Key to Pictures This course is designed for photographers. It gives aspiring and professional photographers more confidence in their camera skills, in order to help them create better images
Coastal Drone Drone pilot and instructor Kate Klassen is the founder of Coastal Drone. In this course, she teaches aspiring drone pilots how to fly safely, with the ultimate goal of passing the Canadian drone pilot exam.
Olive Knits This course was created by Marie Greene, and it provides knitters and aspiring ones with tools, training, and exclusive resources for knitting sweaters.
GuitarZero2Hero This course is designed for novice musicians, who can learn how to play guitar songs by their heroes, such as Ed Sheeran, John Mayer, Keith Urban etc.
What is the Thinkific pricing like?
The Thinkific pricing is as follow for the year 2023;
$0/month-Free Some courses have free stuff, while others let you test the waters for free before you advance.
$39/month -Basic
$79/month- Pro
$399/month- Premium
Is it possible to download courses from Thinkific? Unfortunately, the course creators and educators do not allow that. Thankfully, there are some Thinkific downloaders available, which will allow you to download video from Thinkific.
2. How to Download Video from Thinkific with YT Saver Downloader?
Thinkific is probably one of the best platforms to learn about business and entrepreneurship, because over 100 million courses have been taken on this platform. For the average person, the $49 – $499 per month fee is very steep, and the honest truth about learning is, sometimes you will need to go back to your courses for some reference. What does that mean? It means, in the event you cancel your Thinkific membership, you would want to keep your course PDFs and videos from the platform, just in case you need some reference from them in the future, hence the need for a Thinkific downloader.
The best tool to download Thinkific video is YT Saver Downloader, a full movies, complete series, courses and video downloader. As a matter of fact, YT Saver is one of the most trending and popular internet video downloaders available now, which you can use to easily and quickly download internet videos from over 10,000 websites in a few easy steps. It is so popular that it was featured on popular tech websites such as iLounge, Softpedia, TechTimes and more. It also has a 4.8/5 star rating on TrustPilot. Check the bullet points below for its features and advantages.
It allows you to browse for the video and audio sharing sites easily with a built-in web browser
The software can support over 10,000 websites, including Teachable, Udemy, YouTube, Facebook, and more.
It can download complete playlists and channels.
Supported video resolutions for downloading range from 320p, 480p, 720p, 1080p, 2K, 4K and 8K.
The downloaded videos can be converted to MP4, 3GP, MKV, WMV, AAC, WAV, OGG, etc.
It has a built in Private Mode. You can protect some videos and audios from prying eyes.
Disclaimer:
YT Saver is a program intended for personal use only, and cannot under any circumstances be used for commercial purposes. The downloading of video and audio files from some websites in certain areas, countries or regions is subjected to local laws, which you should be aware and taking note of.
How to download video from from Thinkific with YT Saver?
Step 1: Download the newest version of YT Saver on your PC or Mac. The software packages are available to download from the provided buttons.
Step 2: Set the output quality. Click on the "Settings" icon on the upper right corner of the interface. From the "Download" tab of the "Preferences" window, choose video or audio, and choose the desired quality for the files to be downloaded.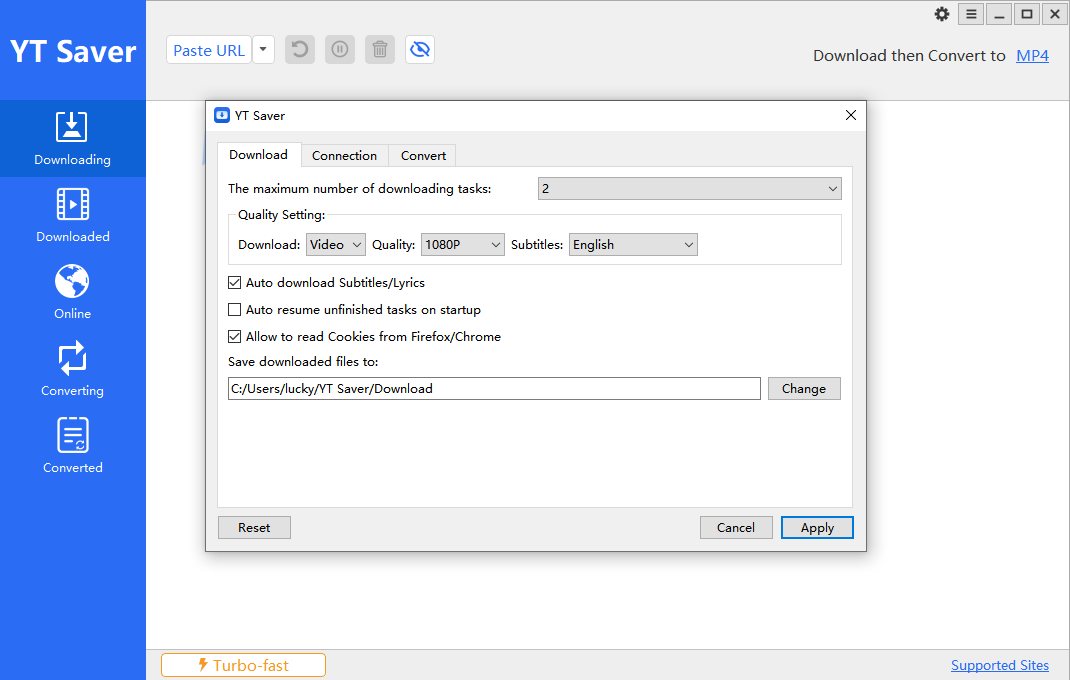 You can also select the needed output format by clicking on the "
Download then Convert to …
" tab.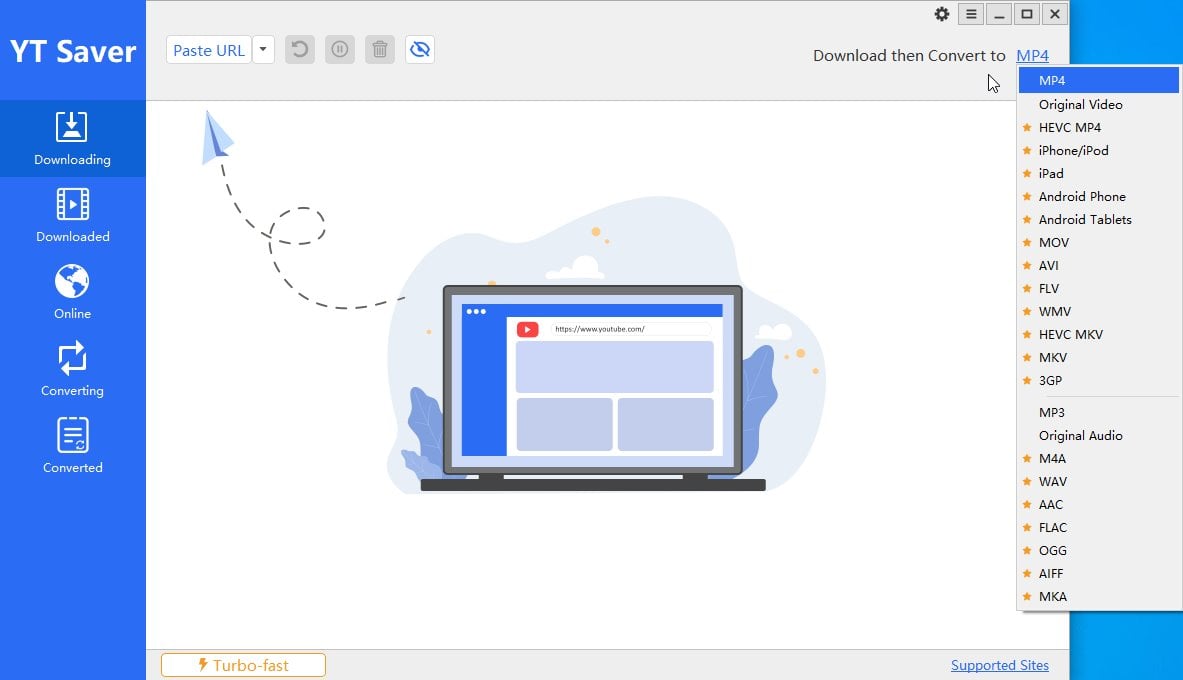 Step 3:
Copy and paste the URL. Visit the Thinkific website and find the video course you need to download. Back to YT Saver's interface, just simply click the "Paste URL" button, and it will automatically start analyzing and downloading the video.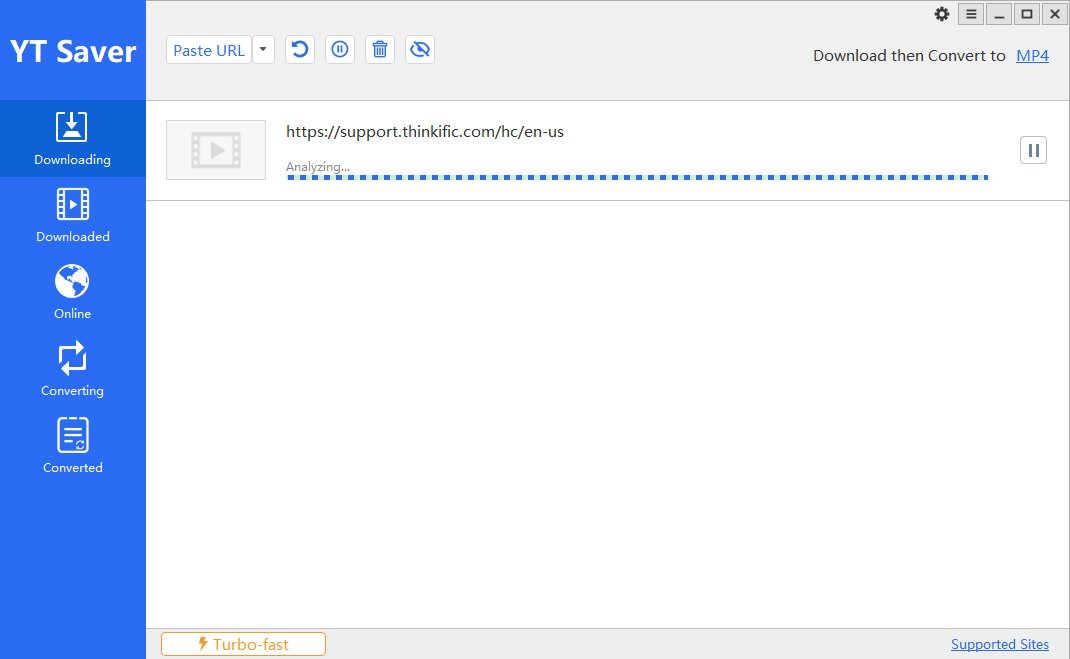 3. Other Programs to Download Thinkific Video
There are also alternative programs available if you need to download Thinkific video. Here are three alternatives to YT Saver mentioned above for Thinkific video downloading.
1. VidJuice UniTube Downloader
This is another video downloader that supports various websites, similar to YT Saver. The list of included websites also includes Thinkific, and it can download playlist videos in one single click. Another of its key features is its ability to download up to 8K in video resolution. Pricing starts at $29.95 a month (which is what the YT Saver lifetime plan costs), and up to $49.95 yearly.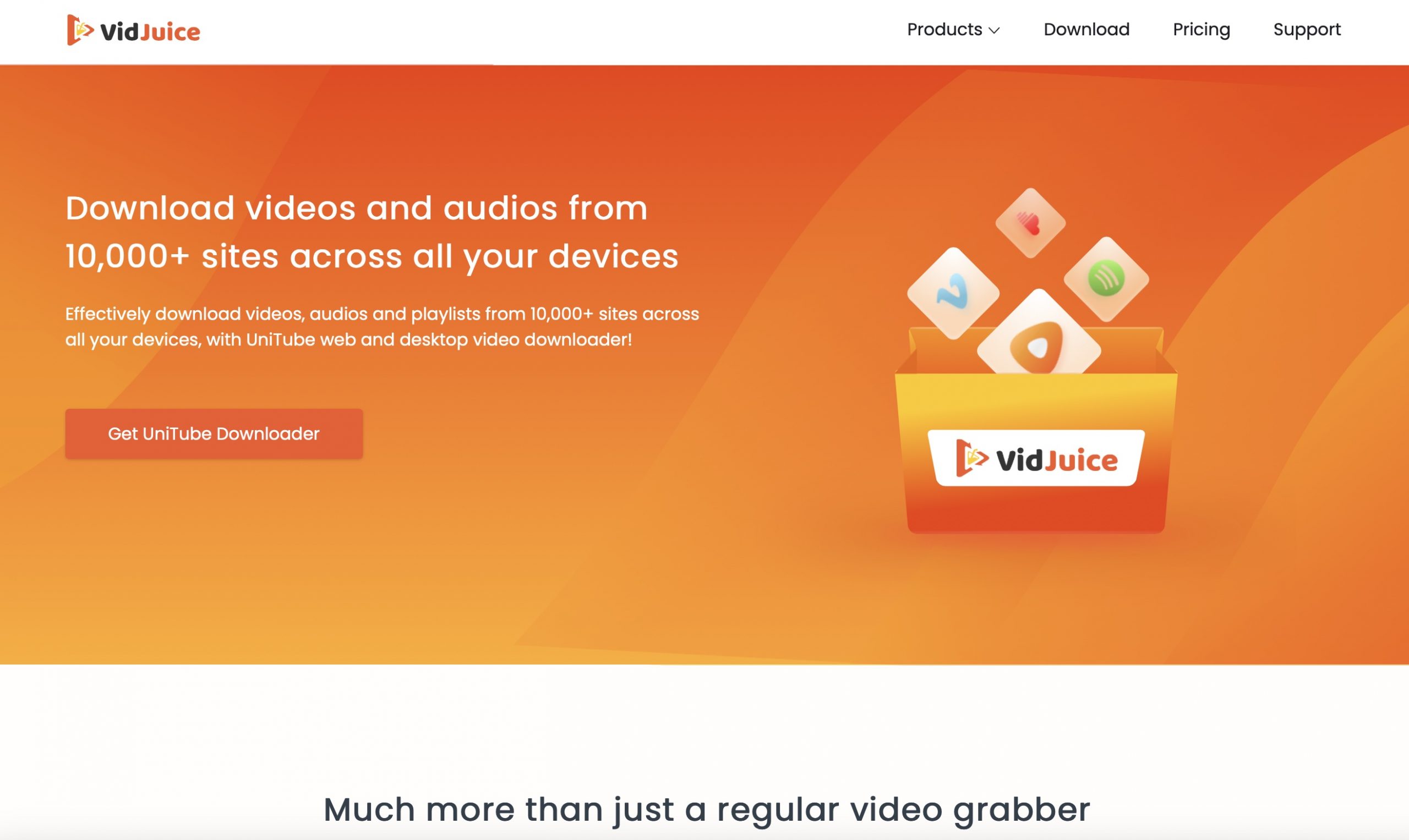 2. VDigger Get FLV
Get FLV is designed with one task in mind, to help you download the videos and convert them straight to flash video, (despite the fact that it has been basically phased out), or to other device type videos. It supports a few hundred websites, and although it has not been updated in a while, it is worth to check out for the simplest of tasks. Pricing starts at $199.95 a year, or $499.95 lifetime.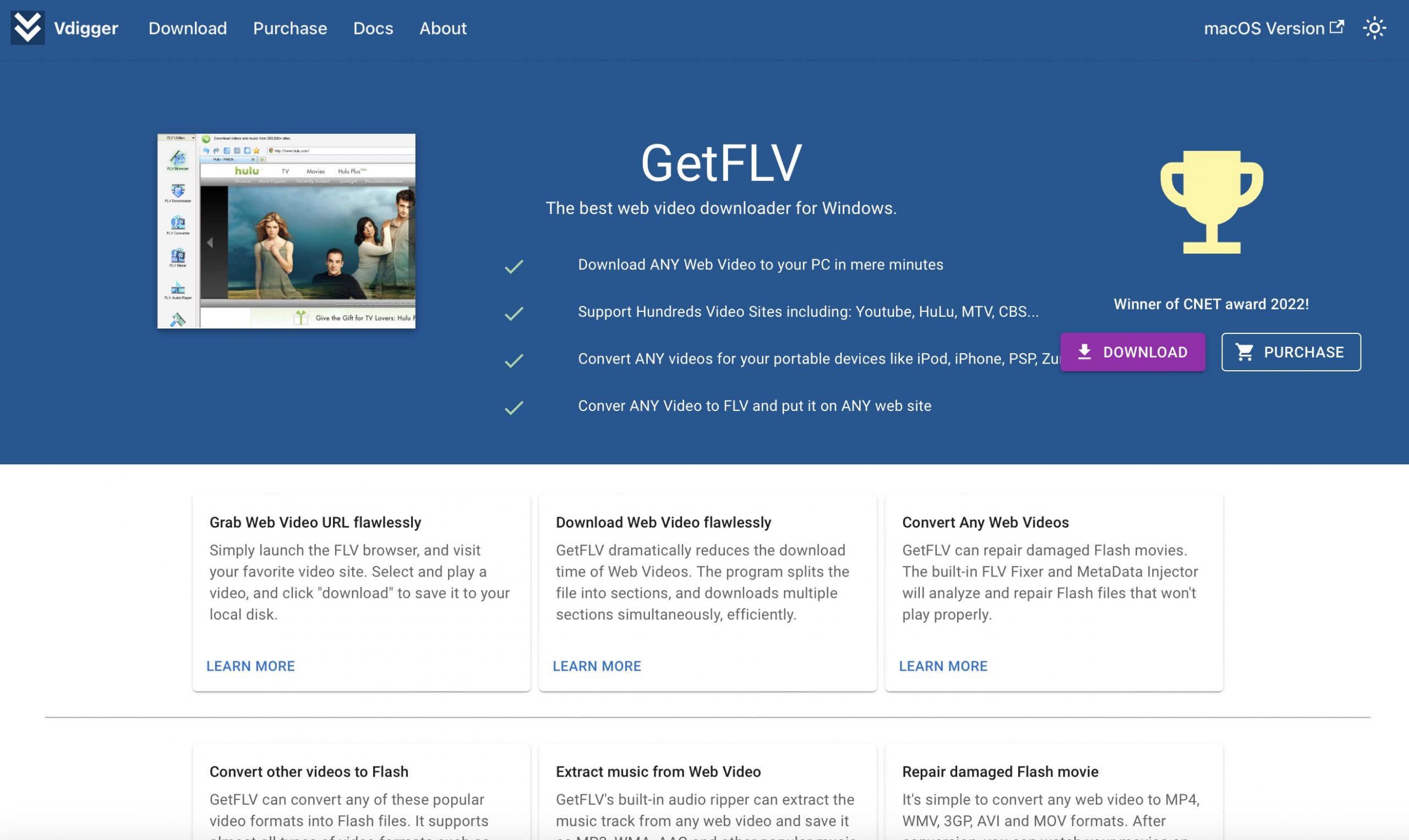 3. Github: Thinki – Downloader
Think Downloader is a php based utility that allows you to download courses from Thinkific based sites like PacktPub for personal offline use. This downloader has been around for about 2 years, and initially this project was bare-bone with the ability of just downloading the Html Content and Lesson Videos. It can do presentation downloads with FFMPEG support to merge audio and video files, it can download quizzes with answers, and all the course videos available. However, Github stuff can be confusing for non-developers.