How to Download Music from Napster to MP3 for Free
Content
Napster is a widely-used music streaming platform that enables its users to listen to and download music from its extensive library. However, the platform's offline download feature provides downloads in a format that is not in MP3 and has a restricted duration of availability. If you are looking to download Napster music in MP3 format for free, there are several methods available that you can explore. These methods include using Napster music downloader tools and free audio recorders to save Napster songs on your device.
How to Download Napster Music for Android/iOS?
If you have a Napster free trial subscription, you will have access to a limited number of downloads that expire after the trial period. On the other hand, subscribers to the Napster Premium or Napster Premier Plus plans can download an unlimited number of songs and albums for offline listening.
To download Napster song on your Android or iOS device, follow these steps:
Step 1: Open the Napster app and sign into your account.
Step 2: Find the song or album you want to download and tap the Download button.
Step 3: The song or album will be available in your offline library once the download is complete.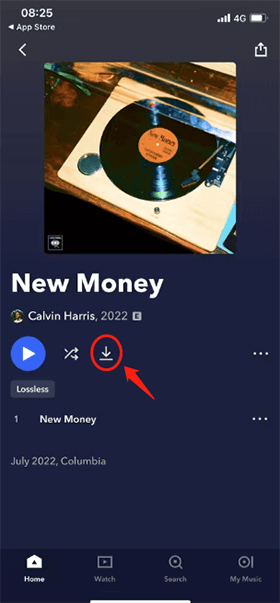 To delete a track from your downloaded list, click on the options menu (represented by three dots) and select Remove from Downloads. If you want to view only the tracks that you have downloaded, you can activate the Offline Mode in your settings.
Note: Downloading music is currently only available on Android and iOS devices. You can try the below methods to download Napster music to your computer.
How to Download Napster Music on Computer for Free?
YT Saver is one of the best and finest tools that allows users to download audio and video files from various websites, including Napster, YouTube, Spotify, Bandcamp, etc. It offers fast and reliable downloads and supports multiple simultaneous downloads. This means you can bulk download Napster songs at once, or you can download complete playlist, album in one click, saving your time.
Furthermore, YT Saver is a web-based tool, which means you can access it from any web browser on your PC or Mac. You don't need to download software or browser extensions to use it, making it a safe and convenient option for downloading Napster music.
How to Download Napster Music to MP3 on PC/Mac for Free?
Step 1 First, navigate to the Napster website and find the song you want to download. Copy the URL of the song from the address bar of your web browser.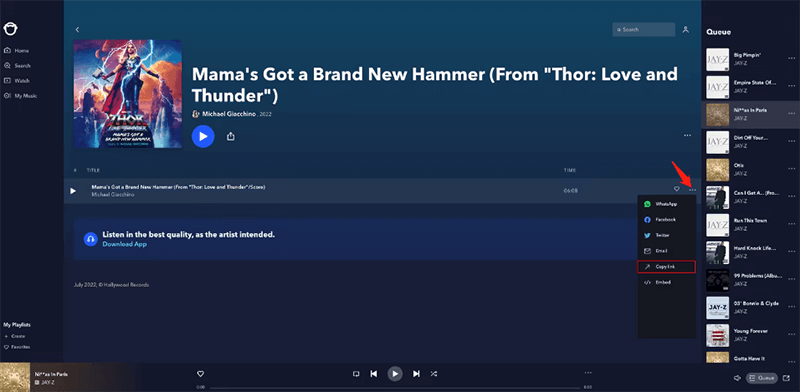 Step 2 Open the YT Saver tool in your computer and choose the output format in which you want to save the Napster song, such as MP3 or MP4. You can also adjust the quality settings if you want.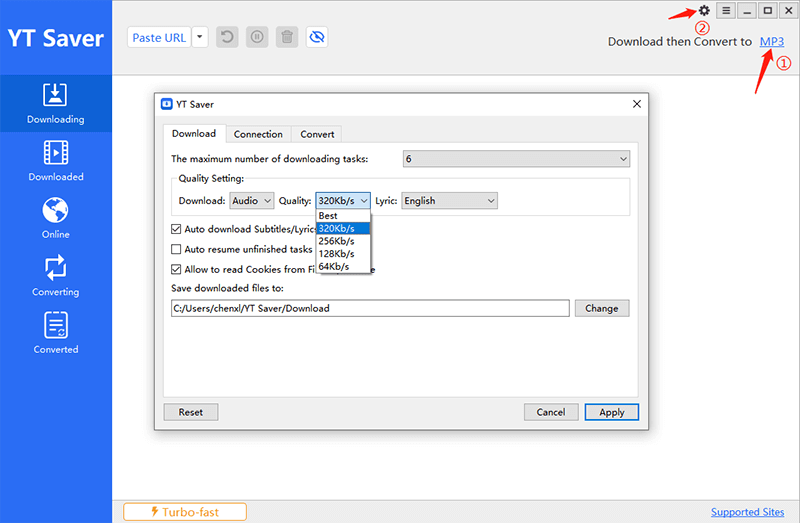 Step 3 Click the "Paste URL" button in the YT Saver tool and paste the Napster song URL you copied earlier. The tool will automatically detect the URL and start downloading the song.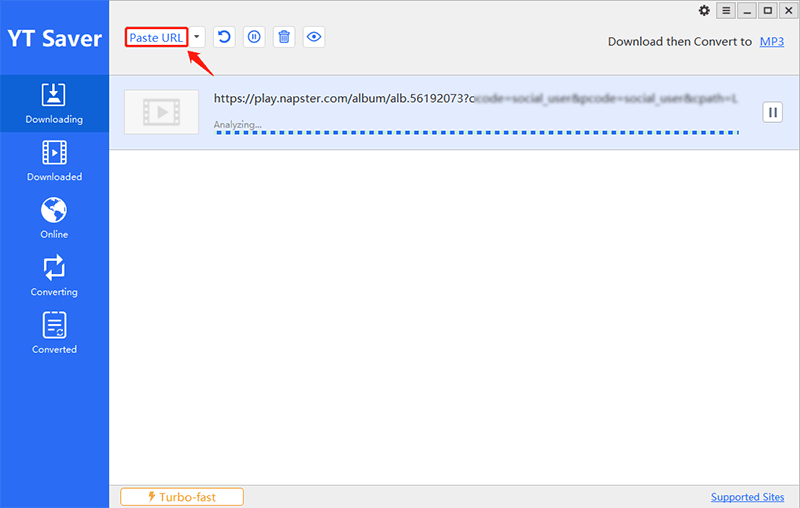 Step 4 Once the download is complete, you can find the downloaded Napster song in the "Downloaded" tab of the YT Saver tool. From there, you can listen to the song directly from the tool or locate the downloaded file on your computer.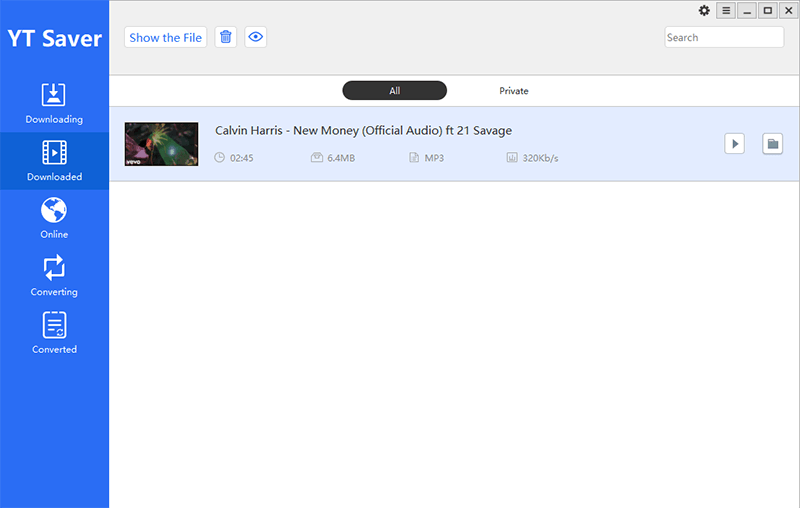 How to Record Napster Music to MP3 for Free?
Apowersoft Online Audio Recorder that works on all platforms without extra fees or subscriptions. With this tool, you can easily record system sound and microphone without any effort. It is perfect for recording music, meetings, and online courses. You can also check the recorded audio file online and start a new recording if you are unsatisfied with the previous one. With HTML5 technology, the recorded audio file maintains its original sound quality, making it a reliable choice for recording high-quality audio.
How to Save Napster Music to Your Computer with Apowersoft?
Step 1: Find the Napster music you want to download and open it on your computer.
Step 2: Open the Apowersoft Free Online Audio Recorder on your browser and click the "Start Recording" button.
Step 3: Play the Napster music you want to download, and the software will start recording the audio automatically.
Step 4: Once the music has finished playing, click the "Stop" button in the software to stop the recording.
Step 5: Save the recorded audio file to your computer by clicking the "Save" button in the software. The downloaded Napster music will now be available in your chosen folder on your computer.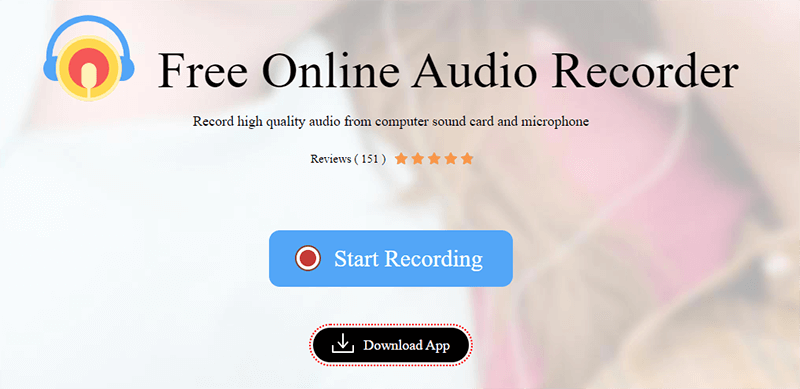 Conclusion
To sum up, there are several ways to download Napster music for free in MP3 format, including YT Saver or Apowersoft Free Online Audio Recorder. These tools make it easy to download music to your computer or mobile device for offline listening. You can access your favourite Napster tracks without any limitations by following the steps provided.
Download music, videos, playlist from 10,000+sites.
Supports multiple file formats, including MP3 and MP4.
Offers high-quality audio downloads, up to 320kbps.
Fast and reliable download speeds.
Retains ID3 tags, including title, album work, lyrics, etc.
Lainey
A Internet technology enthusiasts, editor and content creator who spends most of her time bringing the interesting, entertaining, original and well-written articles to people who love Internet Technology too.