Have you ever received a video through Twitter DM and wished to download it for future reference? Unfortunately, Twitter doesn't offer a straightforward download option to directly download these videos. But don't worry!
In this article, we'll provide step-by-step instructions on downloading Twitter DM videos effortlessly. We'll cover different methods to save videos from Twitter DMs, whether you're using a desktop or mobile device. So keep on reading to know about the best Twitter DM video downloader and other methods to save your favourite Twitter DM videos.
How to Download Twitter DM Videos on Windows/Mac?
With sssTwitter video saver, you can download Twitter videos in a faster and seamless manner. This feature works smoothly across all popular browsers, including windows/Mac operating desktops.
How-to steps
Step 1. You have to open the video that you would like to download.
Step 2. Add sss after HTTPS:// and before twitter.com/ in the video's URL.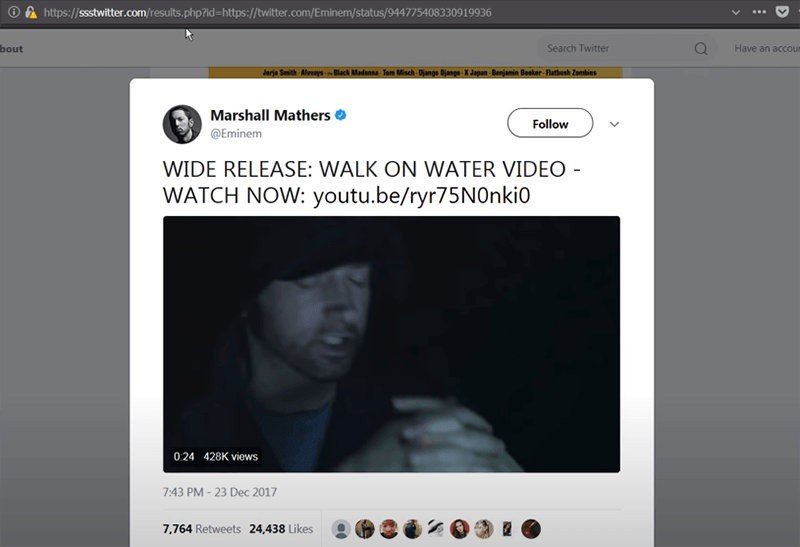 Step 3. Then press the enter key. You will be redirected to another page with a a download option. Select the preferred resolution of your videos and click on download. The video will start downloading automatically.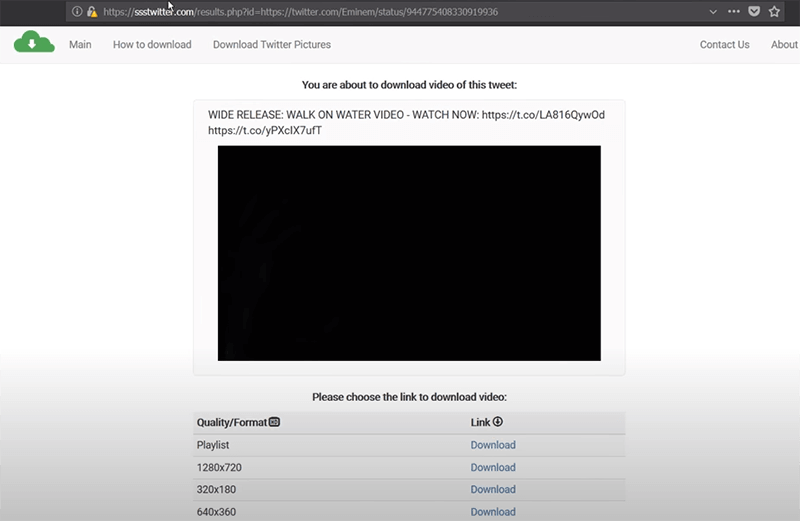 Note: Please keep in mind that you have to open the video or GIF to a single page on your web browser. Otherwise, it will not execute anything and you will not be able to download the video.
How to Download Twitter DM Videos on Android?
The Download Twitter Video-GIF android app provides a fast and simple solution for downloading your favorite Twitter videos and GIFs directly to your device. It also enables you to easily access your saved videos and share them with friends or watch them offline, without wasting internet traffic. The app features an in-built player, so you can preview videos before downloading, as well as a passcode feature to secure your saved videos.
How-to steps
Step 1. Get Download Twitter Video-GIF app from the Play store and install it to your Android device.
Step 2. Click on the video or GIF you want to download and open it to a new page.
Step 3. Click on the share option on Twitter and open it using Download Twitter Video-GIF.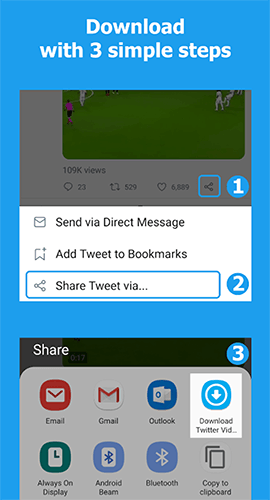 Step 4. There are different resolution options available for users. Click on download to download your preferred video.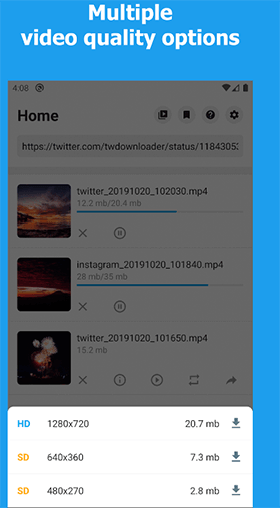 How to Download Twitter DM Videos on iPhone Using Recorder?
Unlike Android devices, installing third-party free apps on iPhone is quite difficult. However, a simple way to download Twitter videos from DMs on an iOS device exists. There is no difficulty to save the desired video to your device by utilizing the screen recording option.
The screen recording feature on iOS allows you to capture your screen activities, including playing videos from Twitter DMs. With this screen recorder, it is easy to record and save the video you want to download. Moreover, this method does not need any external apps. Take a look how to save videos from Twitter DMs on iOS devices.
How-to steps
Step 1. Open your Twitter account and navigate to your DMs. Open the account with the video you want to download. Now play the video in full-screen mode.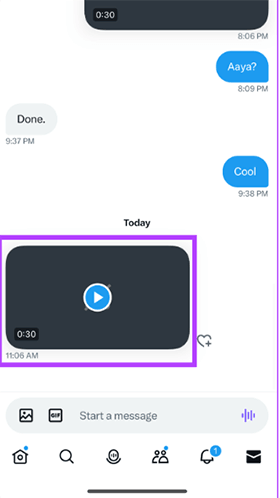 Step 2. On your device, open Control Center and tap the Record button to begin recording. Alternatively, you can go to Settings and select Control Center if you aren't able to see the Record button.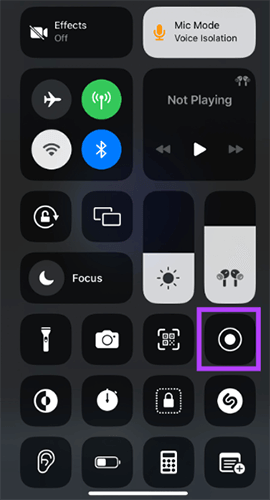 Step 3. When the video is finished playing, tap the red Record button in the top navigation bar to stop recording.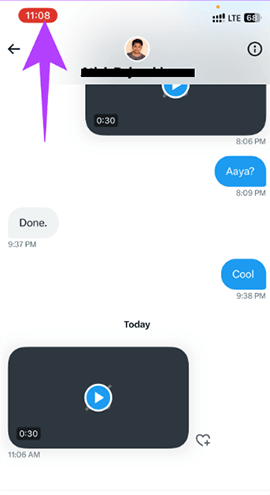 Step 4. In the prompt labeled 'Stop screen recording,' select Stop to end the recording process.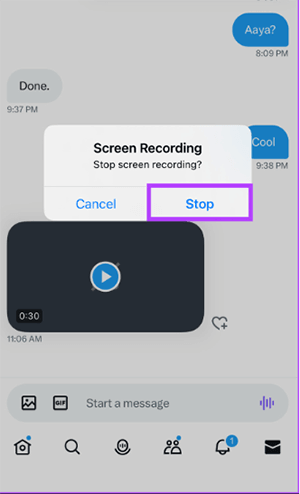 How to Download Twitter DM Videos with Chrome Extension?
Video Downloader PLUS Chrome extension offers a convenient way to download and save videos from almost all websites, including Twitter DM. This extension enables you to download multiple videos at the same time and detects and saves any media type, including MP4, WMV, FLV, SWF and MP3. For Chrome it works as a Twitter DM video downloader.
In addition, Video Downloader PLUS can record video streams online, making it a versatile tool for video downloading. The extension is easy to use and available for free, providing a hassle-free experience for users.
How-to steps
Step 1. Open google Chrome store and search for Video Downloader Plus.
Step 2. Then click on Add to Chrome.
Step 3. Now go to your Twitter account and open the DM video you want to download.
Step 4. After playing the video, click on the extension. The add-on will show you the download option. Click on download, and it will redirect to you to its official page.
Step 5. Now click on Download your video to save the video.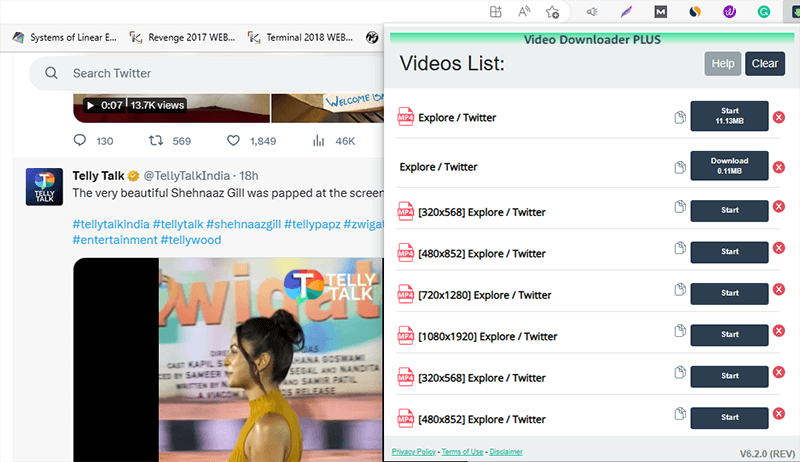 How to Download Twitter DM Videos on Firefox?
Want to know about Firefox Twitter DM video downloader? Twitter Media Downloader is a dedicated Firefox extension that allows you to download videos from Twitter.
How-to steps
Step 1. Open Firefox Add-on store and search for "Twitter Media Downloader by 風柳 ".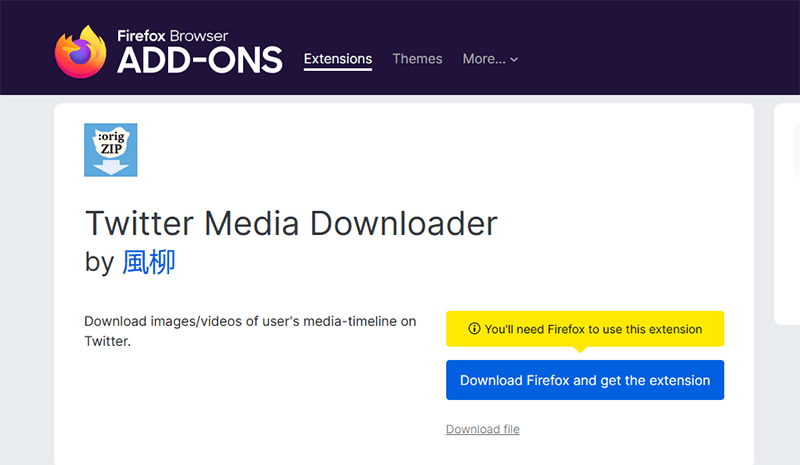 Step 2. Click on Twitter media downloader and install the add-on.
Step 3. Once the extension is added you will see two new options available on Twitter pages: Like and Media. Now go to the DM video you want to download.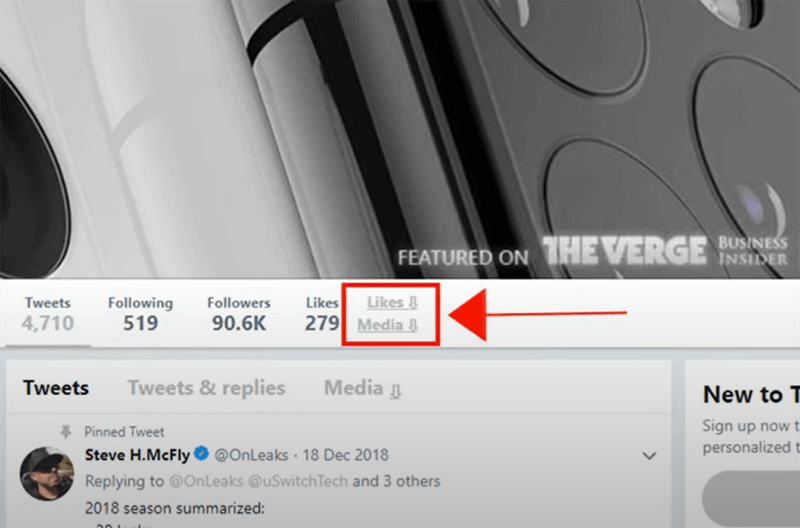 Step 4. Click on the Media option and then click Start to begin downloading the media.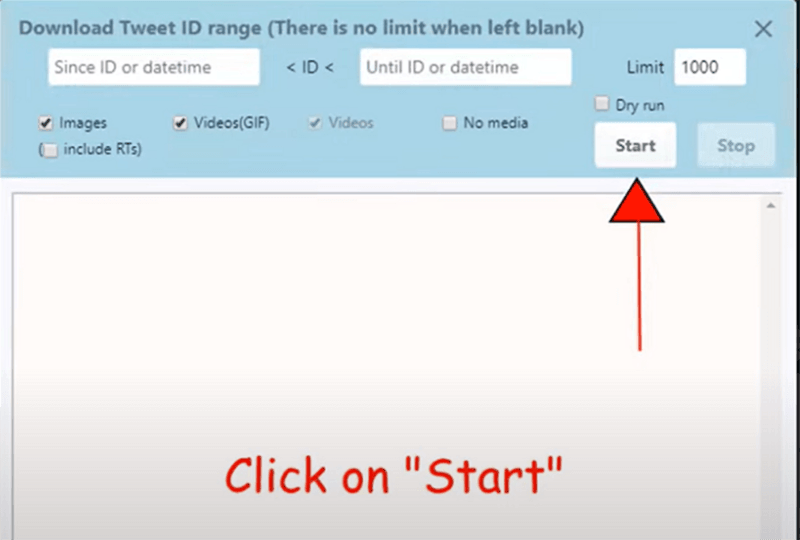 Step 5. You will see that the download has started. Once it is completed, a zip file will be created in your downloads folder.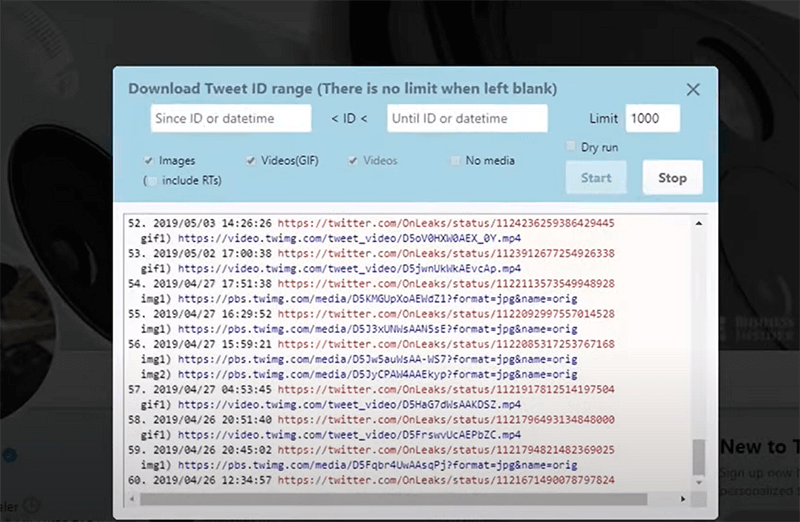 Step 6. Use any archiving software to extract the media files.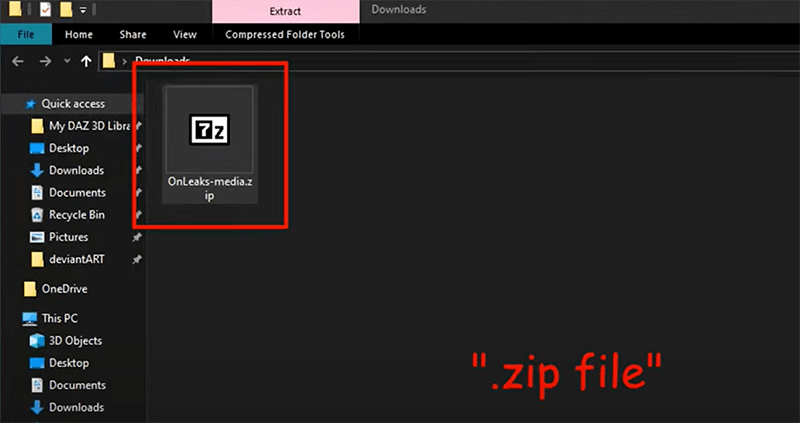 Bonus Tip: How to Download Twitter Videos from A Tweet?
YT Saver Video Downloader is a versatile tool for downloading videos/ music from different platforms, including Twitter. With the help of YT Saver, users can batch download videos with a variety of output high quality, like 4k and 8k. It is also easy and safe for users to batch downloads and convert them to different formats, including MP4, MOV, AAC, and WAV.
YT Saver enables users to save videos from more than 10,000 compatible streaming platforms without a watermark. Besides, the built-in browser of YT Saver lets you browse media and download video and audio directly from websites.
Supports 10,000+ online websites, including Twitter, Youtube and Tiktok
Download videos from Twitter in HD/4k
Save videos as MP4, MP3, MOV, AAC, etc.
Bulk download multiple videos in one click
10X faster downloading speed
How to download Twitter DM videos with YTsaver in a few steps?
Step 1 Copy the video URL you want to download from Twitter website or app.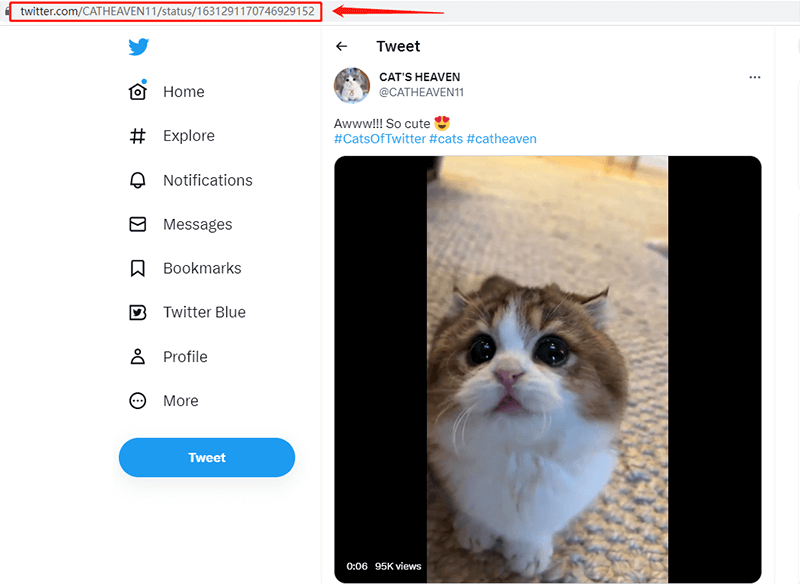 Step 2 Open the software, and choose the output format, quality you want, like MP4 and 4K.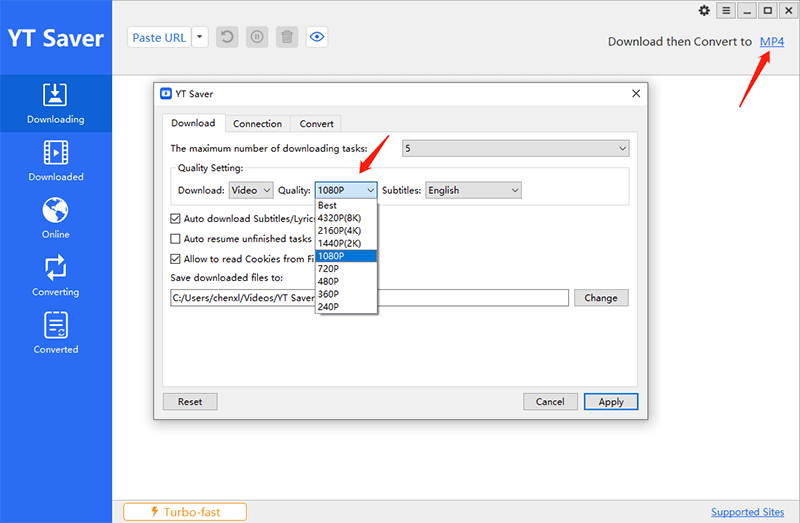 Step 3 Click the Paste URL, YT Saver will analyze the link and the video will start downloading automatically after analyzing.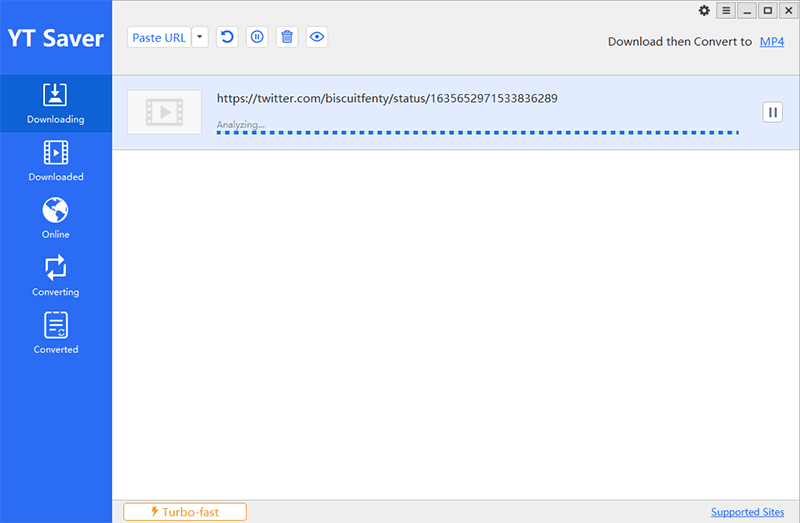 Step 4 Find the video on the downloaded tab, and enjoy it whenever you want without hassle.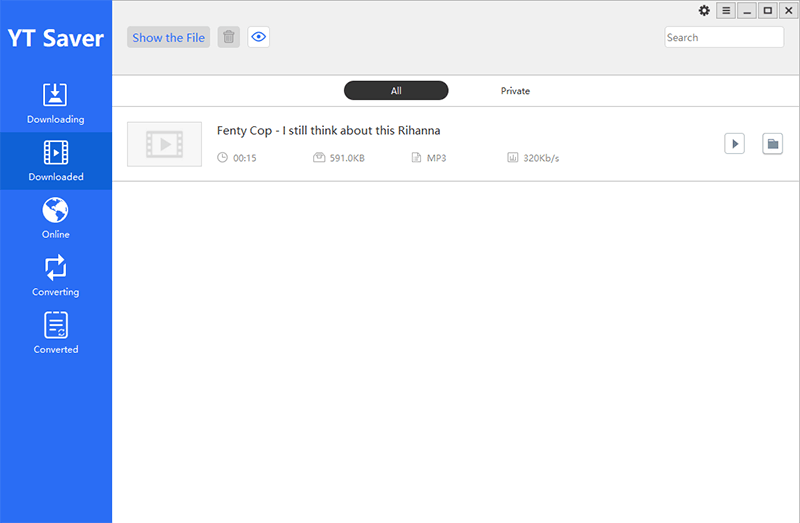 Final Words
Downloading Twitter DM videos is a relatively simple process that can be completed using various tools and methods. Whether you prefer to use an online Twitter DM downloader, browser extension, or specialized software, plenty of options can help you quickly and easily download your preferred Twitter DM videos.
In case you're looking for an easy and convenient way to download Twitter DMs or videos from other platforms, YT Saver is a good option. Following the steps outlined in this article, you can download Twitter DM videos today and enjoy your favourite content offline whenever you like.