AfreecaTV Downloader – How to Download Live Videos from AfreecaTV
Content
AfreecaTV (short for short for "Any FREE broadCAsting") is a South Korean P2P-based live streaming platform, comparable to Twitch. As a matter of fact, it is one of South Korea's biggest live-streaming platforms. It was founded in 2006, which also makes it older than Twitch which was founded 5 years later in 2011. Although AfreecaTV.com features more video game streamers, it also has IRL streamers. IRL content is made up of mukbangs (which if translated to English means 'eating broadcast'), that is chatting sessions, study sessions, and exotic dances. Broadcasters on AfreecaTV are known as BJs (Broadcast Jockeys). Do you have more questions about AfreecaTV? If so, continue reading to find some answers to some common questions about AfreecaTV.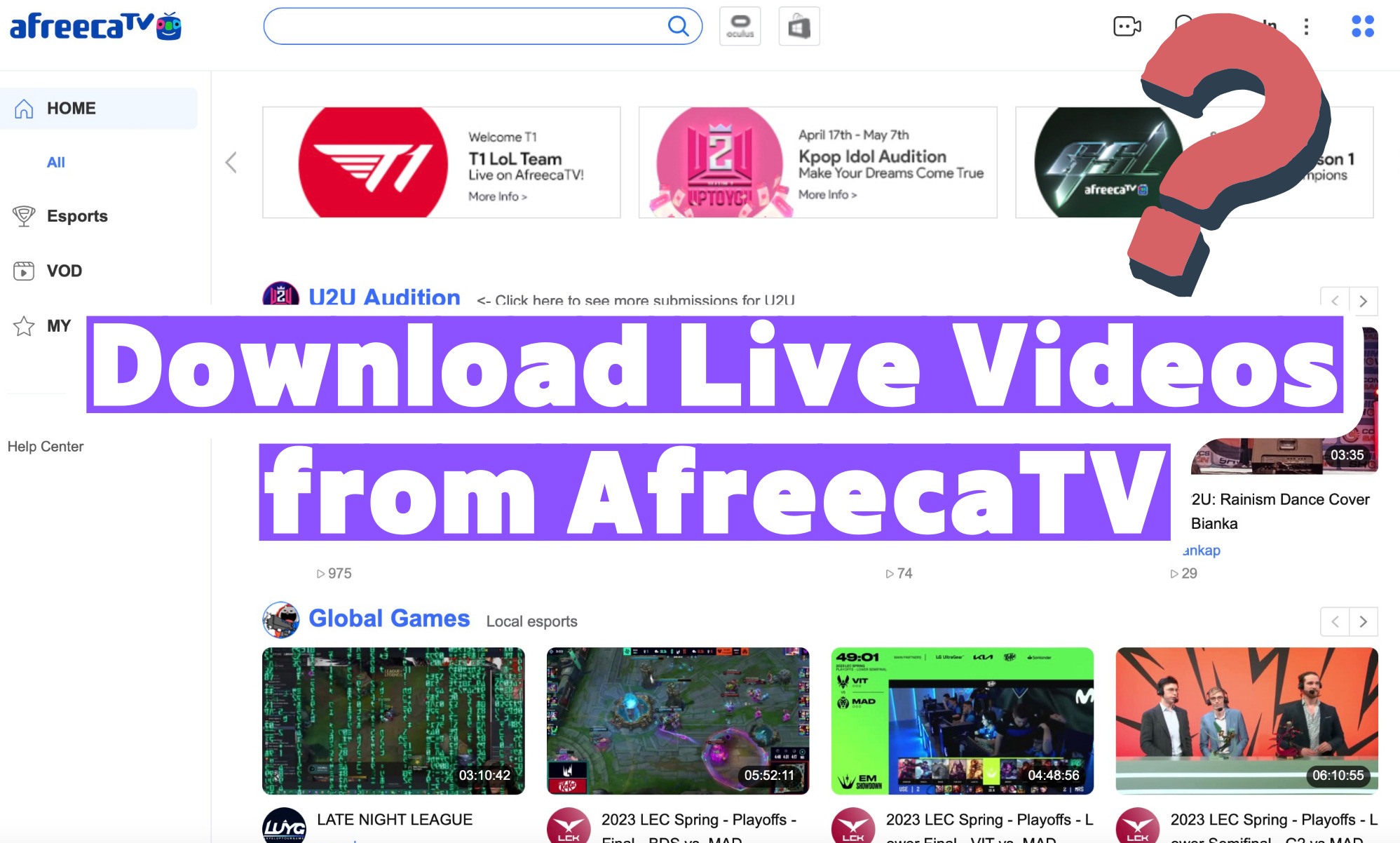 Does AfreecaTV Keep Archives?
AfreecaTV is predominantly a live streaming platform, and if we are being honest, you probably cannot catch each and every one of your favorite stream. For that reason, AfreecaTV.com does have a feature, which they call VOD. VOD essentially saves all livestream videos (including AfreecaTV K-pop, AfreecaTV 19-essentially AfreecaTV porn, and AfreecaTV esportsetc.) to AfreecaTV servers, so that you can still watch them, even if you miss them live. VODs eventually get deleted, although some player archives have older VODs that are permanently saved on AfreecaTV servers.
How to Download Live Streams from AfreecaTV for Backup
Gamers and K-pop fans who are addicted to the Korean wave will definitely have a positive experience through watching AfreecaTV. You can also agree with the fact that each livestream, whether the theme is gaming, K-pop or esports is unique, which is why saving some for offline playback, and as a form of a backup is such a big deal. Unfortunately, AfreecaTV by default does not grant users the ability to download videos for offline playback, whether it is a livestream video or VOD. In that case, you would need a tool that can save both AfreecaTV.com VOD and livestreams, such as YT Saver Downloader.
YT Saver is an advanced internet video downloader, that supports standard videos, as well as live-stream videos. It is very efficient when it comes to downloading videos, which is coupled by its ease of use, and its support for over 10,000 websites. YT Saver has been mentioned on sites such as iLounge, Softpedia, TechTimes and it has a 4.8/5 star rating on TrustPilot. Therefore, how to download AfreecaTV VOD and livestreams? Before you use YT saver as a AfreecaTV downloader, checkout its features and benefits.
It allows you to browse for the video and audio sharing sites easily with a built-in web browser
The software can support over 10,000 websites, including OnlyFans, Fansly, YouTube, Facebook, and more.
It can download complete playlists and channels.
Supported video resolutions for downloading range from 320p, 480p, 720p, 1080p, 2K, 4K and 8K.
The downloaded videos can be converted to MP4, 3GP, MKV, WMV, AAC, WAV, OGG, etc.
It has a built in Private Mode. You can protect some videos and audios from prying eyes.
How to download free AfreecaTV live videos with YT Saver?
Step 1: Download the newest version of YT Saver on your PC or Mac. The software packages are available to download from the provided buttons.
Step 2: Open YT Saver & Set the output format. Click on the "Settings" icon on the upper right corner of the interface. From the "Download" tab of the "Preferences" window, choose video or audio, and choose the desired quality for the files to be downloaded.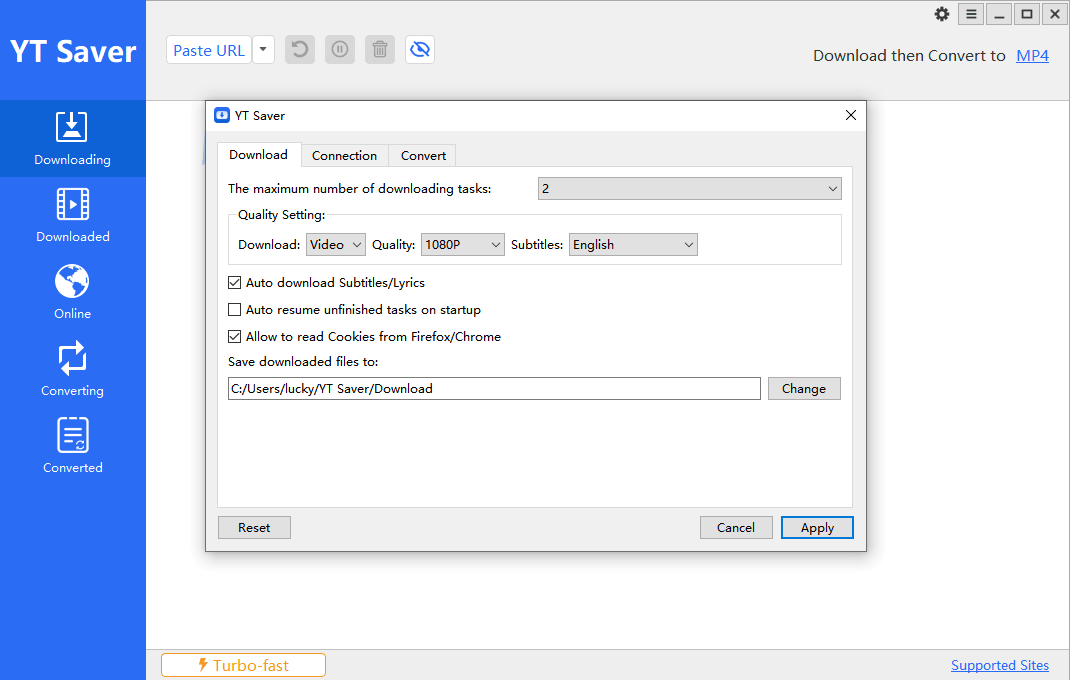 Don't forget to select the needed video/audio format. The default output format is MP4, you can change it right here.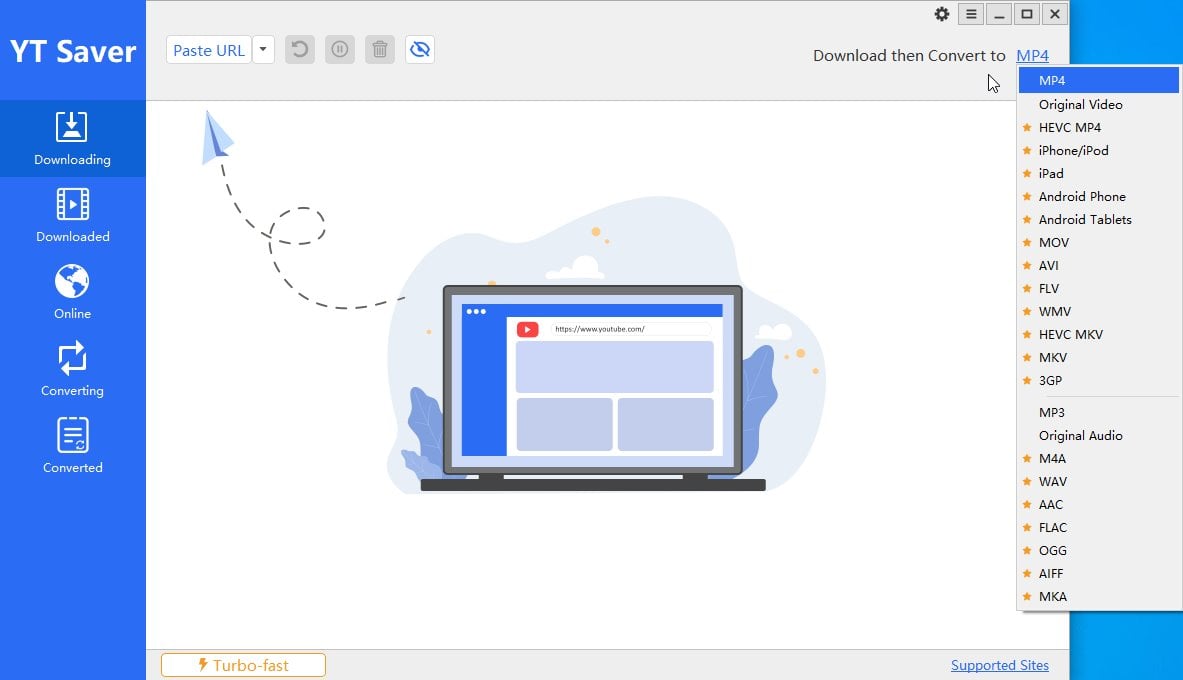 Step 3:
Launch the software to start downloading the videos from AfreecaTV. Visit AfreecaTV, and find the AfreecaTV video you want to download. Copy the URL, and if you saved the URL elsewhere, you can skip this step.

Step 4:
Paste the copied URL. In the software's interface, all you need to do is simply click the "
Paste URL
" button, and it will automatically start analyzing the video link.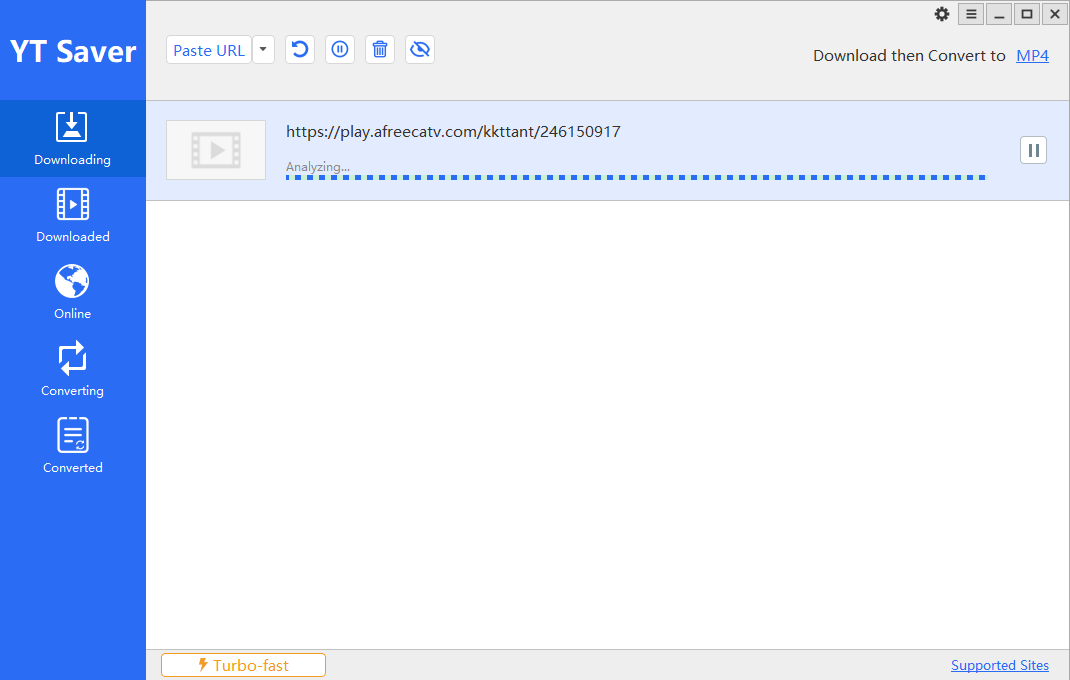 Step 5:
Check the downloaded live stream. All the downloaded task will be archived in "
Downloaded
" panel, where you can also move specific downloaded videos to Private folder.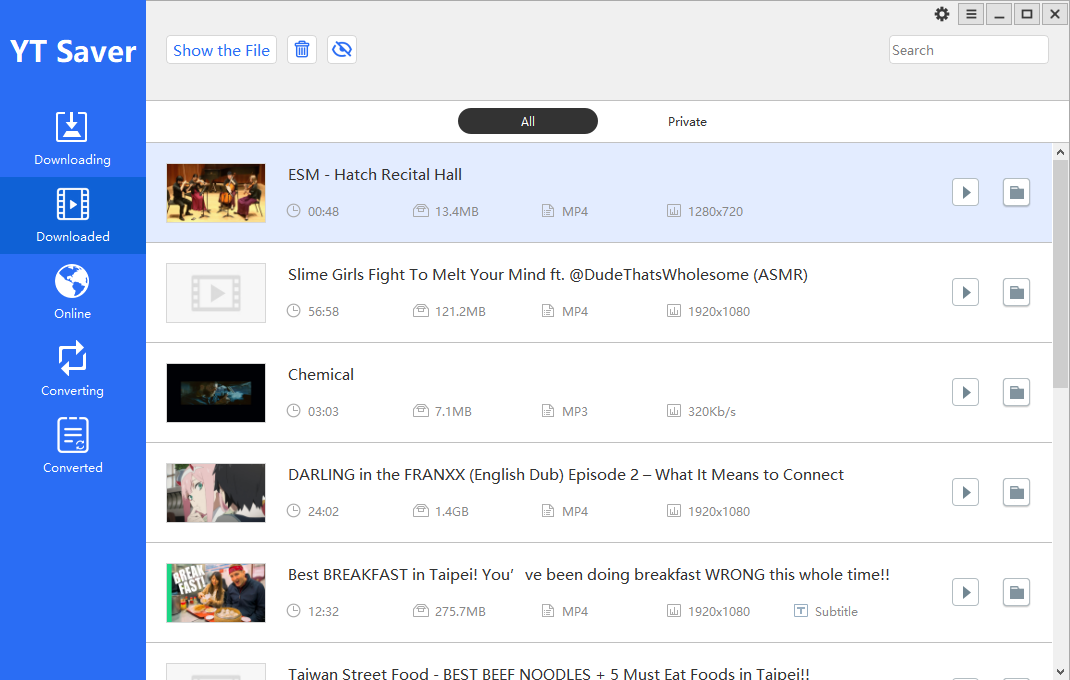 Disclaimer:
YT Saver is a program intended for personal use only, and cannot under any circumstances be used for commercial purposes. The downloading of video and audio files from some websites in certain areas, countries or regions is subjected to local laws, which you should be aware and taking note of.
Answers to Common Questions
Outside of Korea, AfreecaTV.com is a smaller video sharing platform, which is why users who come across it have many questions to ask about it. If you are one of those people who still need answers to some common questions about AfreecaTV, you are lucky to be here. Here are some questions and answers about AfreecaTV.
1. Can You Watch AfreecaTV Outside of Korea?
Yes you can, you can definitely watch AfreecaTV outside of Korea, because it is open to the entire world. Most of the content is in Korean language, so it is better if you have an understanding of the language.
2. How to Watch AfreecaTV 19?
AfreecaTV 19 is a guideline for adult streams, since it is open to the entire world. The AfreecaTV policy requires streamers to place a 19+ age restriction when streaming violent/graphic content, alcohol and smoking themed streams, gambling, and AfreecaTV porn. To enable this, you need to go the [Main Page > GO LIVE > Stream Settings > Check 'Adult Settings'] on the website. For Android, go to [GO LIVE > Stream > Setting > Tap on 'Adult(+19)']. The option is not available for iOS, and the service will manually check for you.
3. What are the differences between AfreecaTV VOD and AfreecaTV Live Stream?
It may be impossible for you to catch every livestream from your favorite content creator, and that is why AfreecaTV VOD exists. A VOD is essentially a saved livestream, which is archived on the AfreecaTV.com servers. A livestream is what it is, that is a live transmission of an event over the internet, as it happens.
4. How to watch past VOD from AfreecaTV?
To do this, you first login and search the streamer's name from the search bar located at top of AfreecaTV main page, or click VOD drop-bar located at the top left corner of the Afreeca TV.
5. Can I change the quality of a VOD or livestream from AfreecaTV.com?
Yes, and as a matter of fact, this is a standard feature of all streaming platforms. To do it, you drag your cursor to the bottom right empty corner of the screen to locate the 'Source' tab. Click it, then choose the quality between High and Medium.
6. Is it possible to report a stream?
Yes, it is possible to report a stream. There are streamers and viewers who violate AfreecaTV's terms and policy. To report them, make sure you are logged into your account, and take a screenshot or screen recording of the scene you want to report. Once you finish it, find the chat box next to the Live/VOD screen to connect with support, whom will receive your report.
7. Is it possible to use VR with AfreecaTV?
Yes, it is possible to play content in VR on AfreecaTV, powered by Steam. That means you would need to download and install Steam on your computer. Find out more from this link.
8. Can I stream AfreecaTV with capture mode?
With the AfreecaTV app, you can definitely stream content with capture mode. You would need the newest version of the AfreecaTV app. Read more about the specific steps here.

Manuel
As a Tech geek, Manuel is obsessed with technology and spend most of his time exploring it. The technology has become his life and he is enthusiastic about sharing all new tech gadgets that make him excited.