Spotify is a digital music, podcast, and video service that gives you access to millions of songs, podcasts and other content from creators all over the world. It is in the top five of the world's most popular music streaming websites, with its biggest competitors being Apple Music, Pandora, YouTube Music and Amazon Music etc. The basic functions of Spotify, such as playing music, getting recommendations according to your taste, building collections of music and podcasts and a few more are totally free, but you can also choose to upgrade to Spotify Premium.
Spotify Premium, which costs $9.99 a month has the following benefits;
Allows you to download music for offline playback
Allows you to listen to music without ads
Allows you to play any song (even on mobile)
Gives you unlimited skips
Gives you access to premium sound.
Spotify has apps available for Windows, macOS, iOS, and Android. If you prefer not to install the Spotify app, there is also a Spotify online web player. Here is a complete guide on how to use Spotify web player.
Part 1: Complete Guide – How to Use Spotify Web Player
The Spotify web player is a platform that lets music lovers stream music and podcasts without downloading and installing the Spotify app on their devices, which is ideal if you need to reduce the number of apps installed on your device. So how can you use web player Spotify? To access the service, you need to visit the Spotify web version, then follow these easy steps;
Step 1: When you have visited the Spotify web version, you need to login or sign up for the service.
Step 2: When you have logged in, you should see a simple layout. The left pane lists your available options, with Search, Home, Your Library, and Recently Played being the first four you will see. You will also find the following on the homepage;
Quick links at the top (which are Featured, Genres, New Releases, Charts, Podcasts, and Discover).
Suggested music based on your preferences from your usage history.
Recently played music or podcasts.
"More Like" sections with specific artists related to your music tastes.
Themed suggestions based on the day of the week or special holidays.
Top music lists.
Recommended podcasts.
Step 3: Start streaming music with Spotify web version. When you open the 'More menu' for individual tracks, you should be presented with the following options:
Start Radio: Launches a special Spotify Web Player feature and plays songs related to the artist, playlist, or song you launched it from.
Save to Your Library: Stores the song in your library for easy access later.
Add to Queue: Lines up individual tracks in the order you want to listen to them.
Add to Playlist: Quickly saves tracks to any of your playlists.
Copy Song Link: Shares the track to friends on social media or in an email.
Part 2: How to Save Music from Spotify Web Player – No Need to Log in!
The Spotify Web player, which allows users to stream music and podcasts is a pretty neat pretty neat solution for desktop devices, and for people who wish to listen to Spotify without installing the Spotify app on their devices. With millions of songs and podcasts on their library, users have been searching for ways to download from Spotify online web player. To download from Web Player Spotify, you only need YT Saver Downloader, a perfect solution which does not even need a Spotify web player login. It has been mentioned on sites such as iLounge, Softpedia, TechTimes and it has a 4.8/5 star rating on TrustPilot. With YT Saver, you can easily and quickly download internet videos and audios from many of the popular sites, like downloading MP3 audio from TikTok.
How to download free movies online with YT Saver?
Step 1: Download the newest version of YT Saver on your PC or Mac. The software packages are available to download from the provided buttons.
Step 2: Launch YT Saver and set the output format. There is a switching option in the upper right corner of the homepage to set the output audio/video format. In this case, user can convert Spotify music to original audio/MP3/M4A/MKA/WAV/AAC/FLAC/AIFF/OGG.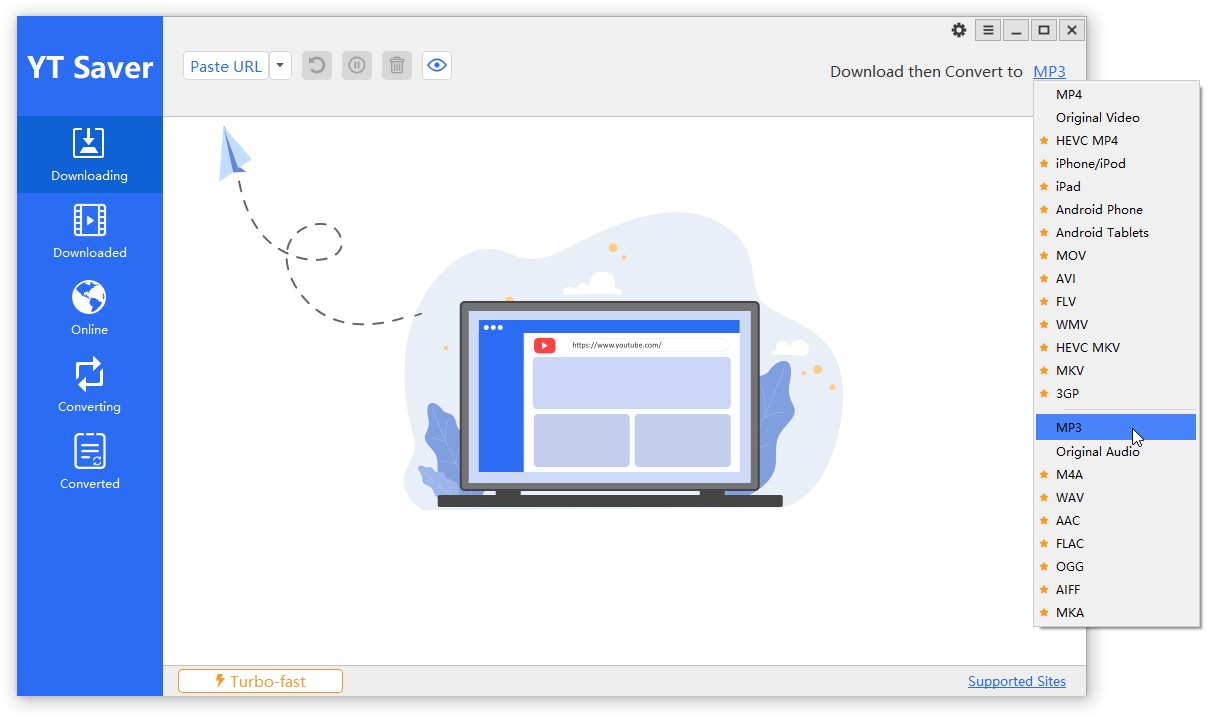 Step 3:
Visit the Spotify website, find the playlist with the songs you want to download by searching or finding it on the home page. When you find the specific song you want, click the three dots at the right end, and from the menu, go to 'Share' then select the "Copy Song Link" option.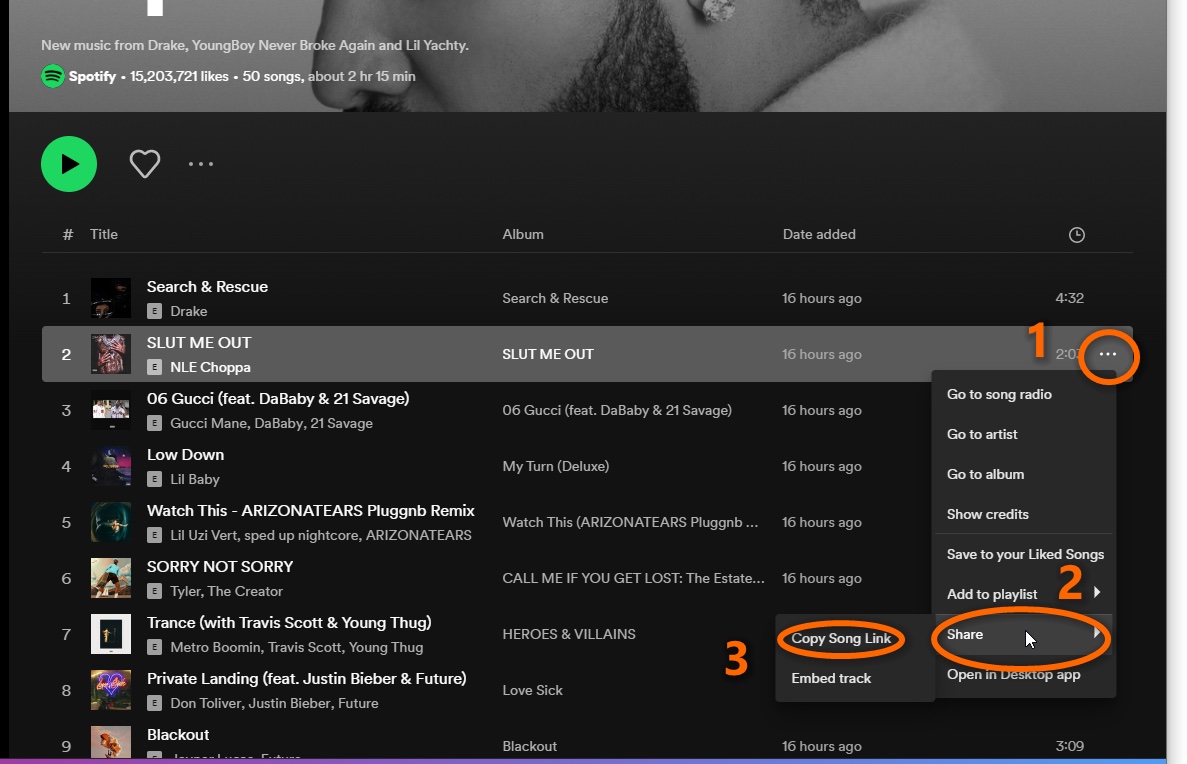 Step 4:
Paste the copied URL into YT Saver. You simply click the "Paste URL" button, and it will automatically start analyzing the link.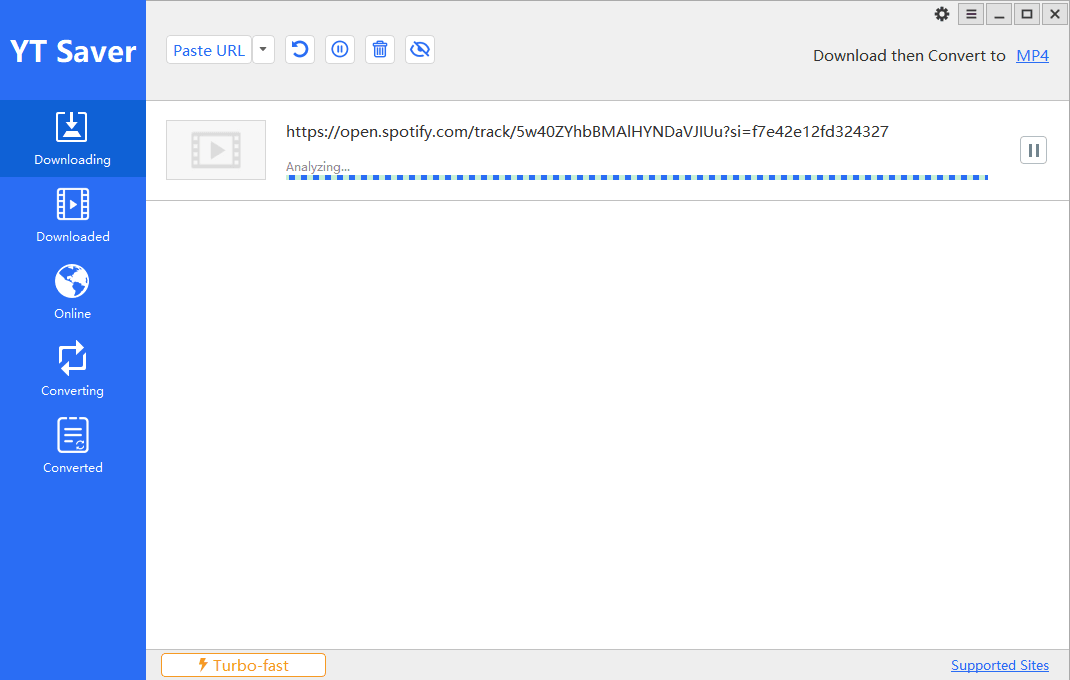 Step 5:
Start the download. When you paste the link as in the previous step, the download will initiate. You will find the download files on the 'Downloaded' tab, which is the second option on the left menu.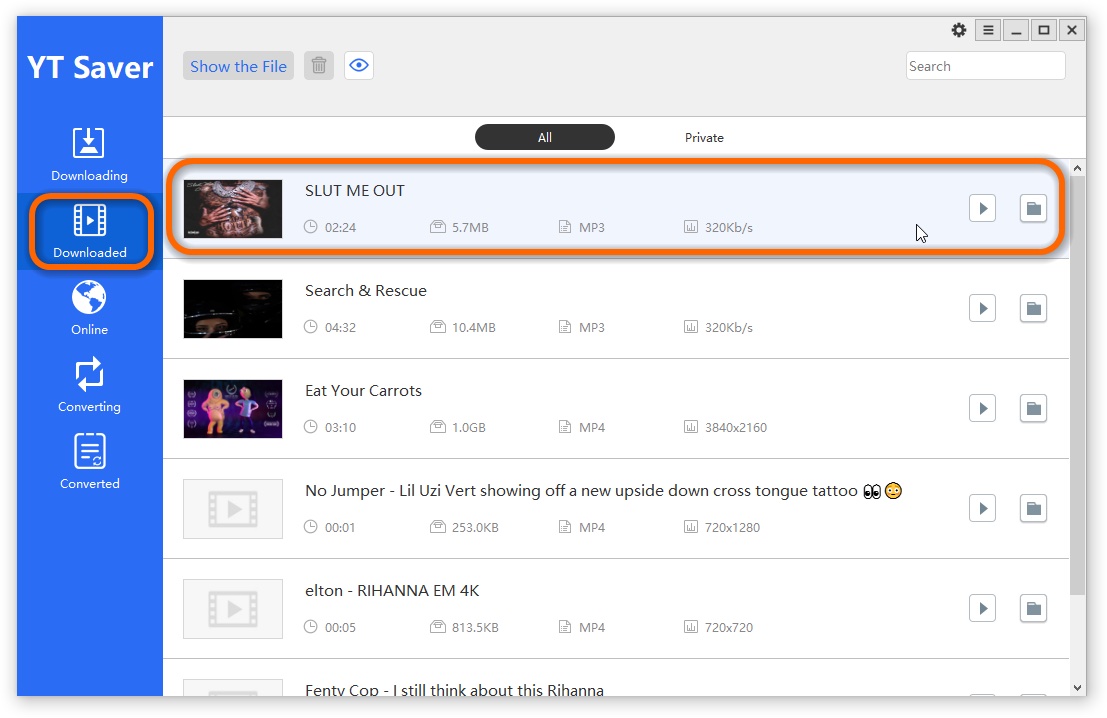 Part 3: FAQs about Spotify Web Player
Do you still need to know more about Spotify online player? Here are some frequently asked questions about Spotify web player that you may also be looking for answers.
1. What is the most listened song on Spotify?
"Blinding Lights" by the Weeknd is the most-streamed song on Spotify, with over 3.5 billion streams.
2. How to you select multiple songs on Spotify web player?
It is quite easy actually, you simply hold down the control (Ctrl) key on your keyboard, while clicking on the songs you want to add to your queue to select multiple songs.
3. Is Spotify web player free to use?
Yes, you can definitely use Spotify web player for free without paying anything. However, you can only listen to what the player randomly offers you, as you have to pay to listen to specific songs you want.
4. Are there any differences between the Spotify web player and the app?
The differences are there, but relatively very small, such as the layout. However, Spotify's easy-to-use interface is implemented in all versions of Spotify, even the web player, and therefore the small differences will not affect how you use it.
5. Can you download songs on Spotify online player?
It is not possible to download songs from the Spotify web player, which is one major difference it has with the app. You would need tools such as YT Saver for that.
6. Can you use Spotify web player on mobile devices?
Yes, it is possible to use Spotify web player on mobile, even if mobile apps exist, and are more popular on mobile.
7. Spotify web player keeps pausing. What should I do?
Streaming music and videos generally requires a lot of internet bandwidth. If your player keeps pausing, you would want to make sure that your Internet connection is stable, then you can try again.