3 Free Ways to Download ReverbNation Music to MP3
Content
ReverbNation is a popular online music platform that allows musicians to showcase their talents and share their music with the world. While you can listen to music on the platform for free, downloading songs from ReverbNation to MP3 can be a challenge. In this article, we'll explore three free ways to download ReverbNation music to MP3, including the use of a ReverbNation music downloader tool.
Official Way to Free Download ReverbNation MP3 Music
The official ReverbNation website provides a way for users to download music for free directly from the platform. To take advantage of this feature, follow these simple steps:
Step 1: Start by accessing the ReverbNation search page by clicking on the link here: https://www.reverbnation.com/main/search.
Step 2: To download music from ReverbNation, select "Artist" from the drop-down menu and check the box labeled "Free MP3s Required." Click on "Refine Results" to see all the available free MP3s.
Step 3: Once you have found a free Reverbnation mp3 download, click on the play button located at the lower left corner of the music. This will add the song to the player at the bottom of the page, and it will start playing automatically.
Step 4: To download the music from ReverbNation, click on the download button located on the player. This will start the download process, and you will have the MP3 file saved on your device in no time!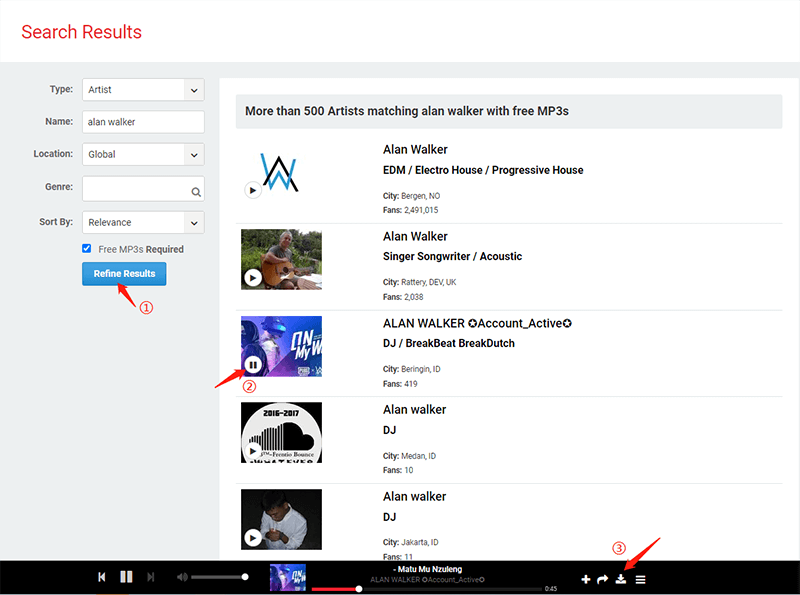 Best Way to Download ReverbNation Music for Free
In case you encounter an issue where the download button for a particular song is greyed out and not clickable, don't worry. There's another way to download ReverbNation music for free by using a dedicated tool called the YT Saver Music Downloader.
YT Saver is a reliable and safe ReverbNation music downloader tool that does not require any registration to download songs. This tool enables you to download MP3 files from ReverbNation with just a few clicks, and it also supports batch downloading, which allows you to download multiple songs at once, saving you time and effort.
One of the significant advantages of using YT Saver is its high-speed download feature, which allows you to download music from ReverbNation quickly and efficiently. Additionally, the tool offers a wide range of output formats and quality options, so you can choose the one that suits your needs and preferences.
How to Download ReverbNation Music to MP3 on PC/Mac for Free?
Step 1 Go to ReverbNation and find the song you want to download. Copy the URL of the song from the address bar of your web browser.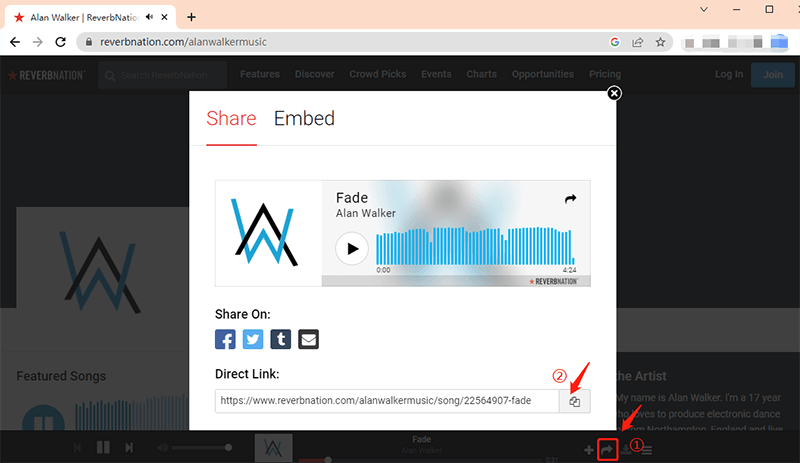 Step 2 Download and install YT Saver on your PC/Mac. Launch the software and choose the output format (MP3) and quality you want for the downloaded song.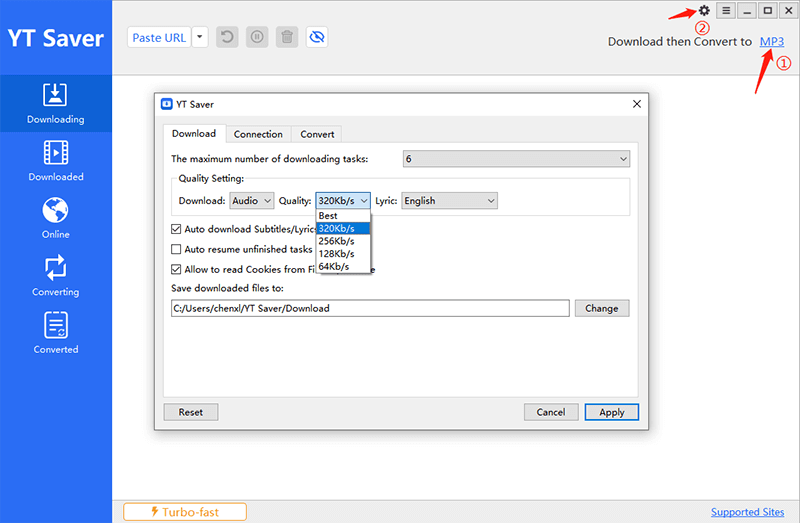 Step 3 Click the "Paste URL" button on the software's interface, and the song will start downloading automatically.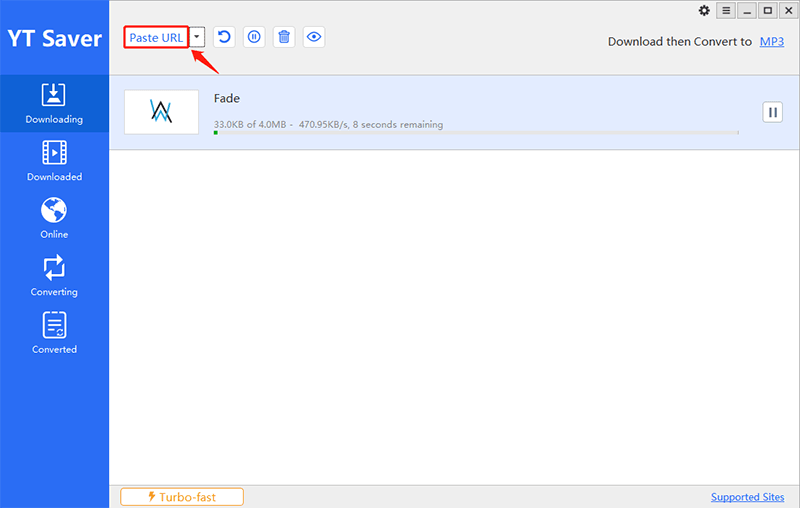 Step 4 Once the download is complete, you can find the downloaded ReverbNation song in the "Downloaded" tab of the software. From there, you can play the song or transfer it to your preferred music player or device.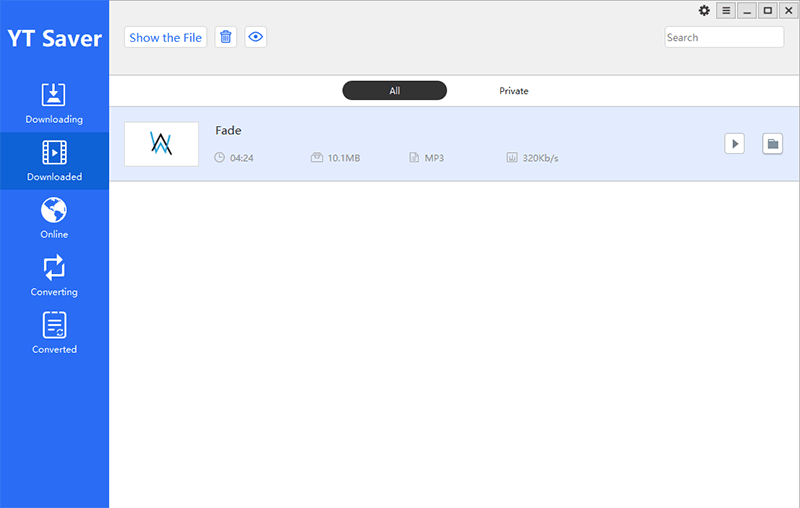 How to Download ReverbNation Songs with Online Tool?
If you're looking for a hassle-free way to Reverbnation mp3 download your favorite tracks from Reverbnation, check out Soundloaders.
This online tool is fast, secure, and free, making it easy to convert Reverbnation tracks to MP3 files with just a few clicks. It works seamlessly on both desktop and mobile browsers and can even retrieve metadata such as cover art, artist, and release date, when available. With Soundloaders, there are no limits on how many tracks you can download, and our advanced algorithms ensure excellent MP3 conversions.
How to Download Reverbnation MP3 Online?
Step 1: Copy the URL of the Reverbnation song you want to download.
Step 2: Visit the Soundloaders website and paste the URL into the search box provided.

Step 3: Click on the "Download" button to begin the conversion process.

Step 4: Once the conversion is complete, click on the "Download" button again to save the converted file to your device.
Conclusion
In summary, downloading your favorite songs from Reverbnation has never been easier thanks to the advanced technology behind the YT Saver. Apart from that, you can use Soundloaders' Reverbnation Downloader or the official method to download Reverbnation songs as we discussed previously. Each method has its advantages and disadvantages, but all are effective in allowing you to access your favorite Reverbnation tracks as MP3 files.
Lainey
A Internet technology enthusiasts, editor and content creator who spends most of her time bringing the interesting, entertaining, original and well-written articles to people who love Internet Technology too.