How to Download BBC Sounds/Radio to MP3
Content
As we know, BBC radio not only offers radio services, it also offers a large selection of music and drama as well as podcasts. A growing number of listeners to BBC radio are keen to download the full BBC audio track to listen offline or research the sources. But, the official method for downloading isn't practical and is not available for several reasons.
However, not to worry, we are here to shed light on how you can easily download BBC sounds. Just follow the steps down below!
How to Download BBC Radio Shows on BBC Sounds APP?
The BBC Sounds app is what BBC released in the year 2018 and was replaced by the iPlayer Radio app. For downloading BBC audio, download this app. The BBC app is available on Google Play Store and App Store. This application needs iOS 11.3, Android 5 or Amazon OS 5 or above.
📖 How to Download BBC Songs/Radio?
Step 1: Open your BBC Sounds app and uses the search function to find the radio station programs or streaming audios you'd like to download.
Step 2: Once you find your desired location, tap the particular episode. Select the button to download button under the playback screen. You can save BBC radio news and other audios.
Step 3: The selected radio tracks will start downloading on their own. After the download process is complete, you will be able to find downloaded BBC radio tracks in My Songs > Downloads.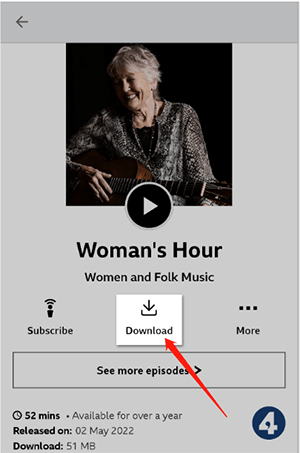 📽 How to Play the Downloaded BBC Audio?
Once you have downloaded BBC broadcasts, you will be able to visit My Sound > Downloads > Play to listen to the shows.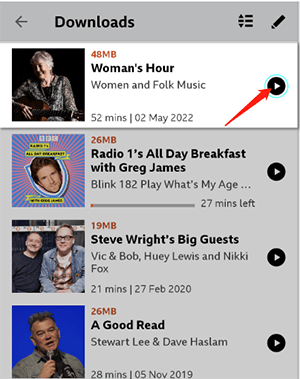 ✂ How to Remove the Downloaded BBC Audiotracks?
Click on My Sounds and select the Downloads section. Then, swipe the track you wish to erase to your left. Click on the delete button.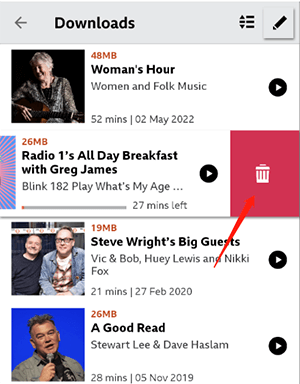 Note: Please be well aware of the two main disadvantages of using this technique. BBC radio programs are accessible to listen to online for 30 days following the broadcast's completion, and after that time, the tracks will be removed immediately. Additionally, download links for certain radio stations are not accessible in any way. Furthermore, using this BBC Sound app to download BBC radio shows is only accessible in the UK. If you're elsewhere, you'll prefer to try the second option.
How to Download BBC Sounds/Radio to MP3 from the Website?
You can download single radio track from the programme's page from the bbc website, but you only can save these podcasts as MP3 audio files.
Step 1: First, select the episode from the BBC Sounds podcast page, then select the "Programme website" button from underneath the playback screen.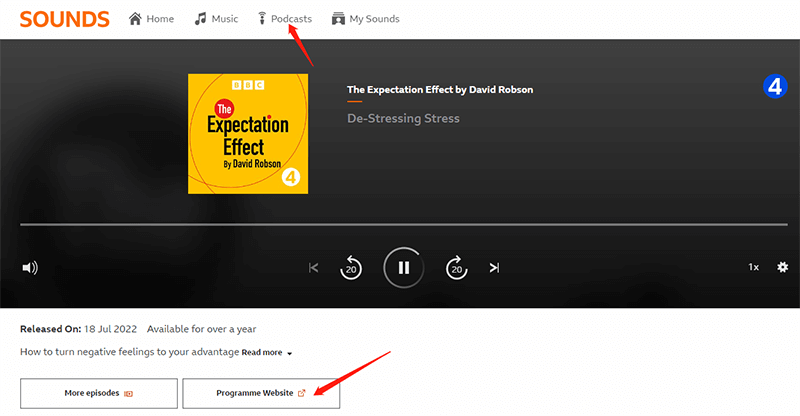 Step 2: Click on the "Download" button on the programme website, you can choose the file quality you would like to download.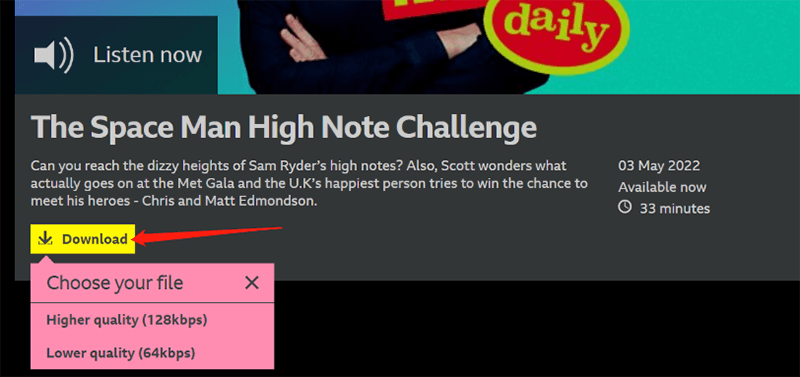 Note: If you cannot see the download button on the programme website, maybe this episode is a BBC Sounds Exclusive podcast, which only can be streamed on the website, or downloaded via BBC Sounds APP for mobile and tablets.
How to Download BBC Sounds with BBC Sounds to MP3 Converter?
As mentioned above, the official download method is not available for its limitations. Therefore, is there a radio download software that lets you download BBC sounds to mp3 and doesn't have these flaws? Yes! YT Saver Music Converter is a great option to download all BBC radio.
This program will take over the BBC radio streams and download BBC sounds to mp3 on your computer without any loss in sound quality. It supports MP3 AAC, MP3, FLAC, M4A, and WAV along with many other formats, which means it is possible to play radio on various operating systems and devices. Not to mention efficient downloading speed, and you can download several radios at once.
📖 How to Download BBC Sounds to Mp3 on Windows/Mac?
Step 1 Go to https://www.bbc.co.uk/sounds/, search for the radio/music you want to download and copy the url from the address bar.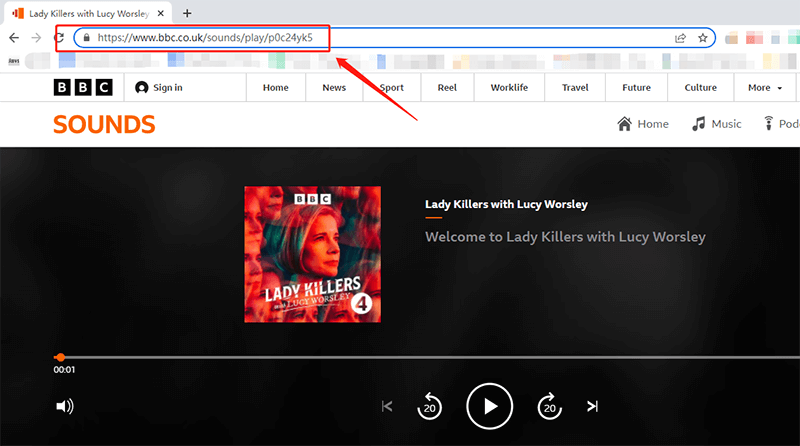 Step 2 Launch the software, then select the output format MP3 320kbps.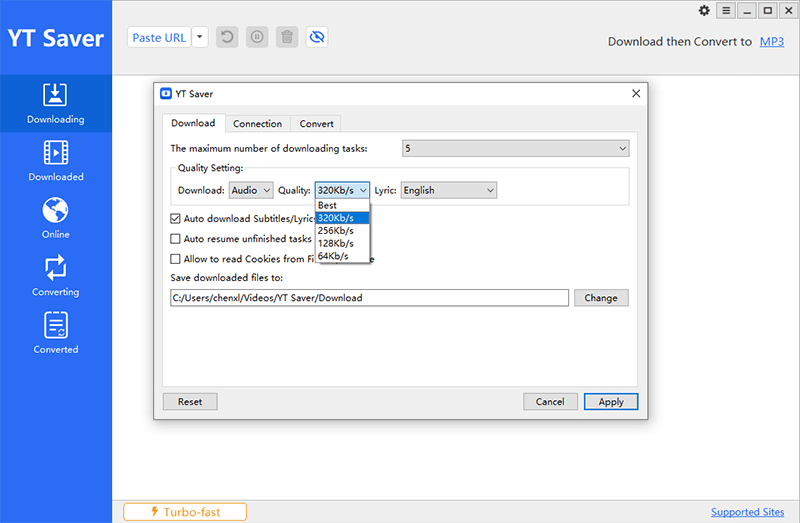 Step 3 Click on the button that reads "Paste URL"; the radio/music will begin downloading immediately.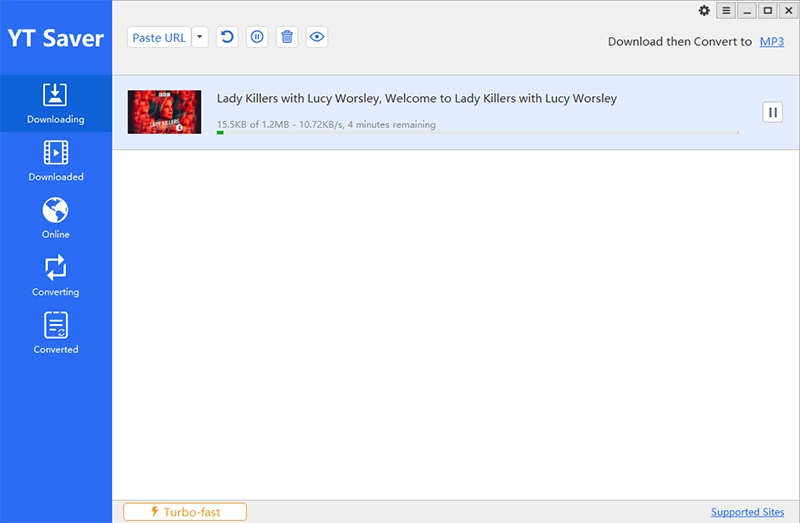 Step 4 Locate the files on the tab for Downloaded content.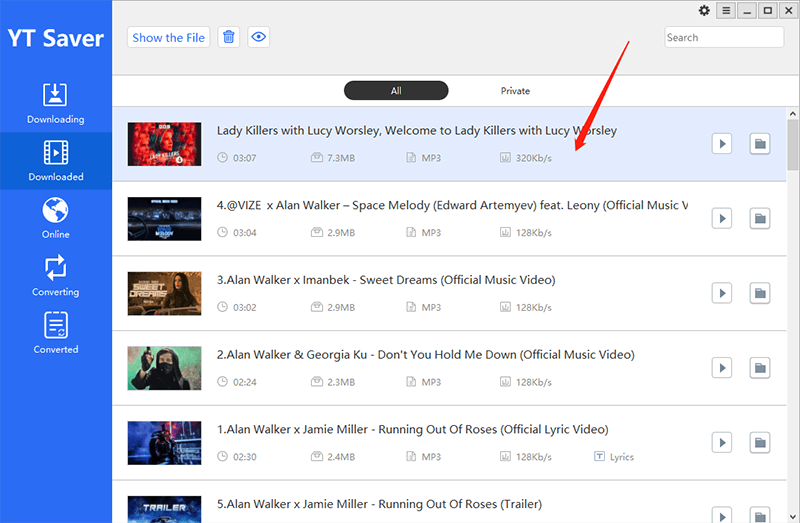 How to Download BBC Sounds to MP3 Online for Free?
Apowersoft Free Online Audio Recorder is another tool that can help you record BBC Sounds radios online and convert BBC Sounds to MP3 for free. All you need to do is to install the launcher upon initial use if you are new to this recorder.
Step 1: First, go to Apowersoft Free Online Recorder, click the Start Recording button, for recording BBC radio, you can choose the System Sound.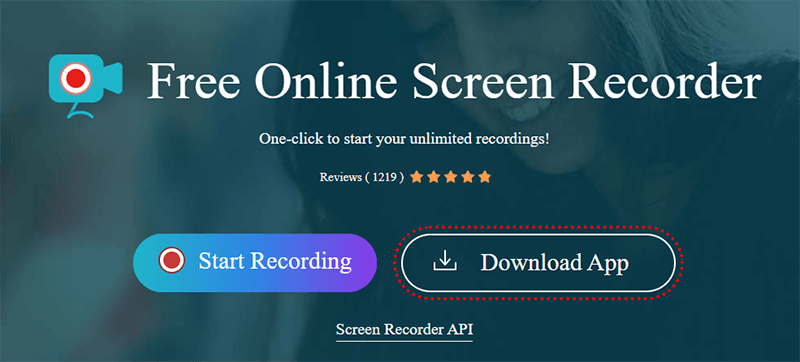 Step 2: Next, open the desired BBC radio and play it, then come back to the recorder and tap on the Record button.
Step 3: After the recording is completed, click on the Stop icon, the recorded file will be added to the recording list, you can check the BBC radio file on your computer via the folder icon.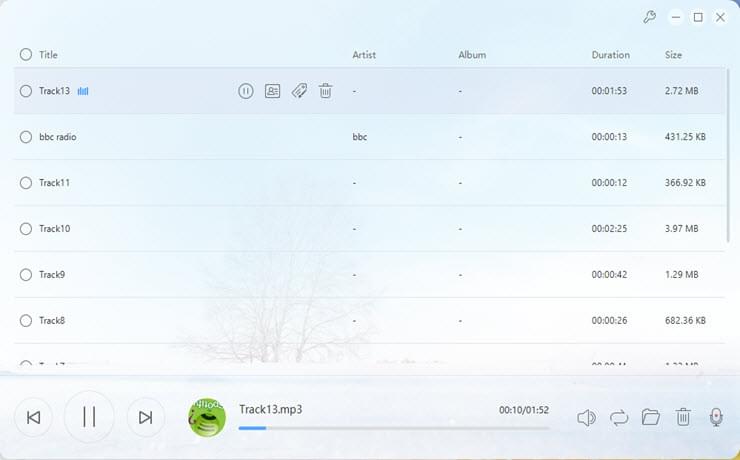 Frequently Asked Questions
❗ Can I Download BBC Sounds Outside UK?
You aren't able to download radio programs via BBC Sounds app from outside the UK. However, you can download BBC sounds radio using YT Saver from anywhere.
📱 How to Download BBC Sounds on Android?
Go to Google Play Store on your device to download the BBC Sounds app on your Android tablet or phone. Your device should run Android 5.0 or greater and at least an ARMv7 processor.
Within the Google Play Store, search for 'BBC Sound.' After you've located the app, click Download, and the app will begin to download. Once you've downloaded it, click the option to open, and it will take you to the application that you can begin using right away.
Download Spotify, Deezer, YouTube, Bandcamp Music in High Quality
Unlimited download songs in 10X faster speeds
Keeps your original quality of audio as well as ID3 tags
Convert online medias to MP4, MP3, AAC, MOV, etc.
100% secure and free from all kinds of viruses
Amanda
She is engaged in the Internet industry and is a professional in audio/video downloading and conversion topics. She has published articles on some blogs and media to help many people solve audio and video problems. She usually watches YouTube and occasionally shares some video tutorials on YouTube. She is a humble and serious person, hoping to write technology and life in her own language.